11c. Namibia: Etosha National Park (Day 2 of 3) Life at the waterhole… – 2015
Around the great salt pan of Etosha, at it's edges, there are several natural and man made waterholes, frequently visited by the thirsty animals.
When the Wandelgek arrived at a waterhole at high noon, lots of animals were either near to the waterhole or were moving towards it.
Kudu
The Kudus were just waiting to get a drink…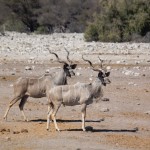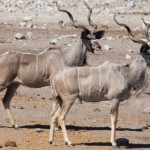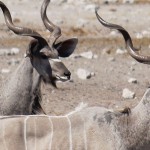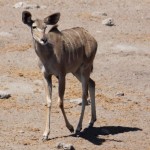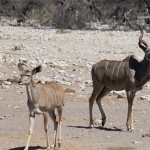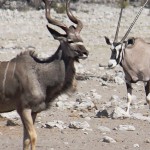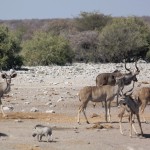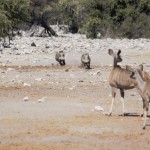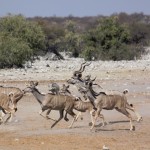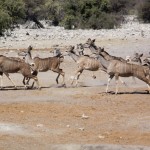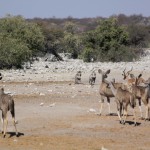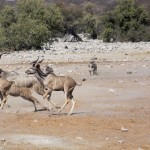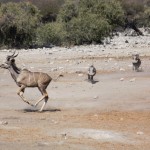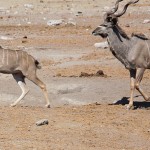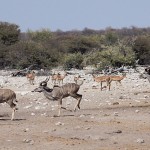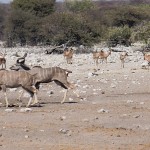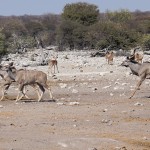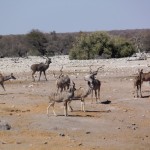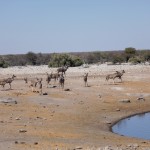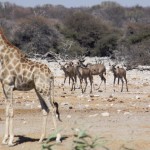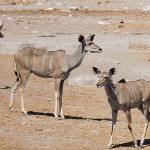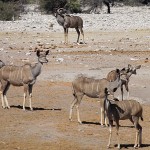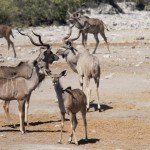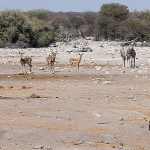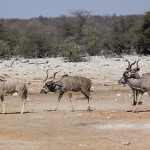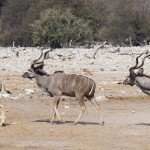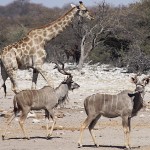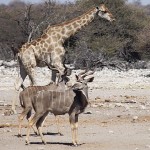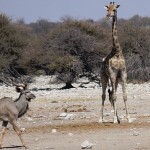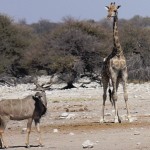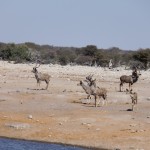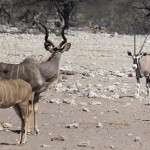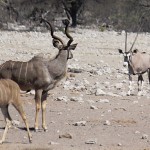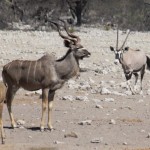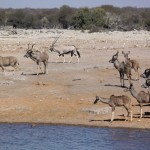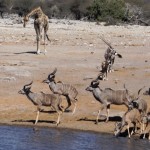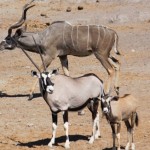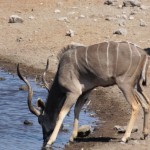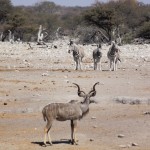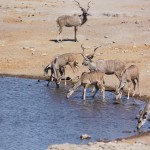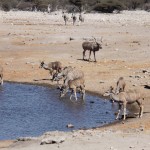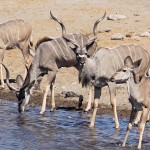 Warthog
Two and later more warthogs were playing around the waterhole, disturbing the Kudus and drinking water from the waterhole…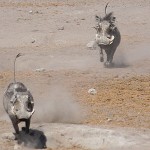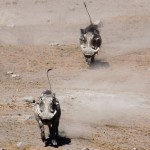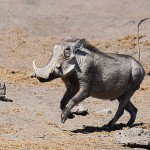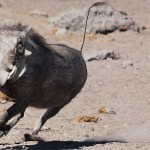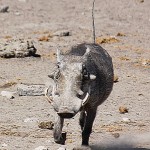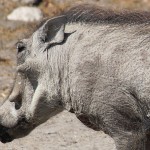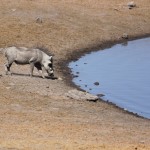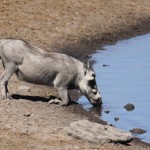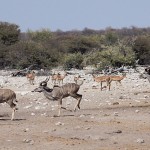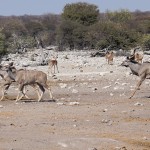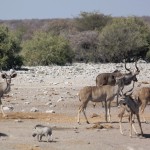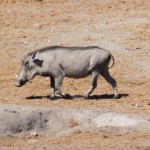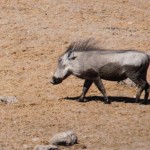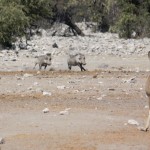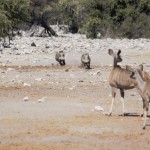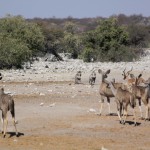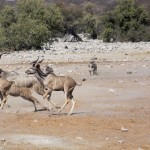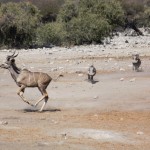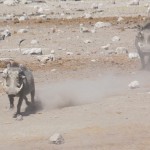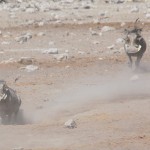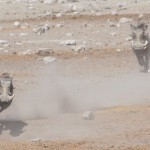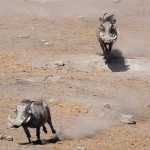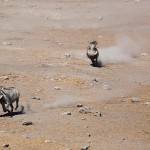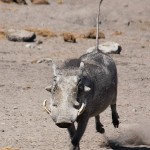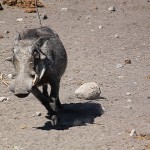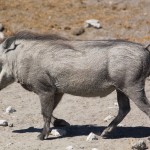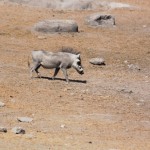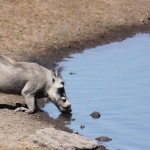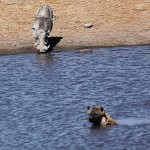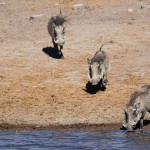 But it seemed that except for the warthogs, no other animal would drink from that pool. They all just looked at it…
Giraffe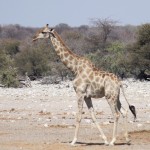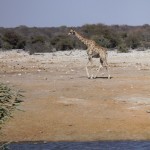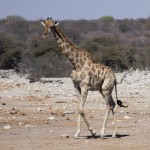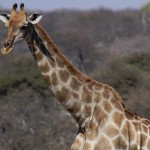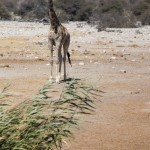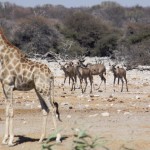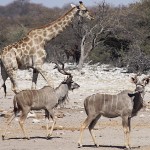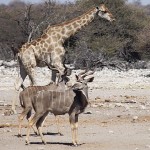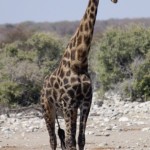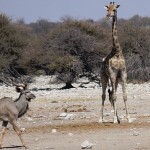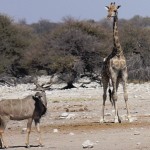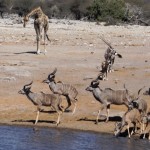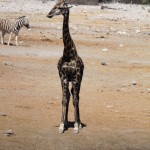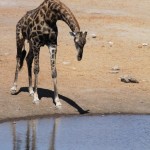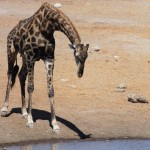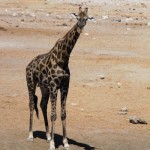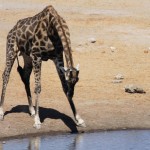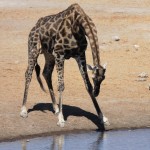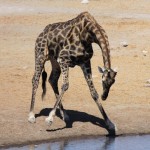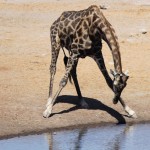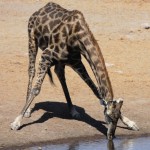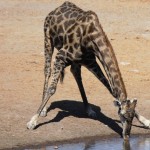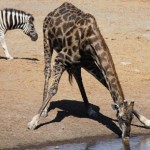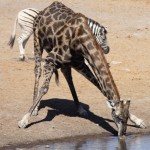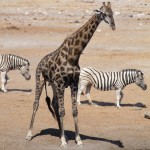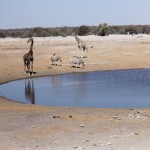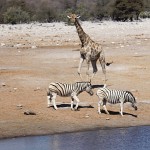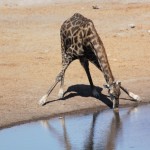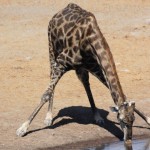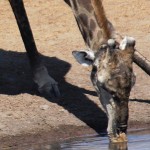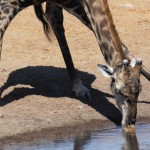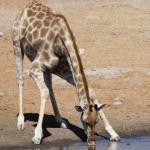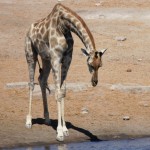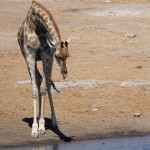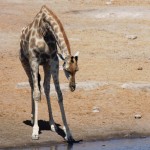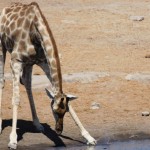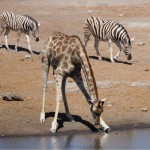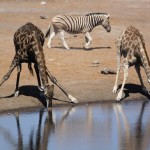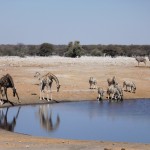 Zebra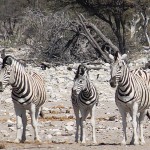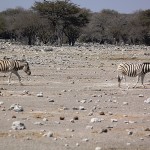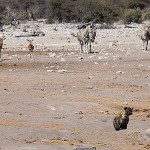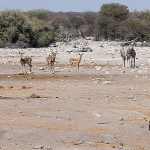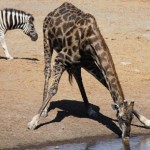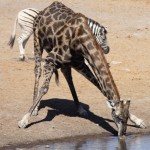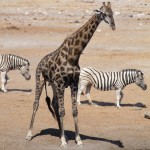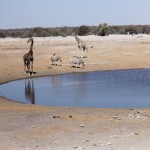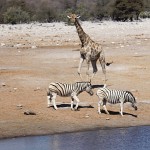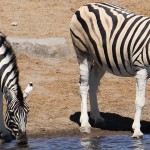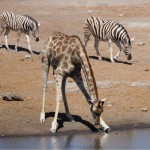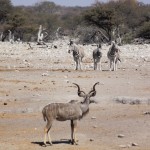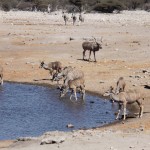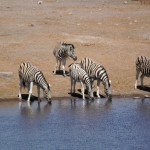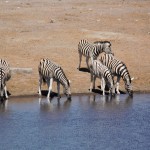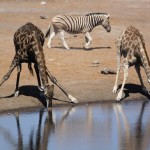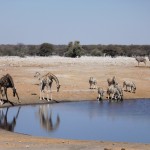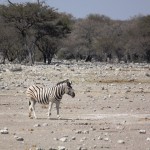 Then I saw why the animals were waiting in the blazing sun,,,
A spotted hyena appeared in the middle of the waterhole, and he had been diving there because a Kudu had drowned there a month ago trying to escape from lions. The water was cold then and the Kudu had never left the pool again. Occasionally th hyena dived for the Kudu and came up with its leg still connected to the quite heavy animal. After a while the hyena recognized that it wouldn't succeed in pulling the Kudu out of the water and it swam towards the shore and left the scene…
Hyena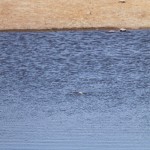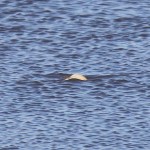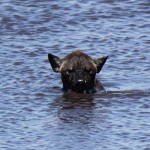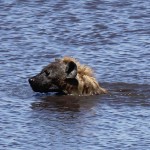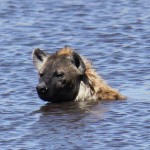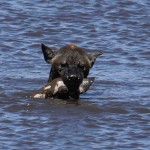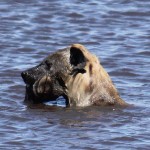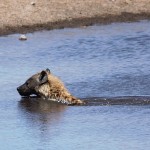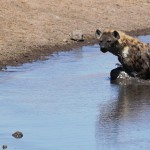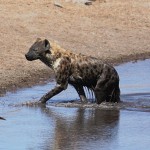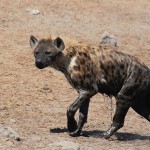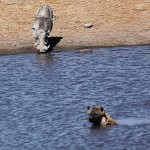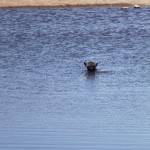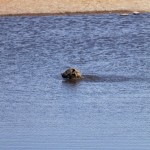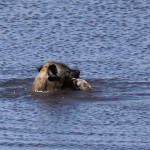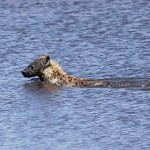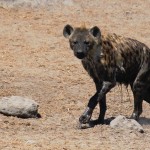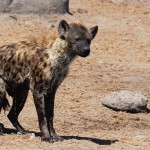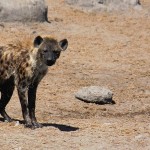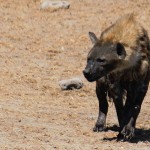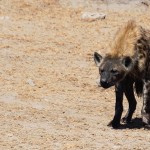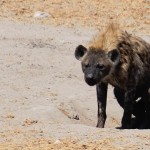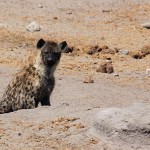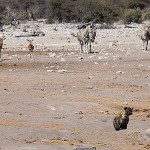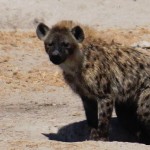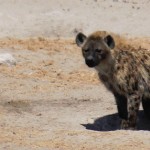 Blackbacked Jackal
An some occasional Blackbacked Jackals showed up as the Hyena finally moved away…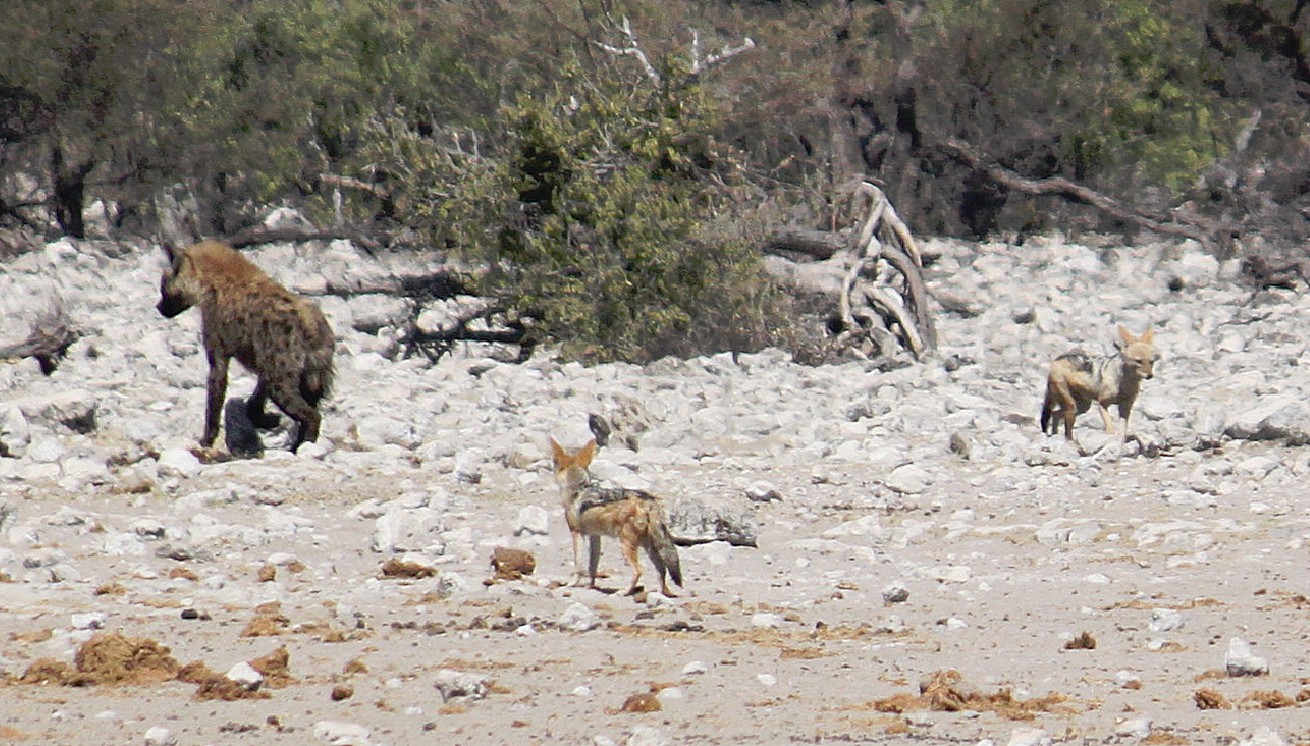 Then although still very suspicious and carefull, the animals waiting near the pool started moving towards the water and began to drink…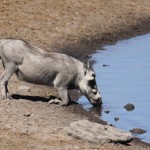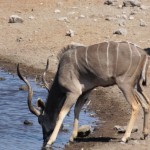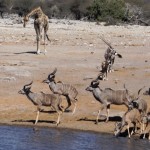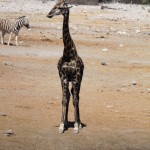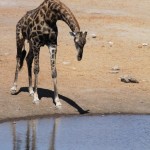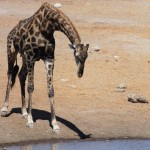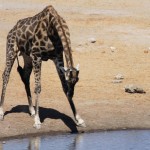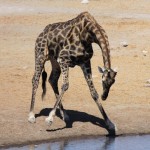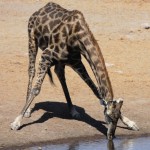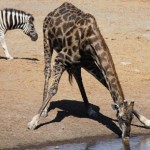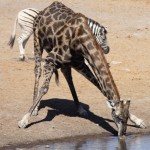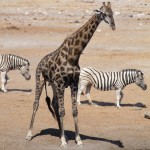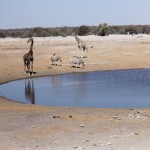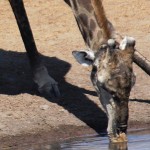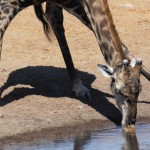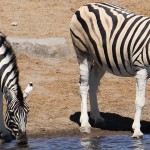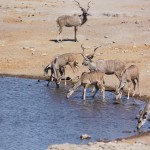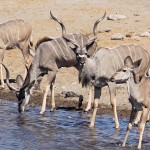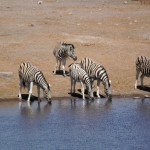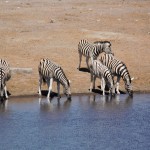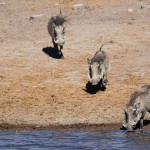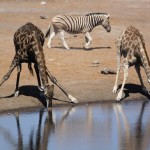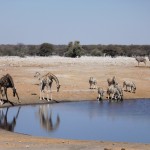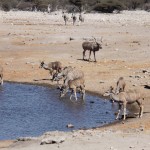 Oryx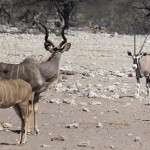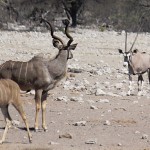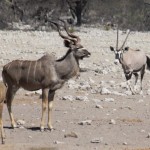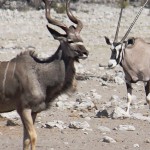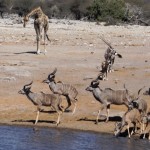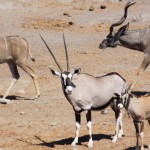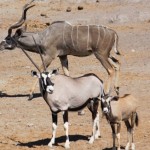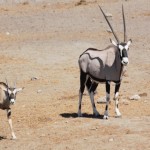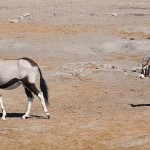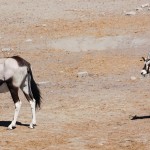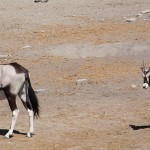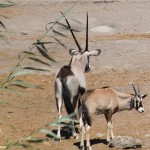 I had really hoped to see a Giraffe drink and after waiting a while for the Giraffe to feel comfartable enough, he started to spread his front legs and lowered his long neck to drink from the water. It's the moment where a Giraffe is the most vulnerable for attacks of predators…
There were much more animals now gathering at the pool …