13. Namibia: Caprivi Strip: Bagani, Bwabwata National Park, Okavango River Cruise – 2015
After a good night sleep I woke up in my cabin in Bagani…
Bagani
Breakfast was in a bar on the shore of the Okavango River and I spotted some hippos …
After breakfast we entered our truck and drove through Bwabwata National Park to the Namibia/Botswana border and crossed it into Botswana. About that country I' tell you much more after finishing this blog.
Bwabwata National Park
When entering the park I saw a lot of confiscated skulls which were now used to deter poacher and to educate children and tourists…
Bwabwata is a national park located in north east Namibia. The park was established in 2007 and has a size of 6,274 square kilometres (2,422 sq mi). It was created from Caprivi Game Park and Mahango Game Reserve.
Bwabwata is situated in the Zambezi and Kavango regions, extending along the Caprivi Strip. It is bounded by the Okavango River to the west and the Kwando River to the east. Angola lies to the north and Botswana to the south.
The area is an important migration route from Botswana to Angola for African elephant and some other game species. It is an unusual Protected Area as about 5,500 people live in the park. The Namibian government involves park residents and neighbours in planning and managing the park.
In Bwabwata National Park I spotted saber antelopes and an elephant…
After a couple of days in Botswana we returned to Namibia and to Bagani in the afternoon…
Sunset Cruise on the Okavango River
Late in the afternoon The Wandelgek stepped on a boat and we drove over the Okavango River to a tiny waterfall…
There were other boats on the river some were mocoros, hollow treetrunks…
During this boat cruise I spotted beautiful animals like the
Purper heron
The purple heron (Ardea purpurea) is a wide ranging species of wading bird in the heron family, Ardeidae. The scientific name comes from Latin ardea "heron", and purpureus, "coloured purple". It breeds in Africa, central and southern Europe, and southern and eastern Asia. The Western Palearctic populations migrate between breeding and wintering habitats whereas the African and tropical-Asian populations are primarily sedentary, except for occasional dispersive movements.
It is similar in appearance to the more common grey heron but is slightly smaller, more slender and has darker plumage. It is also a more evasive bird, favouring densely vegetated habitats near water, particularly reed beds. It hunts for a range of prey including fish, rodents, frogs and insects, either stalking them or standing waiting in ambush.
Purple herons are colonial breeders and build a bulky nest out of dead reeds or sticks close to the water' edge among reeds or in dense vegetation. About five bluish-green eggs are laid and are incubated by both birds. The young hatch about four weeks later and fledge six weeks after that. The International Union for Conservation of Nature notes that the global population trend is downwards, largely because of the drainage of wetlands, but assesses the purple heron's conservation status as being of "least concern".
and the…
African Fish Eagle
The African fish eagle (Haliaeetus vocifer) or – to distinguish it from the true fish eagles (Ichthyophaga), the African sea eagle – is a large species of eagle that is found throughout sub-Saharan Africa wherever large bodies of open water occur that have an abundant food supply. It is the national bird of Zimbabwe, Zambia and South Sudan. As a result of its large range, it is known in many languages. Examples of names include: Visarend in Afrikaans; Nkwazi in Chewa; Aigle Pêcheur in French; Hungwe in Shona, and Inkwazi in isiZulu.
This species may resemble the bald eagle in appearance; though related, each species occurs on different continents, with the bald eagle being resident in North America.
on one of the Okavango shores I spotted this
Nile Crocodile
The Nile crocodile (Crocodylus niloticus) is an African crocodile and may be considered the second largest extant reptile in the world, after the saltwater crocodile (Crocodylus porosus). The Nile crocodile is quite widespread throughout Sub-Saharan Africa, occurring mostly in the central, eastern, and southern regions of the continent and lives in different types of aquatic environments such as lakes, rivers and marshlands. Although capable of living in saline environments, this species is rarely found in saltwater, but occasionally inhabits deltas and brackish lakes. The range of this species once stretched northward throughout the Nile, as far north as the Nile delta. On average, the adult male Nile crocodile is between 3.5 and 5 m (11 ft 6 in and 16 ft 5 in) in length and weighs 225 to 750 kg (496 to 1,653 lb). However, specimens exceeding 6.1 m (20 ft 0 in) in length and weighing more than 1,090 kg (2,400 lb) have been recorded. Sexual dimorphism is prevalent, and females are usually about 30% smaller than males. They have thick scaly skin that is heavily armored.
The Nile crocodile is an opportunistic apex predator and a very aggressive species of crocodile that is capable of taking almost any animal within its range. They are generalists, taking a variety of prey. Their diet consists mostly of different species of fish, reptiles, birds and mammals. The Nile crocodile is an ambush predator and can wait for hours, days and even weeks for the suitable moment to attack. They are quite agile predators and wait for the opportunity for the prey item to come close within the range of attack. Even swift prey are not immune to attack. Like other crocodiles, Nile crocodiles have an extremely powerful bite that is unique amongst all animals and sharp conical teeth that sink into flesh allowing for a grip that is almost impossible to loosen. They can apply high levels of force for extended periods of time, a great advantage for holding down large prey underwater to drown.
Nile crocodiles are relatively social crocodiles. They share basking spots and large food sources such as schools of fish and big carcasses. There is a strict hierarchy, that is determined by size. Large, old males are at the top of this hierarchy and have primary access to food and the best basking spots. Crocodiles know their place in the hierarchical order and rarely act against it, but when they do, the results are very bloody and sometimes even fatal. Like other reptiles, Nile crocodiles lay eggs to reproduce, which are guarded by the female. The hatchlings are also protected for a period of time, but hunt by themselves and are not fed by the parents. The Nile crocodile is one of the most dangerous species of crocodile and is responsible for hundreds of deaths of humans every year. It is a rather common species of crocodile and is not endangered despite some regional declines or extinctions.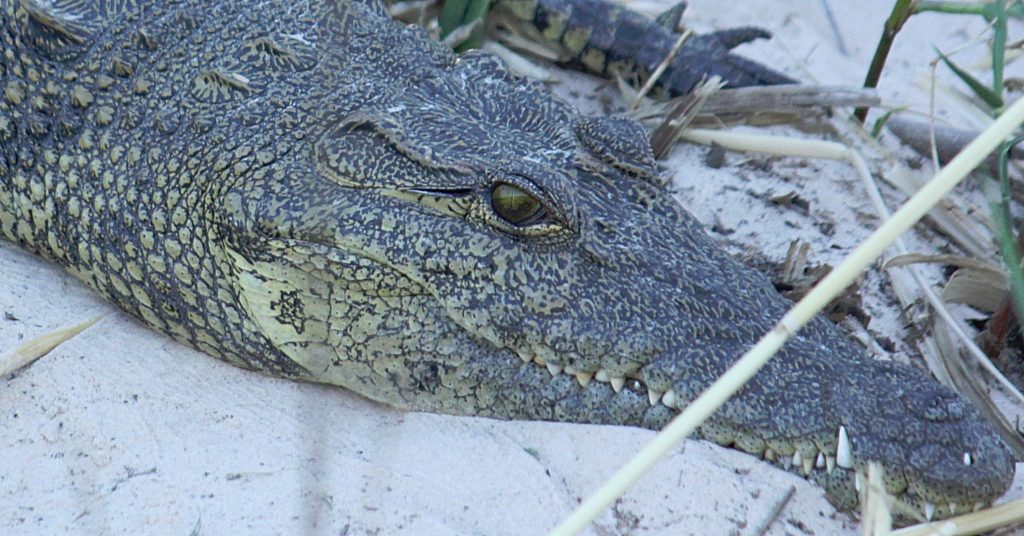 Then I just watched the beautiful green shore vegetation mirrored in the blue water…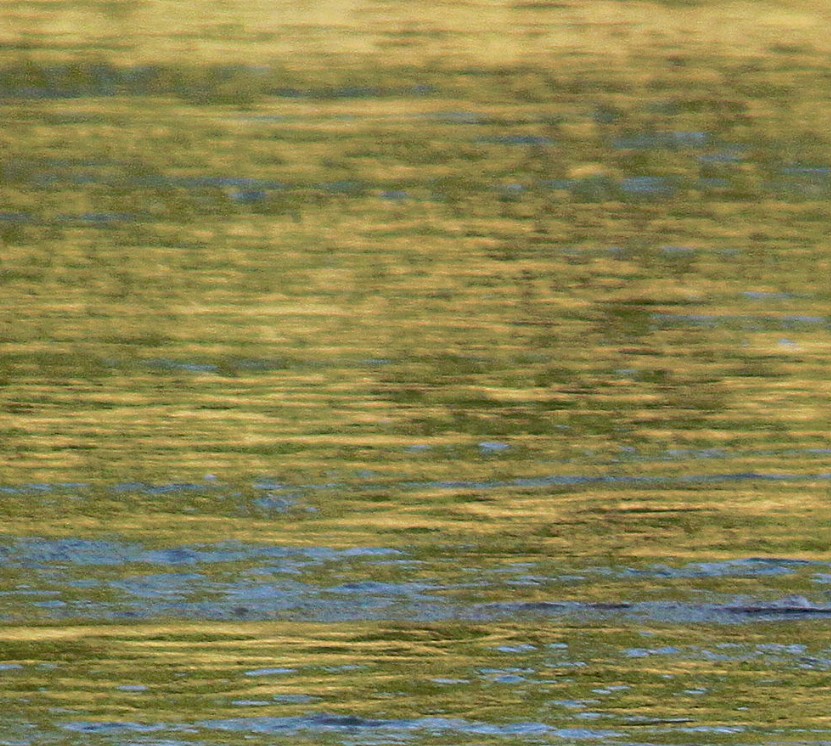 …suddenly the water stirred…

Hippopotamus
The common hippopotamus (Hippopotamus amphibius), or hippo, is a large, mostly herbivorous mammal in sub-Saharan Africa, and one of only two extant species in the family Hippopotamidae, the other being the pygmy hippopotamus (Choeropsis liberiensis or Hexaprotodon liberiensis). The name comes from the ancient Greek for "river horse" (ἱπποπόταμος). After the elephant and rhinoceros, the common hippopotamus is the third-largest type of land mammal and the heaviest extant artiodactyl. Despite their physical resemblance to pigs and other terrestrial even-toed ungulates, the closest living relatives of the Hippopotamidae are cetaceans (whales, porpoises, etc.) from which they diverged about 55 million years ago. The common ancestor of whales and hippos split from other even-toed ungulates around 60 million years ago. The earliest known hippopotamus fossils, belonging to the genus Kenyapotamus in Africa, date to around 16 million years ago.
Common hippos are recognisable by their barrel-shaped torsos, wide-opening mouths revealing large canine tusks, nearly hairless bodies, columnar-like legs and large size; adults average 1,500 kg (3,300 lb) and 1,300 kg (2,900 lb) for males and females respectively, making them the largest species of land mammal after the three species of elephants and the white and Indian rhinoceros. Despite its stocky shape and short legs, it is capable of running 30 km/h (19 mph) over short distances. The hippopotamus is a highly aggressive and unpredictable animal and is ranked among the most dangerous animals in Africa. Nevertheless, they are still threatened by habitat loss and poaching for their meat and ivory canine teeth.
The common hippopotamus is semiaquatic, inhabiting rivers, lakes and mangrove swamps, where territorial bulls preside over a stretch of river and groups of five to thirty females and young. During the day, they remain cool by staying in the water or mud; reproduction and childbirth both occur in water. They emerge at dusk to graze on grasses. While hippopotamuses rest near each other in the water, grazing is a solitary activity and hippos are not territorial on land.
This was sooo completely awesome to see …
At one of the shores I saw…
Swallow-tailed Bee-eaters
who build there nests in tiny wholes in the riverbank…
The swallow-tailed bee-eater (Merops hirundineus) is a near passerine bird in the bee-eater family Meropidae. It breeds in savannah woodlands of sub-Saharan Africa. It is partially migratory, moving in response to rainfall patterns.
This species, like other bee-eaters, is a richly coloured, slender bird. Its colours and readily visible forked tail make this species unmistakable. It is mainly green with a yellow throat, blue gorget and black eye stripe and beak. It can reach a length of 20–22 cm, including the long forked green or blue feathers. Sexes are alike.
This is a species which prefers somewhat more wooded country than most bee-eaters. This attractive bird is readily approached. Just as the name suggests, bee-eaters predominantly eat insects, especially bees, wasps and hornets, which are caught in the air by sorties from an open perch. Swallowtail has a preference for honeybees.
These bee-eaters are nesting as pairs or in very small colonies in sandy banks, or similar flat ground. They make a relatively long tunnel in which the 2 to 4 spherical, white eggs are laid. These birds also feed and roost communally.
and quite spectacula tto was the sighting of a …
Pied Kingfisher
holding a wee little fish in its beak…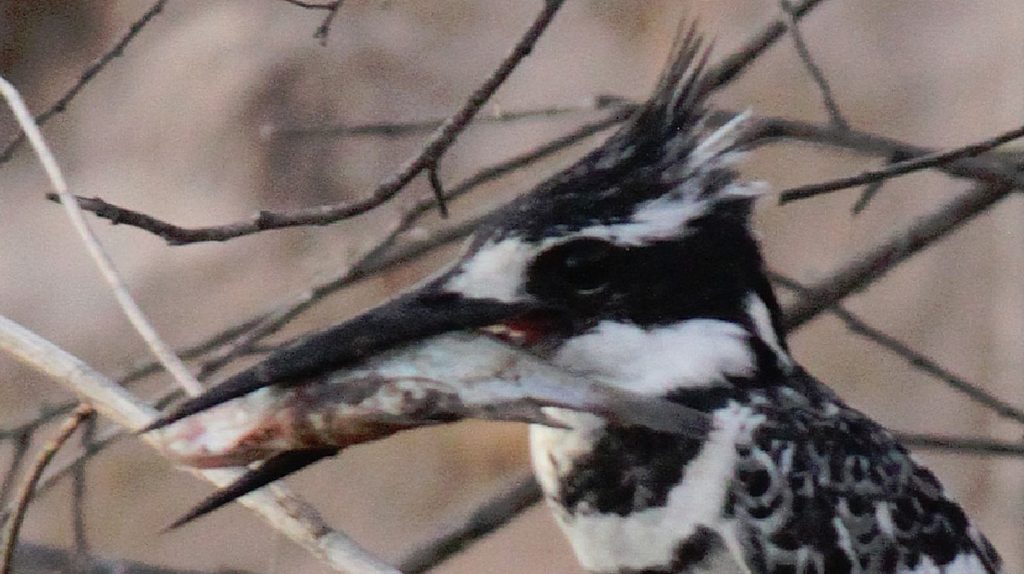 Not only the birds, reptiles and mammals showed themselves at the river shores. The people of the small town Bagani used the river to wash there clothes…
And then there was the grand finale…
An African Sunset on the Okavango River
And I got fascinated by the structure and colours of the water… let's call it..
Art, by Nature
And then… in the end…when nature and wildlife on the river came to rest, I took a Windhoek Draft Beer and enjoyed the last light of day…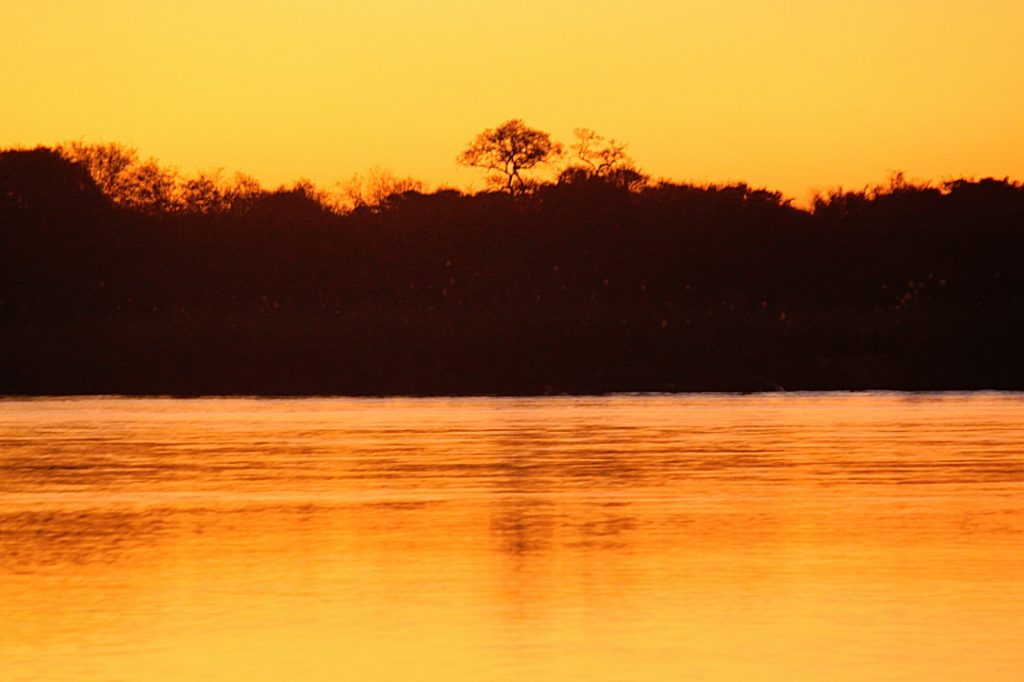 After another night in another cabin in Bagani, the journey continued eastwardsthrough the Caprivi corridor towards Kongola and then south to the Namibia/Botswana border where my visit to Namibia ends.
Thank you Namibia: You're awesome!!!
Hello Botswana, here I come 🙂