Gyantse op grote hoogte
Gyantse, Gyanzê of Gyangdzê is de hoofdstad van het arrondissement Gyantse en ligt in de prefectuur Shigatse in het zuiden van Tibet. De stad ligt op 3.977 meter hoogte, aan de Friendship Highway, die Lhasa met Kathmandu verbindt. Gyantse is de op 3 na grootste stad van Tibet.
De kleine smalle straatjes van Gyantse vullen zich met pelgrims, kinderen en koeien. Luide popmuziek klinkt. Geur van gedroogde yakpoep is doordringend De huizen zijn hiervan gemaakt. In winkelstraat Yingxiong Nanlu is van alles te koop, waaronder yakmelk en yakboter natuurlijk.
Gyantse is bekend van een grote stoepa, geheel van boeddhistische kapelletjes die deel uitmaken van het Palcho-klooster (de grootste stoepa van Tibet).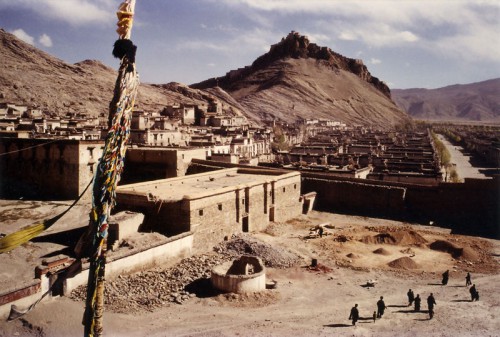 In 1904 werd op halve hoogte van de vestingsberg een platform voor kanonnen gebouwd, om de indringing van Britten tegen te houden, wat het jaar ervoor gebeurde tijdens de Britse veldtocht in Tibet.
Pelkhor Chode – Beroemde kumbum
Via de kleine straatjes kom je uiteindelijk bij datgene wat Gyantse beroemd maakt: de kumbum of chörten. Dit is een Boeddhistisch bouwwerk, waarbij verschillende lagen trapsgewijs op elkaar zijn gebouwd. Het is te vergelijken met de boeddhistische stupa's in Nepal en India.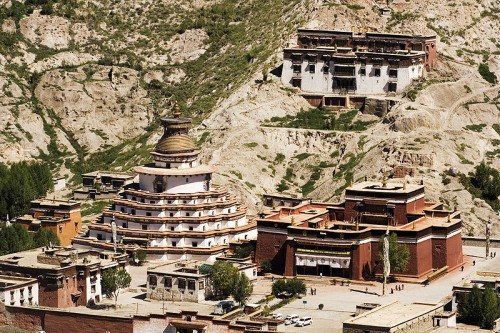 De 35 meter hoge kumbum in Gyantse is in 1497 gebouwd door de prins van Gyantse. Het witte gebouw is gedecoreerd met Boeddha's ogen en een gouden koepel.
Achter de pelgrims loop je met de klok mee om de kumbum te mogen betreden. Eenmaal binnen zie je de vele schilderingen van goden, onder andere van Boeddha, in verschillende kapellen.  Kumbum betekent letterlijk 'duizend afbeeldingen'. Af en toe stap je uit de stroom pelgrims en laat je de fresco's op je inwerken.