13. Tocht van Tingri naar de Himalaya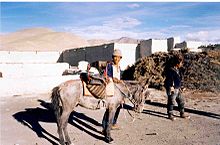 Tingri of Dingri of Dhingri (Tibetaans: དིང་རི་; Wylie: Ding-ri; Chinees: 定日; Pinyin: Dìngrì = 'Grasveld Berg') is een stadje in zuidelijk Tibet. Het ligt in Tingri County, Shigatse Prefecture met een bevolking van ongeveer 523 inwoners. Het wordt vaak gebruikt als basis door bergbeklimmers om de klim van Mount Everest of Cho Oyu voor te bereiden. Tingri Shekar (Dring ri Shel dkar) is een kleine stad ongeveer 60 km ten noord-westen van Mount Everest en maar net iets meer dan 50 km van de Nepalese grens in the Tibetaanse Autonome Regio van China. Het ligt op een hoogte van ongeveer 4.300 meter. De oude Shekar Dorje Dzong, of fort, ligt boven de nieuwe stad en omsloot de Shekar Chode, een Gelugpa klooster dat volledig vernietigd werd maar inmiddels wordt gerestaureerd. Het staat bekend om z'n spectaculaire uitzichten op Mount Everest, Mount Lhotse, Mount Makalu, en Cho Oyu, welke 4 van de hoogste 6 bergen ter wereld zijn.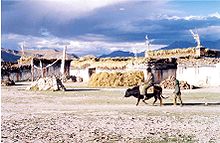 Tingri was ooit een belangrijke handelsplaats waar Sherpas uit Nepal rijst, graan en ijzer ruilden tegen Tibetaanse wol, vee en zout. Het brede hoogland basin dat er om heen ligt en dat meer dan 4.500 meter hoog ligt, staat bekend als de Vlakte van Tingri. Om bij de vallei van de Tsangpo te komen moet de noordelijke Lakpa La bergpas (5.220 m) worden geslecht.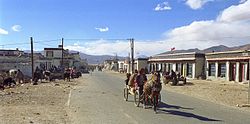 Ondiepe, snelstromende riviertjes van smeltwater zorgen ervoor dat het omliggende weidelandschap ideaal is voor het houden van de grazende Tibetaanse dieren.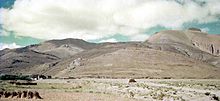 De vlakte stond ooit vol gazelles, blauwe schapen, antilopen en khyang of wilde ossen maar, jammer genoeg, zijn de meeste dieren nu weg.Het Chinese leger heeft vlakbij een kleine basis.