The gnomes had pointed me towards a great wall and told me to search for someone living there who might be able to help me find the other side of the dark forest. I was now following the path again and surrounded by nothing but trees, undergrowth, sometimes a roebuck showed its curious nose from behind a tree but further everything was tranquil and best of all, where sunbeams came through the canopy and reached the ground, butterflies were twirling upwards into the light. After a stroll of approximately 1.5 hours, I reached a small clearing in the forest and I remembered my map. I took it from my backpack and unfolded the piece of paper to see whether I had reached the wall yet.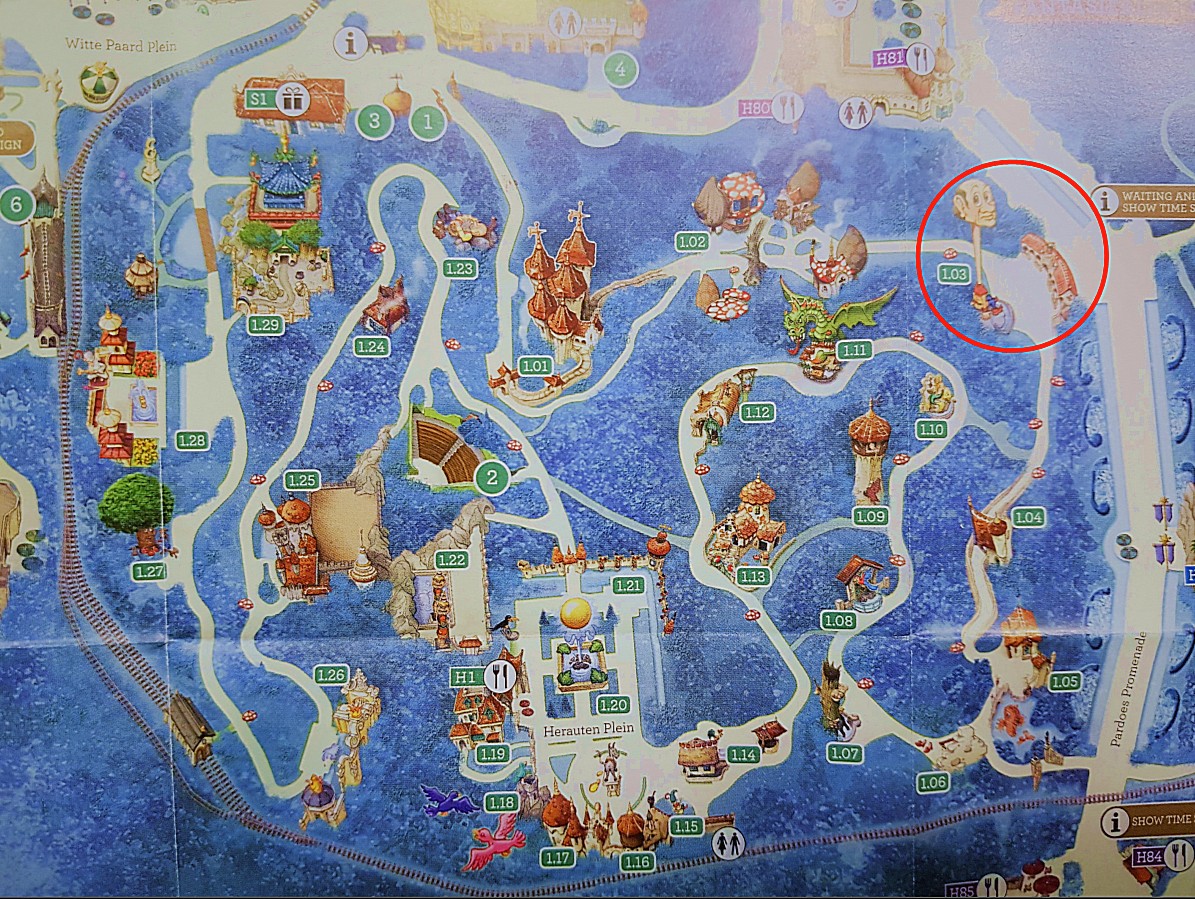 I saw I should be close to the wall now and looking around I spotted a rooftopped wall with a pallisade in front of it and a buste statue on top…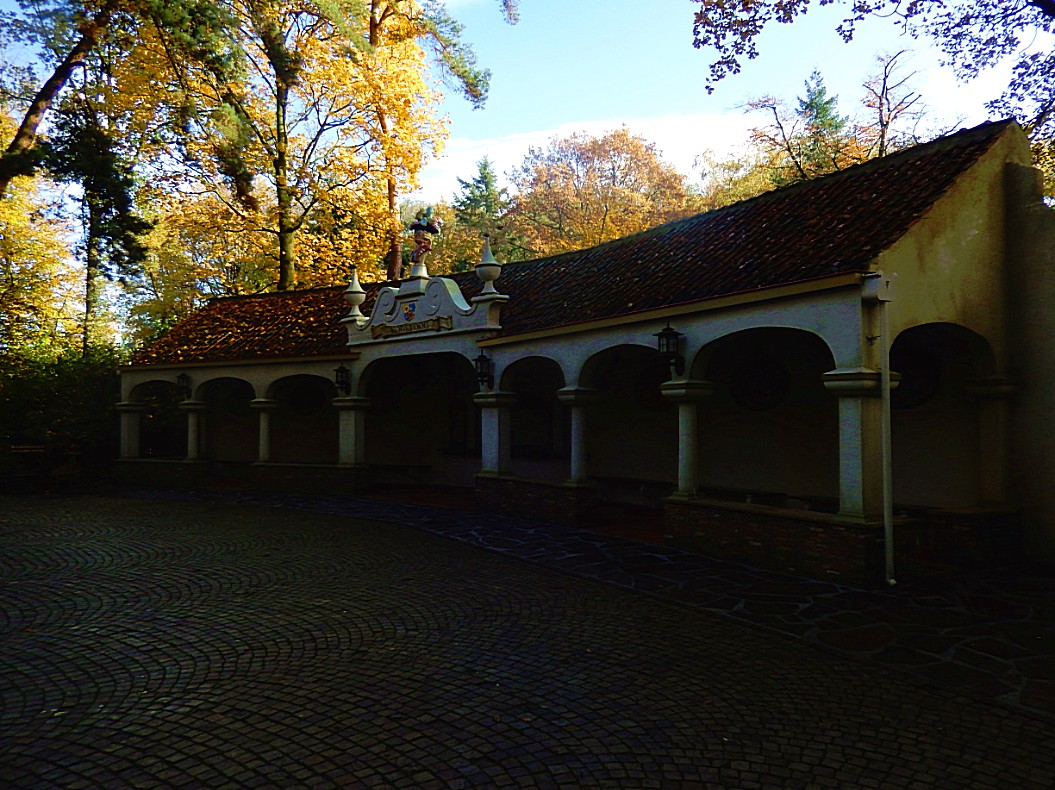 I had gotten quite hungry from my walk and decided to eat somthing. The gnomes had given me some sandwiches for the road and I took one with garlic sausage from my backpack, when I suddenly heard a voice asking "SNIFFF, SNNNIIIIIIIIIIFFFFFF, is that…., is that… GAAARRRLLLIIIIICCCC?". I looked around but didn't see anyone, when the voice sounded again, saying: "Here I am, look up!". I did but I could only see the trees, a bird, a squirrel, the rooftop, the buste and the squirrel again, when it started to talk: "That's a very long time ago since I smelled garlic and tasted sausage". "Could you come closer and let me smell that again?'. Well yes, I could if it pleases you that much, but I always thought squirrels only ate acorns and chestnuts? "Not the squirrel!", said the squirrel. And again: "Look on top of the roof. How could you even think I was the squirrel! … And shut your mouth please, you look like you've never see a talking buste before!". "I haven't", I said. "Well now you have!", said the buste and when I looked a bit better I saw it was I buste of a blindfolded man. "What are you doing here in this forsaken part of the forest?", asked the blindfolded buste.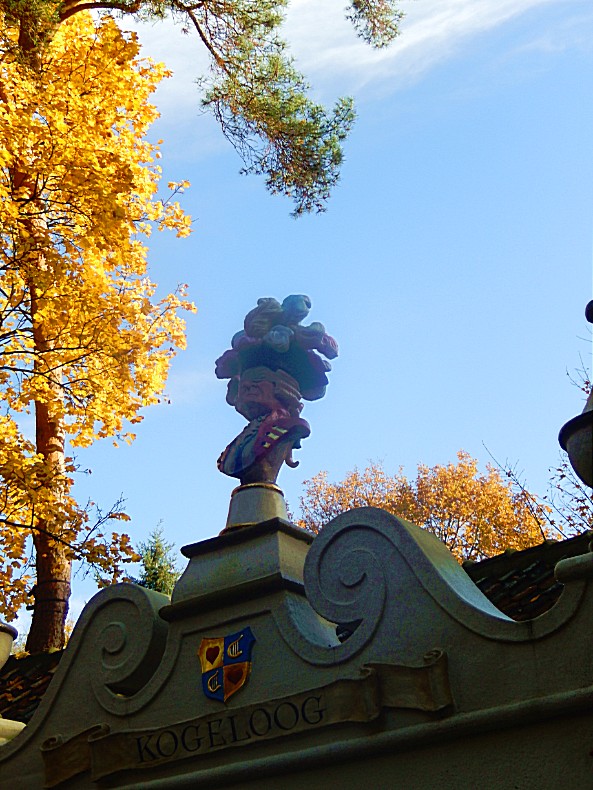 I told him I was looking for the way to the other side of the forest and that I had a map to where I wanted to go, but I had lost my feeling of where north was because I was surrounded by trees and couldn't see the sun. I also told me that at this wall someone lived who might be able to help me. "Aha he said and seemed very pleased with himself, saying, "I knew my keen sight and perspective on things had gotten some fame in these parts of the forest, but I did not know this fame had already reached as far as the gnome village." Than he asked me to show him the map and I did show him the paper holding my sandwich in one hand and the map in the other. He looked ath them, realizing he still had his blindfold on and started to loosen the knot at the back of his headand to lift the blindfold. I was beginning to open my mouth again to raise the question, why he had been blindfolded?, …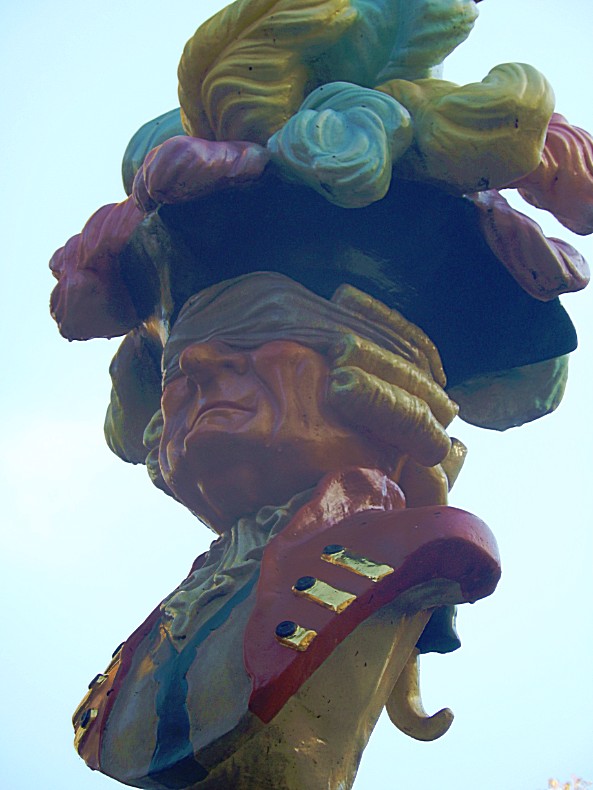 when suddenly a fat lump of a boy ran me over yelling: "I WANT YOUR GAAARRRLLLLIIIIC SAAUUUSSSAAGGEEEEE SAAANDWIIIICHHH, PLEAZZZEEE I NEEEEEED YOUR DEEELLLLIIICIOOUUUSSS GAAARRRLLLIIICCC SAAAUUUUSSSAAAGGEEEE SAANDDWHIICCHHH NOOOWWWWWW, PLEEEAAAZZZEEE GIVE IT TO ME BEFORE i STAAAAARVE, PLEEEAAAZZZEEEEEE SIIIIIIIRRRRREEE, BBBEEEFFFOOOOORRREEEEE HHHEEEEE BBUUUUUUURRRRNNNEEESSSSS IIITTTT", meanwhile trying to grab my sandwich out of my hands. But I was way larger than him and after his 1st unsuccesfull grasp at my sandwich I put my arm into the air high above him and the little boy started to jump around me as high as he could, which was not very high at all, because he was quite heavy, and certainly not nearly high enough to have a chance at obtaining my precious delicious sandwich. Quickly he started to get tired and began to pant like a dog who had been running through the forest all day. He sat down eyes locked on my delicious garlic sausage sandwich which didn't smelled like garlic sausage anymore, but like burned, smouldering wood. I turned around and looked at the spot, only a few metres away where I had stood before the boy had bumped into me and saw a wide black smouldering trail with small fires running into the devastated forest. Smoke was curling upwards from the ground until it was caught by a slight breeze and dissolved into the bright air above the clearing. Then I heard the buste yelling: "OOOPPPPSSSS SORRYYY DIDN'T MEAN TO DO THAT AT ALL!!!". The buste was blindfolded. Still blindfolded or again blindfolded?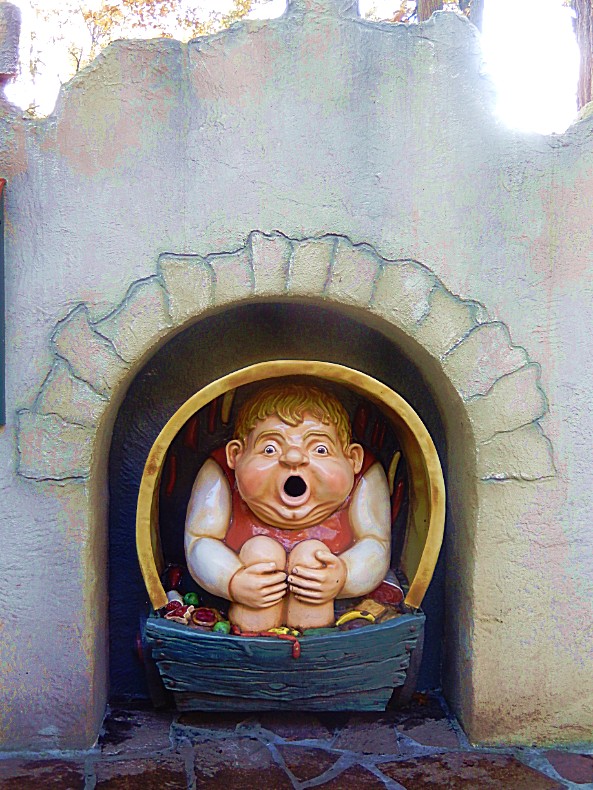 The boy was now walking towards what looked a bit a wooden tilt car, but it was filled with all sorts of delicious food…
The boy said: "he always does that. That's why he's blindfolded, old Bullet-Eyes. He can only see destruction, because whenever he looks at things, he immediately destroys them. That's his curse. That's why I tried to save you. Because of that … and because of your sandwich".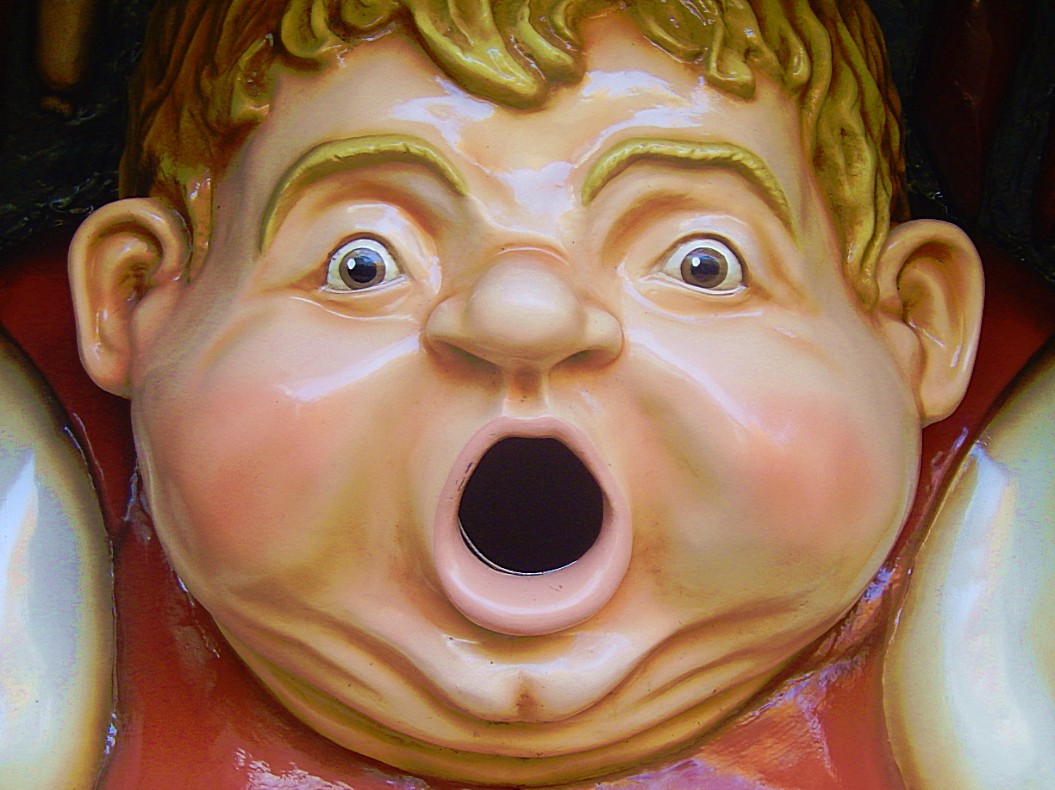 "Can I have your sandwich now, please?". I decided to hand to him but he just opened his mouth wide open and pointed at it. Okay. He did save me from old Bullet-Eye, so i threw the sandwich into the gaping hole of his mouth and it he didn't chew or even swallow, but just closed his mouth and started to look immediately at all the other food in his wagon. I quickly asked him wether he might know someone who could tell me where north was so I could navigate through the forest again. He completely seemed to have lost interest in me, but I took another garlic sausage sandwich from my backpack and 1st his nose sniffed, his head turned in my (or better the sandwiche's direction, his eyes widened and his mouth opened wide again and finally he started to druell… Then he said (and it seemed he had listened to my question after all): "Go underneath the roof where the six servants of the Crown Prince live and find out who of them can help you"…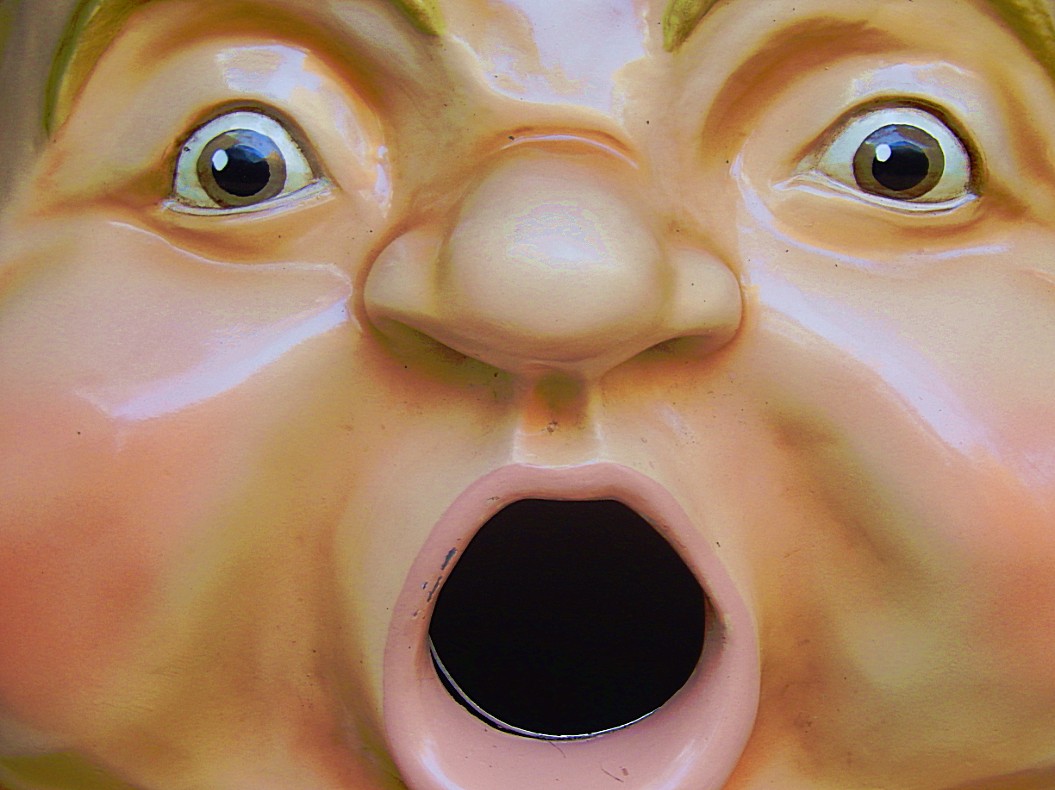 His mouth opened even wider and he started to druell even more…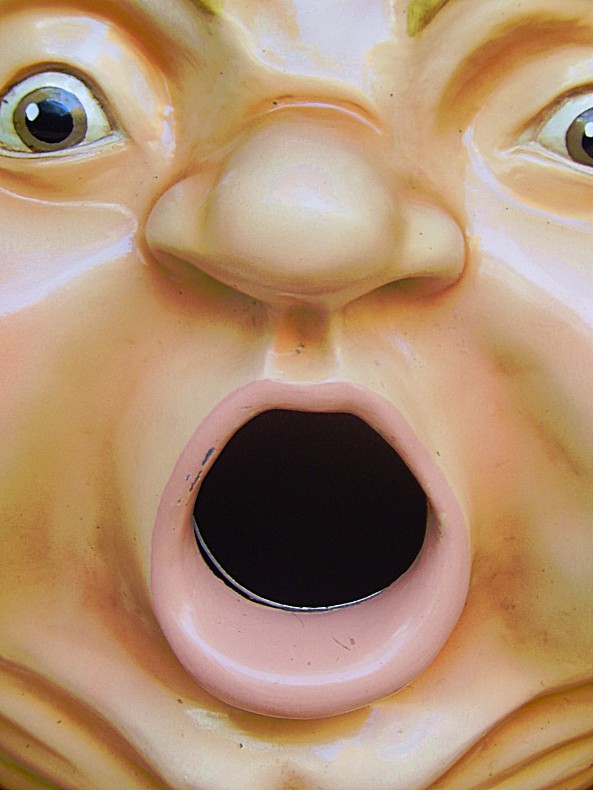 …and when it seemed he couldn't open is mouth any further… it still did… I threw in the sandwich and left quickly towards the rooftopped wall…
… and the I noticed the text on the wall in a local language, which I didn't understand. There were also six paintings on the wall, which was obviously a gallery in honour of the six servants of the prince…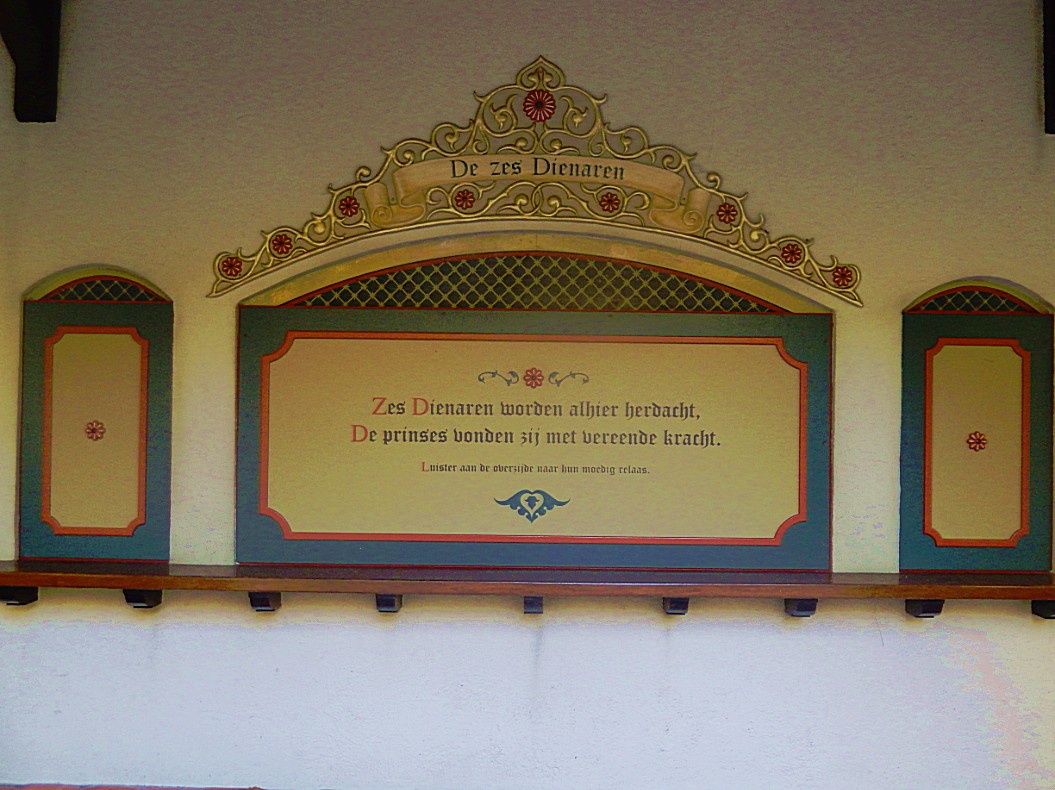 When I walked past the paintings I saw that every servant had a unique magical quality of his own and I started to wonder if maybe someone could actually help me get my feel of direction back.
1st there was Jump Ditch, who could make huuuuuggggeee steps when running. But how would he be able to help me? He would have to carry me to the other side of the forest and he didn't look very muscular but more like skinny…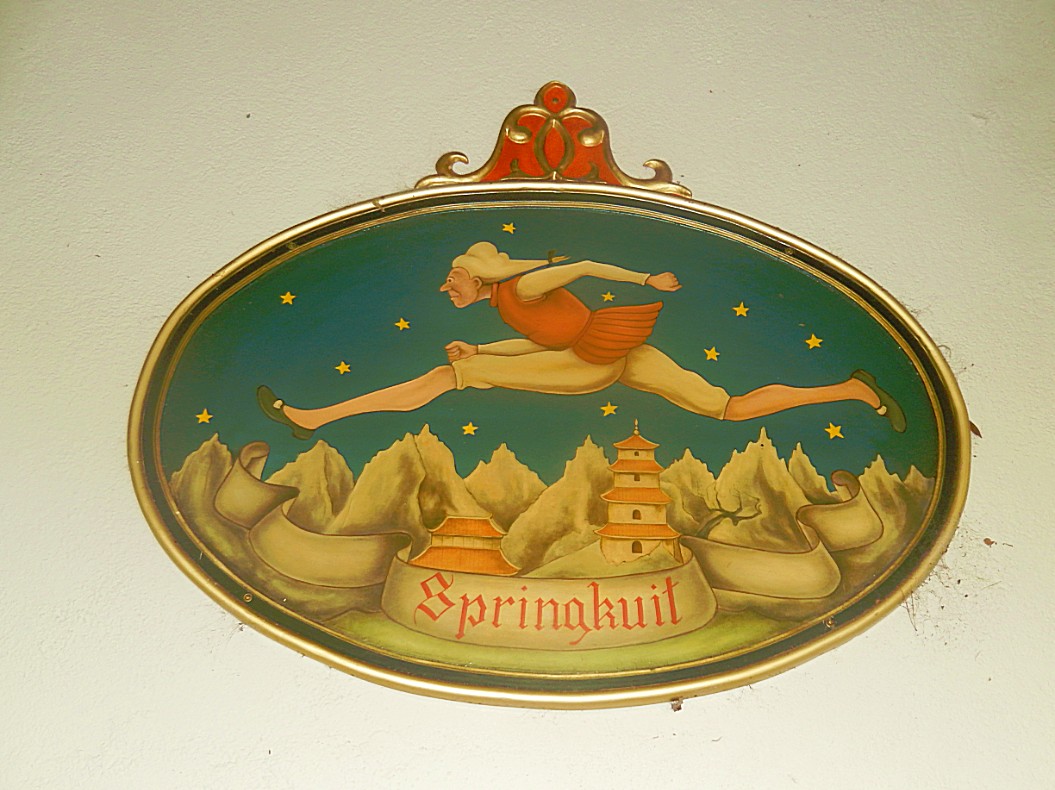 2nd was a picture of Ear Well, who had ears as large as wells, who could hear very very well. He could e.g. hear grass grow. But again. How could that help me?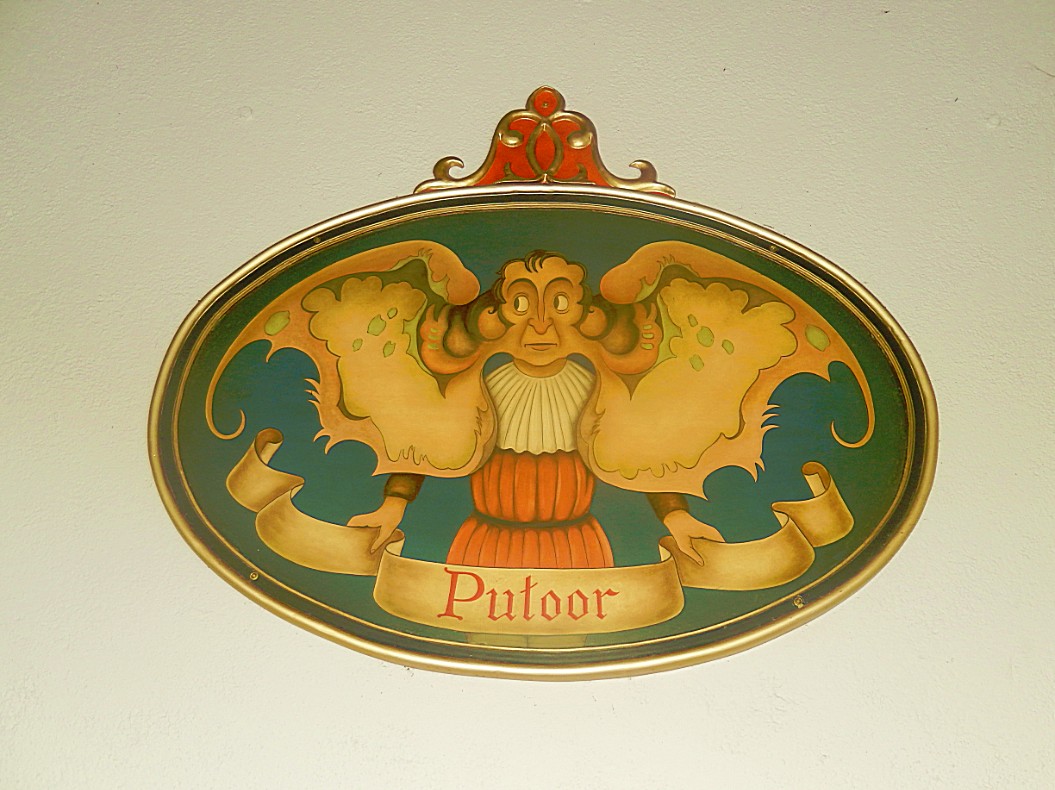 The 3rd painting was that of Hot Chill, who got chillier the hotter his environment got.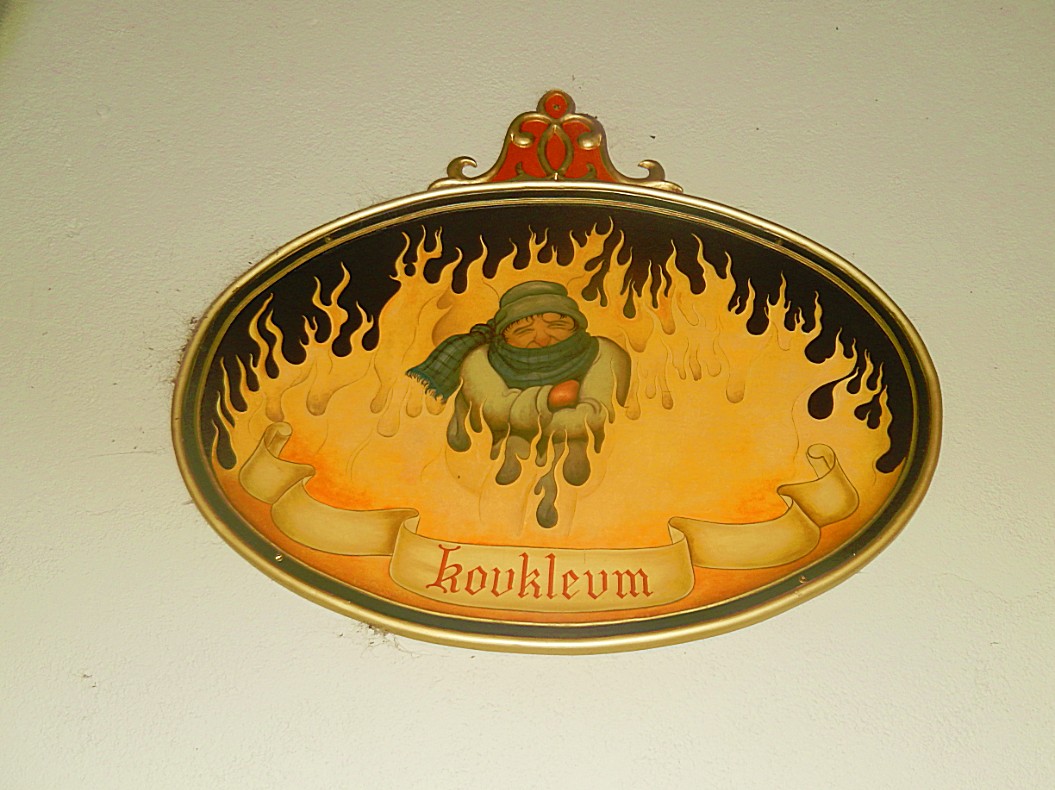 Next and 4th there was a painting of Hill Belly, and for ones I thought, If I could get on top of that belly I might look over the treetops and finally see where the sun is. But the I thought: but I could never climb a belly that high. It would be too cold on top and there would be no oxygen to breath…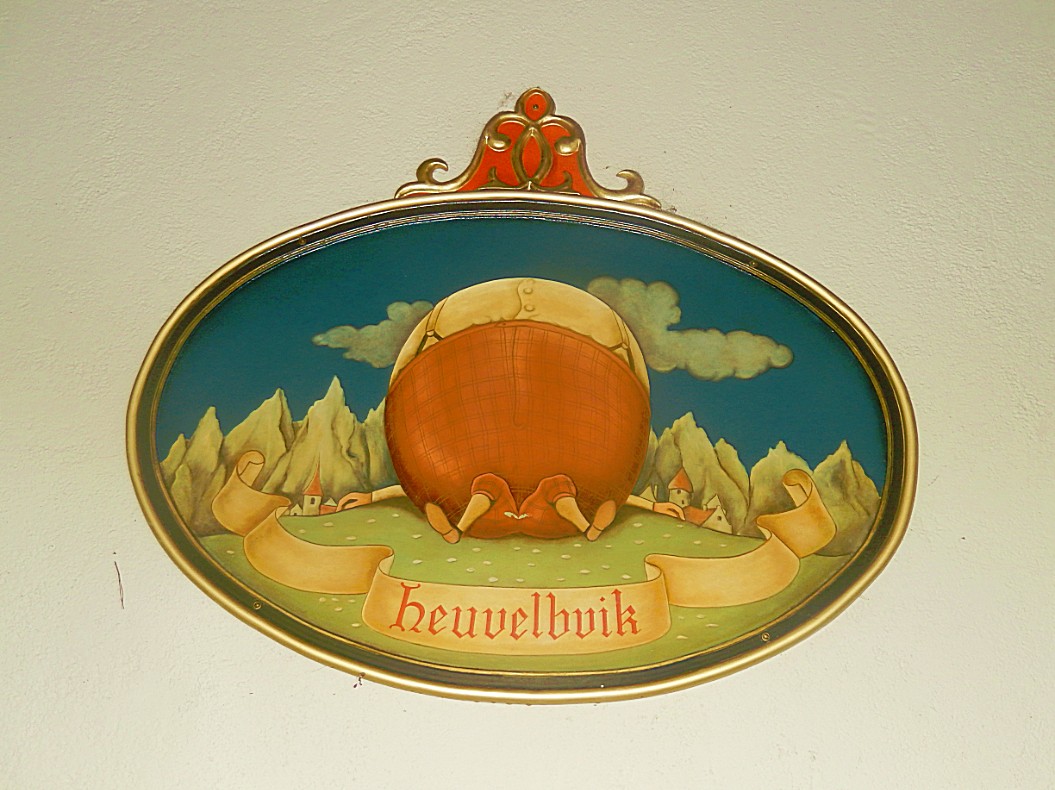 5th was a painting og Bullet-Eye and I skipped it quickly when I saw what disaster and destruction he caused…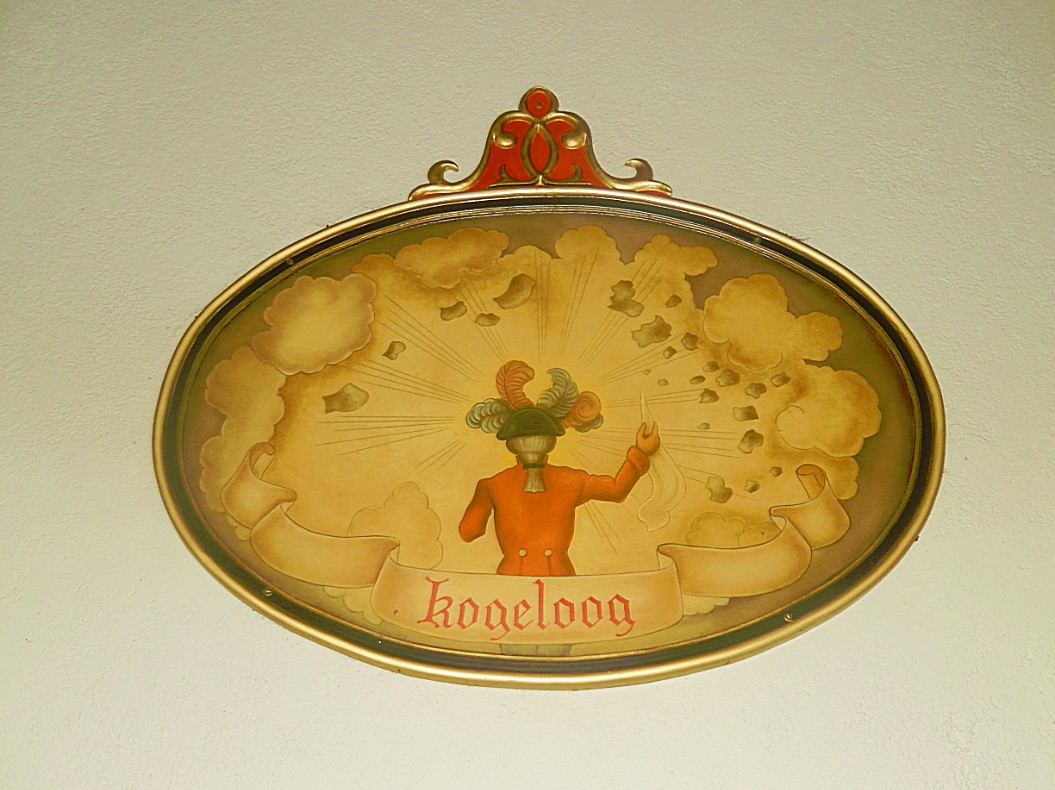 6th was a picture of a man who's neck was sooooo looong it reached even above the clouds. His name was Long Neck and I thought: Wow he would really be able to help me if he were here…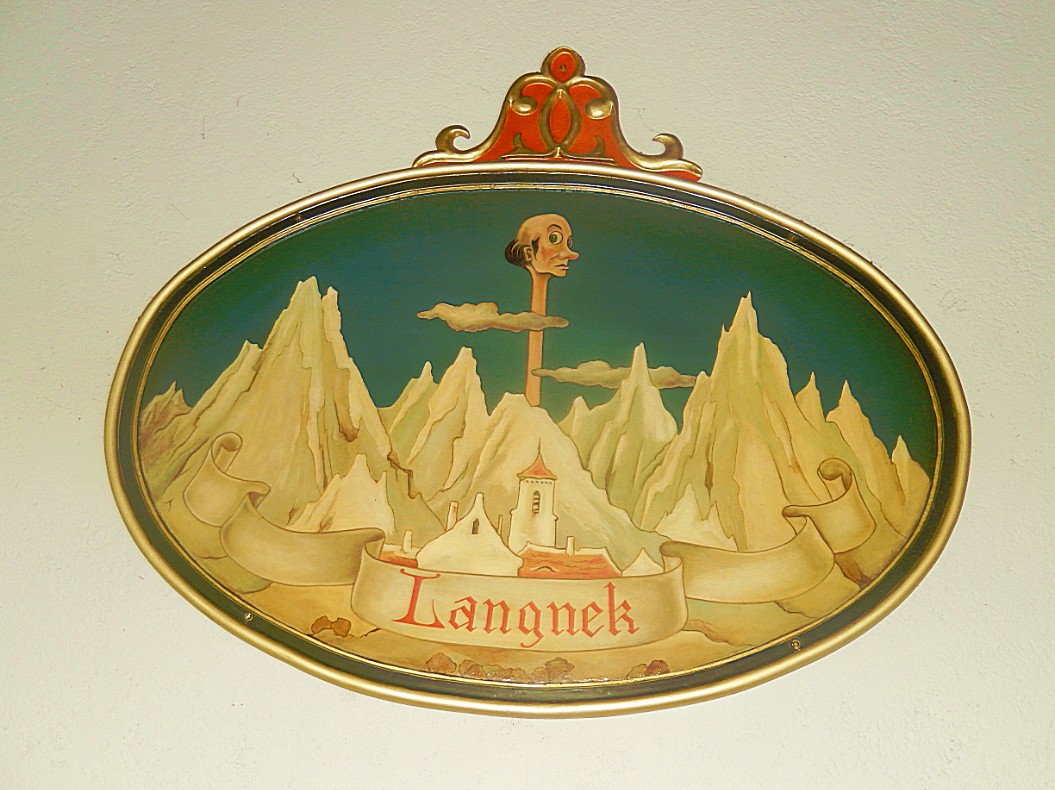 … but he wasn't, actually no-one was. Disappointed now, I left the wall gallery and walked towards the forest again, when a guy sitting in the grass called me and asked where I was going and why I was here.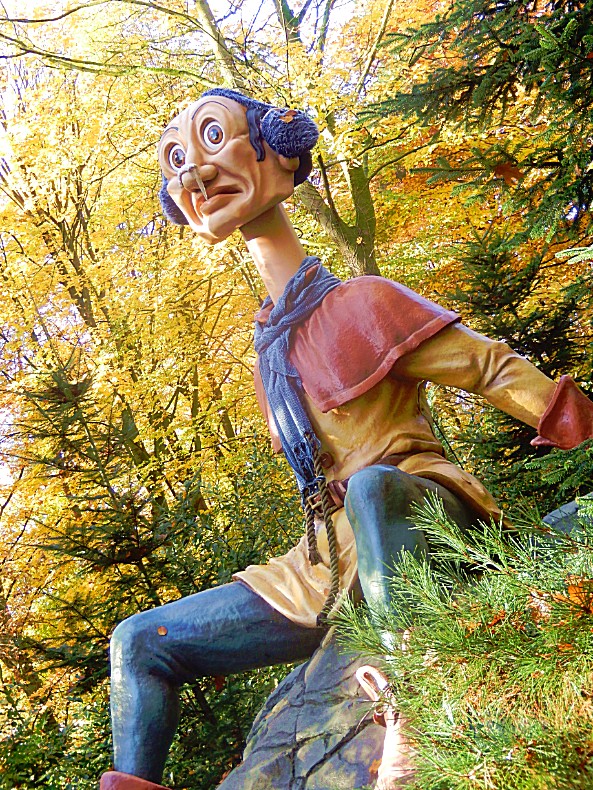 I told him of my quest to find the north again or the position of the sun, so I could be able to navigate again.
He looked at me with his friendly eyes and said: "Well I could have a look at where the sun is right now? Would that help you?" I thought he tried a prank on me and angry I turned away but after a minute I heard him in a soft voice as if from far away ask: Would you like to know how many days the walk to the forest border will be? I turned towards him to yell angry, but i only saw his feet ancored on the ground.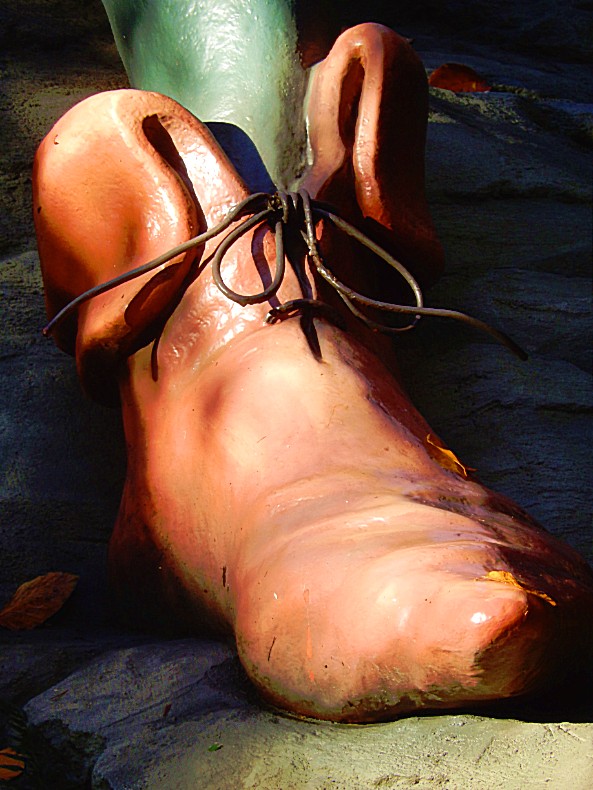 His head was now far above me almost at the canopy.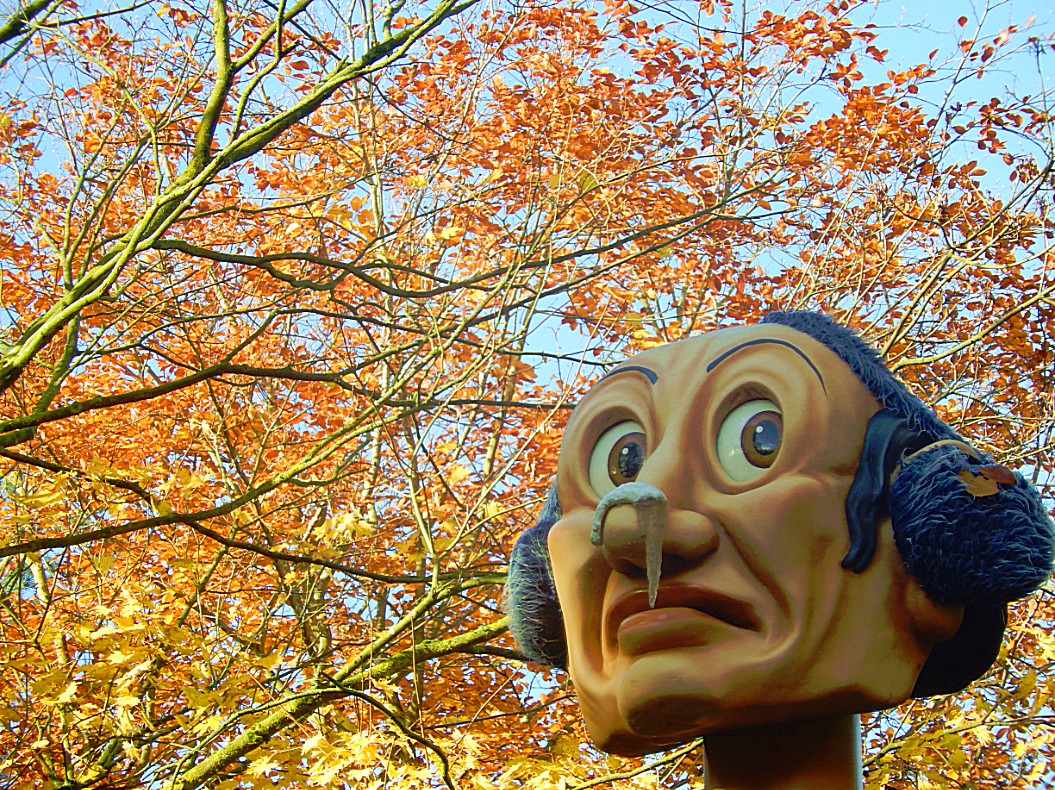 His neck kept growing…
…and growing…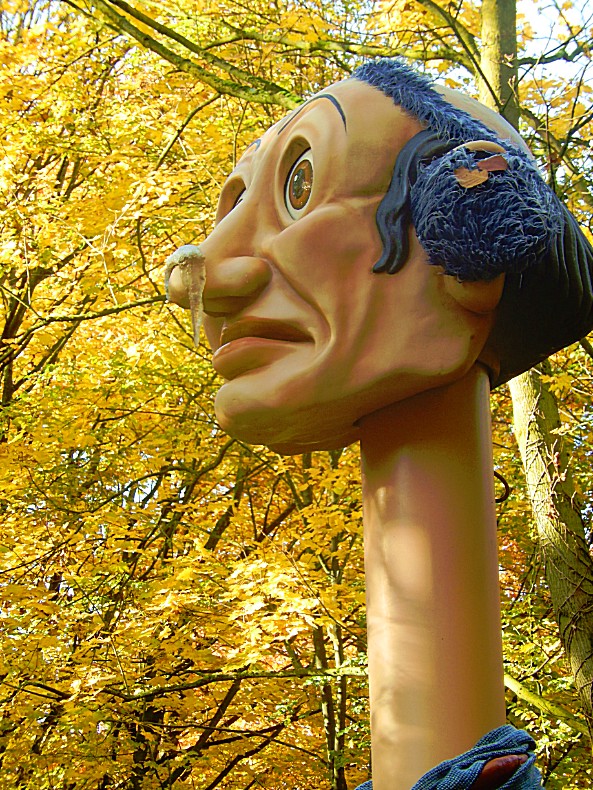 …and growing…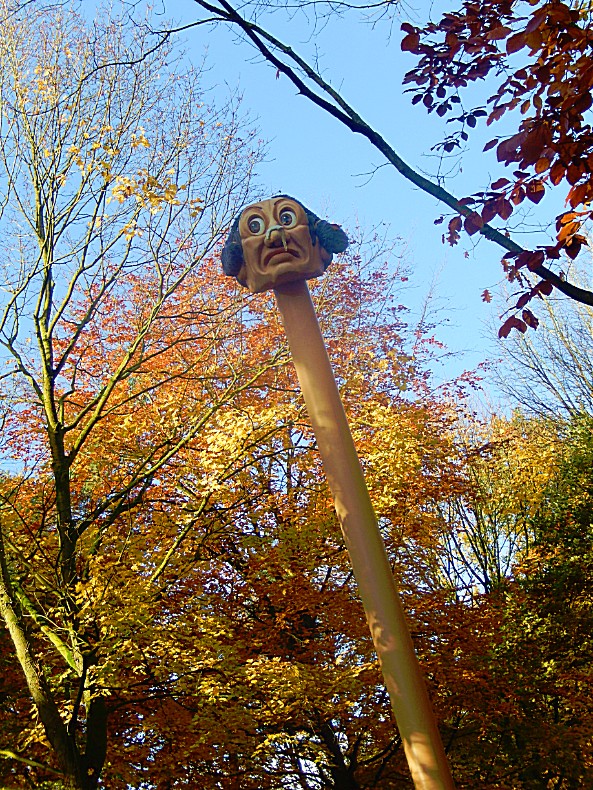 …and growing…and finally he looked over the canopy, pointed where the sun was en said I had still a far to go.
After he had come down again he warned me for a bad witch who lived deep in the forest causing all sorts of havoc and then he wished me luck and send me on my way down the path again and after ten minutes I was only surrounded by trees again…….
Share this blog on:or even better Follow Wandelgek on: