28. Glacier Lodge Eqi: Cabins, Café Victor and truly breath taking Sunsets
Glacier Lodge Eqi
Imagine you're standing on crags high above the ocean, the sun feels warm on your face, the wind is playing with your hair, when suddenly the air is split by a gigantic bang, like the sound of a nearby thunderclap. The detonation sound isn't coming from a storm, it orginates at the Eqi Glacier, on which you have a full panorama view.
Glacier Lodge Eqi was the first in World of Greenland's unique range of lodges. It is placed at the very spot where the French polar explorer Poul-Emilie Victor started his expeditions in 1948 to 1953. Since that time the glacier has receded somewhat, but the panorama and its sounds are certainly not lacking!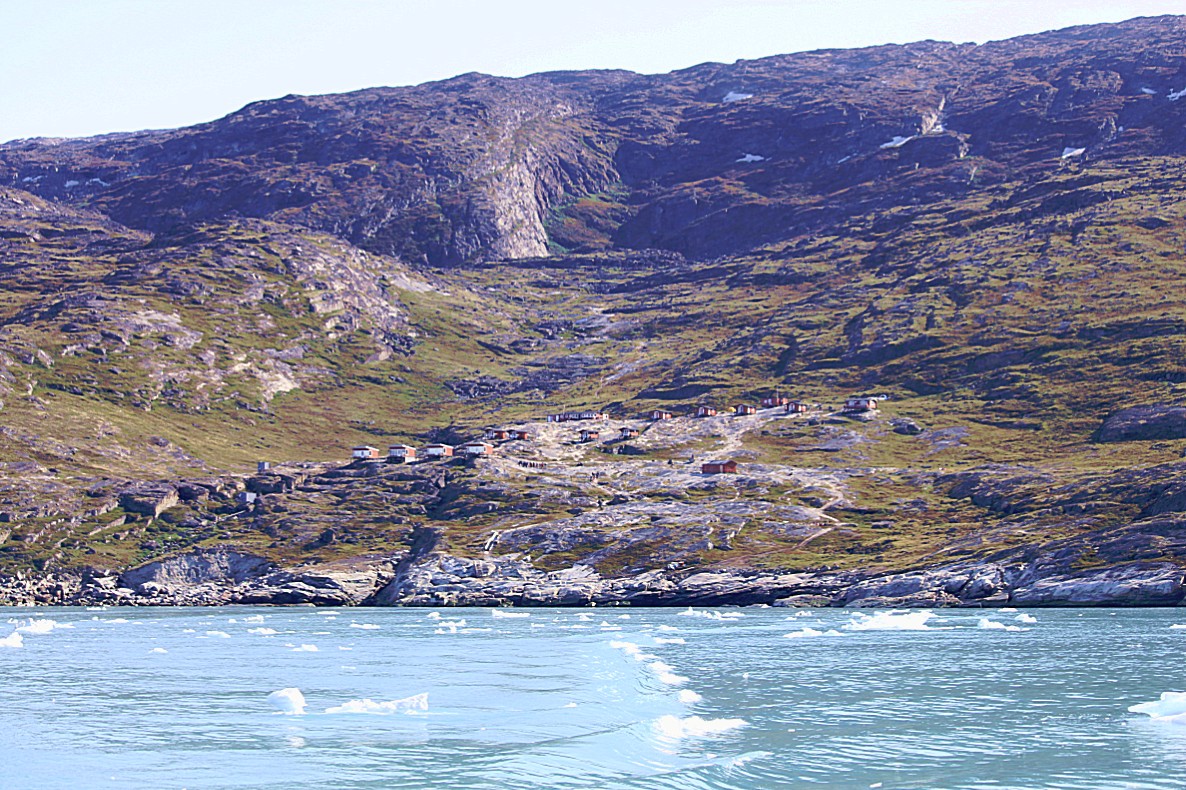 There are a total of 15 huts at Glacier Lodge Eqi, and among these are 3 types: Comfort, Standard, and Budget. In Standard and Comfort huts there is room for up to 4 persons, whereas the Budget huts have space for 2. Most book the huts as a normal double room.
Accomodation at Glacier Lodge Eqi comes with full board, which is served at Café Victor – named after the French polar explorer Paul-Emile Victor.
Standard Cabin
I had booked a standard cabin which was more than satisfying. It comes with no electricity, no tap water, no television, no shower, no toilet, no kitchen, no minibar, no light and most important no wifi, but it does come with spacious beds and linnen and a small outside balcony and a magificent mindblowing view over Eqip Sermia even from the bed…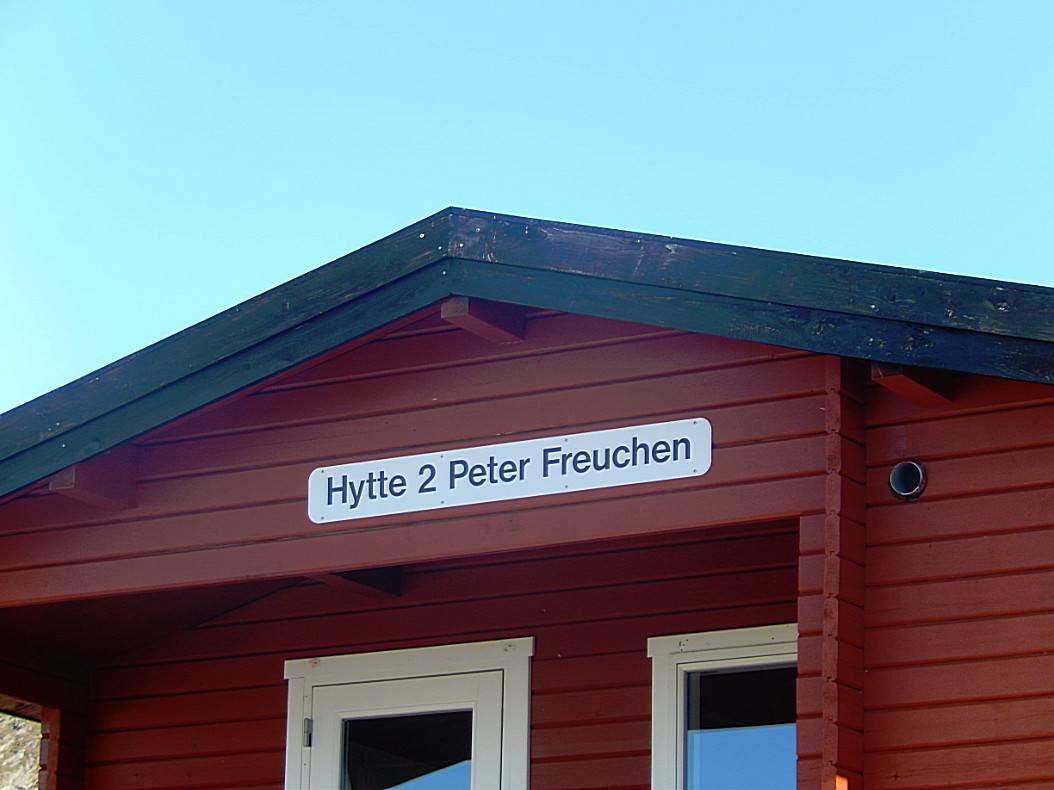 … in other words: Here you are completely isolated from the media, traffic, stress and polution of the world inhabited by humans. Here you are part of the arctic wilderness which is bearable (the weather is pleasant, the mosquitos aren't ;-)) in summer but very harsh and unyielding for life in winter.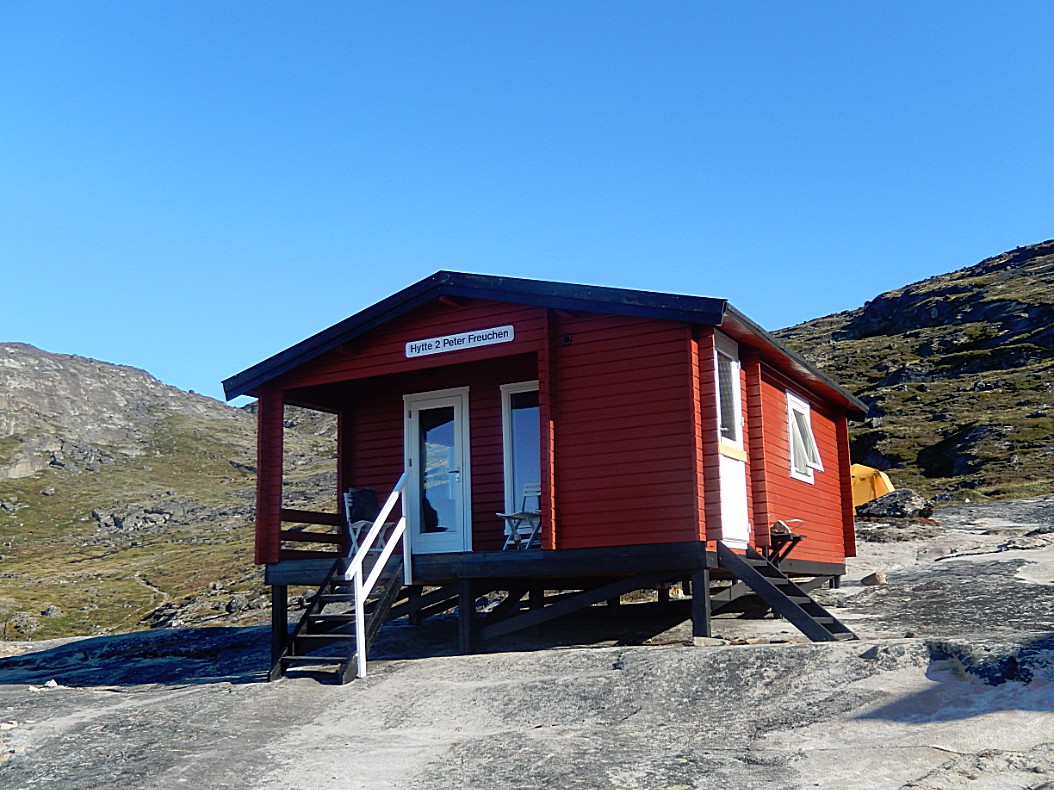 Standard Huts are basic huts without toilet or electricity, but which are placed close to the Café's toilets, bathing and café area. All huts have a great view on the glacier.
Let me show you around a bit…
A typical morning in a standard cabin. Waking up with the overwhelming view over the Eqip Sermia Glacier…
The interior of a standard cabin…
From the bed there is an unobstructed view on the glacier. At night you hear the rumbles and explosions caused by air bubbles being released whenever large pieces of ice break free from the glacier edge…
The standard cabins come with a balcony, where I would love to sit in the evenings after Café Victor would close, to enjoy the glacier view and the magnificent jaw dropping sunsets…
Above I'm drinking a local beer after a day of walking on the tundra…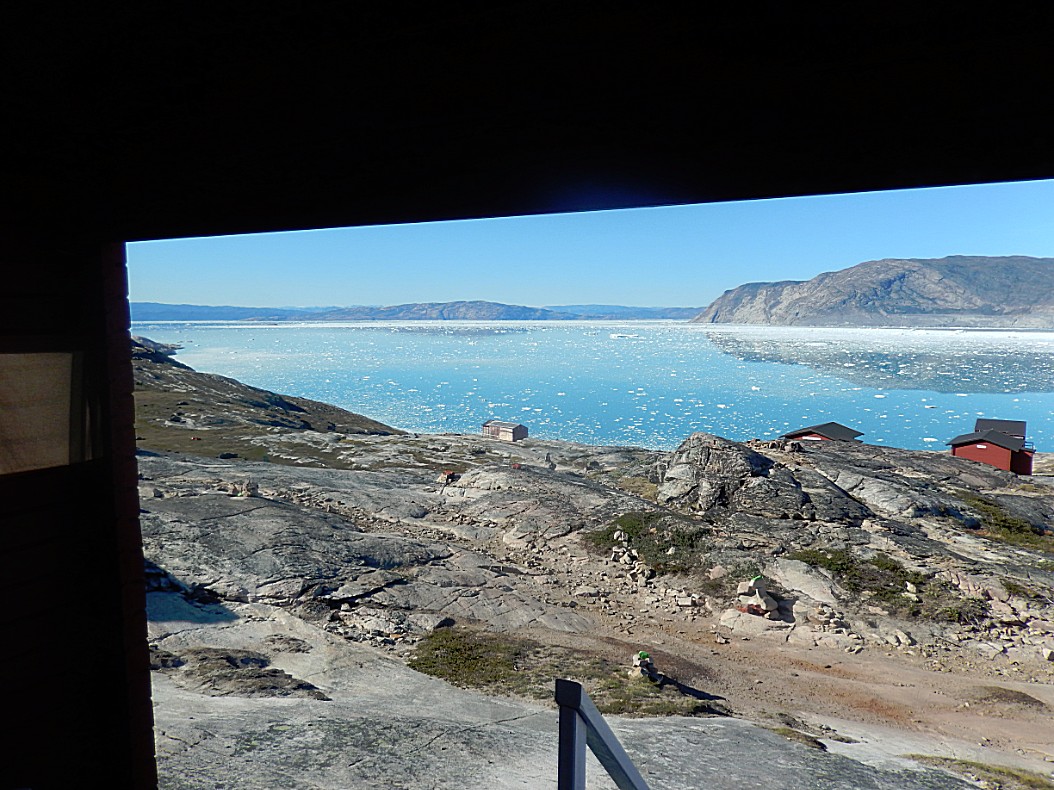 The wooden cabin to the utmost left on the pic above, was the cabin build for and by members of the polar expeditions led by famous Arctic explorer Paul Victor after whom the Café Victor and Port Victor are named (more about him later in an upcoming blog)…
Café Victor
Showers, tap water, toilets and electricity (one spare socket to be used whenever not used by employees) are all available at nearby Café Victor, where all guests eat their meals. Despite its location in the middle of nowhere, the kitchen is known for serving great food, and they strive to maintain the standards of a hotel kitchen. Solar power delivers energy for three freezers, fridge, extraction, lighting, water purification, alarms, satellite phone and much more. In the kitchen, skilled chefs use local produce to the greatest possible extent
In the early mornings there was breackfast at noon lunch and in the evenings travellers gathered here for dinner and some drinks and afterwards to read books, make conversation or look at maps to plan the next walk or hike or the next stage of the journey.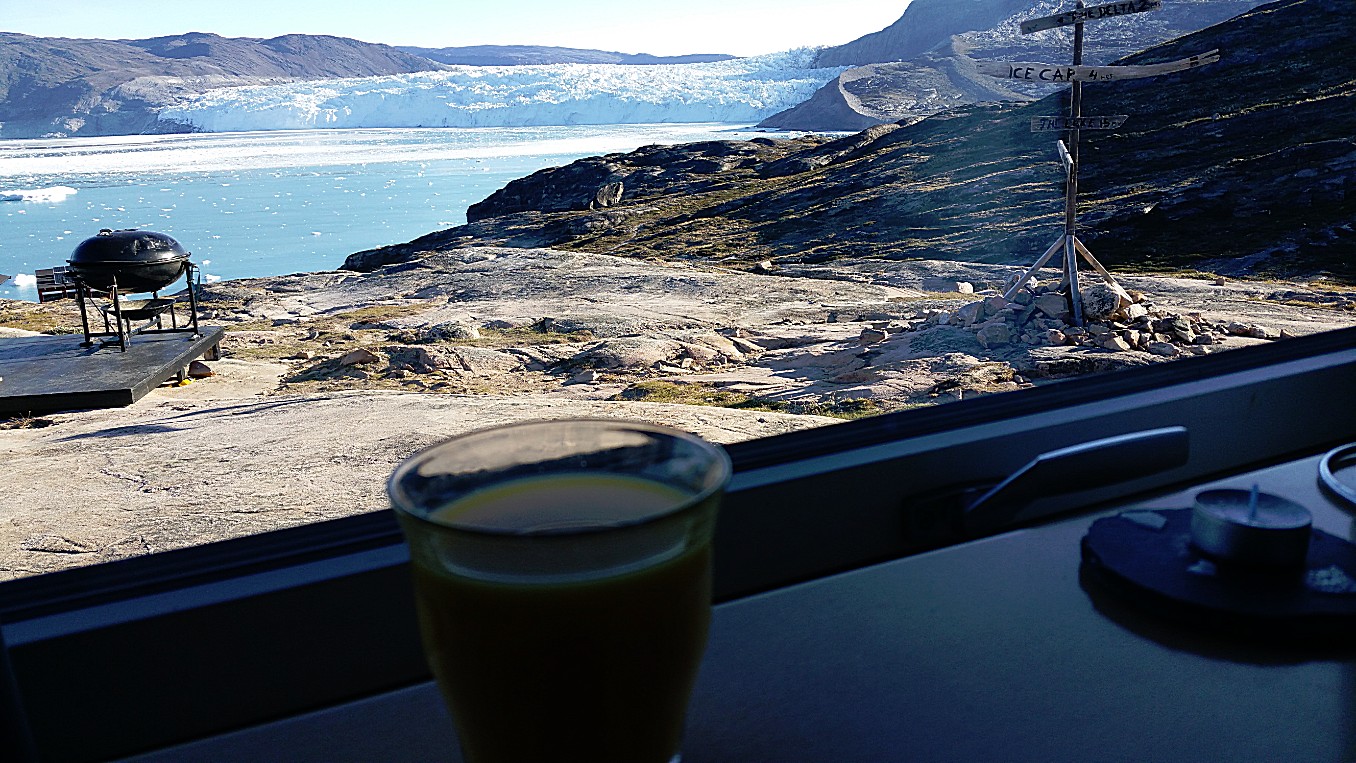 Local Beer
I chose to have some authentic Greenlandic specialty beers (which are extremely expensive, but quite good and tasty). The Qajaq brewery from Narsaq offers a diversity of beers and they are available in bottles. Ehm… not every aspect of this "wilderness" is Spartan…
Qajaq Brewery
QajaQ brewery is located in Narsaq close to Greenlands Icecap, where they harvest carefully the icebergs drifting outside the brewery. Probably the purest water mother nature can provide with 1000-4000 years old icebergs (water). They carefully choose their malt, hops and local ingredients for their beers. They're "mainly" a lager brewery but also enjoy a good ale every once in a while.
They´re a Greenlandic/Icelandic owned brewery with an American as head brewer and German as assistant brewer. Our main goal is to provide Greenland and the world with quality (locally) brewed beer and build up the knowledge in the country so they can learn how they can use their wonderful pure water.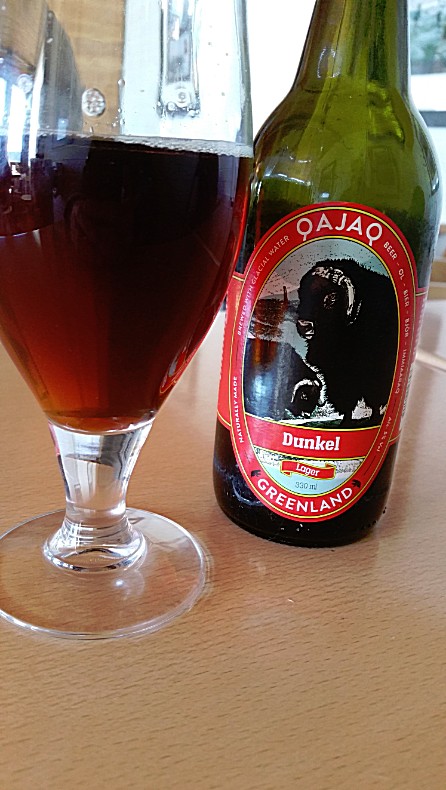 Dunkel
Dominated by soft, rich, complex flavours from darker Munich Malts. Mild caramel and toasty malt flavours with light sweet-chocolate notes. Hop bitterness is moderately low but detectable, making this beer much more seasonable than many dark beers. Medium dry finish with a clean fermentation profile. A guaranteed favourite amongst the locals.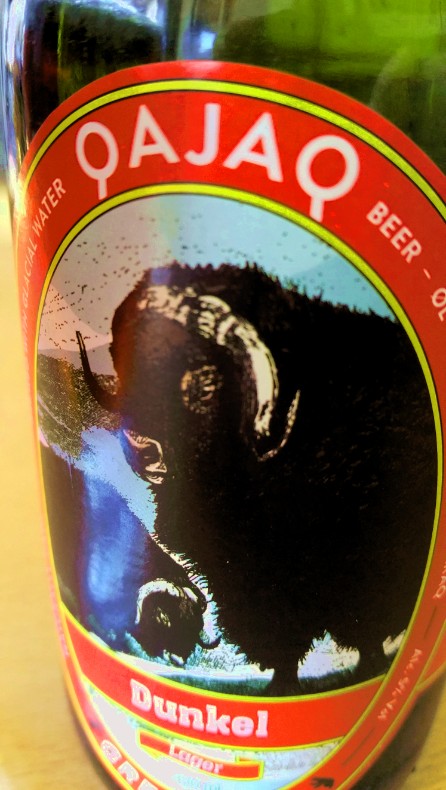 Sustainable Food
In the Café is a kitchen and guests enjoy a full board stay, meaning breakfast, lunch and dinner at the Café. Drinks and topographical maps of the vicinity were available too but not included.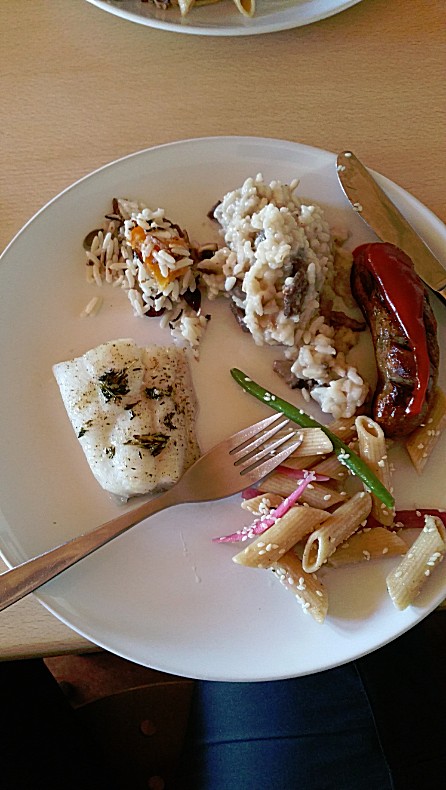 The food is healthy and quite nutritious (which is useful after a day of long hikes) often seasoned with local herbs found on the tundra around Glacier Lodge Eqi…Loved it!
Greenlandic Coffee
Another option is to go for an authentic Greenlandic Coffee. Look at this movie and I'll explain what happens.
Greenlandic coffee is a popular after-dinner drink, served along with a local legend or a tale about the Inuit people's closest thing to a deity — the Mother of the Sea. But the most common story about Greenlandic coffee is that it is "the whole of Greenland in one mug." It typically features hot coffee, whiskey, Kahlúa, Grand Marnier, and whipped cream. Served in a bordeaux glass, the coffee is set on fire before drinking.
.
You'll notice the closed curtains while this drink is served. That's because the sun is still high in the sky even late in the evening. To see the light of the flame the room needs to get darker. I can imagine drinking this in company, when the tale is told, in the polar night during mid winter when it is dark and extremely cold outside…
.
I saw the Greenlandic coffee ritual several times and performed by several guides of which some were really good and enthousiastic in the telling of the tale.
Sunsets
After my walks in the Eqi Glacier Lodge area, and after dinner, I usually retreated to the balcony of my cabin to watch the calving glacier and the jawdropping sunsets. Here I am drinking a Qajaq Kölsch beer which I purchased at Café Victor…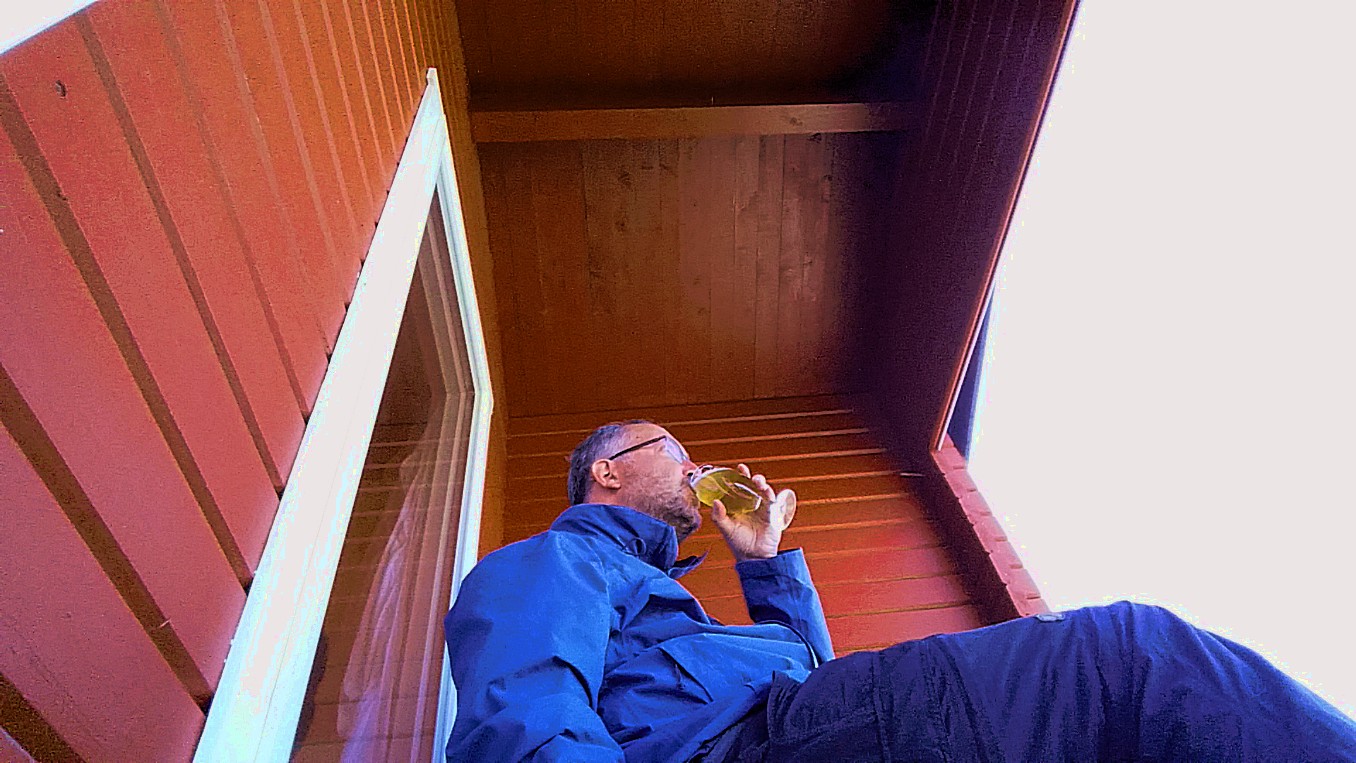 Kölsch
Crisp, clean, and malt forward, with high drinkability and low hoppy bitterness.
This refreshing German style Ale was developed by the people of Cologne in order to mimic the drinkability of the smooth, southern german lager styles. It's pale golden malt body stands at the forefront of its flavour profile, with a light hop presence, it is a good alternative for someone looking for an easy drinking beer that will not challenge the palate. Made with Greenlandic glacial water, this beer is sure to be a favourite among the locals.
Available in 4% and 5% ABV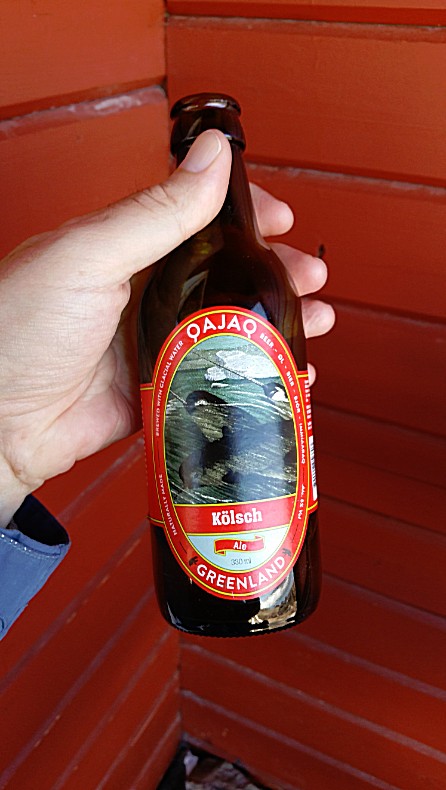 Let the spectacle begin…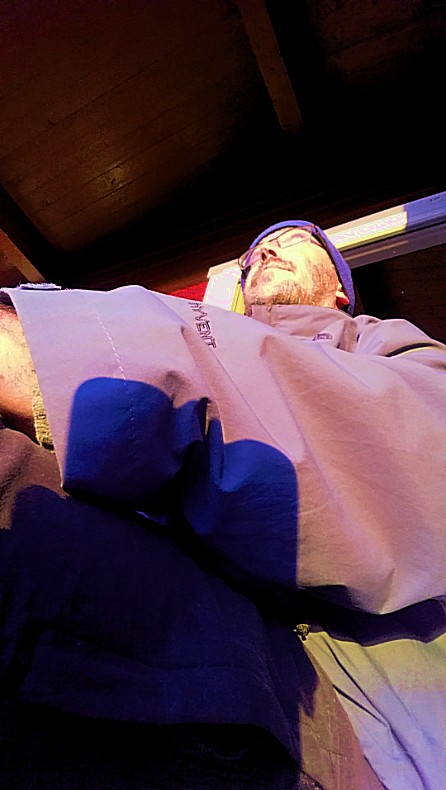 The sun started to set behind the mountains…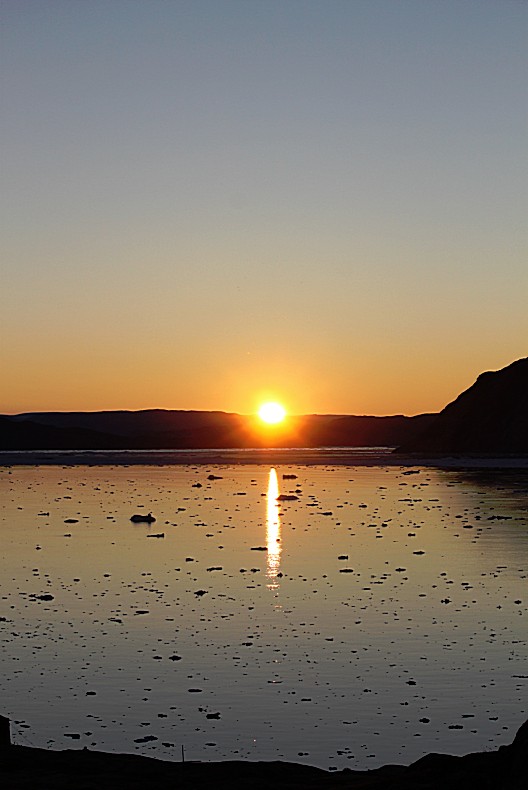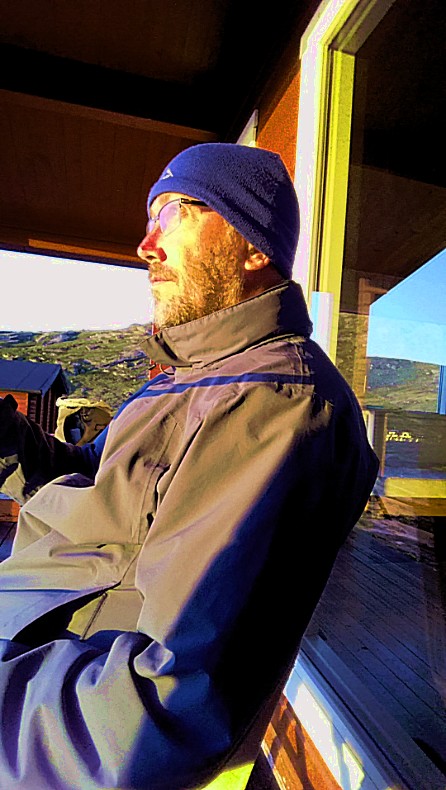 Enjoying myself with a view that is way better than any National Geographic or Discovery documentary can ever hope to be…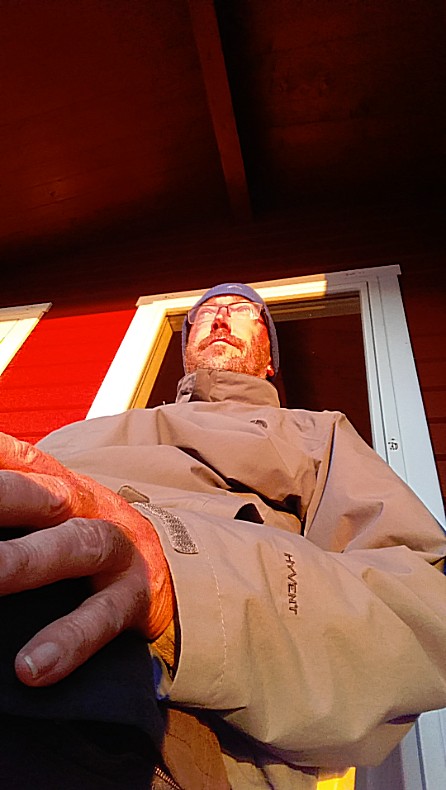 There's lots of ice floating in the water…
Finally the sun had set, but the colors now got pastel like and the light never waned…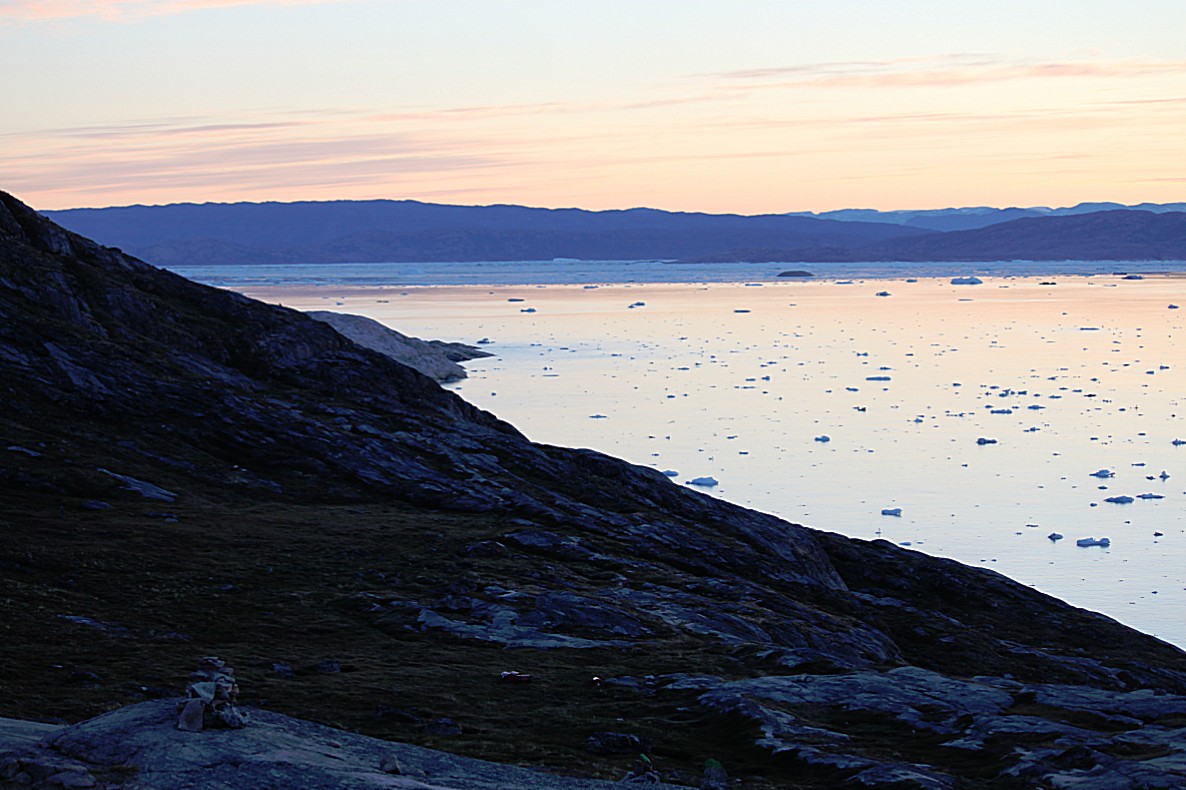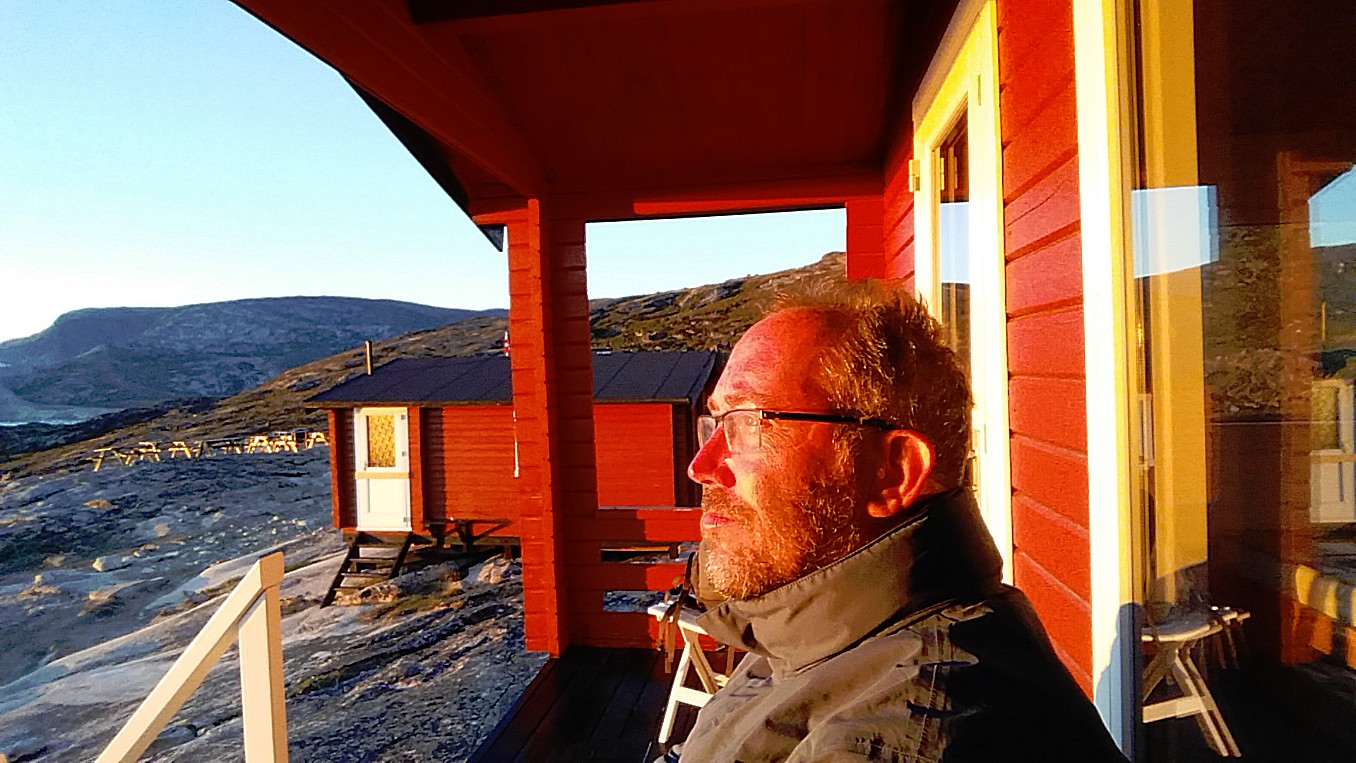 Most spectacular of all were the clouds that almost got fire…
Yet another sunset to watch…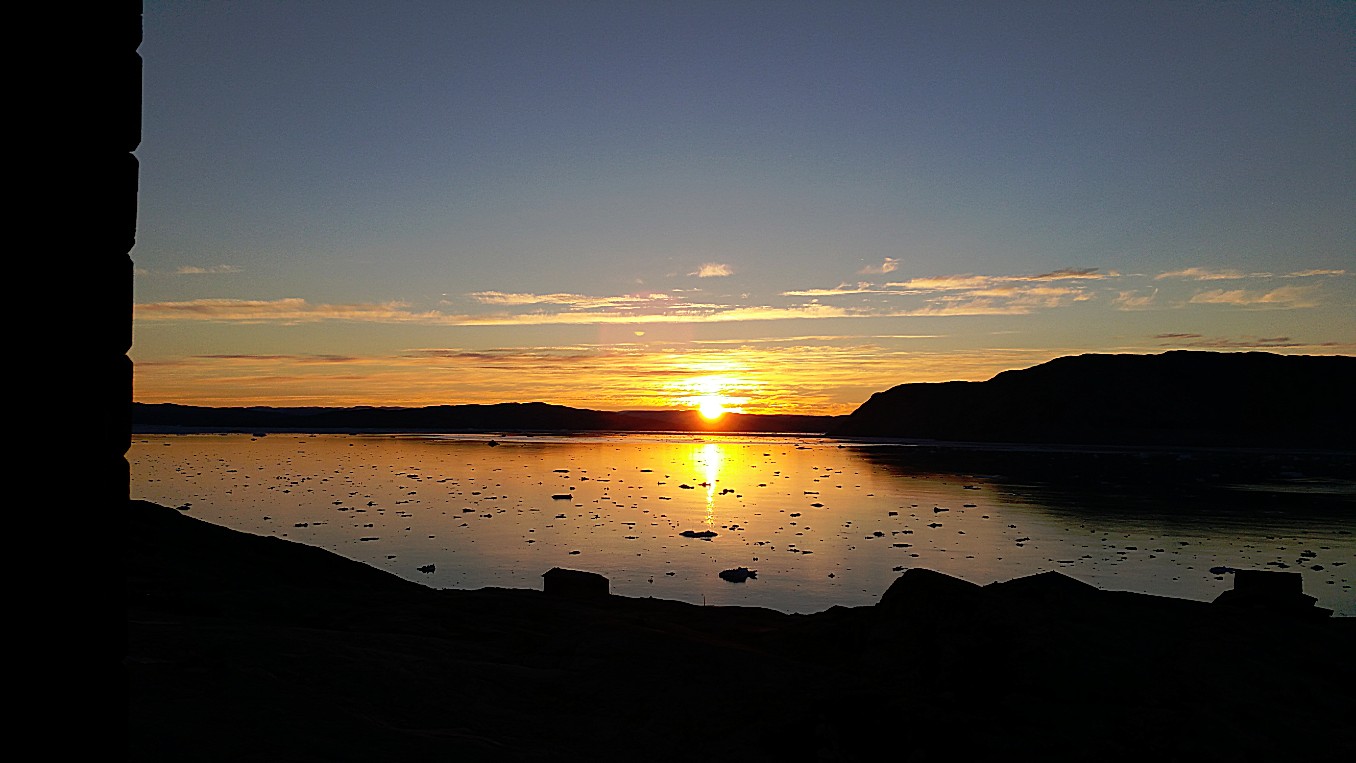 …and it promised to be even more spectacular then the 1st one…
The cloud formations were catching fire…
After the sub had set, I lookedover the water full of ice and suddenly noticed the dark silhouette of the Paul-Emile Victor Polar Expedition Cabin overlooking the same water and the same glacier as I was and suddenly I could'dn't help feeling a bit like an arctic explorer myself 🙂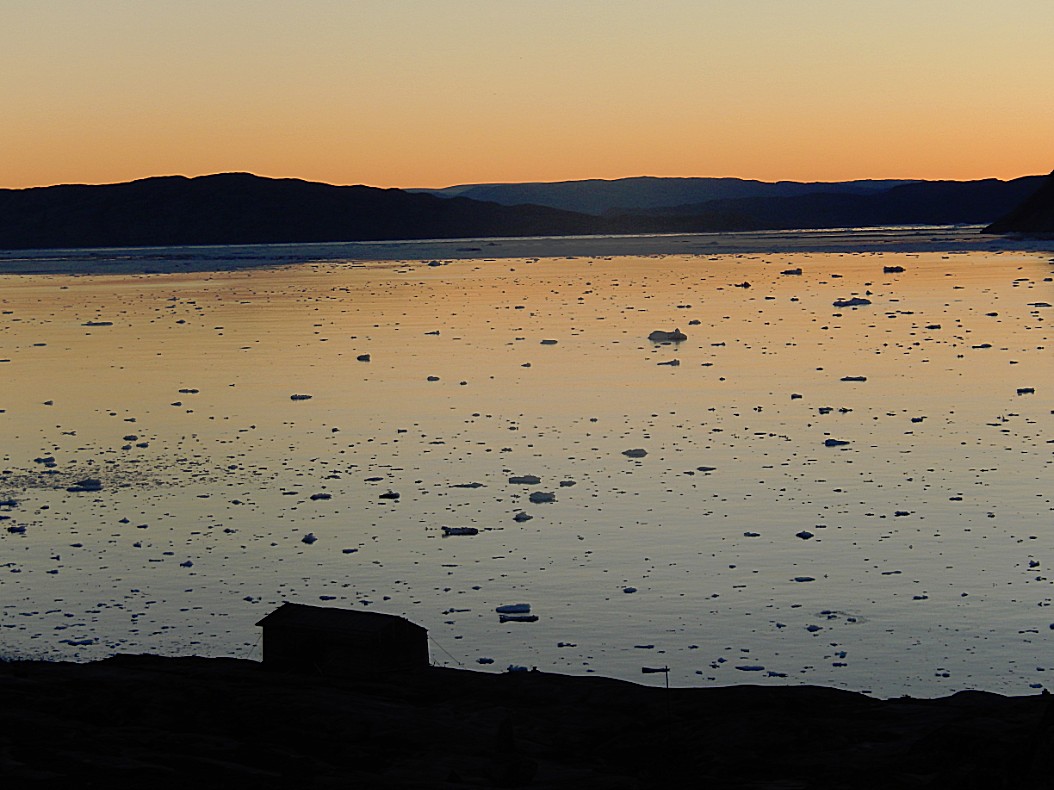 Historical significance
Paul Emile Victor's old cabin is located next to Glacier Lodge Eqi. From here, he went on numerous expeditions to the Ice Cap in the years from 1948 to 1953. In general, the place has been popular among many explorers. The conditions for boat entry are good, and the nearest accessible part of the Ice Cap is not overwhelmingly far from the camp, so a lot of expeditions have begun here.
Before Victor, H. J. Rink set out here in 1848, MP Porsild followed suit in 1913 and Alfred Wegener in 1928. Traces of Paul Emile Victor's expeditions are still evident, serving as an important reminder that Arctic nature will not just regenerate like elsewhere on Earth. Up here, we have to take extra good care of nature!
The skies were ablaze now…
After the sun had set, it immediately grew colder and mostly around 13.00 oçlock I decided to get into bed. The sun was already rising again by then…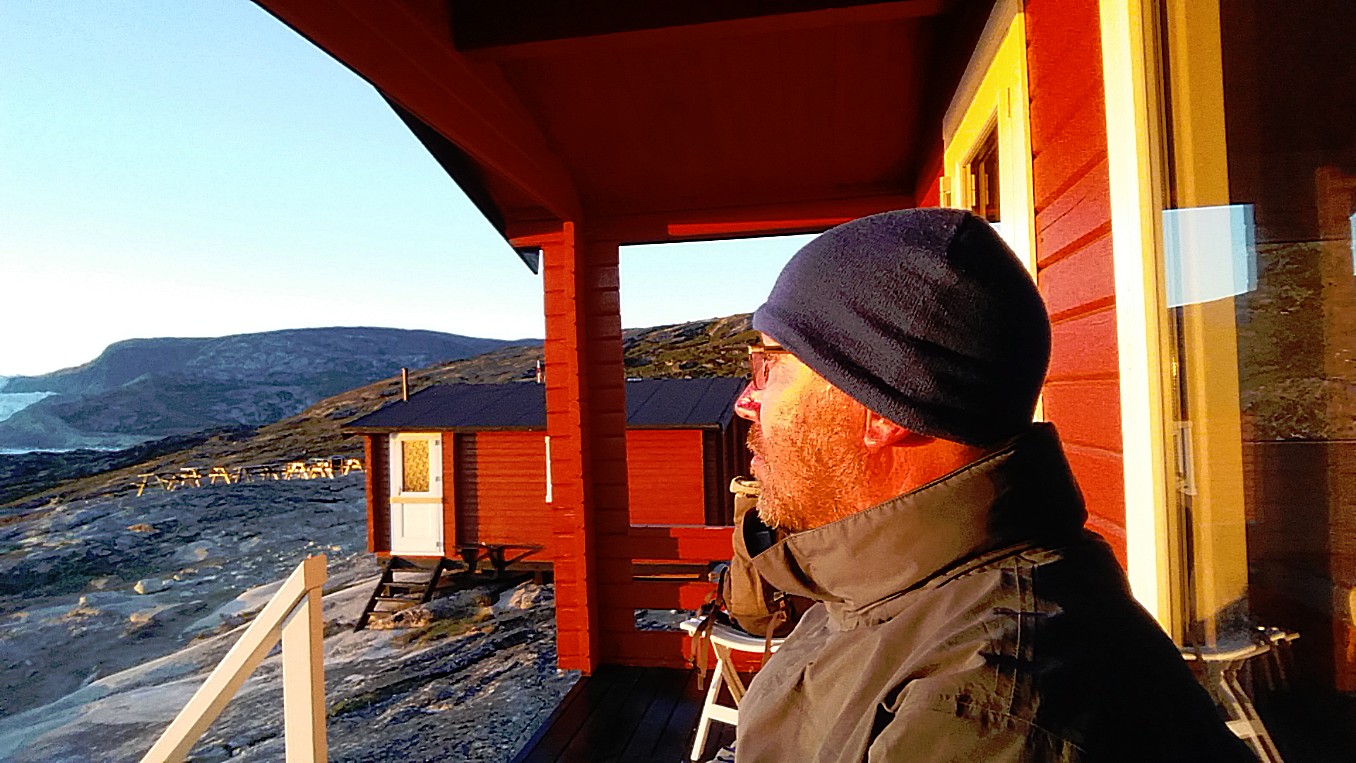 The clouds were completely wild these nights, something I've never seen anywhere near as extreme as this in any other place on this beautiful blue planet. It actually looked more like the sky of the red planet of Mars…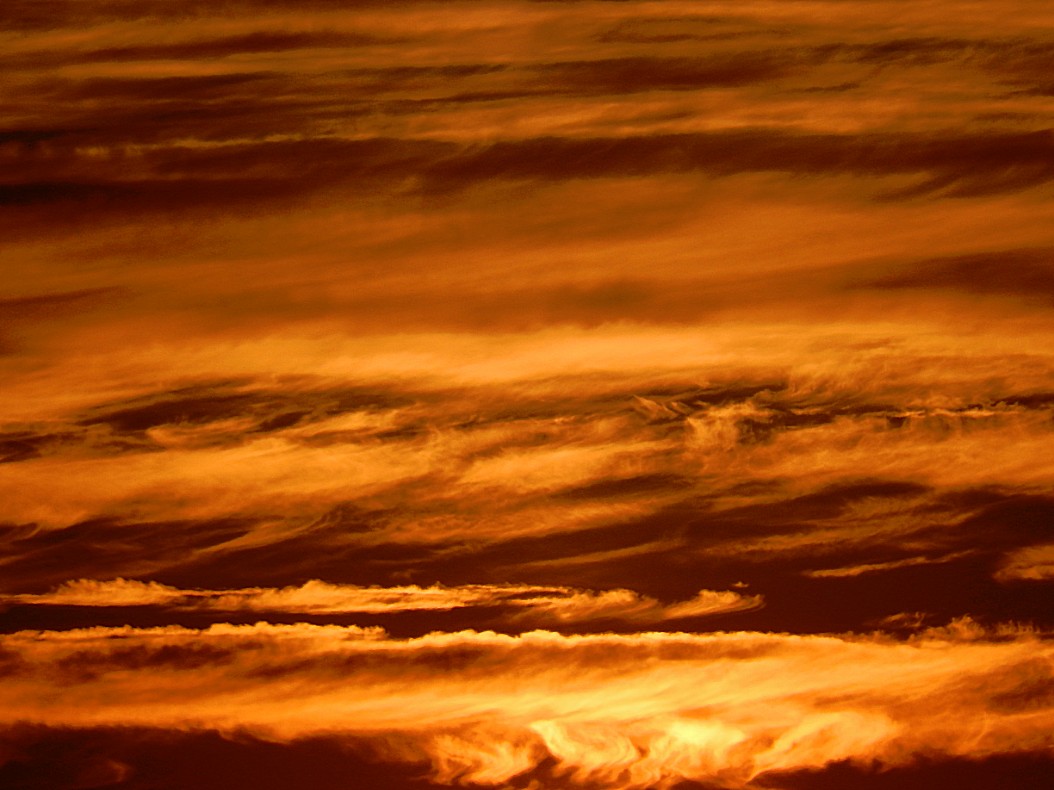 I started experimenting a bit with my camera, changing lenses, using different shutter times, different zooms and different light sensitivity. I decided to make some shots for my Design by Nature-project…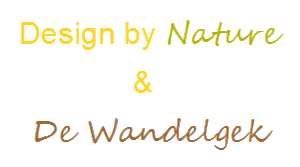 … and before going to bed I got to make this wonderful shot of the icy water…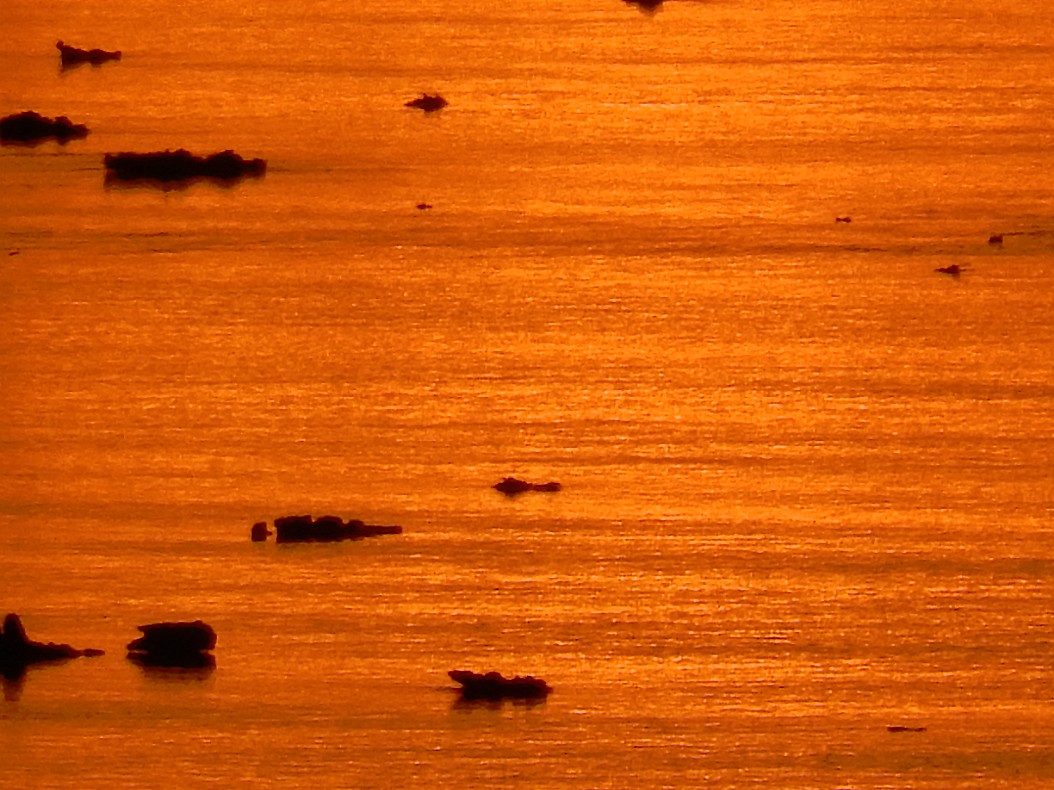 Ah wait, a few more cloud pics…wasn't sleepy anyway…
… and some final shots of the water as it had turned into liquid gold…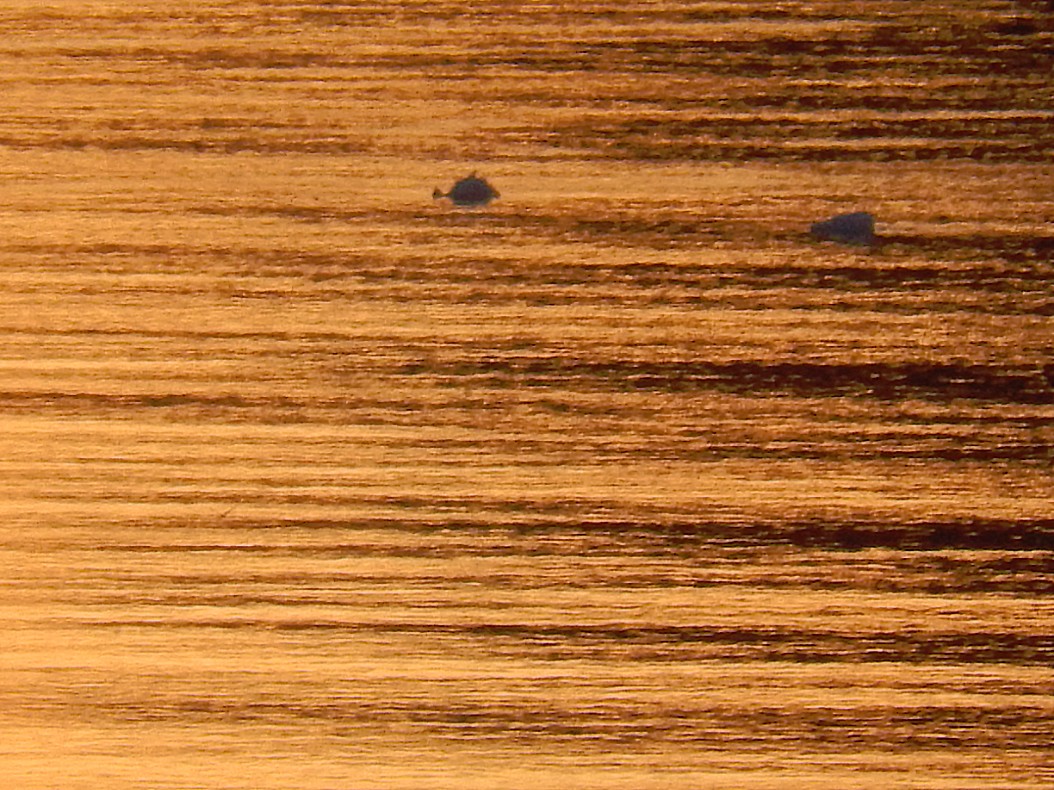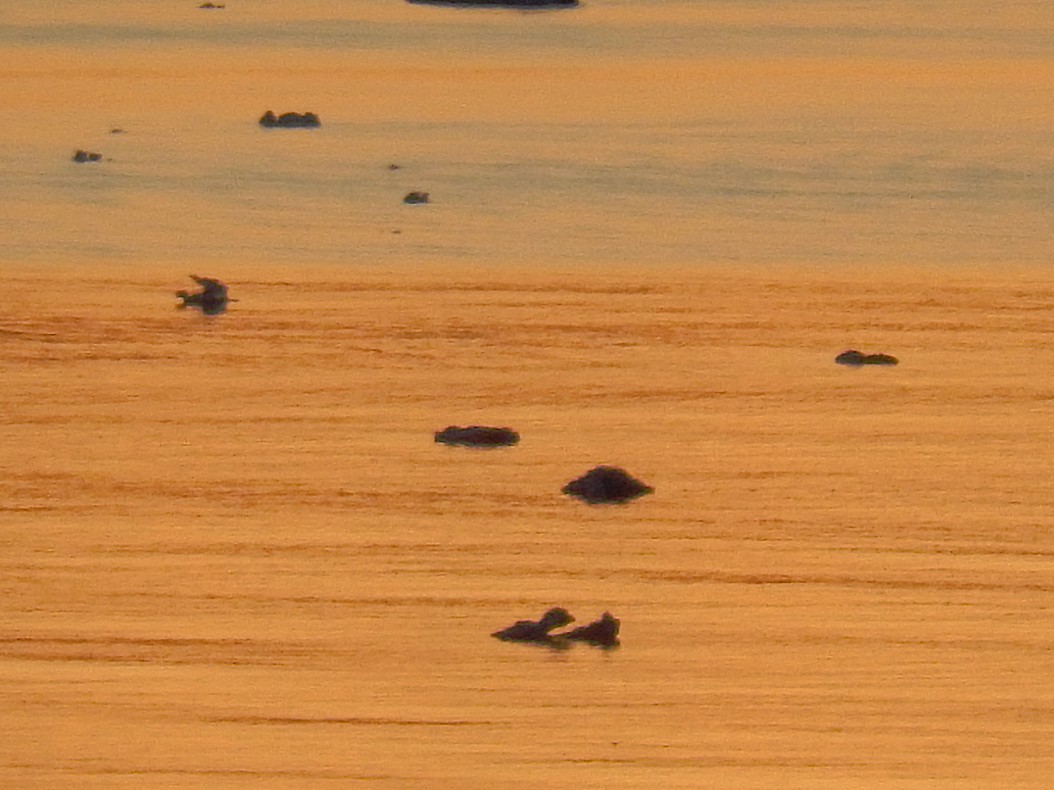 Then I finally got to bed because I had to get up early for a long walking day…