32. Greenland: A mad Whale party – 2017
After a good night's rest, The Wandelgek awoke early, because he was quite excited about the what he had been planning for this day. He opened the curtains and looked outside only to discover another thick curtain of sea fog, which he could not open. At dinner he kept looking through the windows to see whether the fog would lift but it kept like a thick blanket covering the town of Ilulisat. This could be a real deal breaker for his plans. And after meeting some German travellers of my international travel group that had been inquiring for the departure time of the shuttle bus to the harbor, I was informed that the adventure that I was anticipating on for so long, had been canceled due to very bad visibility at sea.
Now I had been planning to go on a Whale Safari for this morning and I was very excited to finally see whales from a short distance. I did see my first whale as I left Unguja island in 2002. I was travelling to Dar-es-Salaam, to get on a plane and return howeward, when I saw some water fountains, far away in front of Unguja's coast. Whales! But I didn't see the whales themselves. This was still the age of analogue photography (celluloid film rolls with a max of 36 pics per filmroll). I don't have any picture of that 1st encounter, but this picture was taken just a few minutes before spotting those whales :-). It shows Stone Town, the arab historic town center of Zanzibar Town.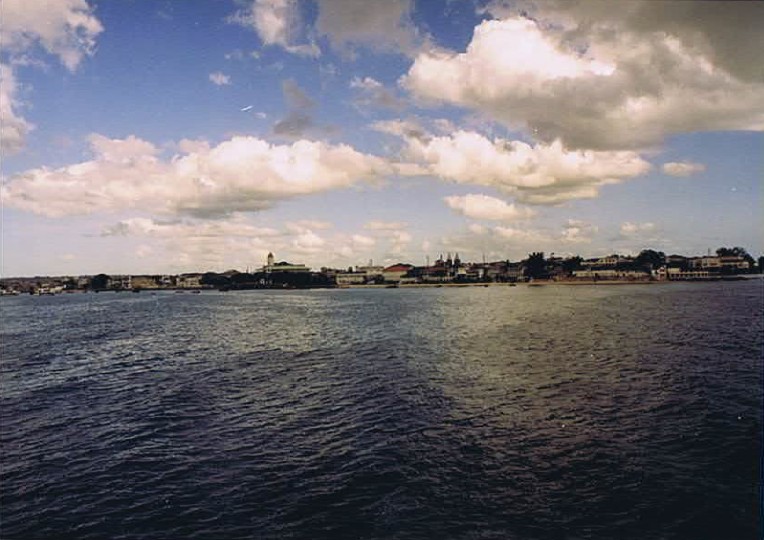 The 2nd time I did see whales was much later in 2015, when I was travelling through South Africa and was journeying around the Cape Peninsula just south of Cape Town. I had reached False Bay and was just enjoying the view towards the mountainous South Africa Coastal line.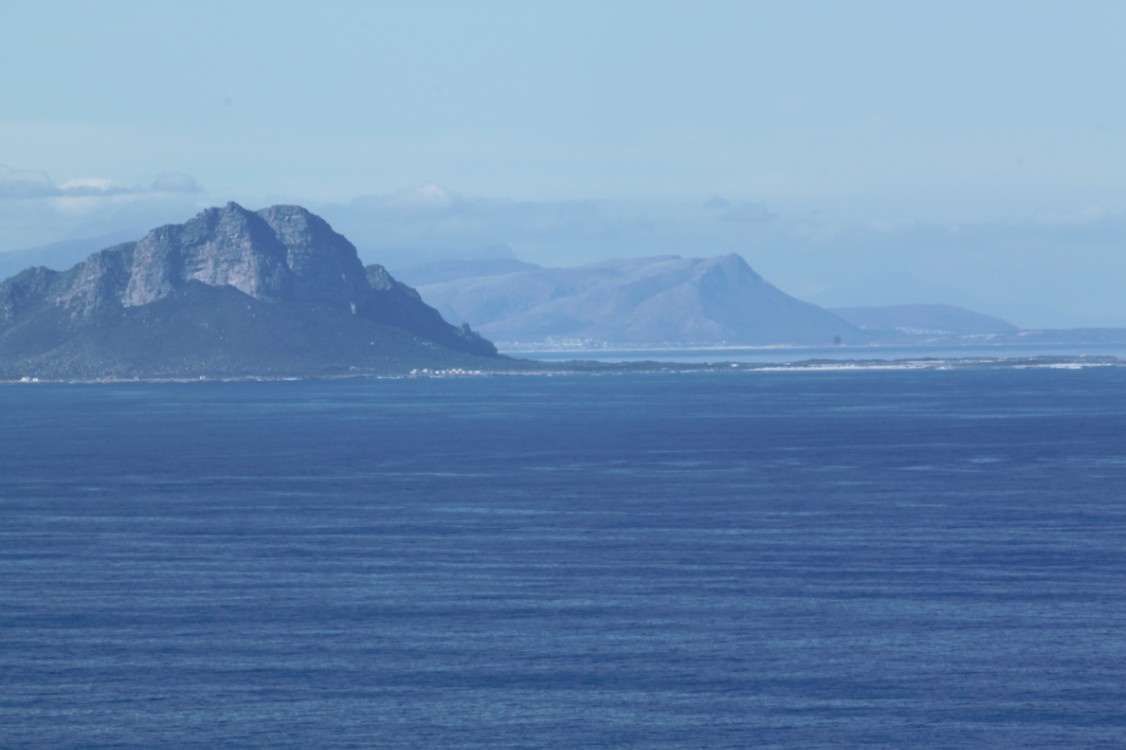 Then someone yelled: WHALES IN THE CENTER OF THE BAY!! I had switched to digital photograpy by then and even better, had been using my camera a few seconds before, to photograph that impressive coast, and for that I had used my telelens :-). I quickly grabbed my camera and shot my 1st whales :-0 They were very probably Humpback whales, because I could later identify a white tail finn, which is a typical feature for that whale. That and that they are common in this part of the world.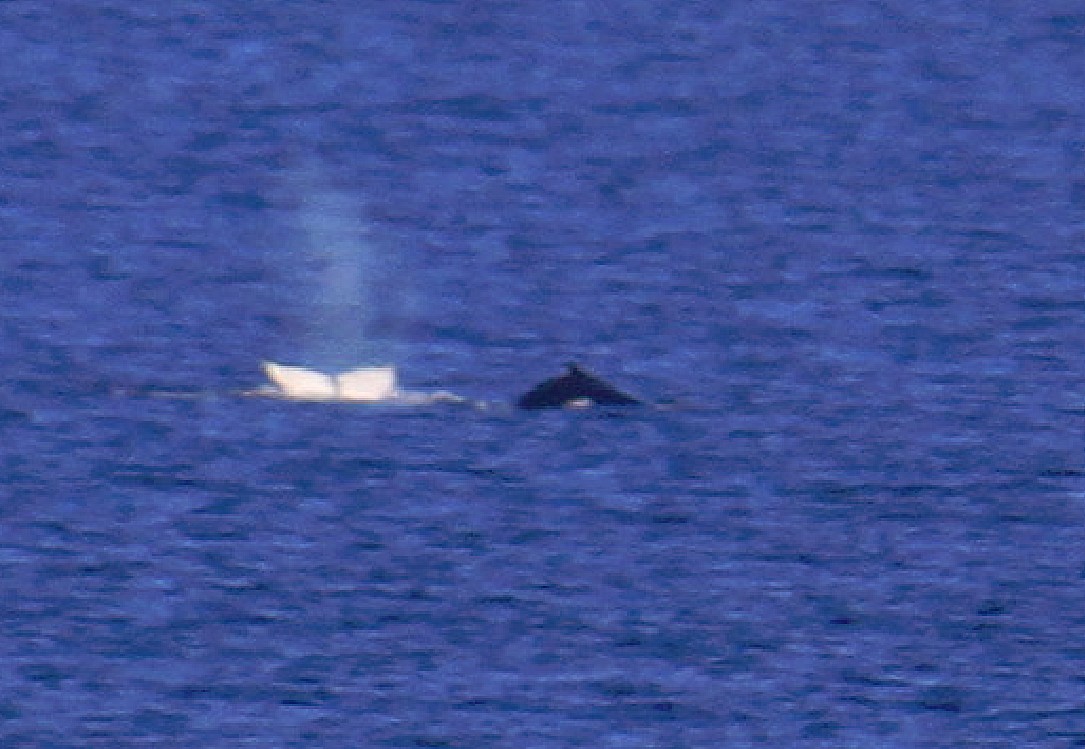 But still it took quite some enlarging of the photographs to see any detail.
Today I had been planning to go on a fast ship to actually hubt for whales and then the fog happened 🙁
After breakfast (the fog showed no sign that it would lift), I met with another couple of travellers from Denmark, that were also part of my travel group and they had been to Ilulisat to quickly rebook their Whale Safari to the late afternoon and evening. I decided to follow their advice and try to rebook too. But as I was leaving the hotel, I remembered that the hotel a had a travel agent counter for World of Greenland and I decided to go there 1st. However it was a sunday and it was closed, but luckily a hotel clerk who manned the desk in the main entrance hall, saw me waiting and asked if he could help. I quickly explained that I had hoped to rebook my whale safari at the Travel Agent desk and he offered to make a phone call to the World of Greenland office. I got to talk to them and explained I wanted to rebook the whale Safari to late afternoon. That's possible, they explained and they were going to reschedule me 🙂 After half a minute, the contact on the other side of the line came with some pretty bad news. The last two open seats on that whale safari had been booked just half an hour ago (and I knew by whom ;-)). But there were still some free spots on tomorrows Whale Safari. I sank back into dissappointment explaining that that was not an option, bevcause I was going to leave Ilulissat the next morning. There was a moment of silence on the other side of the line, before the employee spoke again and asked whether I would like to participate in the noon Whale Safari? I had not considered that, because the fog was still very thick and didn't seem to show any sign of lifting. Wouln't it become a financial risk to parcipate in that, when that whale safari was probably going to be canceled too? No if it is canceled you won't have to pay anything. I decided to give it a try. The employee said he had to see whether there were free seats left. Time ticked away and after what seemed minutes, the employee returned and told me there was 1 last free seat left :-))))))))))))) Of course I want it, I replied and I was rescheduled on the 12.00 oçlock Whale Safari.
Then I returned to my room to stare out of the window and hope for that darn mist to finally lift. And after a few hours it finally did. The fog got thinner and patches of blue sky started to show above Ilulissat and even better, above Disko Bay…
When I inquired at the hotel desk whether the shuttle bus to the harbor would go and the Whale Safari would go through, now that the mist was lifting, they said the captain of the ship had given a green light for it. I took the shuttle bus and boarded the ship and the next few hours are history!
After the obligatory safety procedures were explained, the boat started leaving the harbor and sailed towards Disko Bay.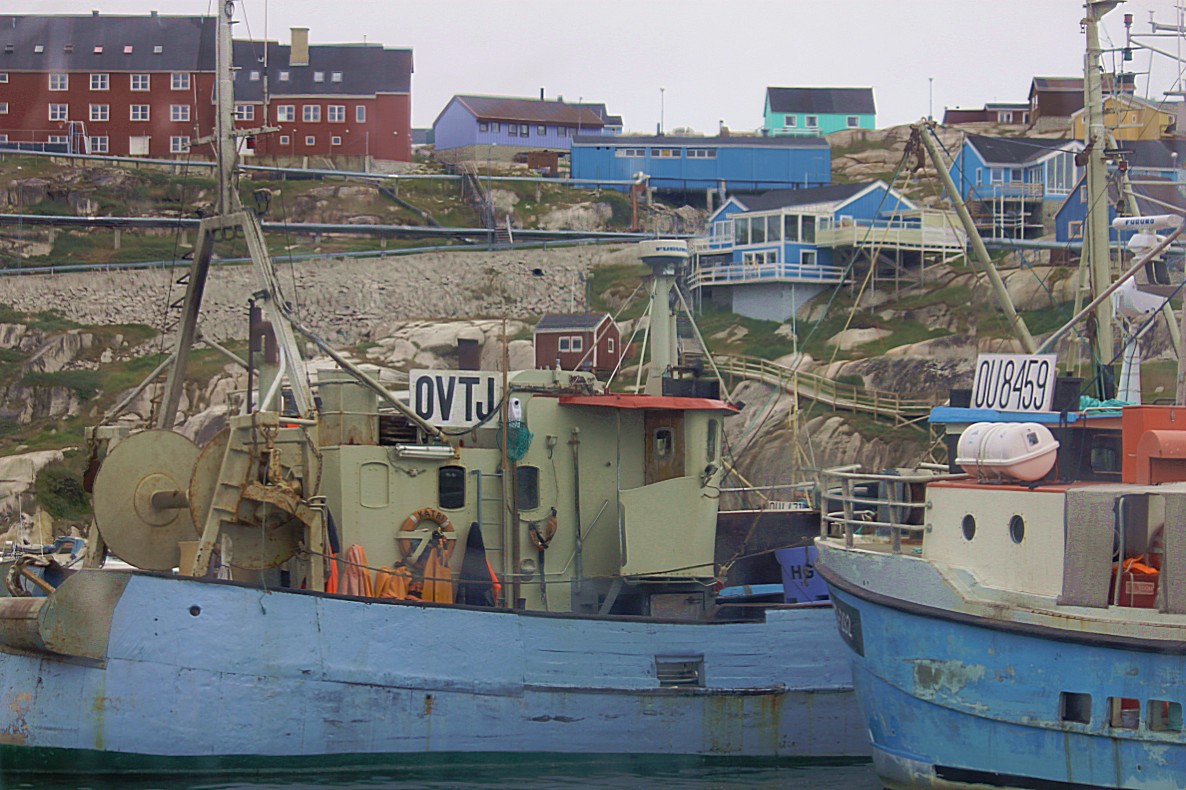 First we crossed the bay westward and then the ship turned south. It was a pretty quick boat reaching such a high speed that it got pretty cold and wet when staying outside like I did. Many went into the interior to look through the windows but somehow I didn't want to do that. Here I felt the wind and the water and the cold and I had taken care of good protection against those so I stayed there enjoying the views without mirroring or dirty glass as a filter in between. When the boat got further south, it reached where the icebergs spilled from the Kangia icejord into the bay.
The mist that had been unpenetrable to eyes this morning was now disappearing very quickly. It clung desperately to some icebergs but it looked like they swallowed the last patches of fog…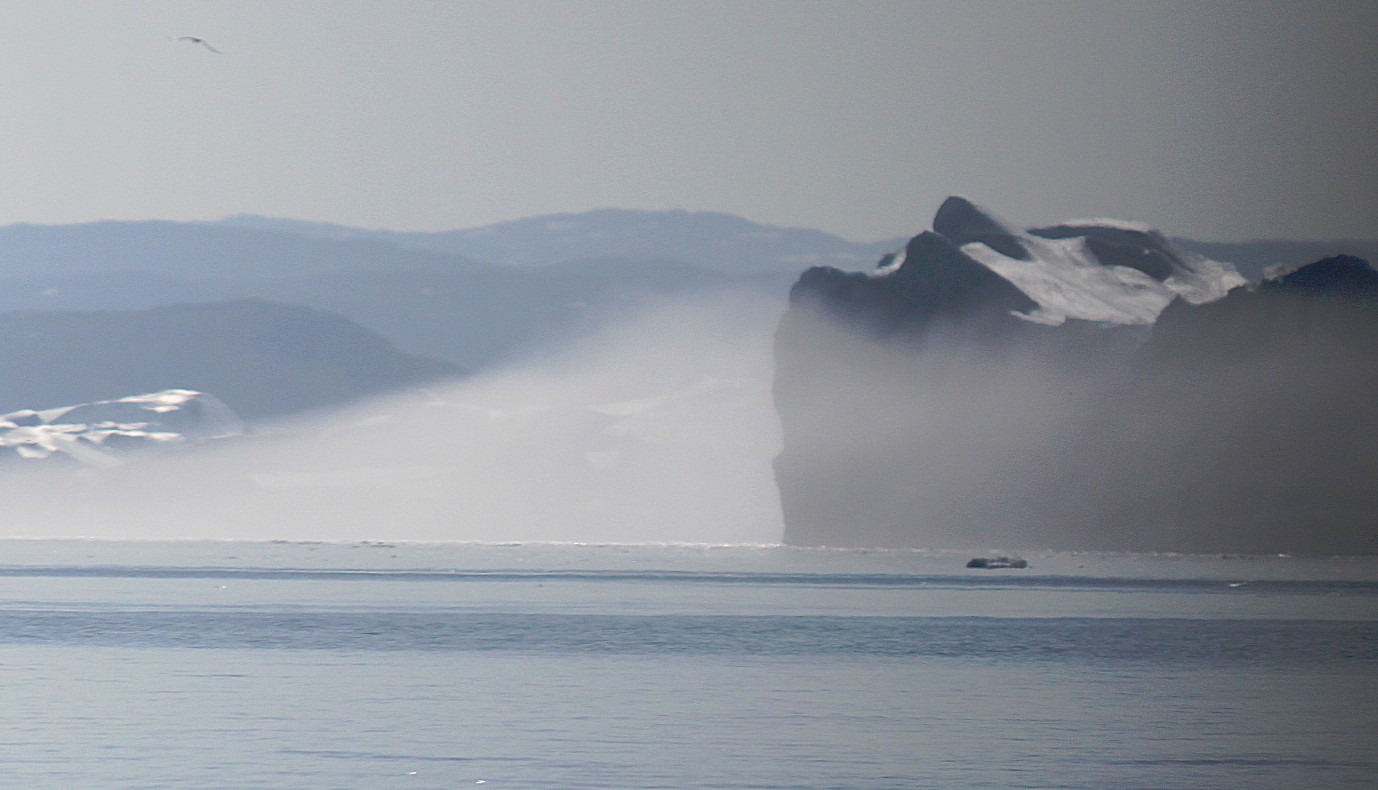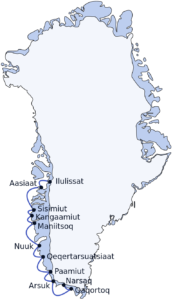 A large ferryship had entered the bay and the passengers were probably visiting Ilulisat and its icefjord this afternoon… The Arctic Umiaq Line A/S (AUL) or Arctic Umiaq is a passenger and freight shipping line in Greenland. Its name derives from the Kalaallisut word for the traditional Inuit passenger boat, the umiak, distinguished from the kayak, used for hunting. The sea connection provided by Arctic Umiaq is a lifeline for the entire western and southwestern Greenland. It is a wholly owned subsidiary of the Royal Arctic Line.
The ferry service operates from late April until early January. As of 2010, Arctic Umiaq Line employs 40 people, operating one ship on the Ilulissat-Narsaq (see map to the right) route along the coast of western and southwestern Greenland.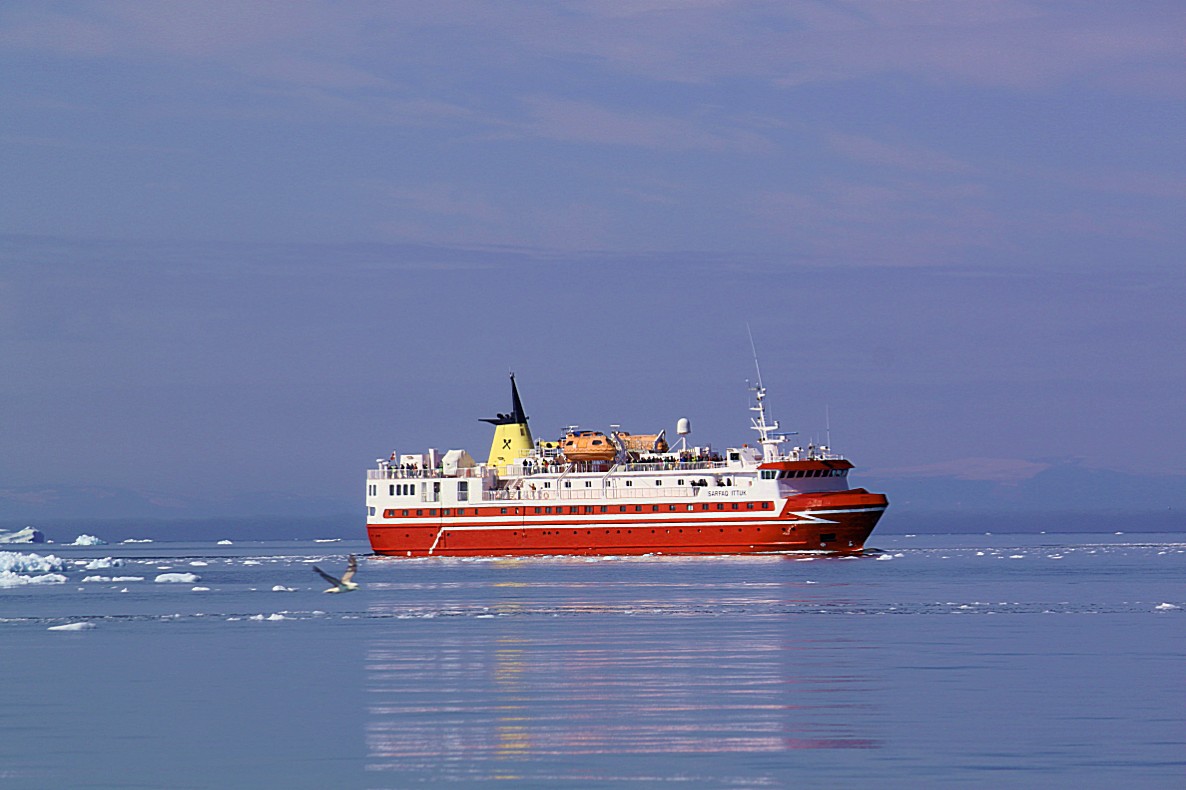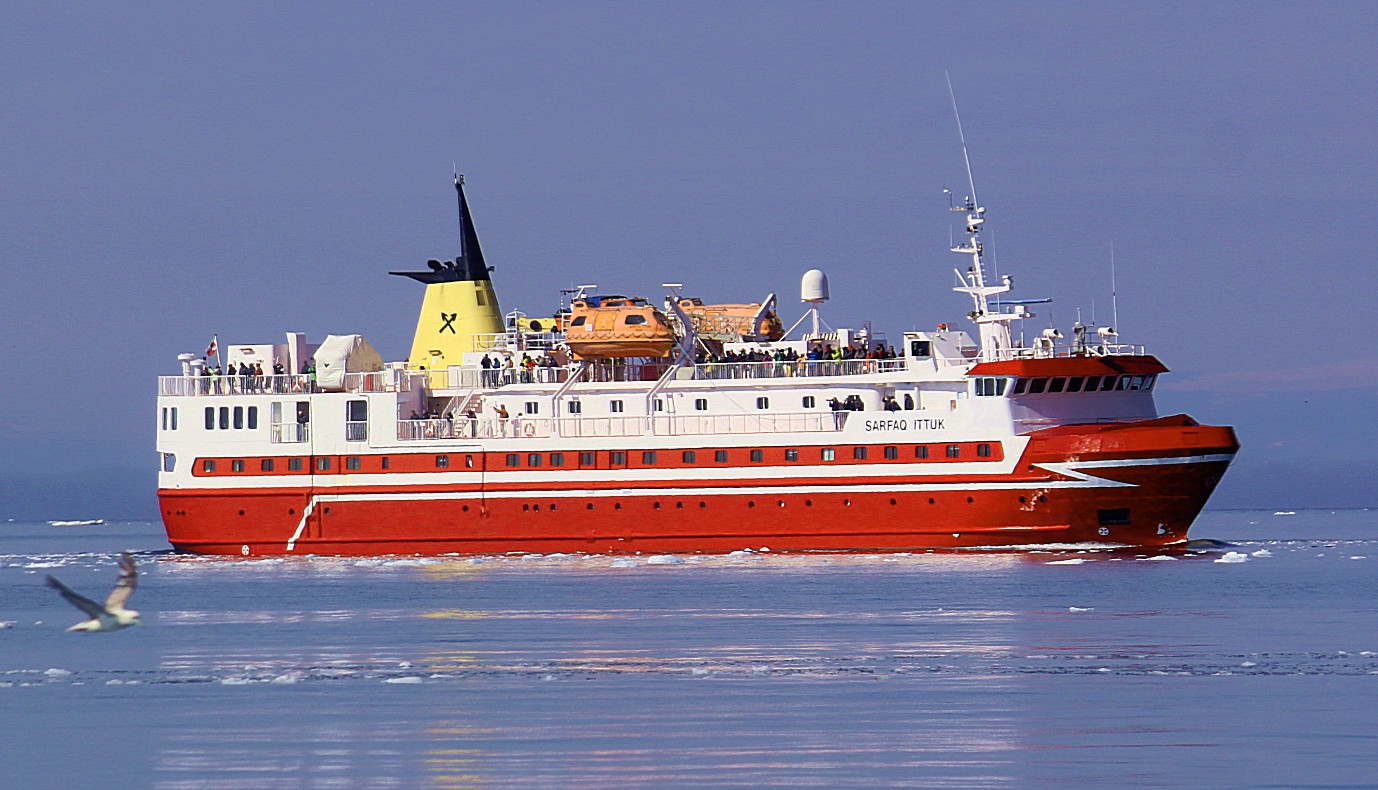 Suddenly the Captain shouted: "WHALE AHEAD!!!"…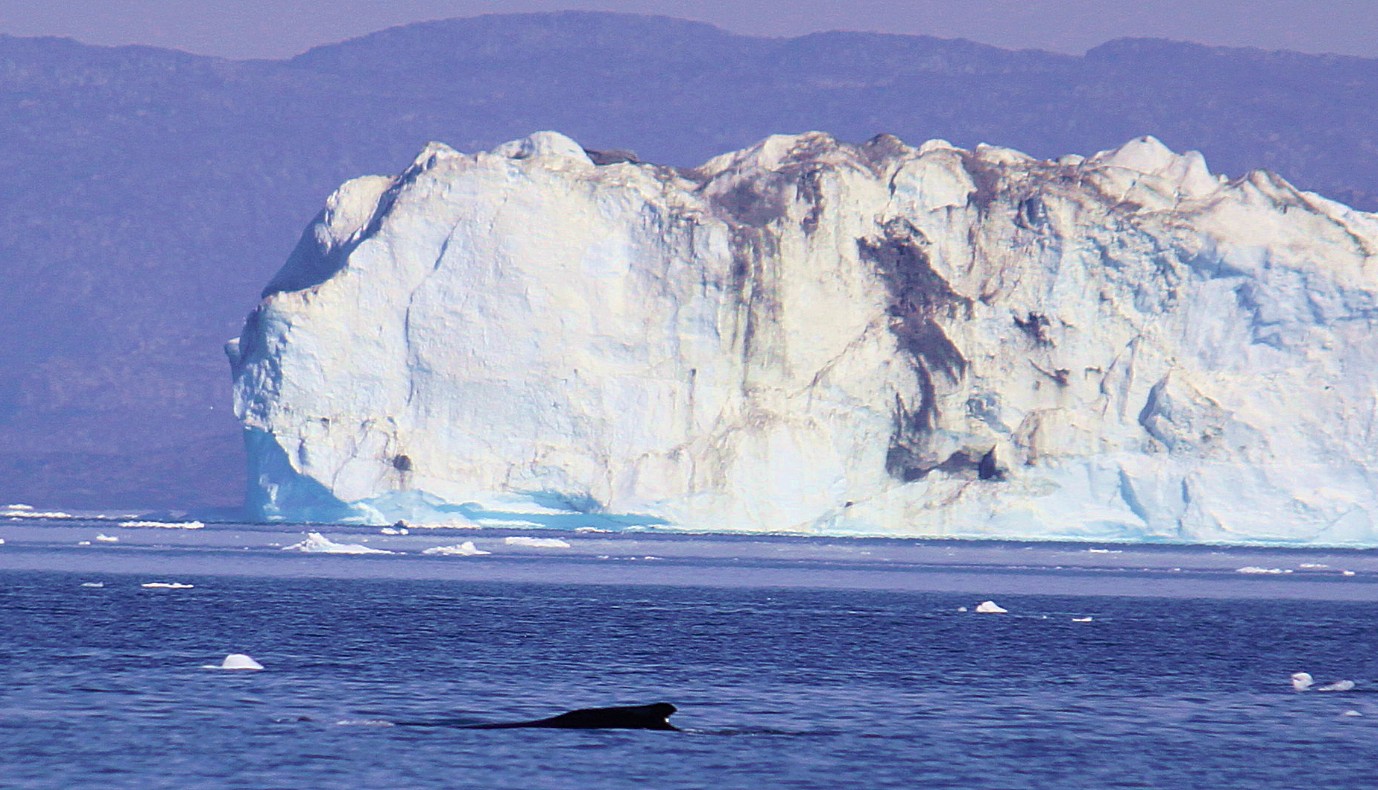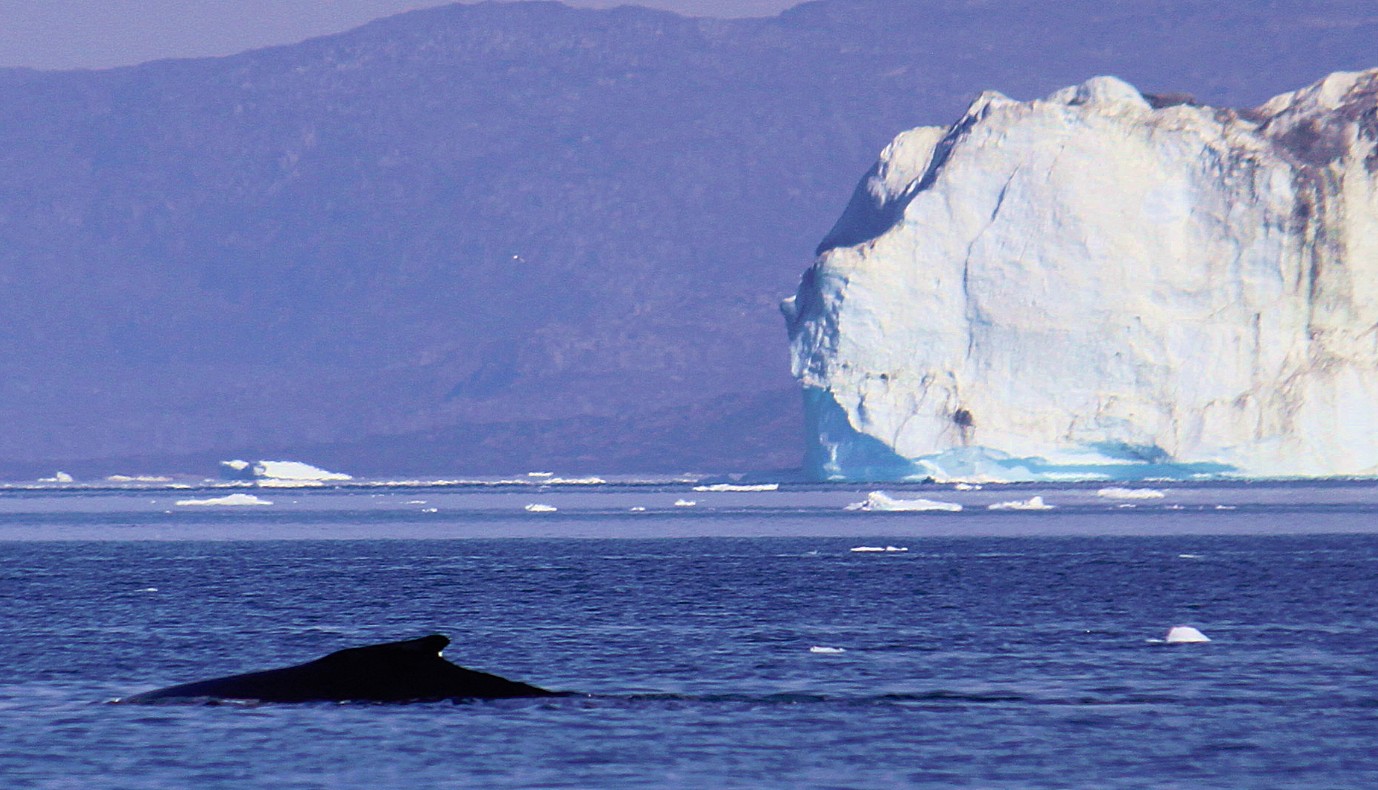 Now the baring of the freezing ice wind and the salty splashes of the cold water paid off. Already being on deck in front of the ship meant just reaching for the camera and start shooting, while others had to rush from the inside to the deck, some to the upperdeck andfind a good spot 1st before even grabbing a camera start focussing and then …finally… shoot 😉
I had never been on a whale hunt before and I have to say it changed me into a fanatic whale catcher, a bit like the bird or plane spotter I met on my walks in The Netherlands.
I tried to photograph every whale and every move it made, hoping to catch them in a hunting pose, waving a side fin or rising and diving with their tail fin high up in the air. I was hooked. I even had to remember myself to sometimes leave the camera down and watch the spectacle of nature with my own eyes.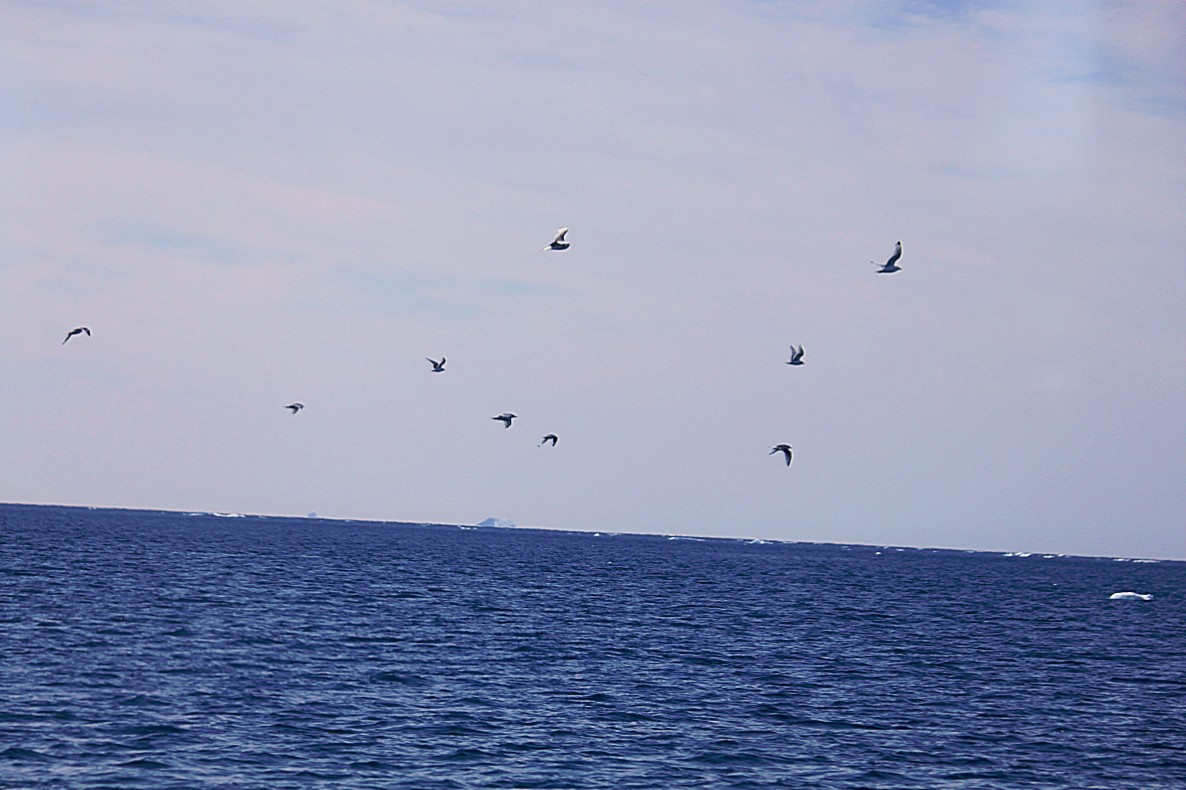 I learned alot about how to spot possible areas where whales could surface. It was crucial to keep an eye on the seabirds above. They actually steal surfacing fish that are hunted by whales coming from the depths below, before the whales rise from the water and after they submerged. They follow the whales after that or they try to cover an area in flight of where they think the whales might surface again.
On the pics below the birds were pausing on a small iceberg, watching the whale pass, because this one was not hunting fish.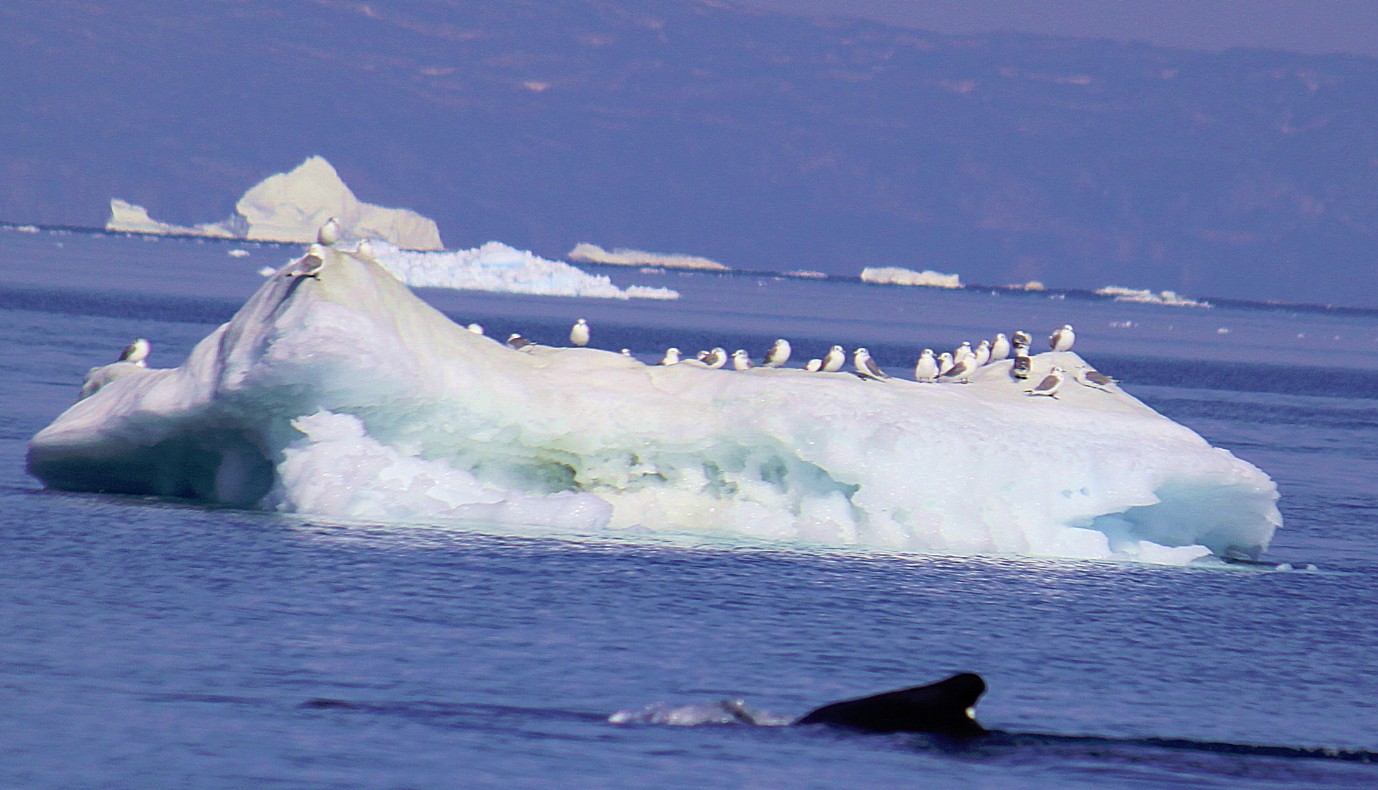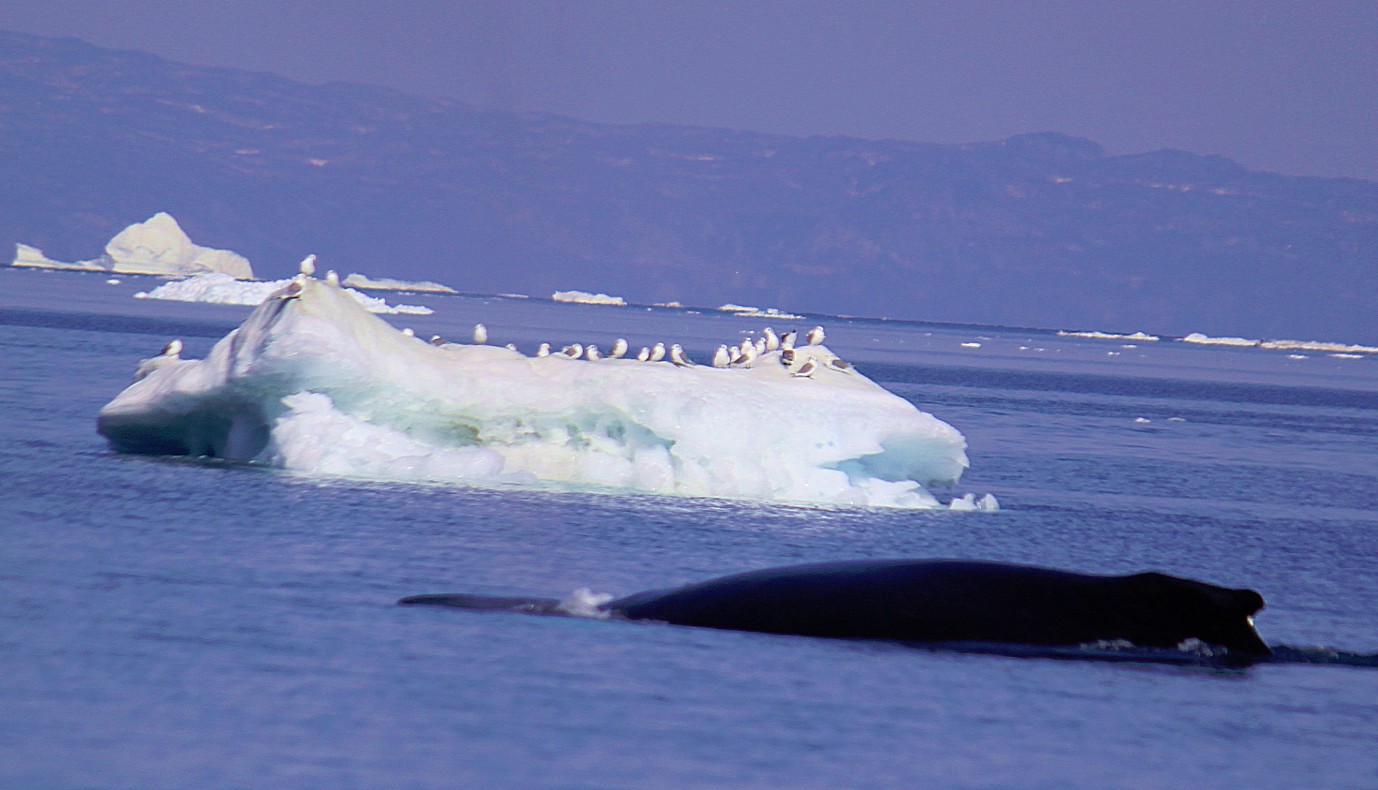 I'm gonna tell ya about whale hunting techniques in an upcoming blogpost, but it is a very special and intelligent technique that they developed.
In the pic above the back fin of this whale is clearly visible. This is a large whale and the fin shows a hump in front and then ends like a fin to the back. This is typical for the Humpback Whale, which is the most common whale in summer in Greenlandic waters.
Whales
Whales are a widely distributed and diverse group of fully aquatic placental marine mammals. They are an informal grouping within the infraorder Cetacea, usually excluding dolphins and porpoises. Whales, dolphins and porpoises belong to the order Cetartiodactyla with even-toed ungulates and their closest living relatives are the hippopotamuses, having diverged about 40 million years ago. The two parvorders of whales, baleen whales (Mysticeti) and toothed whales(Odontoceti), are thought to have split apart around 34 million years ago. The whales comprise eight extant families: Balaenopteridae (the rorquals), Balaenidae (right whales), Cetotheriidae (the pygmy right whale), Eschrichtiidae (the grey whale), Monodontidae (belugas and narwhals), Physeteridae (the sperm whale), Kogiidae (the dwarf and pygmy sperm whale), and Ziphiidae (the beaked whales).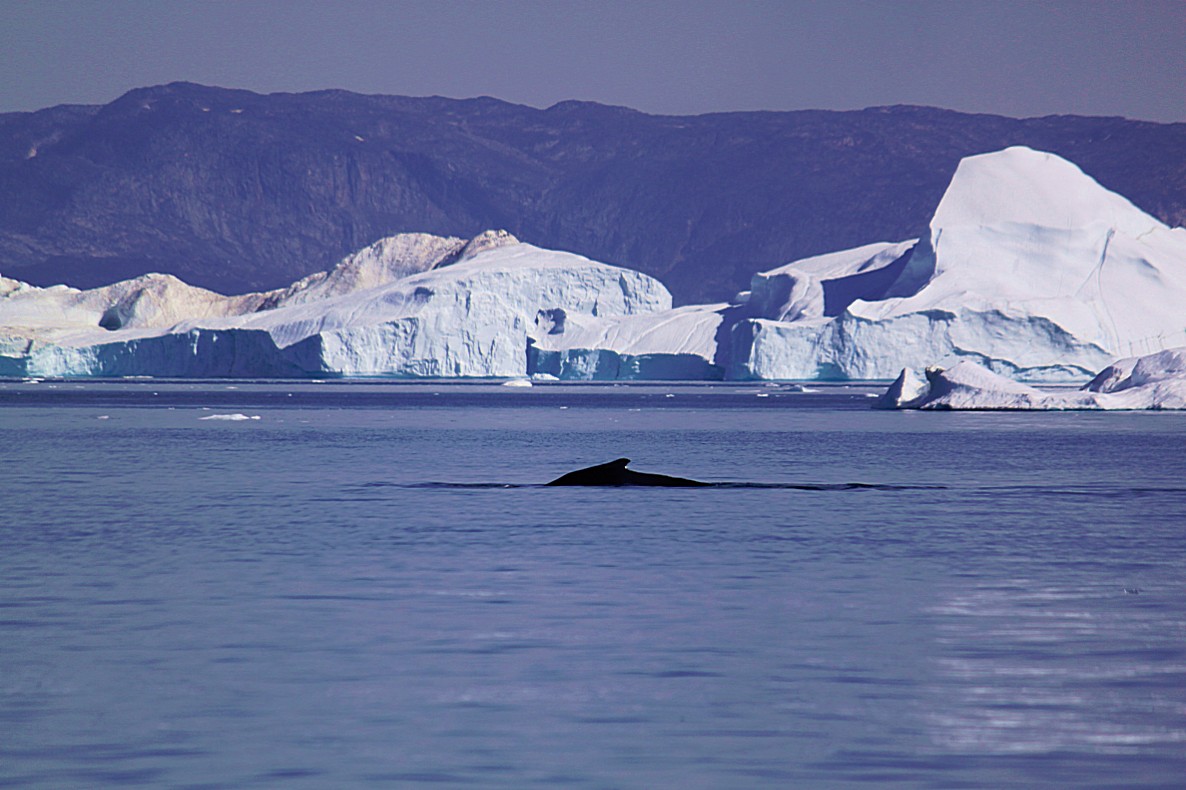 Whales are creatures of the open ocean; they feed, mate, give birth, suckle and raise their young at sea. So extreme is their adaptation to life underwater that they are unable to survive on land. Whales range in size from the 2.6 metres (8.5 ft) and 135 kilograms (298 lb) dwarf sperm whale to the 29.9 metres (98 ft) and 190 metric tons (210 short tons) blue whale, which is the largest creature that has ever lived. The sperm whale is the largest toothed predator on earth. Several species exhibit sexual dimorphism, in that the females are larger than males. Baleen whales have no teeth; instead they have plates of baleen, a fringe-like structure used to expel water while retaining the krill and plankton which they feed on. They use their throat pleats to expand the mouth to take in huge gulps of water. Balaenids have heads that can make up 40% of their body mass to take in water. Toothed whales, on the other hand, have conical teeth adapted to catching fish or squid. Baleen whales have a well developed sense of "smell", whereas toothed whales have well-developed hearing − their hearing, that is adapted for both air and water, is so well developed that some can survive even if they are blind. Some species, such as sperm whales, are well adapted for diving to great depths to catch squid and other favoured prey.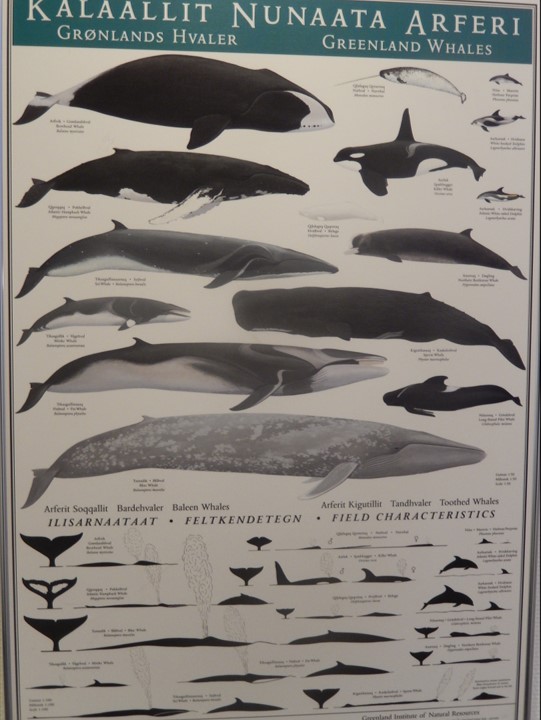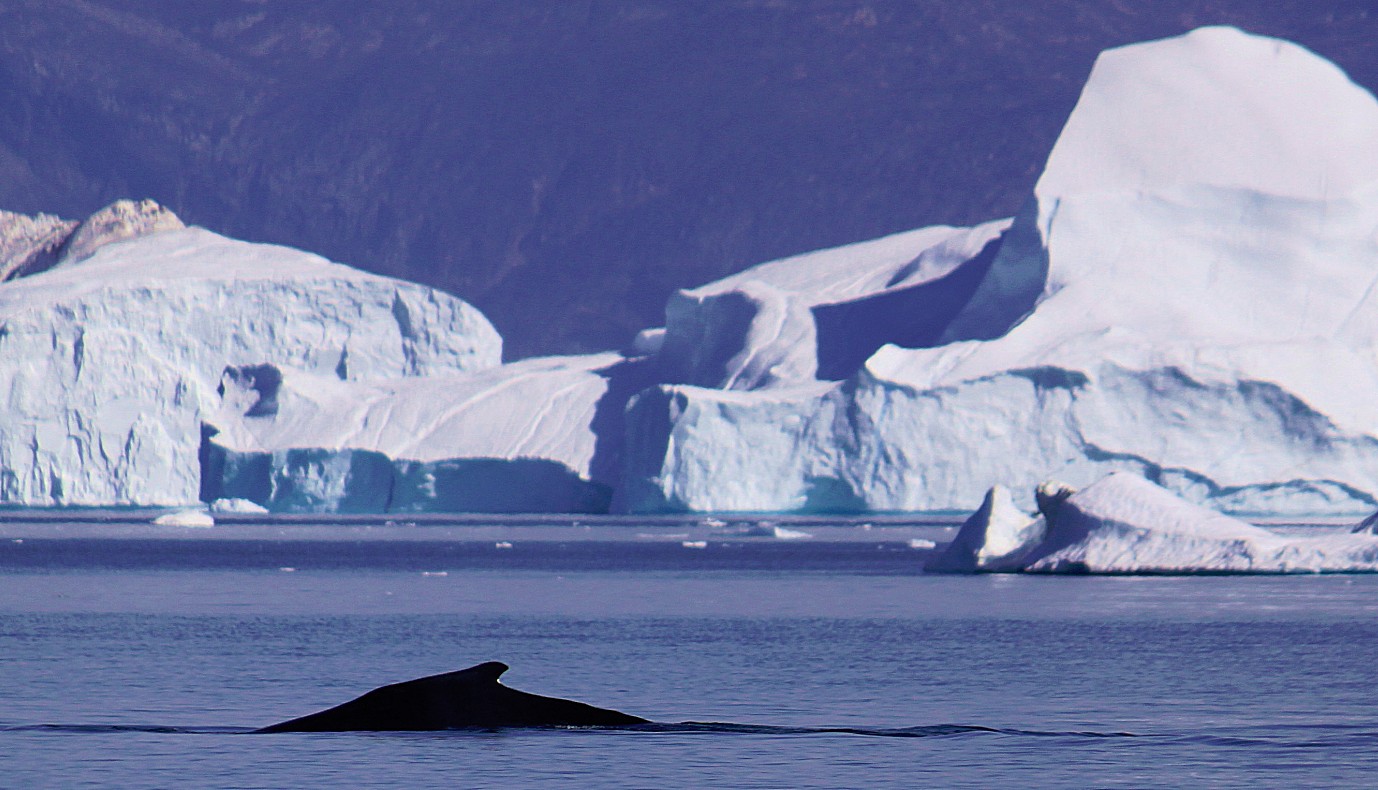 Whales have evolved from land-living mammals. As such whales must breathe air regularly, although they can remain submerged under water for long periods of time. Some species such as the sperm whale are able to stay submerged for as much as 90 minutes. They have blowholes (modified nostrils) located on top of their heads, through which air is taken in and expelled. They are warm-blooded, and have a layer of fat, or blubber, under the skin. With streamlined fusiform bodies and two limbs that are modified into flippers, whales can travel at up to 20 knots, though they are not as flexible or agile as seals. Whales produce a great variety of vocalizations, notably the extended songs of the humpback whale. Although whales are widespread, most species prefer the colder waters of the Northern and Southern Hemispheres, and migrate to the equator to give birth. Species such as humpbacks and blue whales are capable of travelling thousands of miles without feeding. Males typically mate with multiple females every year, but females only mate every two to three years. Calves are typically born in the spring and summer months and females bear all the responsibility for raising them. Mothers of some species fast and nurse their young for one to two years.
Once relentlessly hunted for their products, whales are now protected by international law. The North Atlantic right whales nearly became extinct in the twentieth century, with a population low of 450, and the North Pacific grey whale population is ranked Critically Endangered by the IUCN. Besides whaling, they also face threats from bycatch and marine pollution. The meat, blubber and baleen of whales have traditionally been used by indigenous peoples of the Arctic. Whales have been depicted in various cultures worldwide, notably by the Inuit and the coastal peoples of Vietnam and Ghana, who sometimes hold whale funerals. Whales occasionally feature in literature and film, as in the great white whale of Herman Melville's Moby Dick. Small whales, such as belugas, are sometimes kept in captivity and trained to perform tricks, but breeding success has been poor and the animals often die within a few months of capture. Whale watching has become a form of tourism around the world.
Whale Safari among humpbacks and icebergs
It's a great experience to get real close to large animals. In Greenland waters we see around 15 whale species. Three of these are in Greenland in winter, the beluga whale, narwhal and Greenland whale. The blue whale and orca (or killer whale) are seen only rarely.
I almost can't describe the feeling when I saw my 1st whale from a shirt distance of the boat. They are humongous. I mean we were not on a very small boat, but the whale was even larger and sooo muscular and where the boat really seemed to push through the water creating waves, the whales seemed to slide through like knives through soft butter. The fountains they create when exhaling, are tens of meters high and reach the seaguls above. The birds react trying to evade them. I also felt respect for the Inuit in kayaks that had hunted them. Not for the modern ways of hunting whales though. People hunting whales from a modern factory ship are do not have healthy brains. It is sick and disgusting to see how whales are processed for mass consumption. Quite different from the traditional Inuit hunting techniques which were harsh and bloody too, but which were needed for survival and never destructive to the complete whale population.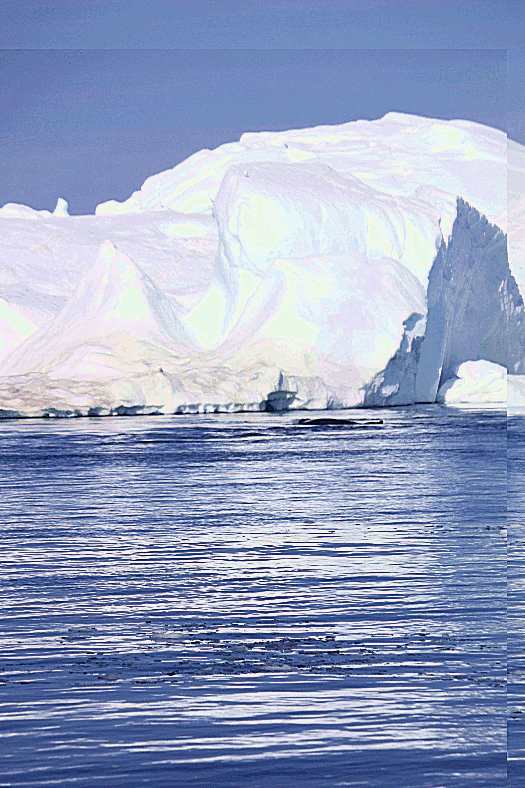 In the summer it is usually the humpback whale, minke whale and the fin whale we see. The humpback whale is despite its up to 18 meters and 30 tons the acrobat among the great whales. It can throw itself out of the water and turn the tail and flippers. It is easily recognized on the humped fin and white back on the tail when it dives. Around the Disko Bay there are good opportunities to watch humpback whale in its hunt for fish, squid and krill.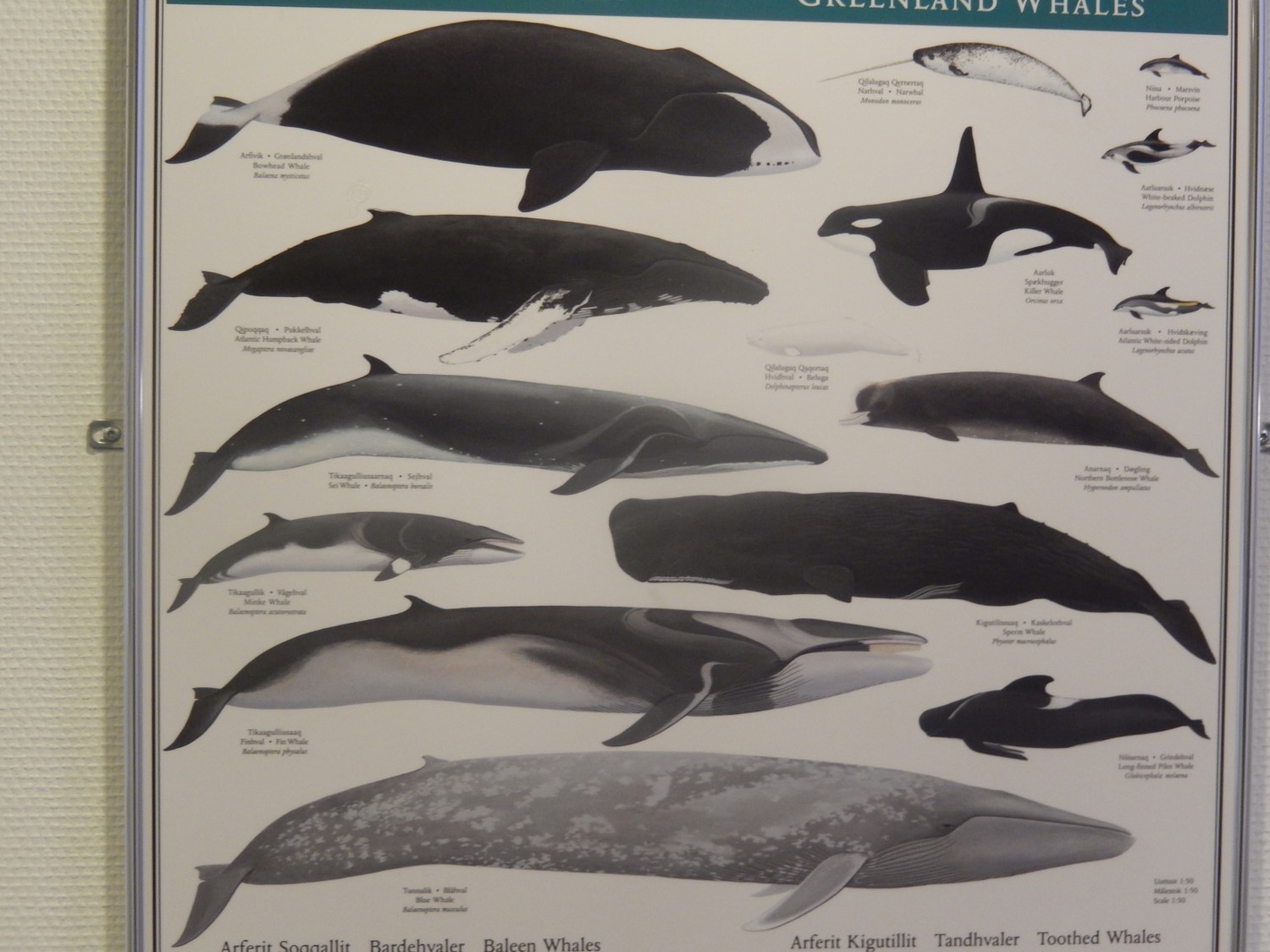 Above a Humpback Whale is showing of its tail fin, which is white at the bottom. This is typical for Humpback whales. Actually it is like a finger print, because every Humpback whale has a unique white tail print…
After another "Whales ahead" yell, the sea in front of the boat was suddely full of glistening black bodies, speeding through the water. Before I joined this whale safari, I had my doubts about whether it would be succesful. I thought I might see no whales at all or maybe when lucky a single whale far away, but these waters literally are sprinkled with whales like cocoa powder topping on an Italian cappuccino.
Tips on creating animated GIF's
I created these animated images using GIMP's layer technique, but actually it works even better in MS Powerpoint, because it handles low dpi pics better in layers than GIMP does. The 1st 2 animated gifs above were created using high dpi pics in GIMP and then changing them afterwards into low dpi pics. The 3rd was created by changing high dpi pics into low dpi pics and then inserting them in MS Powerpoint and using transparency to position the tail fin correctly on top of a previous pic, repeating this several times, removing transparency and saving the top pic 1st, remove it and then saving the next pic and…..
Result is just as good, but quicker to achieve because it does not use the high dpi pics in many layers in photo manipulation software. Using the low dpi pics speeds up the process considerably. In the end I always use UNFREEZ to create the animated GIF's.
Icebergs, icebergs, icebergs…
A Whale Hunt is never alone about spotting whales and when sailing through an eye popping environment like the arctic icebergs drifting out of the Kangia icefjord, you simply have to divide some of your attention over the views through this frozen iceworld too.
To me, icebergs are like Nature's Art. They have so many unique shapes I still can't fathom their diversity. Then there is the light reflecting from their surface which gives them many many colors, not 30 shades of white but a caleidoscope going from pastels to deep deep oranges, puples, blues and greens, or at the very best even gold and silverlike reflections, depending on the hour the weather (e.g: cloudless, clouded, fog ). See some of my previous blogposts about Greenland (in the menu to the right) to experience that overwhelming diversity.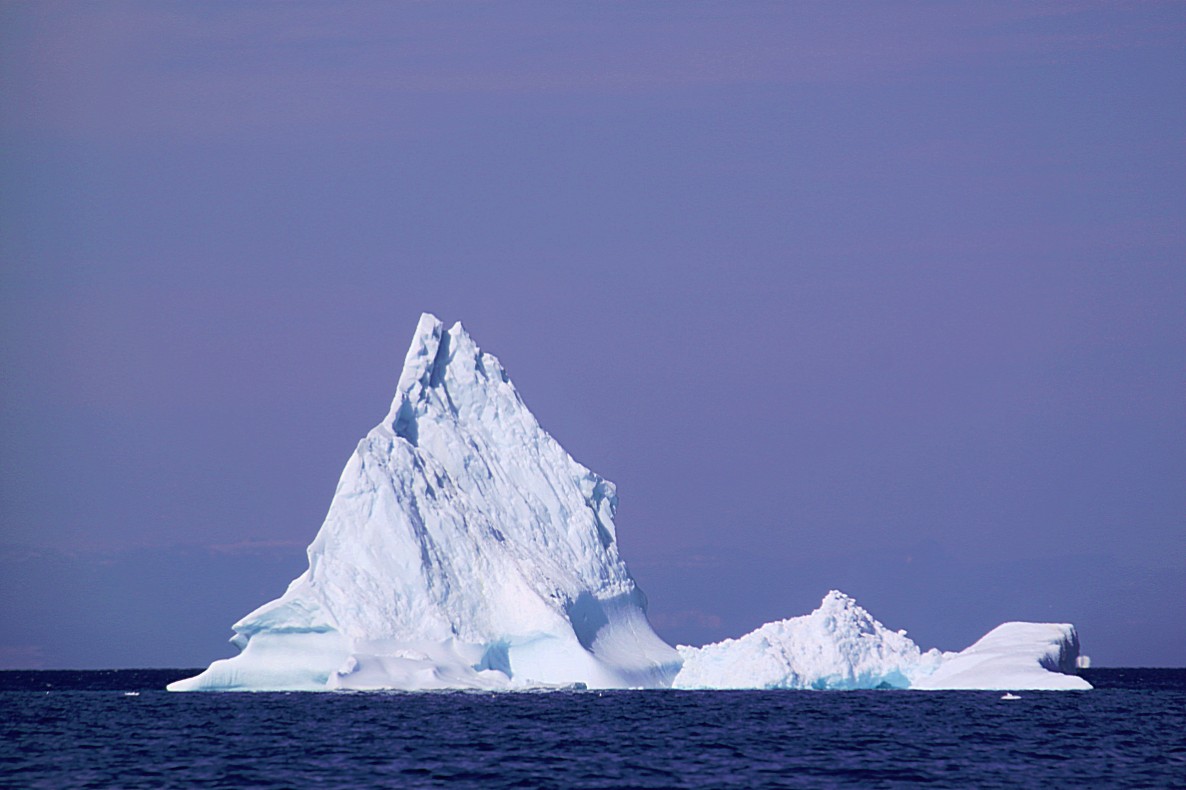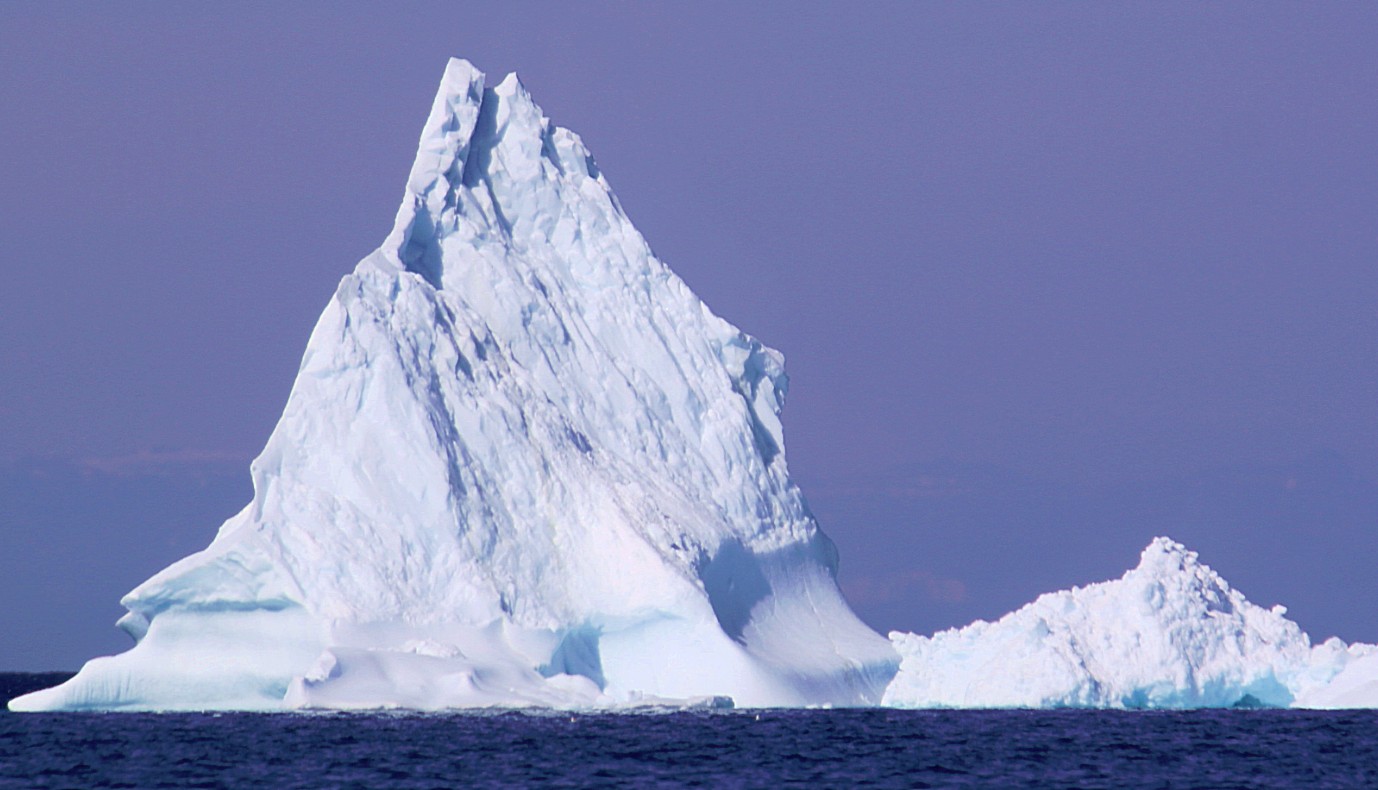 In mid daylight, the whites and deep blues are overwhelming. The blues range from almost puple to cyan and turqoise…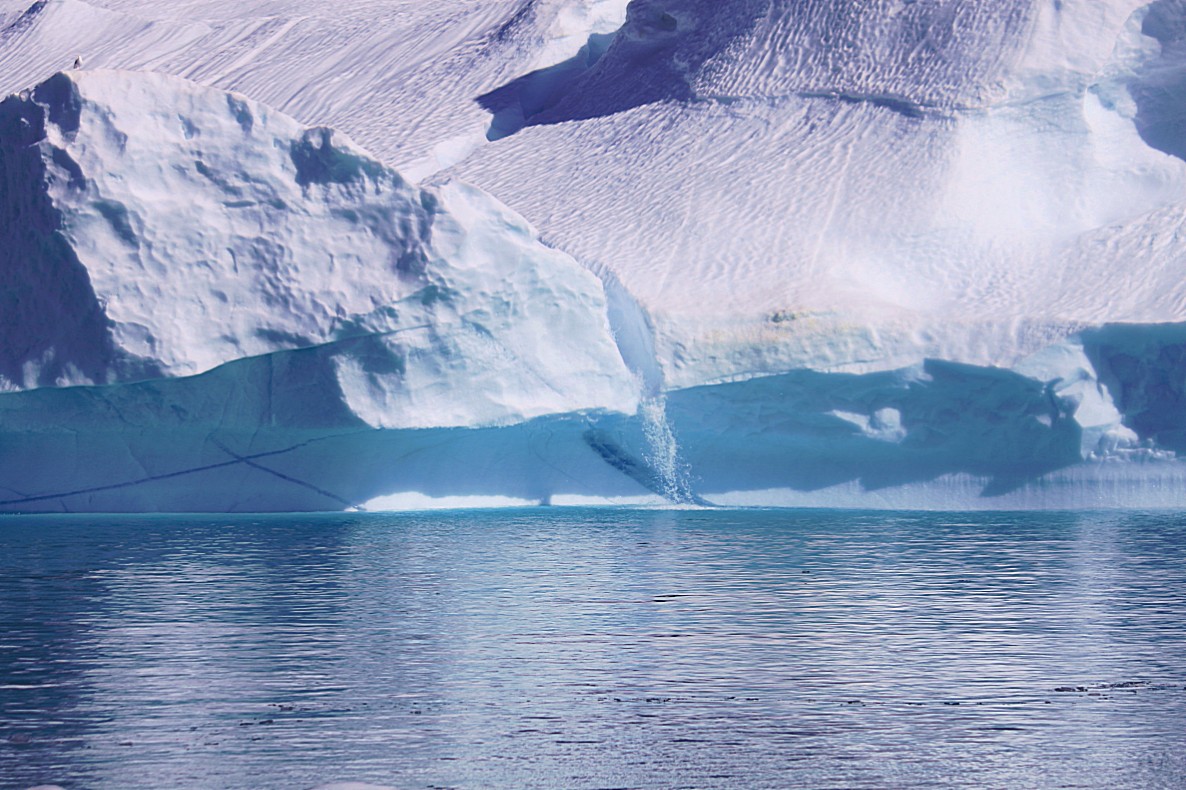 In summer small waterfalls trickle down from the icebergs in to the relative warm (5 degrees Celsius) seawater surrounding them.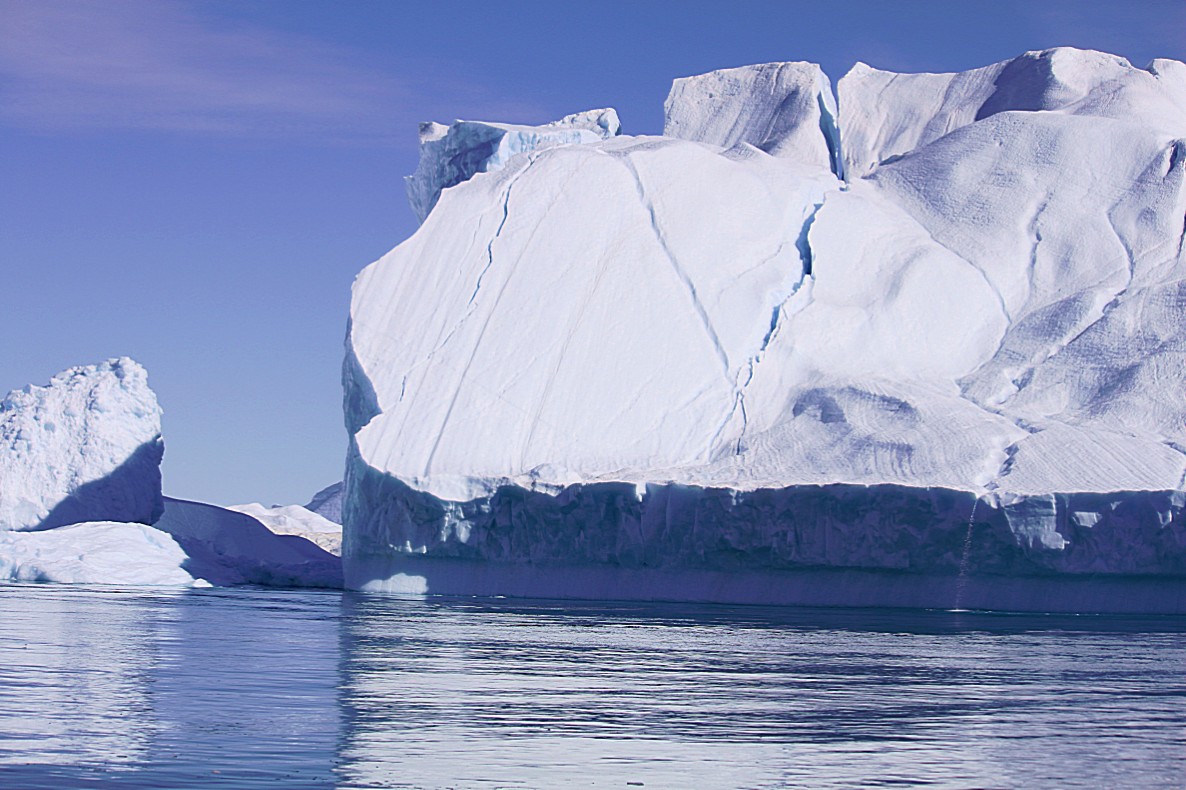 It is a very spectacular sight to see seabirds flighing in front of an iceberg. It remembers you how large these icebergs really are…
Ilimanaq
The ship was now far south of Ilulisat and the icebergs at the mouth of the icefjord and we had reached the community of Ilimanaq. Today (2017), about 53 people live in Ilimanaq, and many of these are full-time fishermen and hunters. This is why there is lively activity in the harbour environment, and in the village there is often the scent of heather-smoked halibut.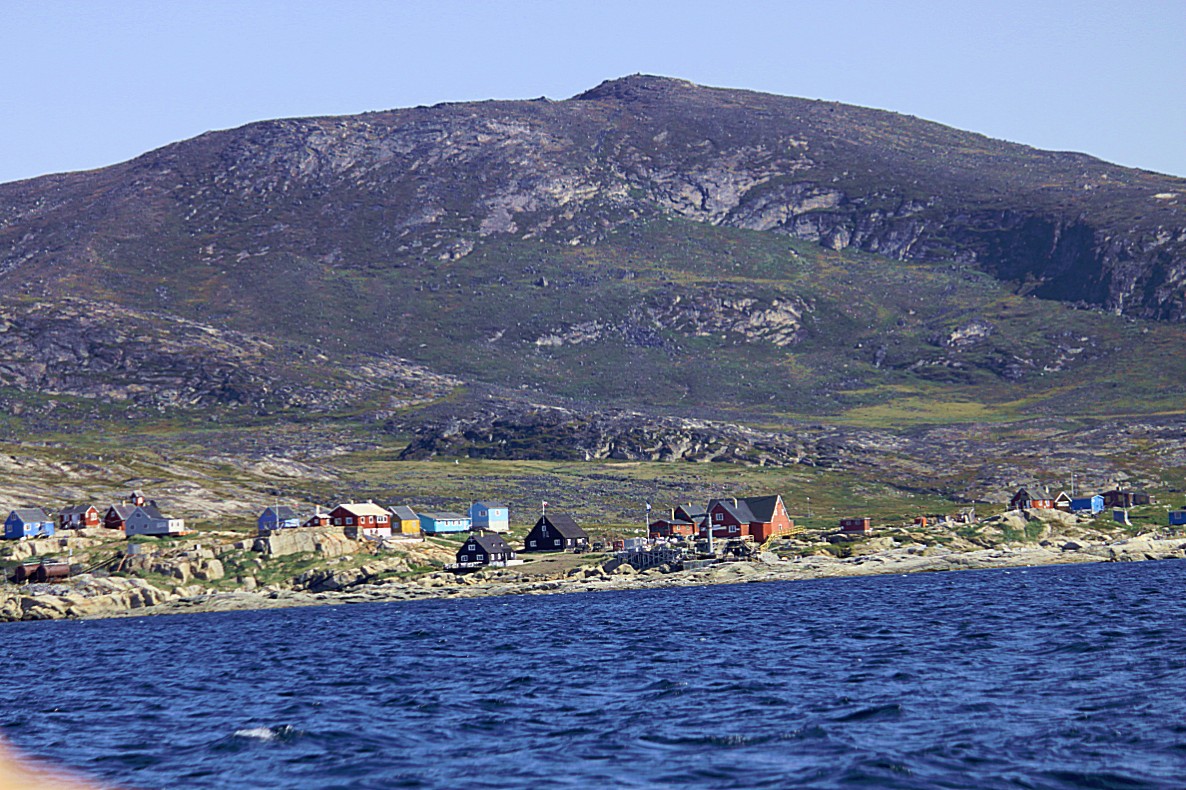 Sustainable tourism initiative at Ilimanaq Lodge
Ilimanaq Lodge offers local atmosphere. The lodge is located in the colourful village of Ilimanaq, where everyday life is a natural part of the activity in the area (it is not an open air museum).
Here fishermen and hunters live in the small village houses.
Ilimanaq lodge was built with a desire to bring growth and welfare to an area that has previously experienced the opposite. In recent years, Ilimanaq has suffered from a declinein available jobs and a decline in the number of inhabitants. Sadly this is not an uncommon situation in the smaller communities of Greenland. Because of this, three institutions have collaborated to improve the opportunities for local communities and demonstrate that tourism can act as a catalyst for growth in Greenland's rural areas.
Ilimanaq lodge consists of 15 cabins, all which overlook the Disko Bay, where both icebergs and whales are often seen in the water in front of the terrace of each cabin! In connection with the cottages there is a restaurant in the recently restored merchant's houses. Breackfast, lunch and dinner are served here, prepared in a professional kitchen with great attention to detail and with emphasis on the use of local products.
Cabins
The cabins at Ilimanaq lodge are designed to blend in with the surrounding countryside. The outside mountain-like colours result in those cabins melting into the surrounding landscape…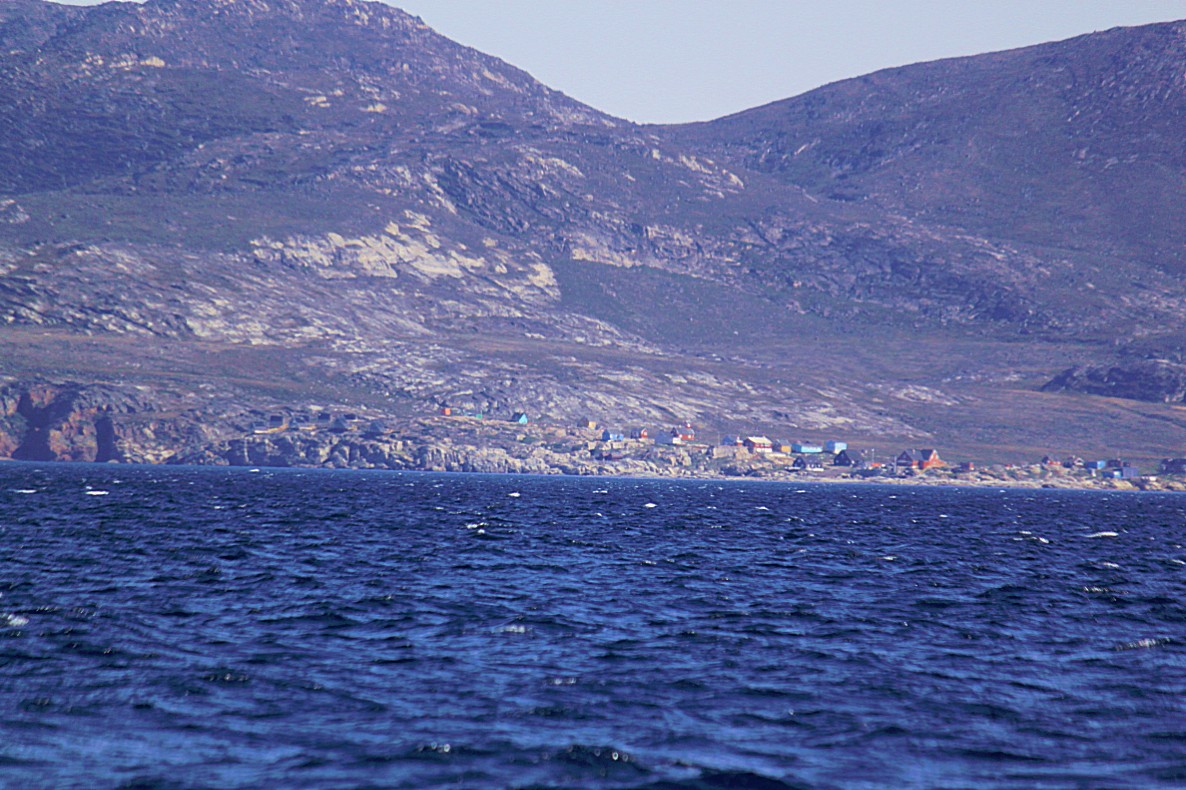 On the above pic, the colorful village of Ilimanaq can be seen clearly, but can you also spot the cabins?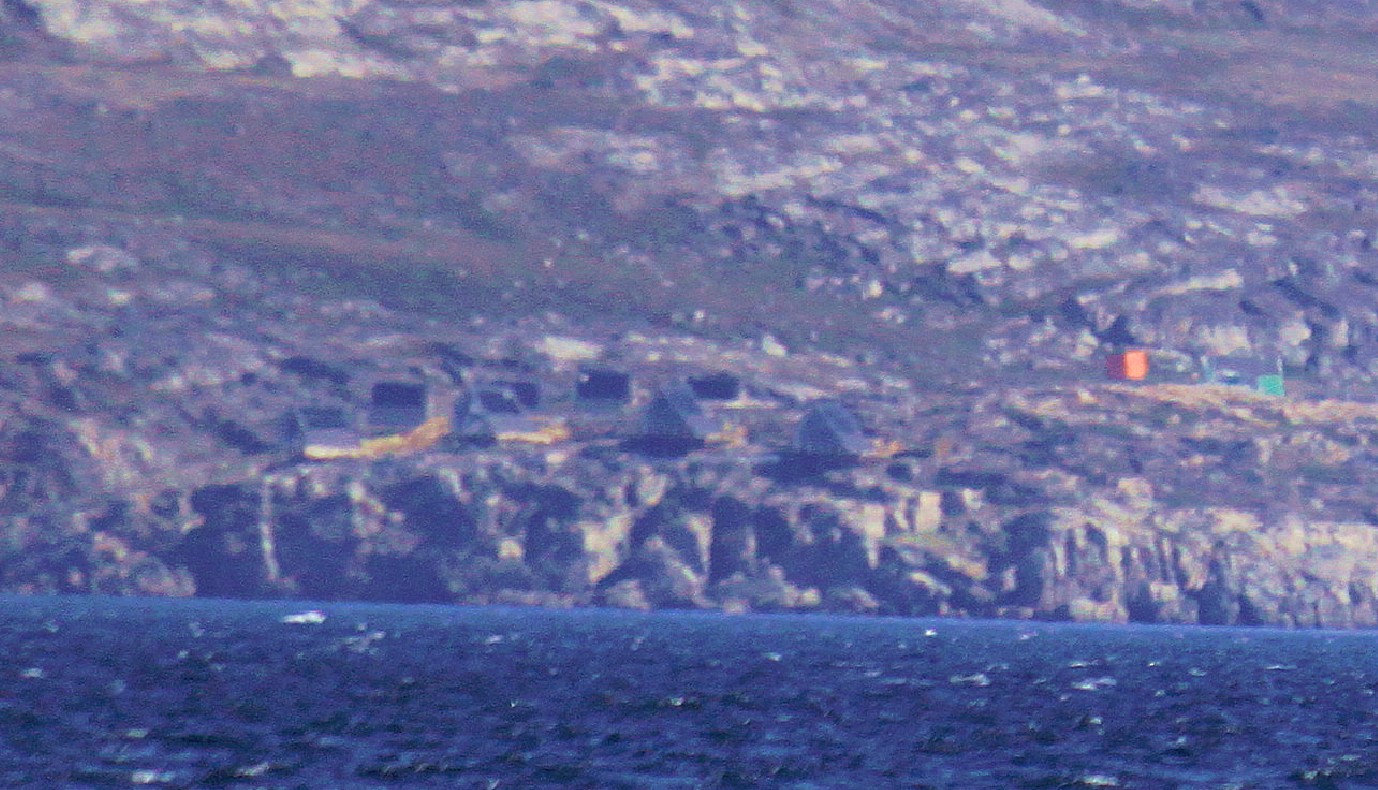 Here the cabins are shown in the center of the above pic, which is a magnification of the previous, where they can be spotted by keen eyes to the immediate left of the village. These are quite luxury cabins, with a bathroom, but all energy needed for electricity or hot water is generated by solar cells on the cabins rooftops and even better is that any surplus of energy contributes to the town's main supply.
If the Earth wouldn't have its natural curvature, the view from the cabins terraces and from my ship too, would have reached all the way across the Davis Strait to the Canadian East Coast, well over 500 kilometres away.
Ilimanaq Lodge is located in the northern part of the village of Ilimanaq. The area was once the centre for trade and fishing for many of the area's smaller settlements, lying like a string of pearls along the coast, continuing into the hinterland of the fjord system.
Continuing the Whale hunt
From Ilimanaq the ship turned and went north again towards the icefjord and the ship now sailed through the icebergs in search of even more whales.
Showing off
The boat I had boarded on had a strong motor and in areas where there were no whales sighted, the boat could achieve great speed. The captain was connected through walkie talkie to local fishermen that could alert him when whales were sighted somewhere else and then the motor roared and the ship was catapulted forward on a bumpy ride over the waves, avoiding the icebergs of which the largest part was underneath the water surface…
The boat lessened speed after we had spotted some whales at this magical location. After that there was some more time to admire nature's work.
Waterfalls
The amount of water coming in waterfalls from these giant icebergs is quite alot…
The icebergs at the end of the Kangia icefjord get stuck on a mound of moraine under water and then get pressed over it, breaking in pieces, rolling over, collapsing into Disko Bay where they drift further. Here they start to form a maze of ice through which boats can sail …and whales can swim. The oxygen rich water attracts Krill, the main food source for most whales and it attracts other fish and sea mammals too. The melting of icebergs and the waterfalls pouring down mingle the fresh water with the sea water.
After a spectacular last stretch we arrived at Ilulissat harbor. It was still afternoon and there was a bit time left for another fun activity. More of that in my next blogpost ?