Nathalie and dinner at Cafe Pushkin
Those who know my hobby as a long distance and mountain walker have an idea of what gear I'm packing when I plan travels that include walks like that.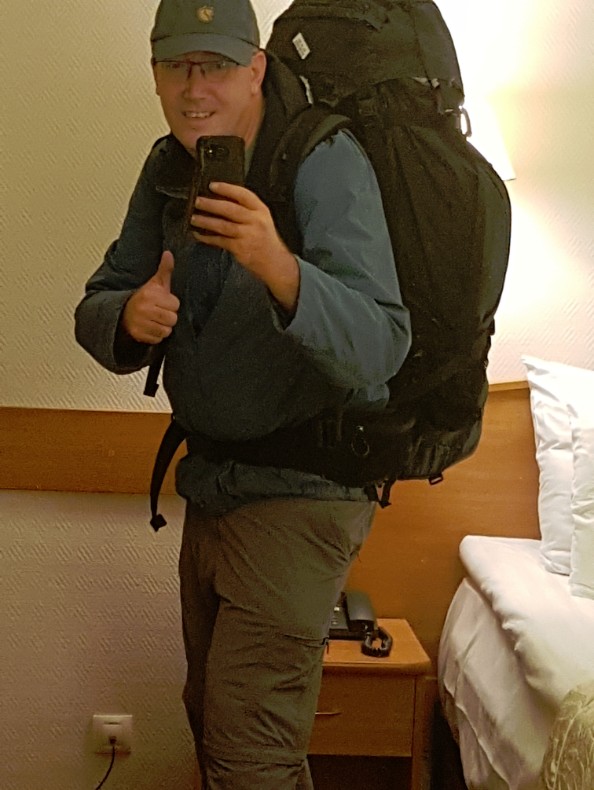 But for this particular journey I packed some "gear" that I never ever packed before?.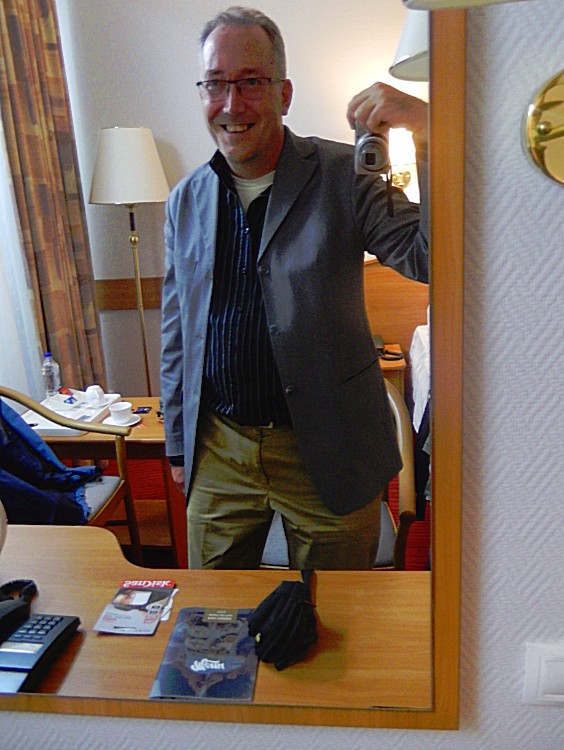 How come? Why? Well, The Wandelgek had done some research into Moscow before starting the journey. The stay in Moscow was not a very long one so he wanted to squeeze out everything that could be done in a short timespan. As a Librarian by education, The Wandelgek is always interested in visiting a local library, but remembering an old song text of a French chanson by Gilbert Becaud written in honor of his Moscow tourist guide Natalie (how absolutely cool is that??), whom led him through Moscow, passed all the famous landmarks, telling him about their history, and he just dreaming about a romantic rendez vous with her at Cafe Pushkin; got him so curious about this place that The Wandelgek searched for it on several websites, social media  and some travel guides and discovered that it was far more interesting then just visiting a library….
Cafe Pushkin
The Wandelgek had not been the 1st person to search for Cafe Pushkin in Moscow.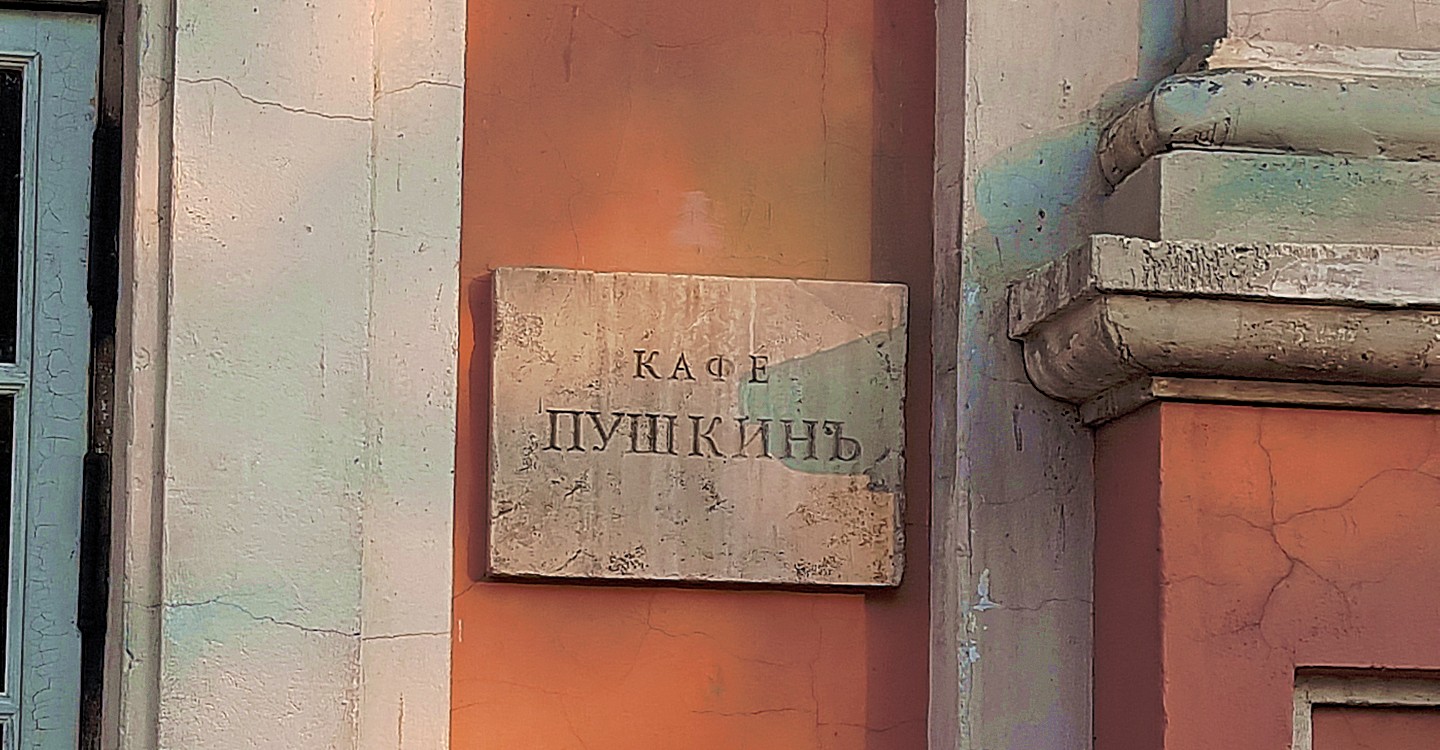 History
More than 50 years ago, the legendary French chansonnier Gilbert Bécaud performed in Moscow. When he returned to Paris he wrote the song "Natalie" and dedicated it to his Russian guide. The song goes: "We are walking around Moscow, visiting Red Square, and you are telling me learned things about Lenin and the Revolution, but I'm thinking, 'I wish we already were at Café Pushkin, looking at the snow outside the windows. We'd drink hot chocolate, and talk about something completely different…'"
Nathalie

La place Rouge était vide
Devant moi marchait Nathalie
Il avait un joli nom, mon guide
Nathalie

La place Rouge était blanche
La neige faisait un tapis
Et je suivais par ce froid dimanche
Nathalie

Elle parlait en phrases sobres

De la révolution d'octobre

Je pensais déjà

Qu'après le tombeau de Lénine

On irait au café Pouchkine

Boire un chocolat

La place Rouge était vide
J'ai pris son bras, elle a souri
Il avait des cheveux blonds, mon guide
Nathalie, Nathalie

Dans sa chambre à l'université
Une bande d'étudiants
L'attendait impatiemment
On a ri, on a beaucoup parlé
Ils voulaient tout savoir
Nathalie traduisait

Moscou, les plaines d'Ukraine
Et les Champs-Élysées
On a tout mélangé
Et l'on a chanté

Et puis ils ont débouché
En riant a l'avance
Du champagne de France
Et l'on a dansé

Et quand la chambre fut vide
Tous les amis étaient partis
Je suis resté seul avec mon guide
Nathalie

Plus question de phrases sobres
Ni de révolution d'octobre
On n'en était plus là
Fini le tombeau de Lénine
Le chocolat de chez Pouchkine
C'est, c'était loin déjà

Que ma vie me semble vide
Mais je sais qu'un jour à Paris
C'est moi qui lui servirai de guide
Nathalie, Nathalie

Songwriters: GILBERT BECAUD,

PIERRE DELANOE
The end of the song is the strongest part. Remember. This was written in a time when the cold war was coldest (1963). A romance between a Parisian singer and a Russian tourist guide was doomed. The last sentence in which the singer utters his conviction that he will once become the guide for Nathalie when she visits Paris is in fact nothing short of him uttering his deep desire that the conflicts that cause the cold war to last will be solved…
The song became incredibly popular in France, and it is no wonder that French visitors to Moscow tried to find "Café Pushkin." They couldn't find it as it existed only as a poetic fantasy in Bécaud's song.
But it was the song that inspired Andrei Dellos, an artist and restaurateur with Franco-Russian roots, to create "Café Pushkin."
On June 4, 1999, "Café Pushkin" opened in a Baroque mansion on Tverskoy Boulevard. At the grand opening, Gilbert Bécaud performed his world-famous song "Nathalie."
English translation:
Nathalie
The Red Square was empty
In front of me marched Nathalie
She had a beautiful name, my guide
Nathalie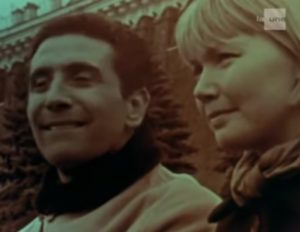 The Red Square was white
The snow made a carpet
And I followed, through this cold Sunday
Nathalie
She spoke in serious phrases
Of the October Revolution
Meanwhile, I was thinking
That after Lenin's tomb
We would go to the Pushkin cafe
To drink chocolate
The Red Square was empty
I caught her by her arm, I smiled at her
She had blonde hair, my guide
Nathalie
In their apartment at the university
A gang of students
Were impatiently expectant
We joked and laughed a lot
They wanted to know everything
Nathalie translated
Moscow, the plains of the Kremlin
And the Champs Elysees
We got them all mixed up
And we sang
And then they were opening-
And we were laughing in anticipation of it-
Some French Champagne
And we danced
And when the flat was empty
All the friends were departed
I was left with just my guide
Nathalie
No more questions, sober phrases
Nor October Revolution
I am no longer there with her
Finished, Lenin's tomb
The chocolate in 'Pushkin'
It is- it was- long before
As my life seems empty to me
Still I know that one day in Paris
It is I who will serve as her guide
Nathalie
Nathalie
And so it came to be that in 2019, 10 years after Cafe Pushkin opened its doors, The Wandelgek was able to book a table and search for this restaurant that is probably one of the best and certainly one of the most romantic examples of a self fullfilling prophecy…
Tverskoy Boulevard and the streets around it played a significant, almost mystical role in the life of Russian poet Alexander Pushkin. When the boulevard opened in 1796, it became a favorite place among Moscow high society for a stroll. Pushkin could be found there frequently.
The famous dancing master Jogel, who taught dance to the children of Moscow and St Petersburg's nobility for many years, hosted children's balls at the house of the Kologrivov family, which stood where the Moscow Gorky Arts Theatre now stands. It was at one such ball that Pushkin met his future wife, Natalya Goncharova. At the far end of the boulevard, near the Nikitsky Gates, is the church where the couple later married. The statue of Pushkin originally stood on Tverskoy Boulevard, too.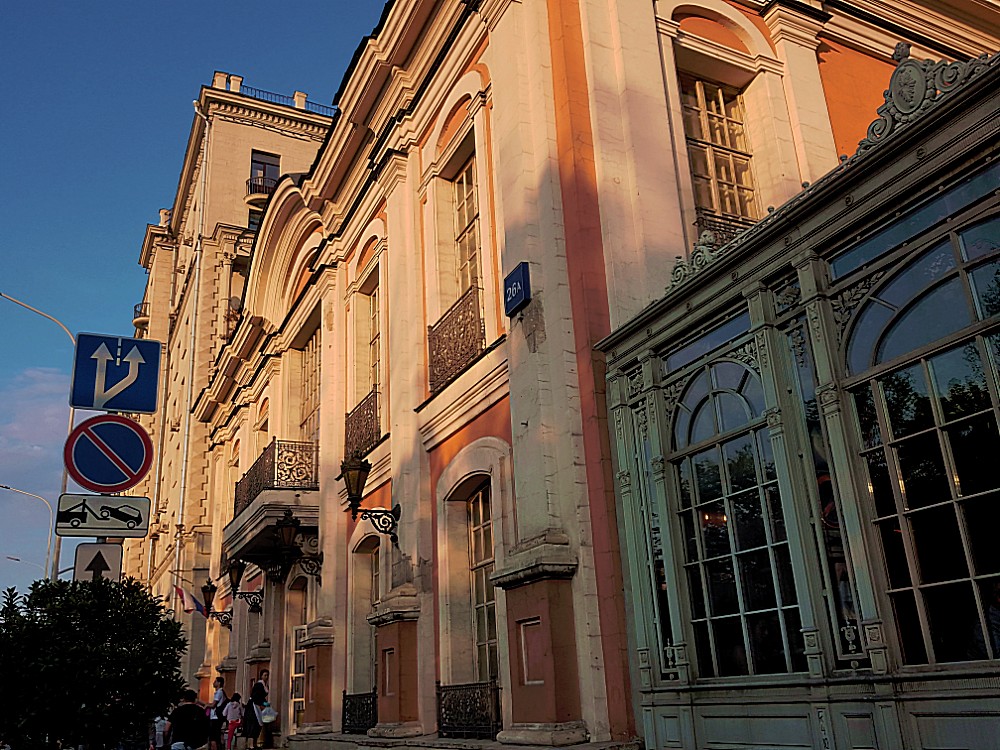 Cafe Pushkin is a world class restaurant in central Moscow. It boasts a Pharmacy Hall, a Library Hall and a Fireplace Hall, all of extreme beauty.
The success of Andrei Dellos's restaurant can be explained simply: "We've created harmony at "Pushkin" – here even mistakes turn into advantages"
More info including great pictures at: https://cafe-pushkin.ru/en/
PHARMACY HALL
According to the 1915 directory "All of Moscow," this address was once home to a pharmacy owned by two Germans – L. Fischer and V. Mai.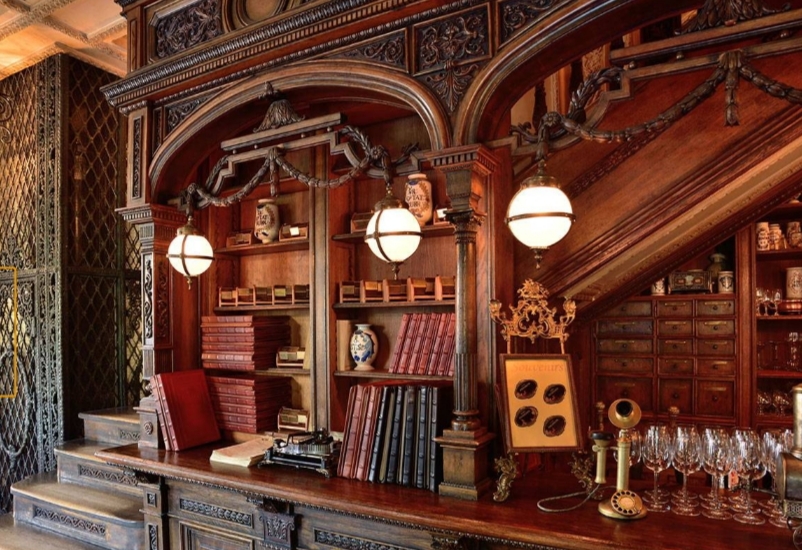 Above the pharmacy counter stands a collection of busts of great philosophers
of the past – Diderot, Seneca, Voltaire, Molière, Lomonosov, von Holbach, Socrates and Cicero. On the counter there's an early typewriter manufactured in Hamburg; an English bouillotte shaped like a locomotive (a compact tea-kettle with a steam whistle, heated by a spirit burner below); one of the first hand-cranked sewing machines; a meat-grinder bearing the inscription "Patent" from the same period; and silver chocolate cups.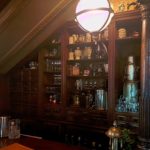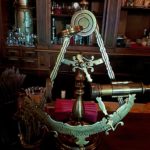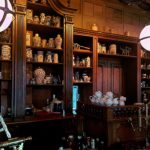 THE LIBRARY AND THE MEZZANINE
After having seen some pictures of this library hall, The Wandelgek knew he just had to have diner there. He reserved a spot in the Library Hall, via the Cafe Pushkin website and then he received this note by mail:
Thank you for choosing café Pushkin.

We confirm your reservation on 7th of September for 1 guest at 7 p.m.

Please note your table will be held for 20 minutes from the reserved time, after which the booking will be released.If you running late, please contact the restaurant, so that we can try our best to accommodate you.

Our dress code is smart-elegant. Jackets and collared shirts are preferred for gentlemen, long trousers and dress shoes are required. Should your plans change, please let us know.

We look forward to serving you.

Warm regards,

Café Pushkin.
So this required me to change gear??. It also meant I needed to reserve space in my backpack for a jacket, a shirt and dress shoes. Oh wow The Wandelgek was pretty sure that he would wear those only for that diner occasion. But he absolutely wanted to visit this place so much …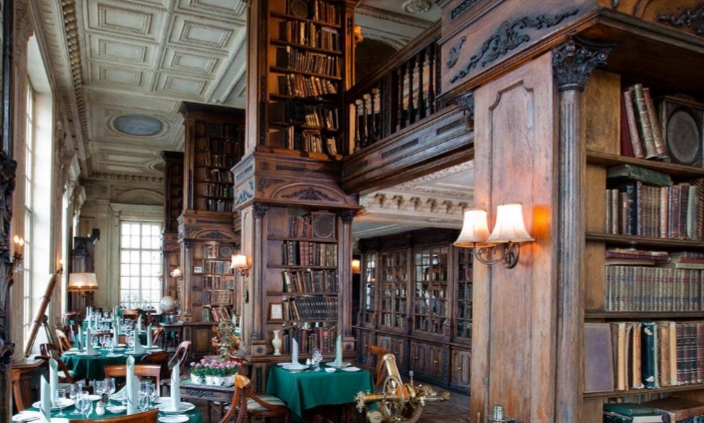 The library hall itself was like a Harry Potter library in Hogwarths .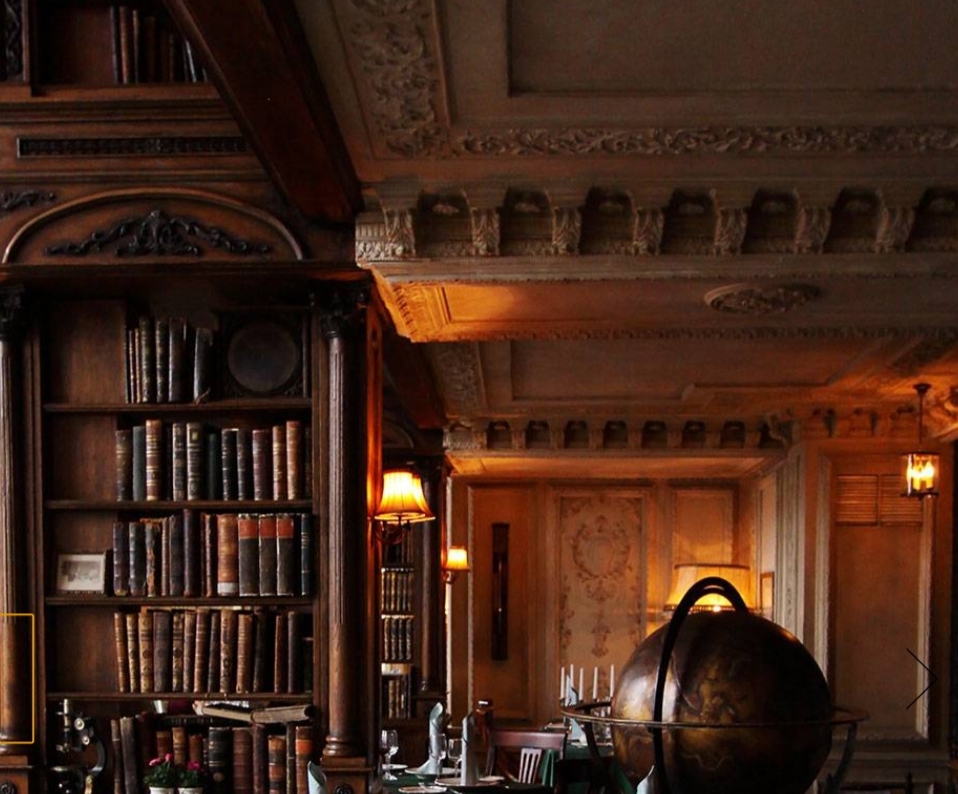 In reality though these are Baroque-style halls, suggesting the study of an Enlightenment nobleman. Part of the hall is occupied by the Mezzanine, which overhangs the main hall. There are several wall cabinets, and great bookcases rise to the ceiling.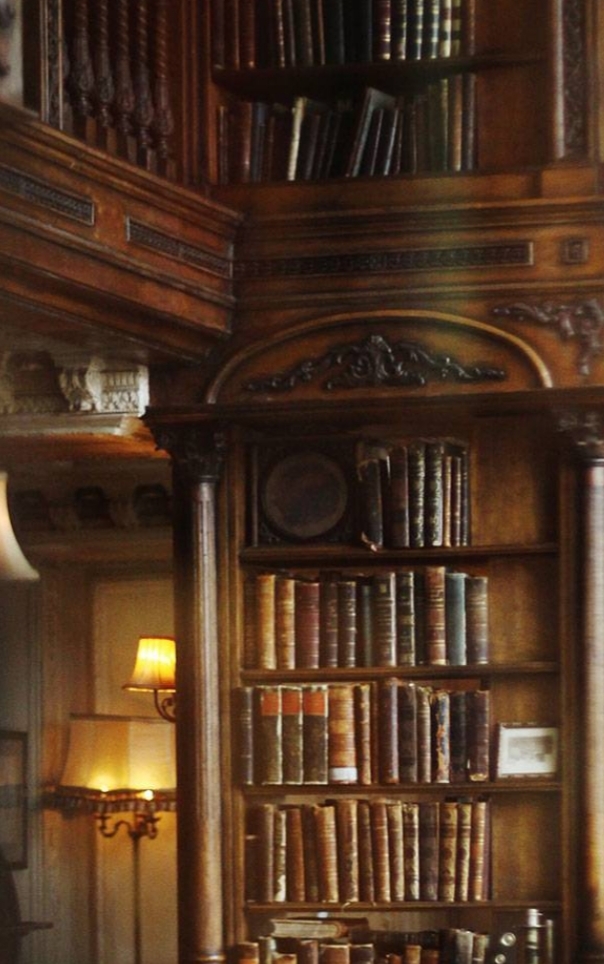 The antiquities in the hall are mostly optical instruments – two antique telescopes (German and English), theodolites, microscopes, an astrolabe, and a spyglass. In the corners there are old, English chiming wall-clocks. The centre of the hall is occupied by an old, floor-standing globe. On the bookshelves there is a collection of vintage carriage-clocks. A duo performs live music every evening except Sundays and Mondays.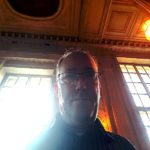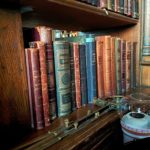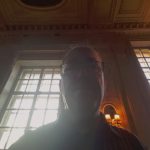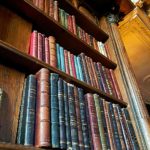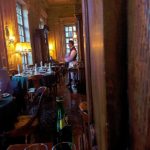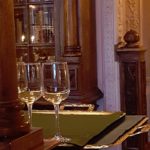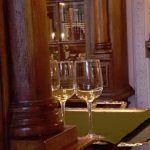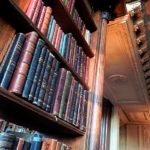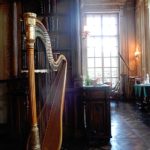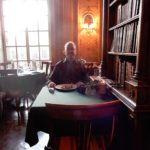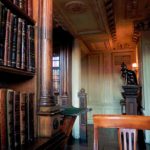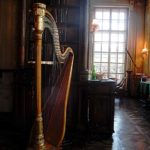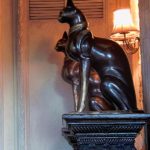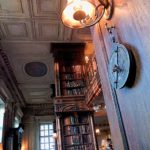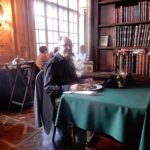 It feels so good to have a perfect diner (it was the best diner ever actually, like an orgasm for taste buds) sitting between books of Dostojevski, Toergenjev, Tolstoi and of course Pushkin.
The main course I choose was a fried duckbreast accompanied by a cherry sauce and some cherry risotto. Sheer heaven!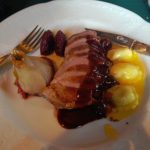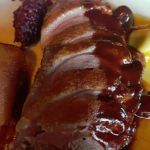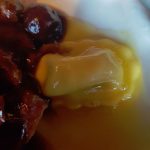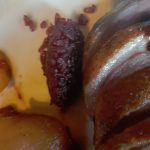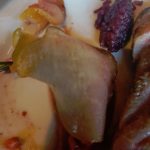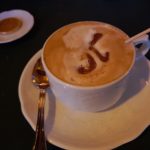 After a cup of cappuccino I left my table and went down to get my coat.
There's even  a fierce dog garding the umbrellas…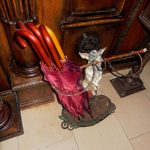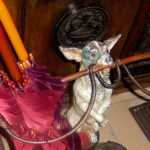 Outside it was getting dark and The Wandelgek went back to his hotel to join a bus tour through Moscow by Night (more of that in my next upcoming blogpost).