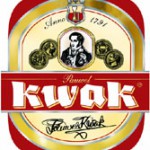 Terug naar: Het Overzicht van etiketten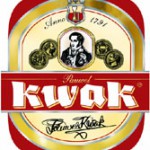 Pauwel Kwak heeft op z'n etiket een afbeelding van Brouwer Pauwel Kwak geplaatst met in zijn hand een stijgbeugelglas of koetsiersglas, ook staat er zo'n zelfde glas in het wapen bovenaan het etiket afgebeeld. Wie was hij en wat maakt het Pauwel Kwak glas bijzonder?
Herbergier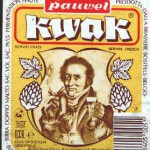 In de Napoleontische periode was er ooit een herbergier met de naam Pauwel Kwak. Kwak is een bijnaam voor een gezet persoon. Pauwel Kwak brouwde zijn eigen bier, dat donker en zwaar was. Hij had een koetsiersafspanning op de weg van Mechelen naar Gent. Zijn klanten waren dus ruiters die halt hielden om hun paarden te laten rusten. Kwak stopte hen dan bier in de hand in een speciaal glas dat ze in hun stijgbeugel konden laten rusten.
Enkele jaren geleden werd het opnieuw tot leven gebracht door de Bosteels uit Buggenhout. De brouwerij populariseerde het bier door het in een 'stijgbeugelglas' of ook 'koetsiersglas' te schenken. Omdat dit glas een bolle bodem heeft, moet het op de toog of op de tafel worden geplaatst in een houten staander.
Aan de koets
Pauwel Kwak (anno 1791) was een bekend figuur als eigenaar van een brouwerij met aanpalend een `peerdenposterij' in het land tussen Schelde en Dender. Dorstige koetsiers konden daar terecht om zijn koetsiersbier `Pauwel Kwak' te degusteren. Ze plaatsten het mondgeblazen koetsiersglas in een houten staandertje dat ze aan hun koets konden bevestigen (zoals op onderstaande illustraties goed is te zien), het enige middel om er hun glas veilig (én bij de hand) in op te hangen.