On the road – Start of a roadtrip through northern and central Mongolia
Darkhan
After an all too short nights rest and a quick shower, it already was time for breakfast. The Wandelgek looked out of his hotelroom window over the new part of Darkhan and past the block buildings towards the hills. He had finally arrived in Mongolia and today he would start on  7 day roadtrip through northern and central Mongolia…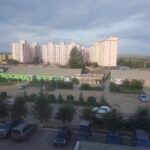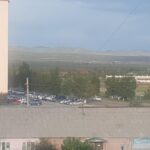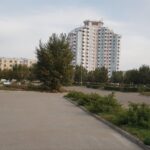 Darkhan (Mongolian: Дархан, "blacksmith") is the third-largest city in Mongolia (after Ulaanbaatar and Erdenet) and the capital of Darkhan-Uul Aimag (Darkhan-Uul Province). It has a population of 96,428 in 2013.
History
On October 17, 1961, the city of Darkhan was built with extensive economic assistance from the Soviet Union. As its name implies, the city was originally conceived to be a manufacturing site for Mongolia's northern territory. The city remains a mostly industrial region and is the home of some 82% of Darkhan-Uul Province's population. As with most urban Mongols, some 86% of the city's population live in residential apartments, with the remaining population living in gers (yurts in Russian) on the outskirts of the city.
After breakfast The Wandelgek collected his backpack from his room and stepped into the minibus which would be his means of transportation for the next 7 days…
ON THE ROAD!!!
Many overland roads in Mongolia are only gravel roads or simple cross-country tracks.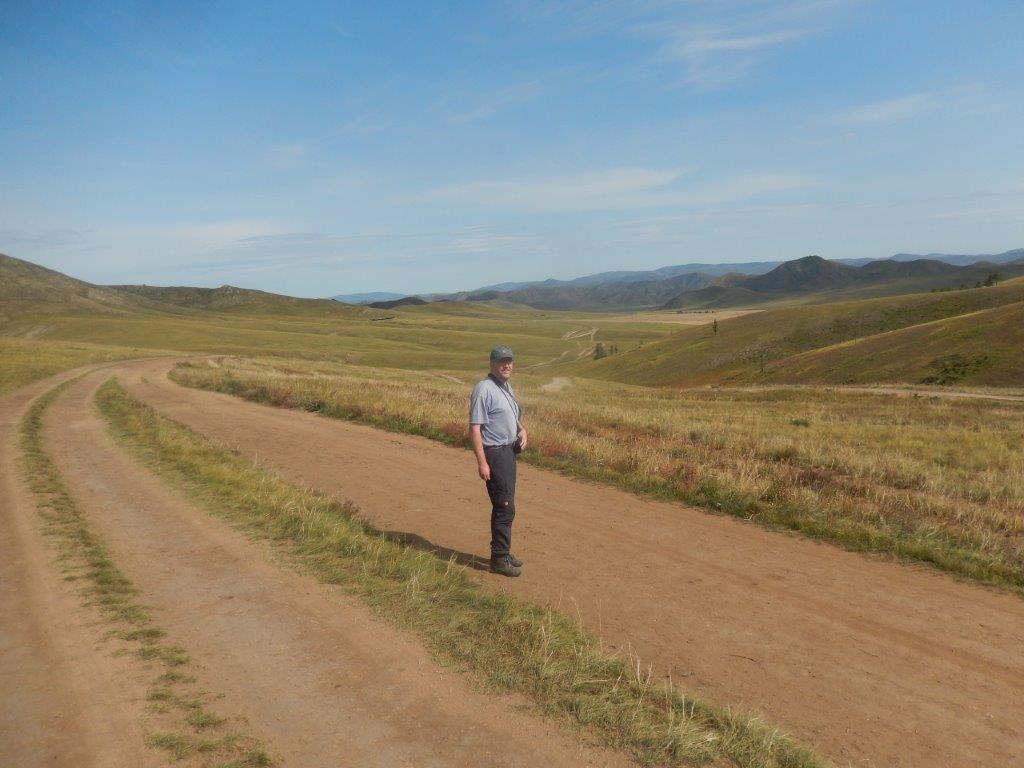 Through his many years of travel The Wandelgek's been on many roadtrips and he loves those. Driving in a car or bus or truck over dirtroads deep into the heart of unknown countries, preferably deep into wild territories, is the best thing ever, or as Kerouac once put it:
What is that feeling when you're driving away from people and they recede on the plain till you see their specks dispersing?

From: On the road, by Jack Kerouac
And thus a new roadtrip through the wilds of northern and central Mongolia started….
Now consider this:
In Mongolia 2/3rd of all inhabitants live in towns (over 1,000,000 live in Ulaanbaatar)
Mongolia is one of the ten largest countries in the world (number 18)
This leads to the conclusion that most of the country is almost … EMPTY and yes:
Mongolia's area is 1,564,116 square kilometres (603,909 square miles), and with a population of just 3.3 million, makes it the 18th-largest sovereign state and one of the most sparsely populated (I think the only country that The Wandelgek visited and which is even more sparsely populated would be Greenland (although Greenland is not a sovereign country/state). It is the world's second-largest landlocked country, behind Kazakhstan, and the largest landlocked country that does not border a closed sea. Mongolia contains very little arable land, as much of its area is covered by grassy steppe, with mountains to the north and west and the Gobi Desert to the south. Ulaanbaatar, the capital and largest city, is home to about 45% of the country's population. It is also ranked the coldest capital city alongside Moscow, Ottawa, and Nur-Sultan.
What a wonderful land to go on a roadtrip…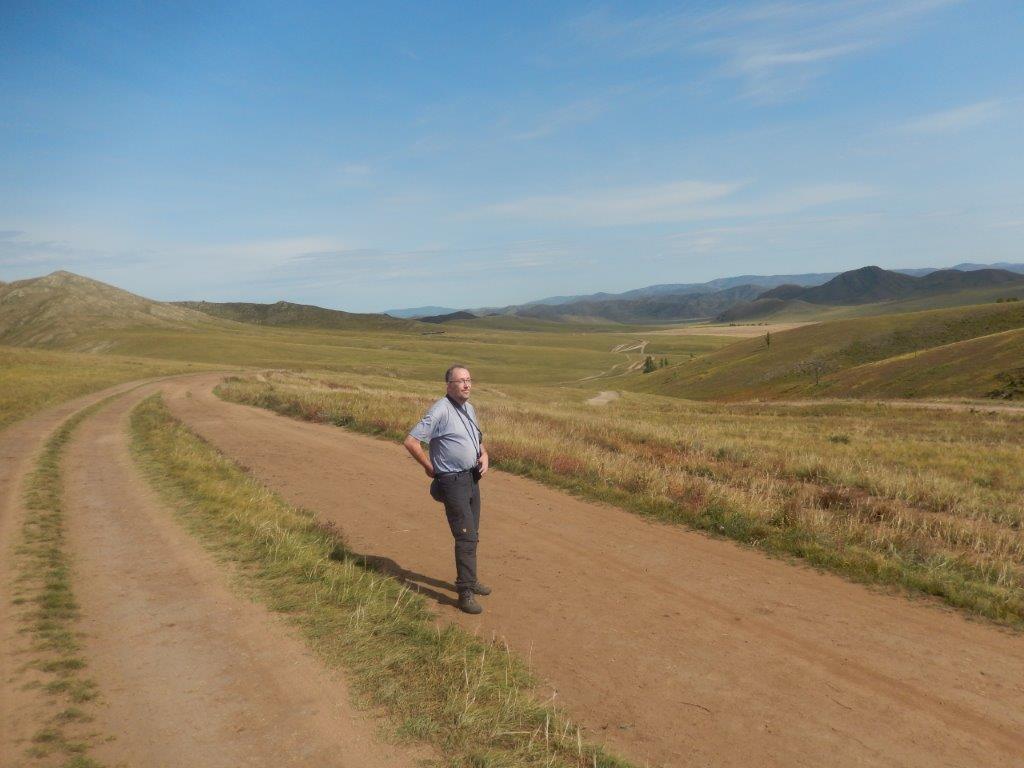 Although Darkhan is the 3rd largest town of Mongolia, that does not tell you much. Actually Ulaanbaatar is the only real city in the country. The rest of the towns are quite small meaning that leaving such a town happens within the wink of an eye.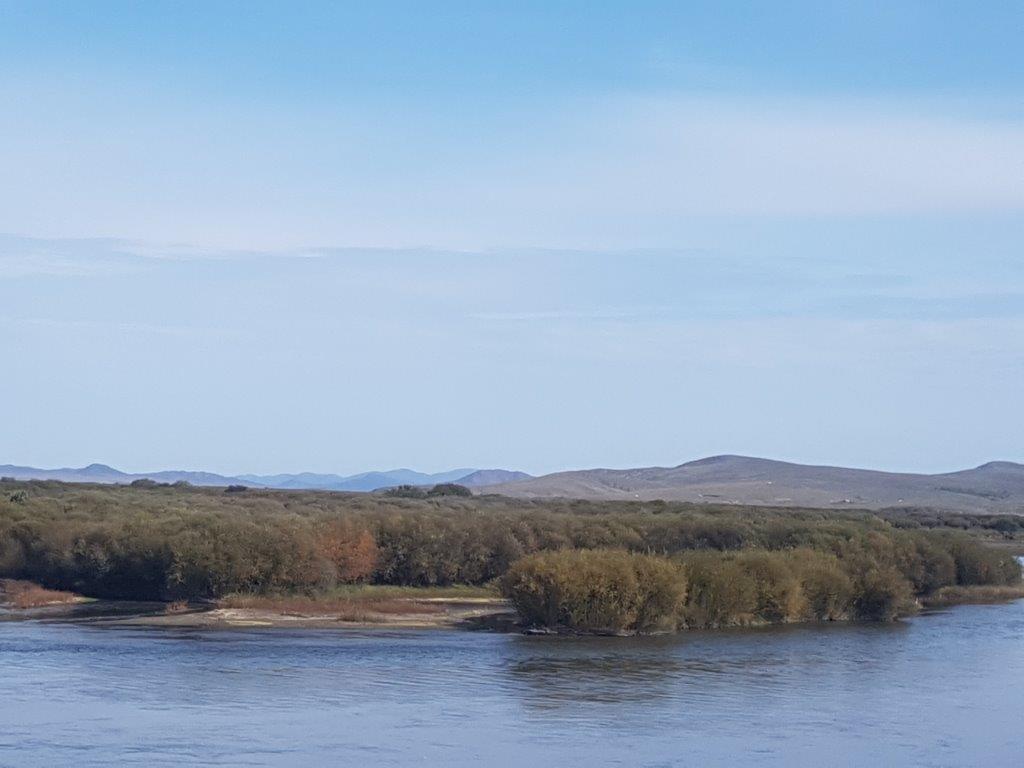 After leaving Darkhan's Russian Style town center, full of block buildings, there was still some tar road to drive on, 1st south but shortly after the bus turned westward.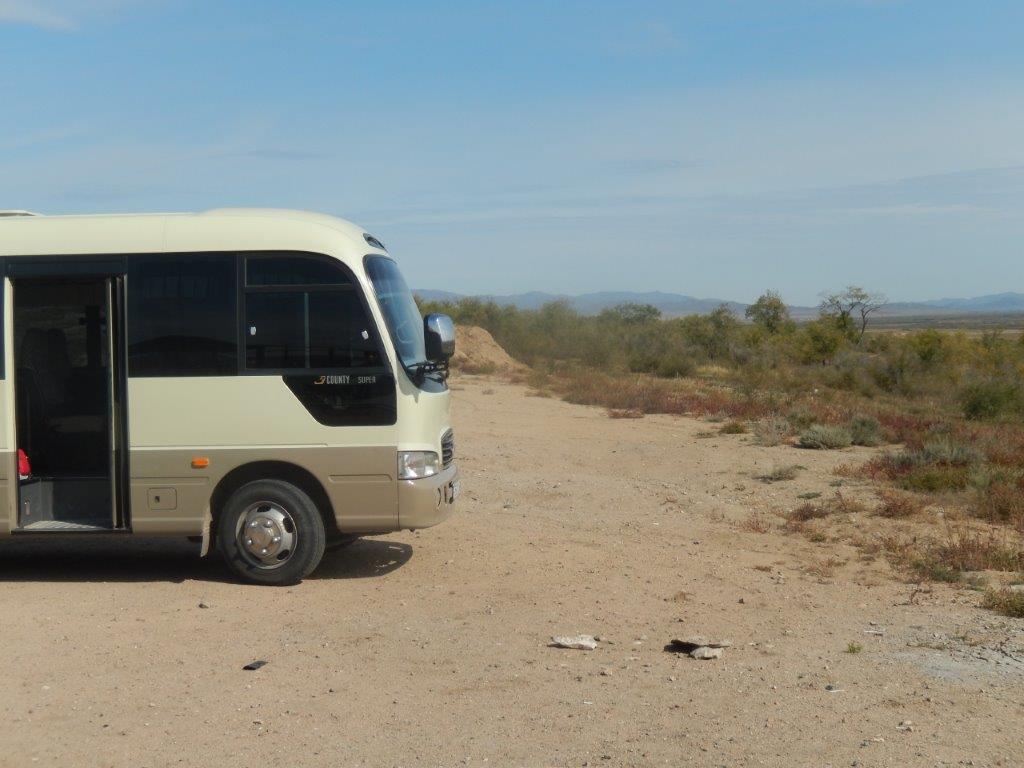 There were some sparse wooden houses at the side of the road…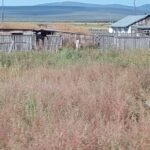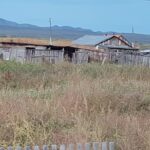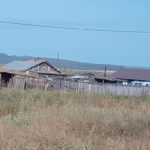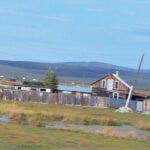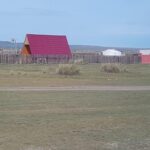 After that the 1st gers (and horses) appeared on the outskirts of Darkhan. Every town in Mongolia has suburbs full of gers (even Ulanbaatar, where they are quite large)…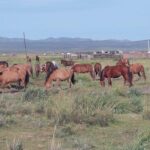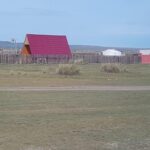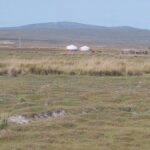 Then the last homes around Darkhan disappear and the only remaining signs if civilization are the electricity pylons and…. the road…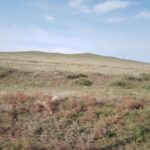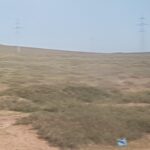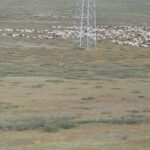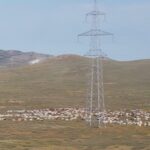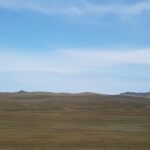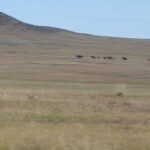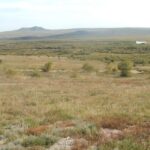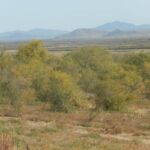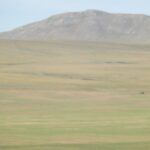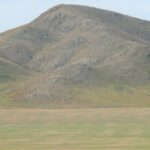 After a while there was a small sign post on the right side of the road and it indicated a dirtroad going into nomans land.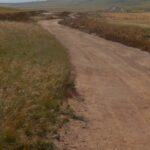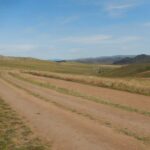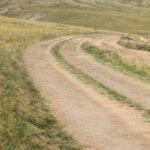 It really required excellent driving skills and driving  experience in the area to keep a bus horizontal driving on these roads. These roads are not horizontalized equalized like freeways, but they just follow every fold, elevation or gap in the landscape. Sometimes it seems that the vehicles that roam through these desolate lands are utterly lost and to regain a sense of direction they try to follow eachother, hoping it will lead them…somewhere…This is how these dirtroads were created in the first place.
High in the sky several vultures were drawing circles. Somewhere there was probably a dead carcass of an animal…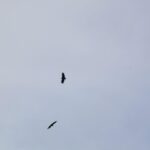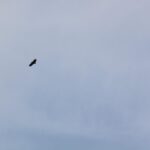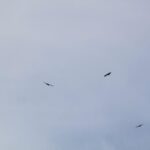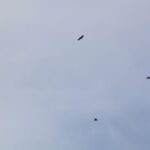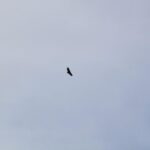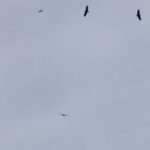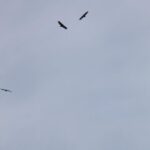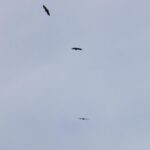 At every fold in the landscape that is a bit more significant, it becomes visible that there are lots of different types of vehicles that need to conquer these folds, gaps or fisures and that every type of vehicle (large, small, heavy, light weight, high or low, 4 wheel drive or not), has the need of another approach to do this without falling over, losing speed, breaking or whatever other misfortune  depending on the vehicles size and weight…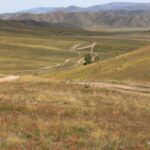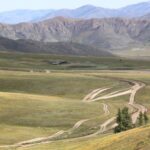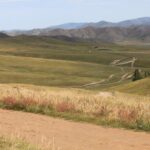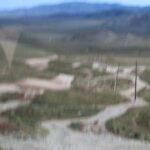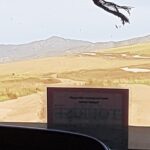 We now drove through an area with large fields of blooming rapeseed…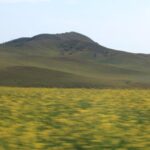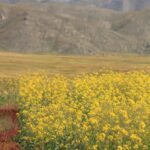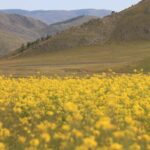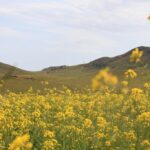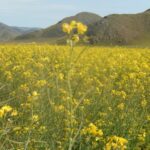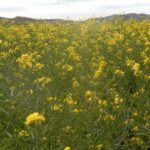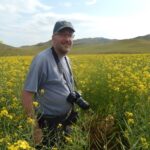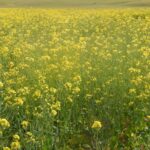 At the end of this 1st day's roadtrip, De Wandelgek ended up in a ger campsite in a beautiful silent, green vale…
These gers all had two beds and a coal heater and there was electricity and even a wifi signal. I think nowadays it is almost impossible to escape from digital connectivity …
The Wandelgek checked in, received a key and got rid of his backpack in his ger.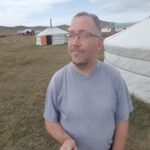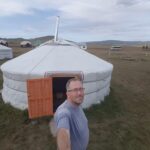 In a wooden ger like building was a restaurant where diner was served…and drinks…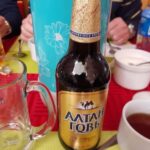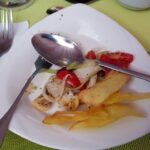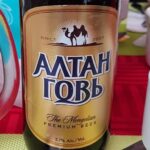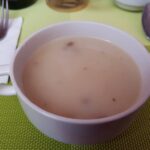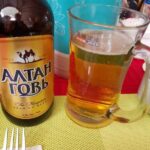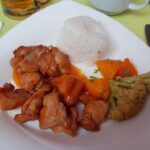 Then he went outdoors and walked a bit away from the ger camp into the lush green fields….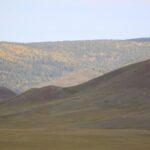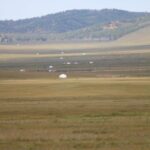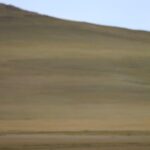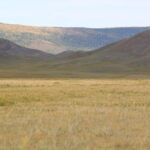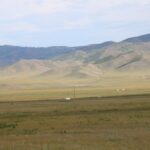 He had noticed the shape of the wooden electricity poles and thought they might make a real good "chair" to sit against, enjoying the tranquility of the vale…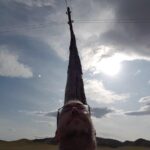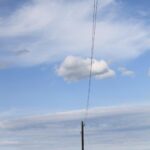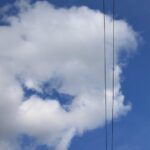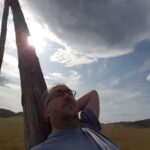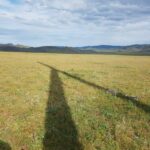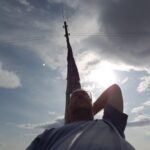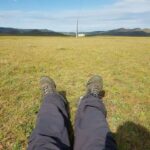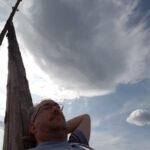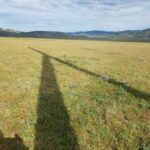 He even dozed off a bit and when he woke later in the afternoon, it was time to go on a small tour and a walk further down the valley….