On the road through Northern Mongolia (Uran Togoo NR)
After an early breakfast The Wandelgek started on his roadtrip. This roadtrip would bring him from Northern to Central Mongolia, but he had planned to return to Northern Mongolia for a couple of days.
The sun slowly rose above the hills and volcanoes of Uran Togoo Nature Reserve…
The sky was clear blue as we left our ger campsite…
The driver began with his task to maneuver the bus safely over the best suitable dirttracks (I think it was maybe once or twice on this whole roadtrip that he felt that he had to go back on the tracks to choose another track to proceed). Sometimes he stopped the bus for a little while to estimate which track could best be used. It's relatively easy to drive in a 4-wheel drive all terrain car, but driving here in a bus or truck is a lot more difgicalt. But our driver was experienced and he was almost always right in his choices…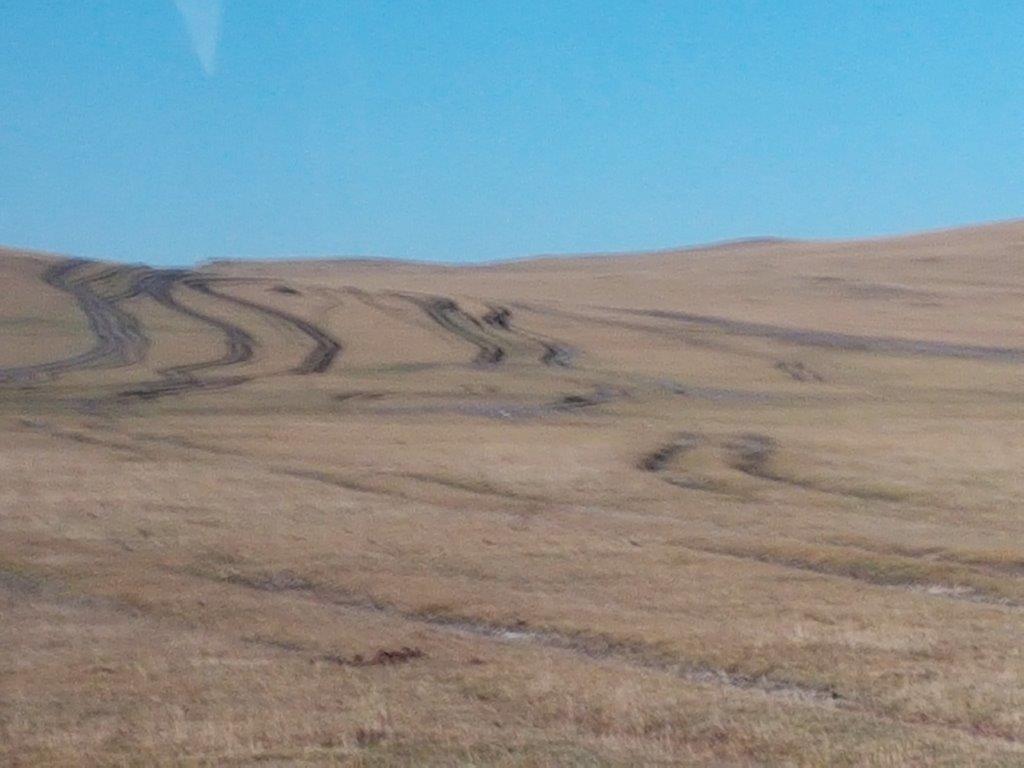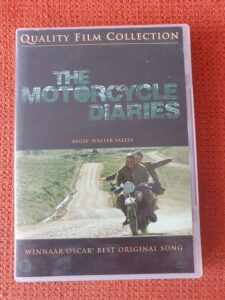 This made me think of a movie called The Motorcycle Diaries, which is about a young Che Guevara, who drives with his best friend, in a motorcycle through a large part of South America. Some scenes, especially those on Chile's Altoplana popped up in my mind seeing this…
A motorcyclist could choose a different trail to proceed on…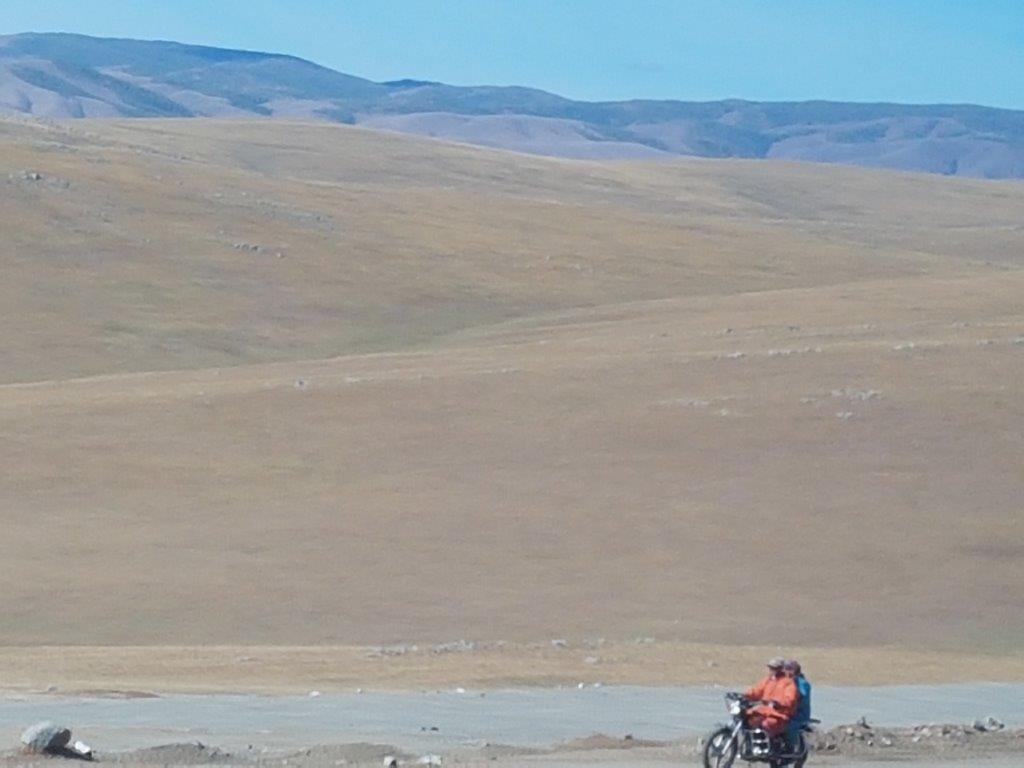 Uran Togoo Nature Reserve was an awesome landscape to drive through…
Then we were reminded of the fact that we were in a Nature Reserve. A Jackal roamed the grasslands not too far away from the road…
…and where there is a jackal, there might be prey too. The Wandelgek suddenly spotted some vultures circling high above the valley and the road. 1st one, than more…
Some of them were flying in descending circles until they decided to land in the grass a little bit further up ahead…
They all seemed to have landed in a particular spot and that could only mean that there had to be carcasses of dead animals, maybe attacked by wolves or jackals…
It looked like the remains of more than one animal which ruled out that the animals had died of old age. A wolf attack  or an attack by a bunch of jackals seemed more likely…
Yes nature can be cruel…
In the grass crickets were hiding, but the noise eventually revealed them. Really difficult to photograph though…
It was good thing The Wandelgek had stopped, because a large herd of wild horses was coming his way…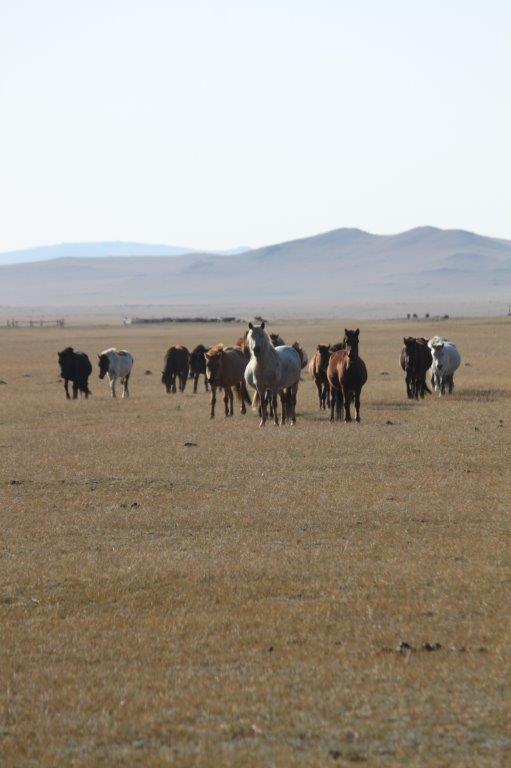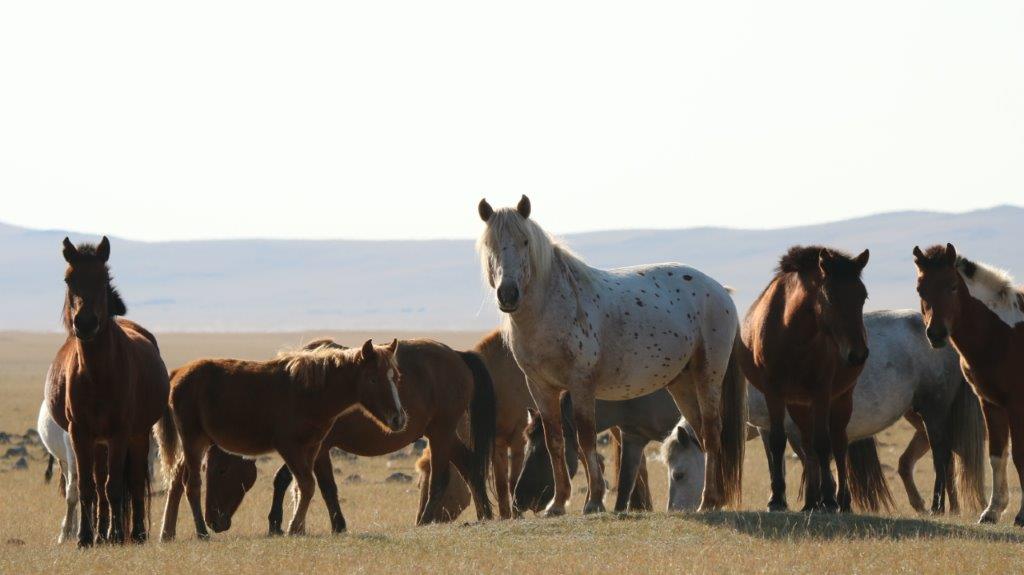 The herd stopped at a safe distance, but the leader was curious and anxious to see whether this human in front of them was a threat.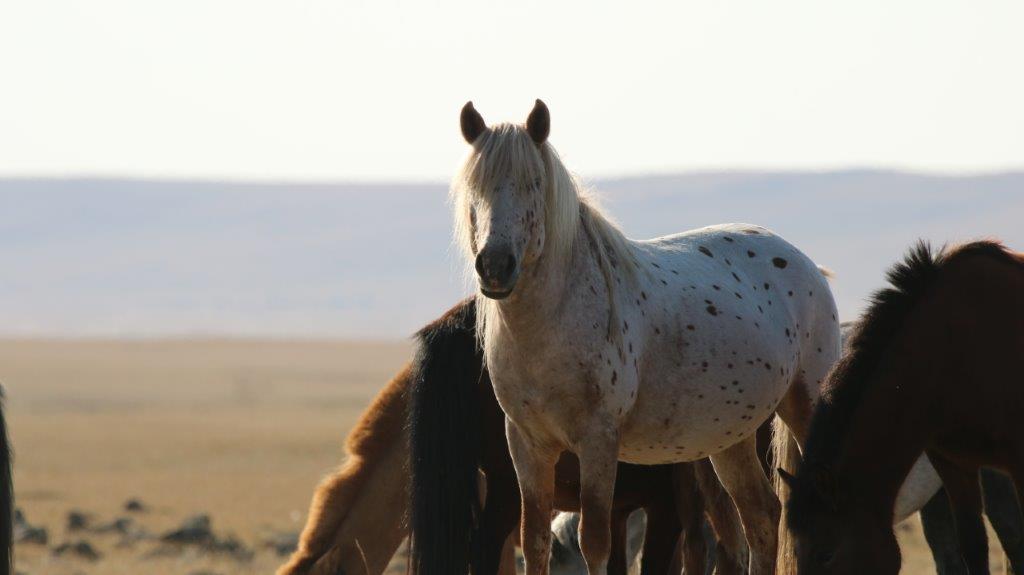 Very cautious he closed the gap between us…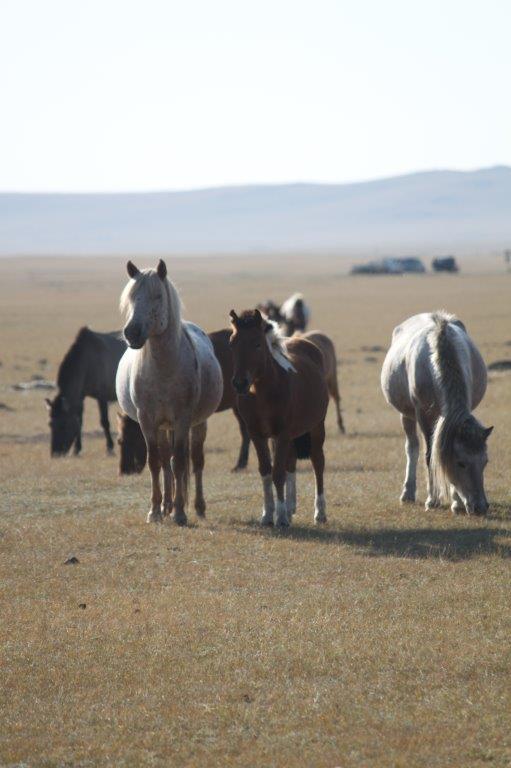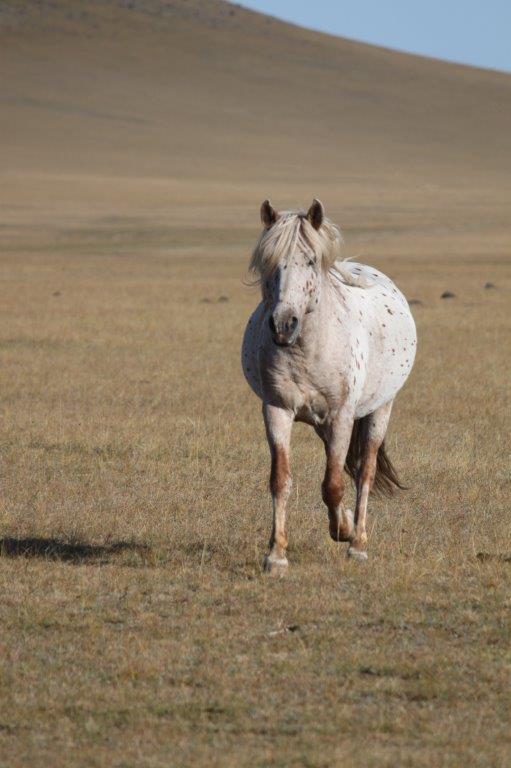 …and from a short distance he observed…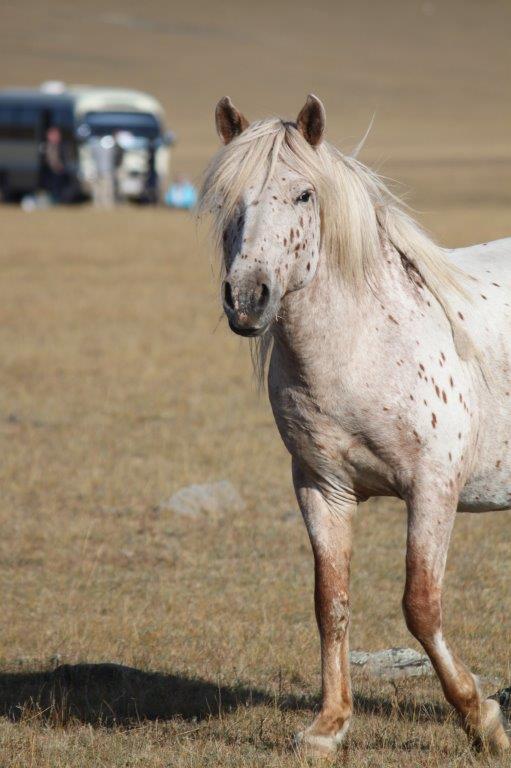 Gotta love this…
Then he seemed satisfied that The Wandelgek was no threat and he returned to the herd, still vigilant, until he became at ease and started grazing.  Chilling with his herd…
I just love photographing horses…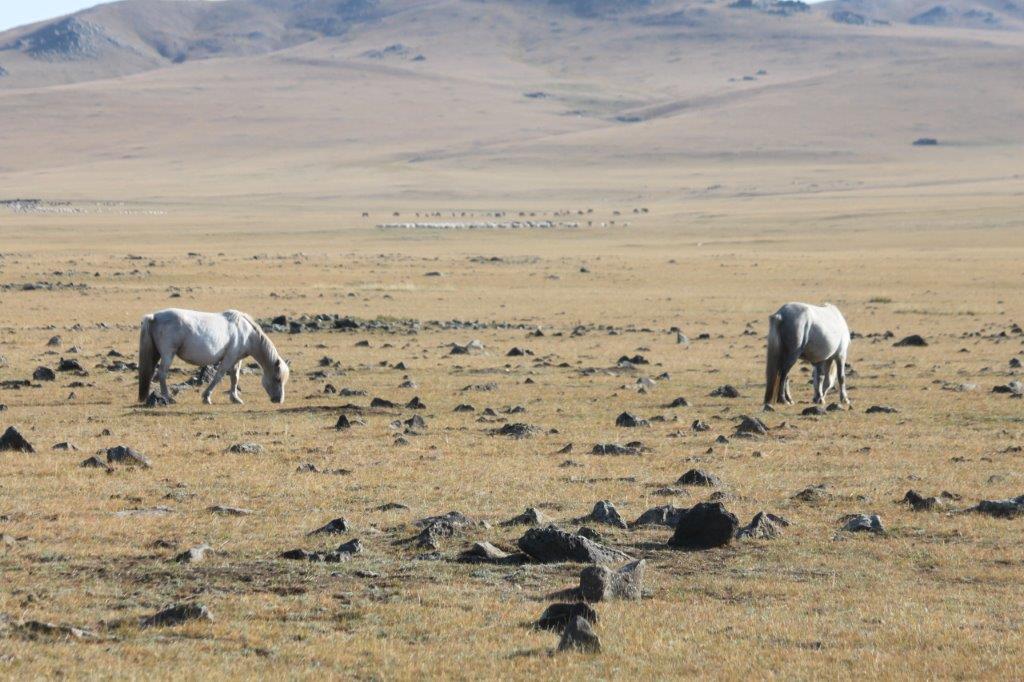 There was no tension…
Then a young foal showed itself…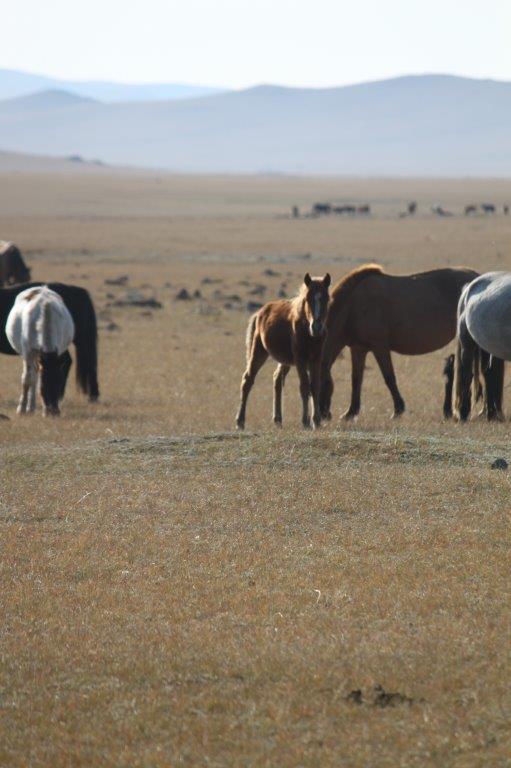 After some last shots of these beautiful creatures, The Wandelgek returned to the bus for a cup of coffee.
It was still morning and he was in need of a shot of cafein ?
While enjoying his coffee, The Wandelgek also enjoyed the wide view, seeing an occasional dustcloud when a car raced over the dry and dusty tracks. No paved roads here, far from the bigger towns…
The bus now left the Uran Togoo Nature Reserve and drove south towards a tiny village named Hüremt or Saikhan (on a map its difficult to see which is the village name) where The Wandelgek had a short break…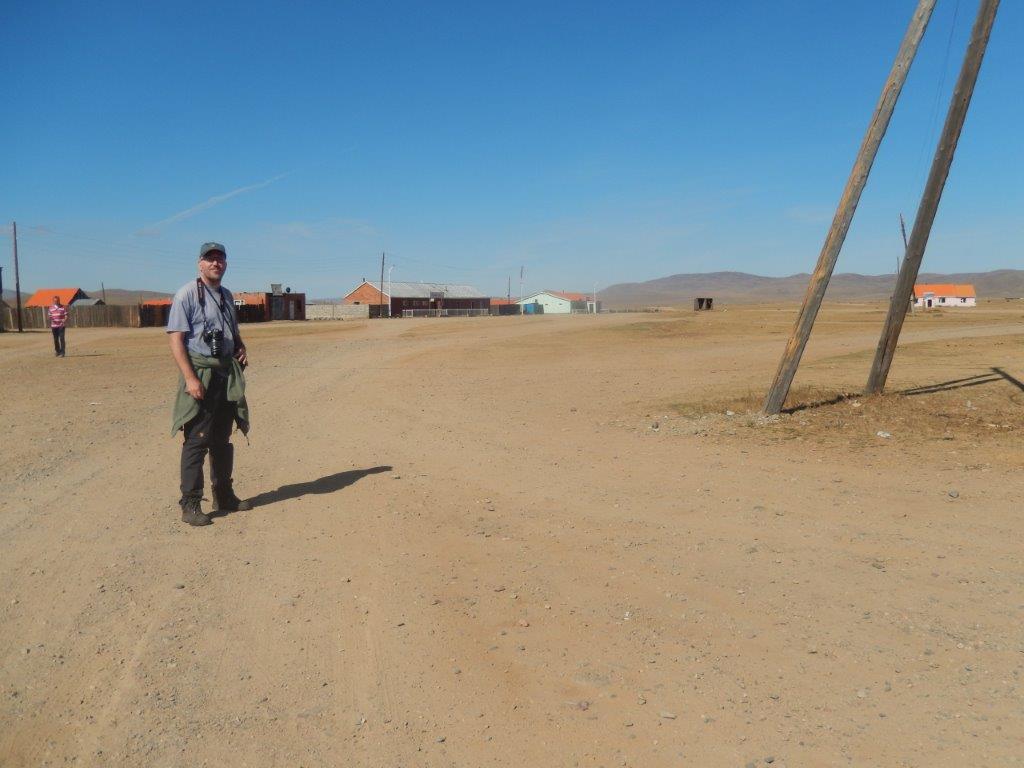 The mainstreet of this village reminded me of scenes from Italian Spaghetti Westerns like High Plains Drifter where the anti hero Clint Eastwood walks across such a street, it is windy, dust in the air, someone plays the harmonica and tumbleweed is rolling through…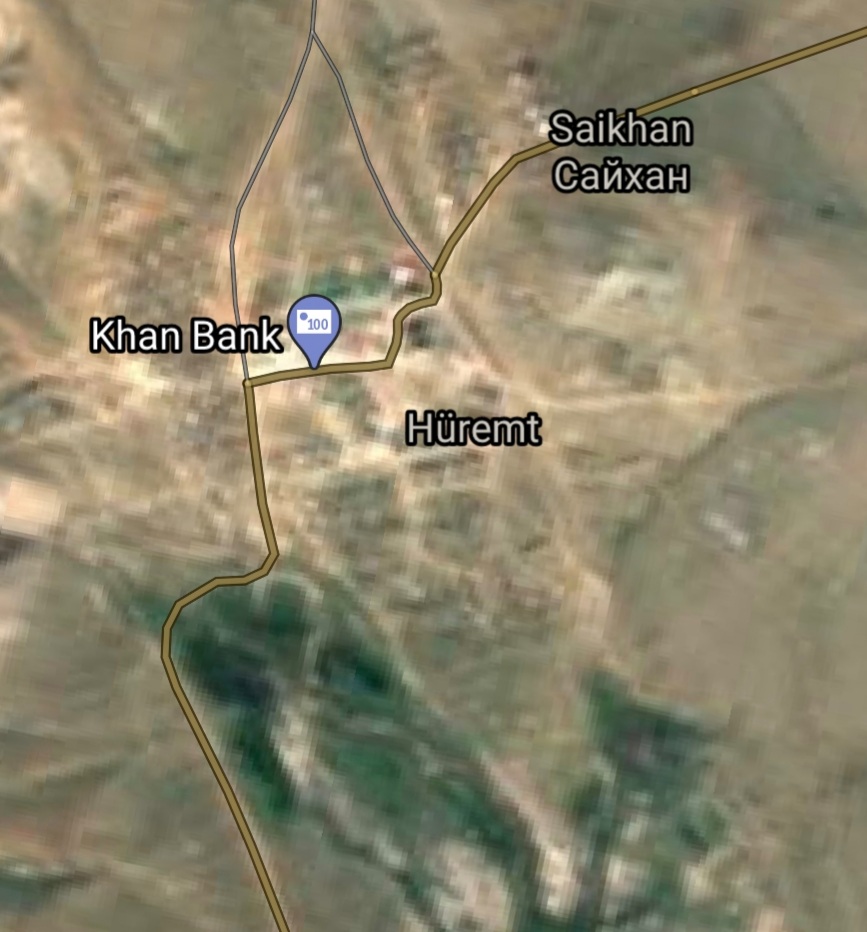 Central Mongolia
After this break, the roadtrip proceeded further south, where the hills were lower and the valleys wider. Temperatures rose with every kilometer and the landscape was drier than before. Going from north to south in Mongolia is like moving further away from the northern Taiga and steppes in the north towards the Gobi desert in the south. The steppes are still there in Central Mongolia, but they are less fertile than those in the north.
Tsaidam lake (salt lake)
After driving south for a while, the landscape started to change and suddenly The Wandelgek saw what appeared to be a bright, white, shining lake.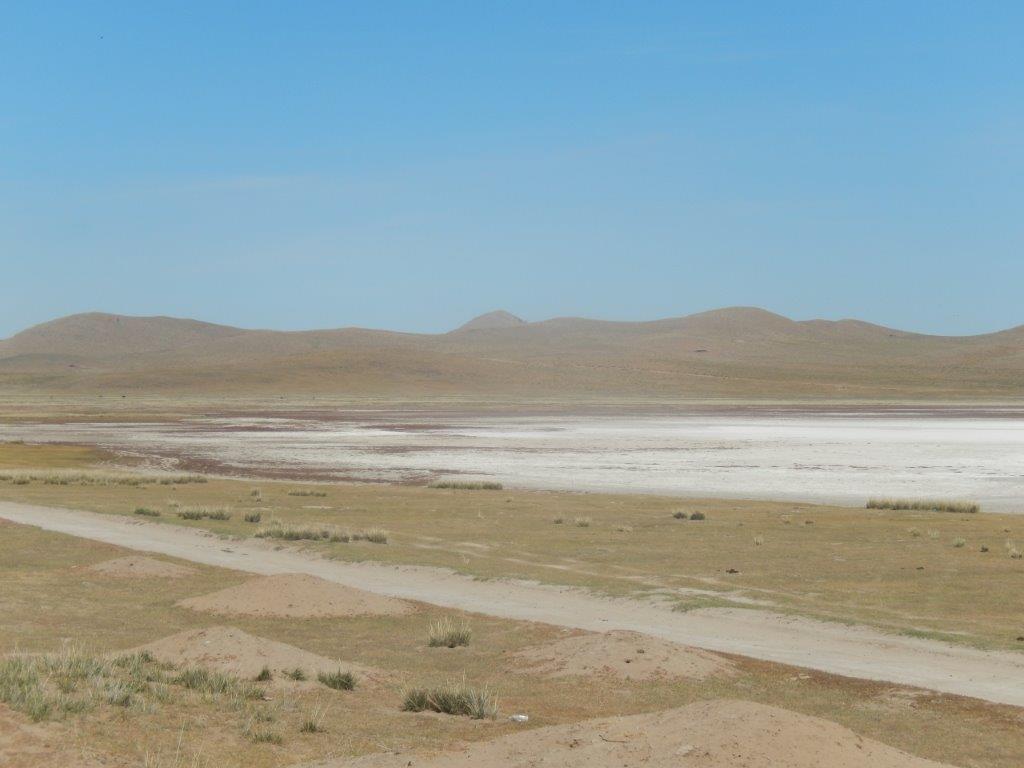 Well it looked similar to a lake, but there was no water. It was a bit like the salt pan of Etosha the salt pan of Etosha, but much smaller.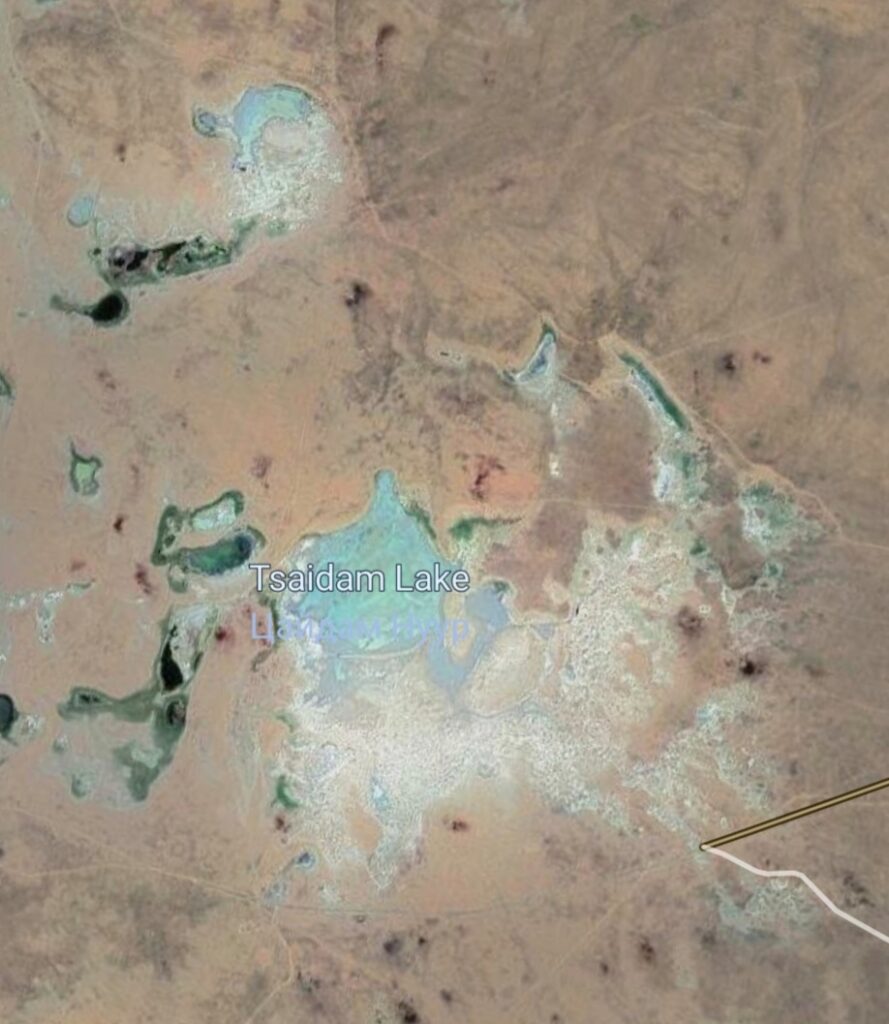 The Wandelgek could not see any other reason for the blue car to be there  except for collecting salt.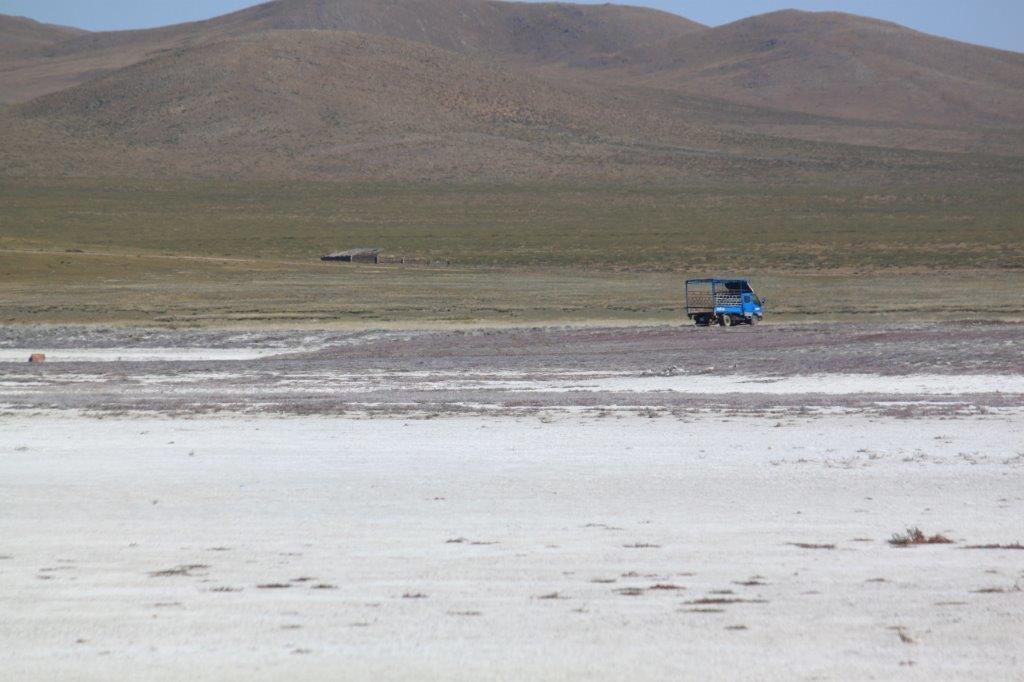 There were several bones of animals lying around this dried up lake. Maybe they had succumbed from thirst?
It did have a bit of an otherworldly quality to it…
YEEHAH! Carpe Diem!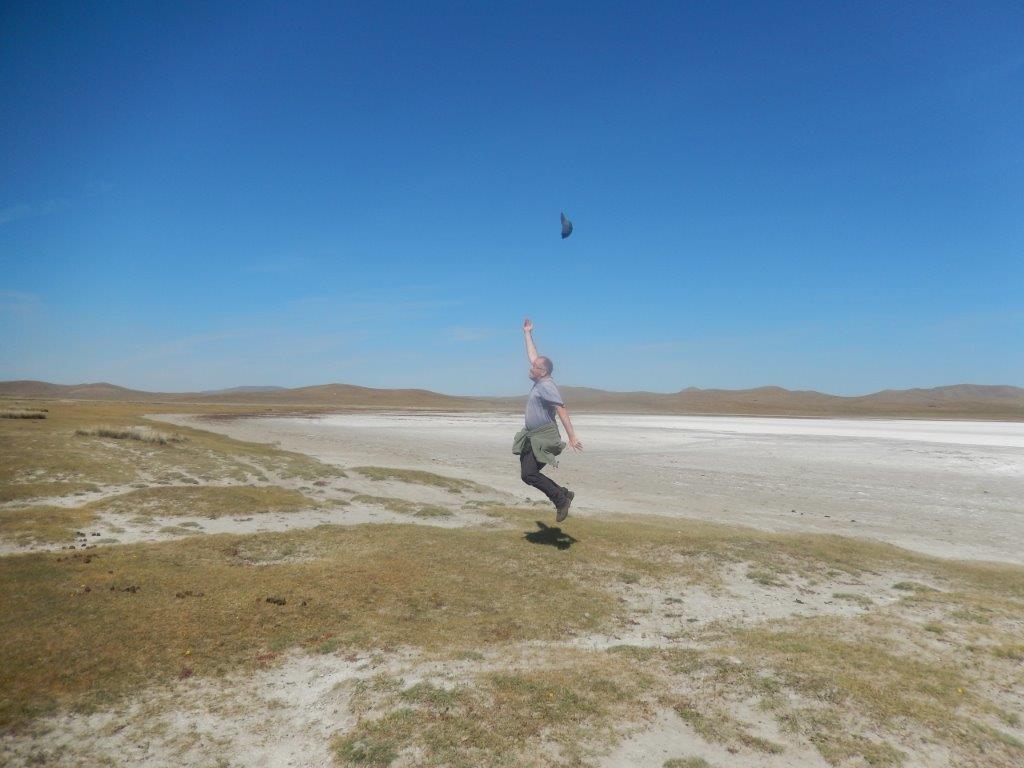 Some more bones, ckeaned by scavengers and bleached by the sun…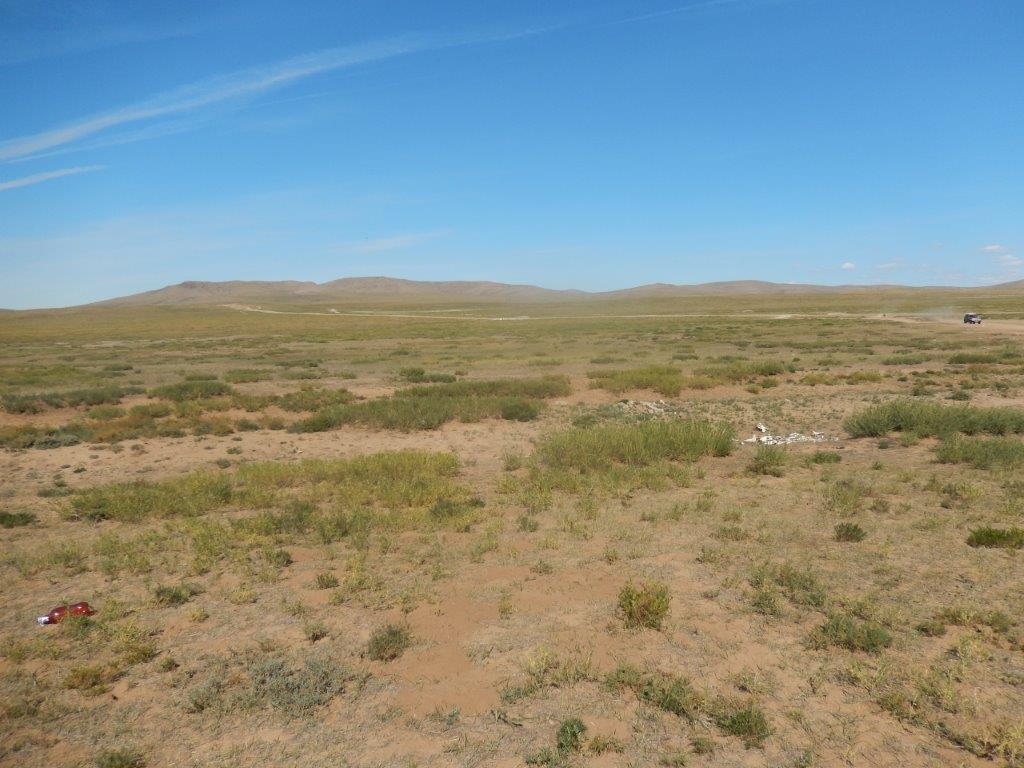 The Wandelgek came to suspect that there might be some traffic victims among animals or small animals like muce that got scared often by passing vehicles, because there were lots of birds of prey to be seen next to the road, sitting on small mounds of stone rubble, on electricity poles or on waymarkers…
Not sure what species of bird this is. It seems to be a small type of eagle though,…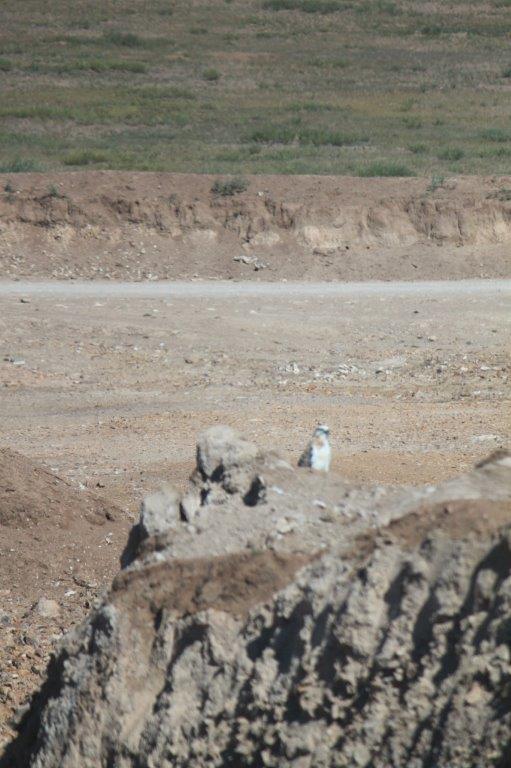 same goes for this one. Looks like a smaller species of eagle, maybe a steppe eagle but not sure.
Suddenly it decided to fly away.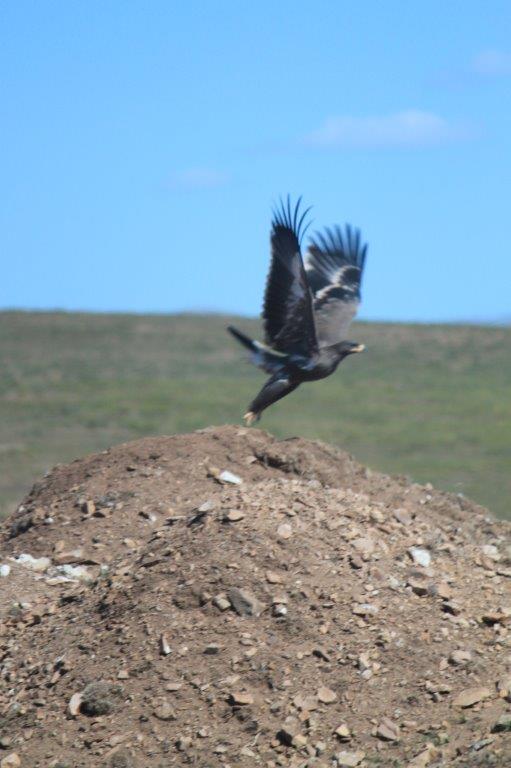 Typical for Mongolia's central and even more so its southern part, are the bactrian camels that replace horses the more south you get…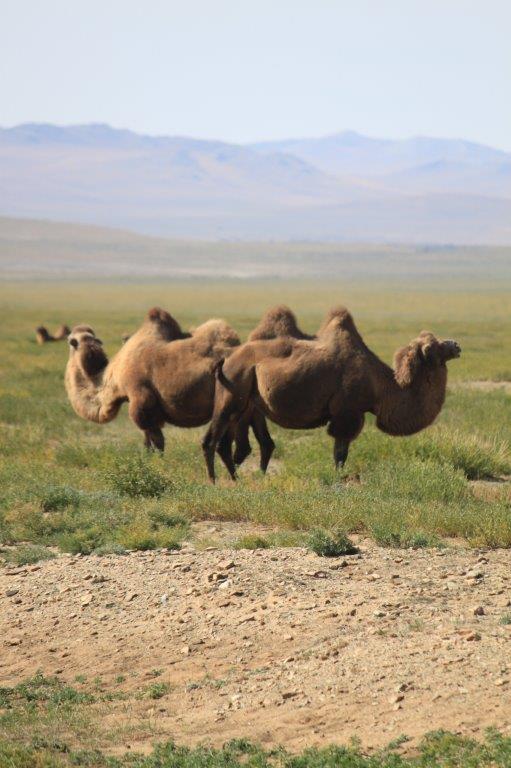 There was a hole bunch of them and they vary from color from brown to sand colored to white-greyish…
The Bactrian camel (Camelus bactrianus), also known as the Mongolian camel or domestic Bactrian camel, is a large even-toed ungulate native to the steppes of Central Asia. It has two humps on its back, in contrast to the single-humped dromedary camel. Its population of two million exists mainly in the domesticated form. Their name comes from the ancient historical region of Bactria.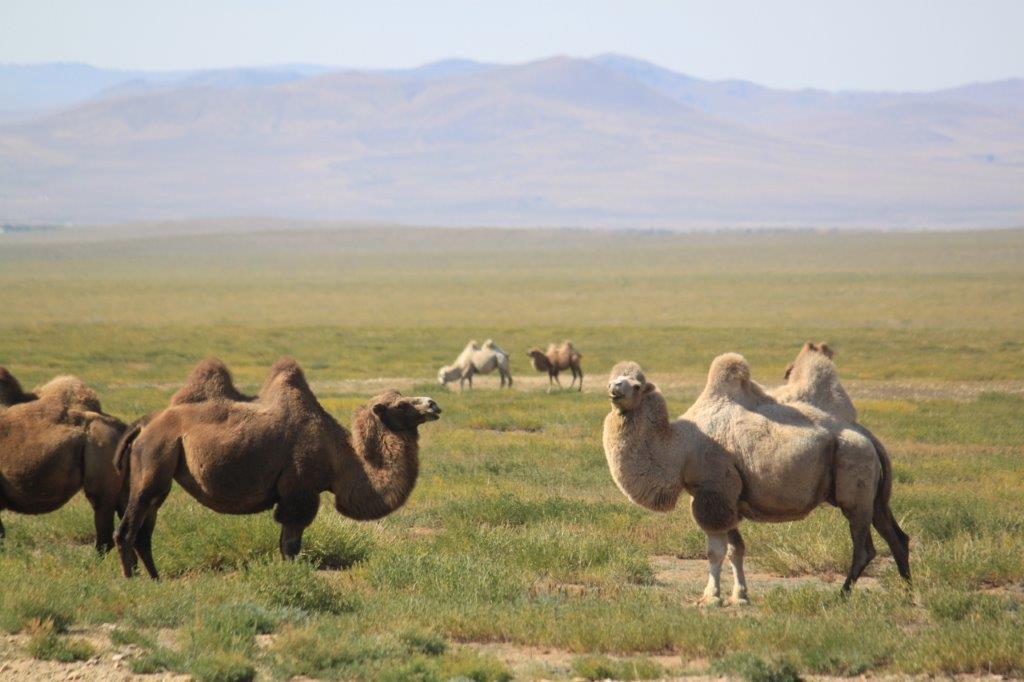 The Wandelgek had seen them before from a very short distance while travelling through China's western province of Xinjiang. He had witnessed a camel hunt of Kyrgyz nomads trying to capture some escaped camels.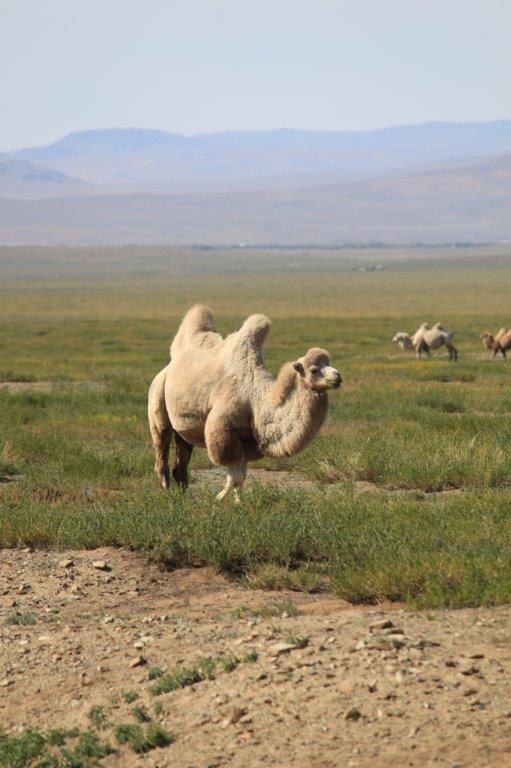 So far, today had been a great day for spotting wildlife: a jackal, vultures, wild horses, crickets, eagles and bactrian camels…
The bus was now near its destination for today. There were still some adventures to live through before stepping into another ger and sleeping through another cold night. But those adventures are for my next blogpost.