Visiting the small mountain region monastery of Erdene Khamba and a ruin (Khögnö Khan NR)
In the mountains of the Köghnö Khan Nature Reserve were several smaller monasteries and The Wandelgek decided to visit one near the ruined remains of an ancient monastery, some new monastery buildings and one old monastery building still intact.
Erdene Khamba monastery
"The Lama Erdene Monastery", Erdene Khambiin Khiid, is located at the foot of Khögnö Khan Mountain and dates from the 17th century. It is also sometimes called Ovgon Monastery. Zanabazar built it in honour of his teacher, the lama Erdene; it was one of the sanctuaries he liked most. At its height, the monastery was able to house more than one thousand lamas at the same time.
Today the monastery doesn't work anymore, but once or twice a month, some lamas come and do religious ceremonies.
The buildings are divided into the new monastery buildings, 1 old monastery building which was build high up against a rocky slope and then there were the ancient monastery ruins that were built by Zanabazar.
After reading this blog you might wonder why so many interiors, decorations and objects are in Tibetan buddhist style? This is because Mongolia, years after the fall of the large Mongol Empire and under threat of being conquered by the Manchu empire in northern China, turned in despair towards the Tibetan Dalai Lama and in return for help, allowed the Tibetan buddhism to influence their culture and even become the state religion of Mongolia.
The Wandelgek 1st visted one of the new monastery buildings.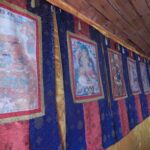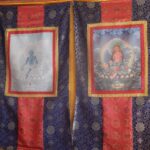 The walls were wrapped in dark blue and red banner like cloth. Thangkas were decorating these banners. A color explosion which is typical for Tibetan style monastery interiors.
Tibetan music instruments
There were several music instruments present in the hall like a large drum and Tibetan horns.
Lag-na: Tibetan frame drum
A lag-na, or na, is an ancient Tibetan frame drum. The drumhead has a minimum diameter of about one metre. Like the dhyāngro (the principal drum of the jhakri shamans of Nepal), the lag-na has a carved, wooden handle. One plays the na by striking its drumhead with a heavy percussion mallet.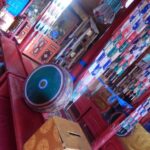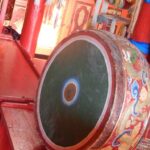 Dungchen: Tibetan horns
"They produce a long, deep, whirring, haunting wail that takes you out somewhere beyond the highest Himalaya peaks and at the same time back into your mother's womb."

Tsultrim Allione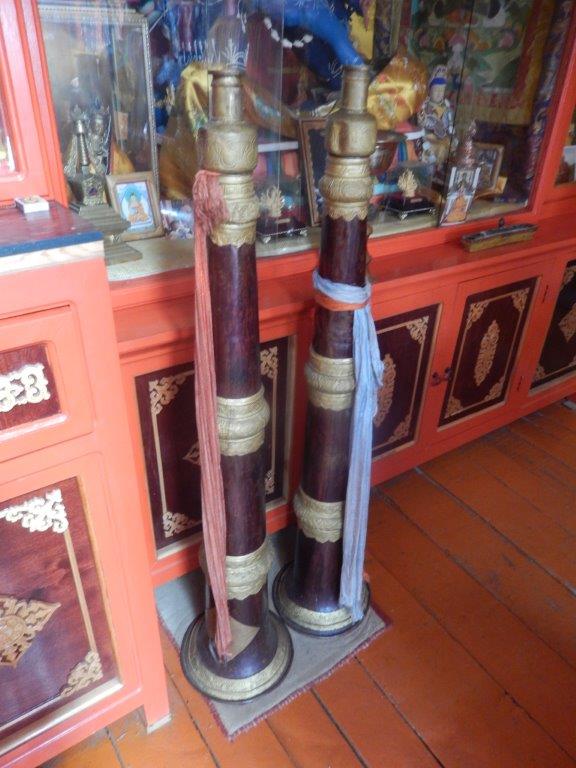 The Tibetan horn (dungchen) is a long trumpet or horn used in Tibetan Buddhist and Mongolian buddhist ceremonies. It is the most widely used instrument in Tibetan Buddhist culture. It is often played in pairs or multiples, and the sound is compared to the singing of elephants.
The Tibetan horn above is mine and I bought it somewhere at a stand on the Lhasa Barkhor market. It is completely retractable, which is a superb thing when it needs to fit in a backpack ?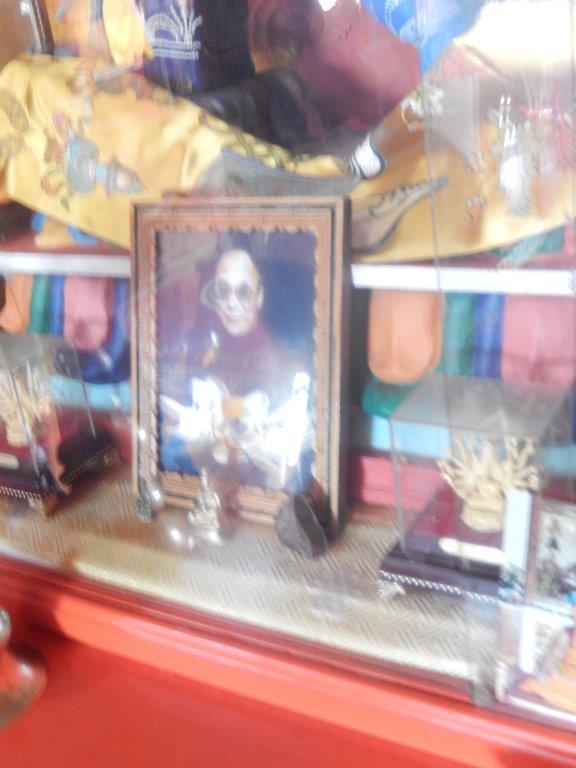 In the monastery were several shrines that looked a bit like showcases. E.g.: the above one with a photo of the current Dalai Lama.
The shrine below contained several thangkas and buddha statues…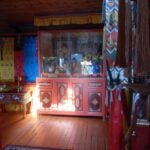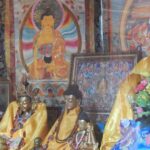 Below is a statue of a somewhat more frightening deity…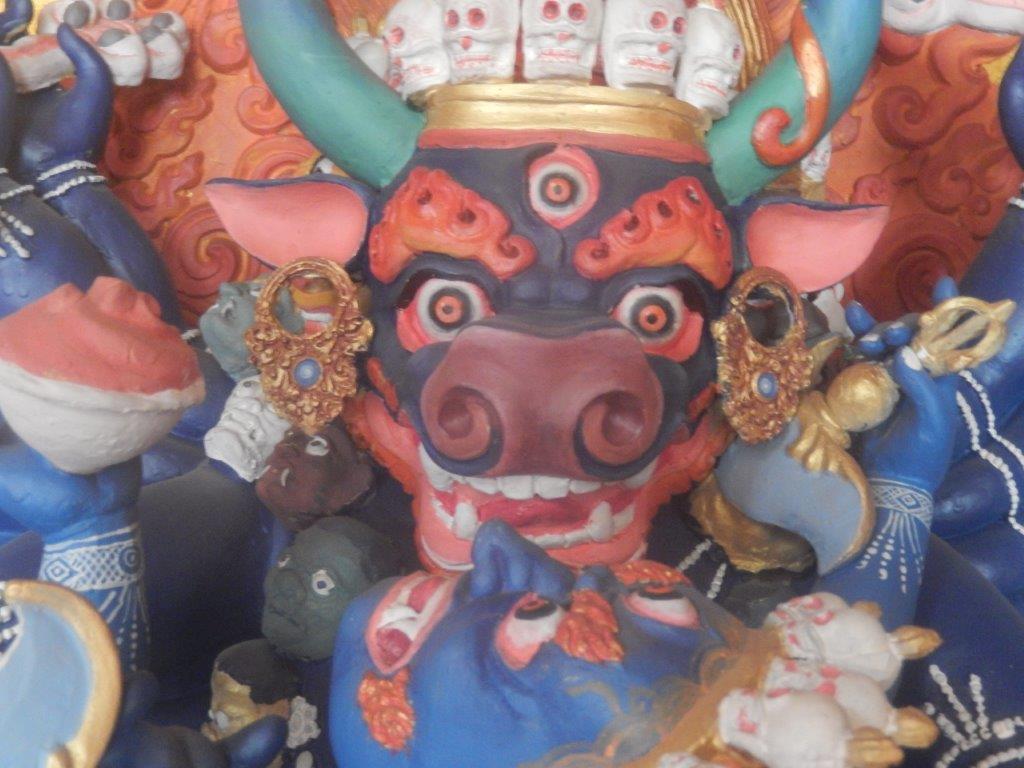 Tibetan Buddhist books
On this next picture is a cupboard containing several books wrapped in cloth.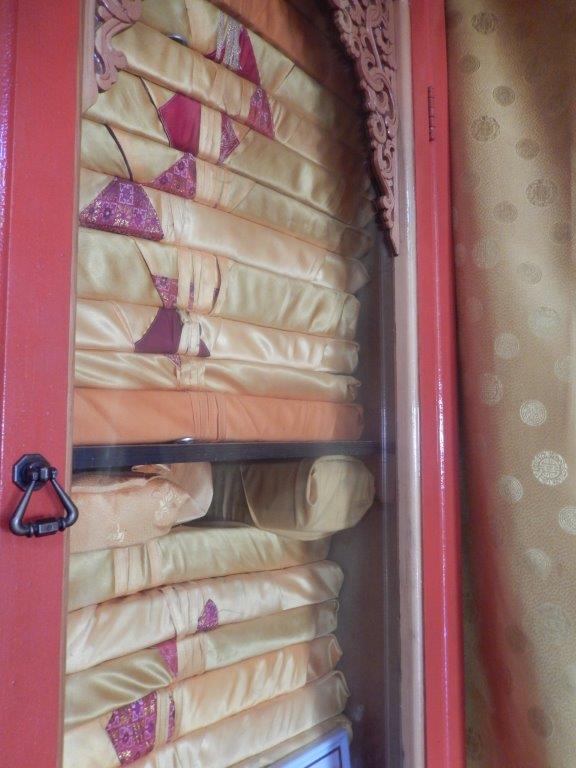 When The Wandelgek visited Nepal and Tibet back in 1999, he saw many of these books in the many monasteries he visited and he took one as a souvenir to the Nerherlands, however, it was a book bought in Nepal, without the cloth wrappings which differs a bit from the book he saw in the monasteries.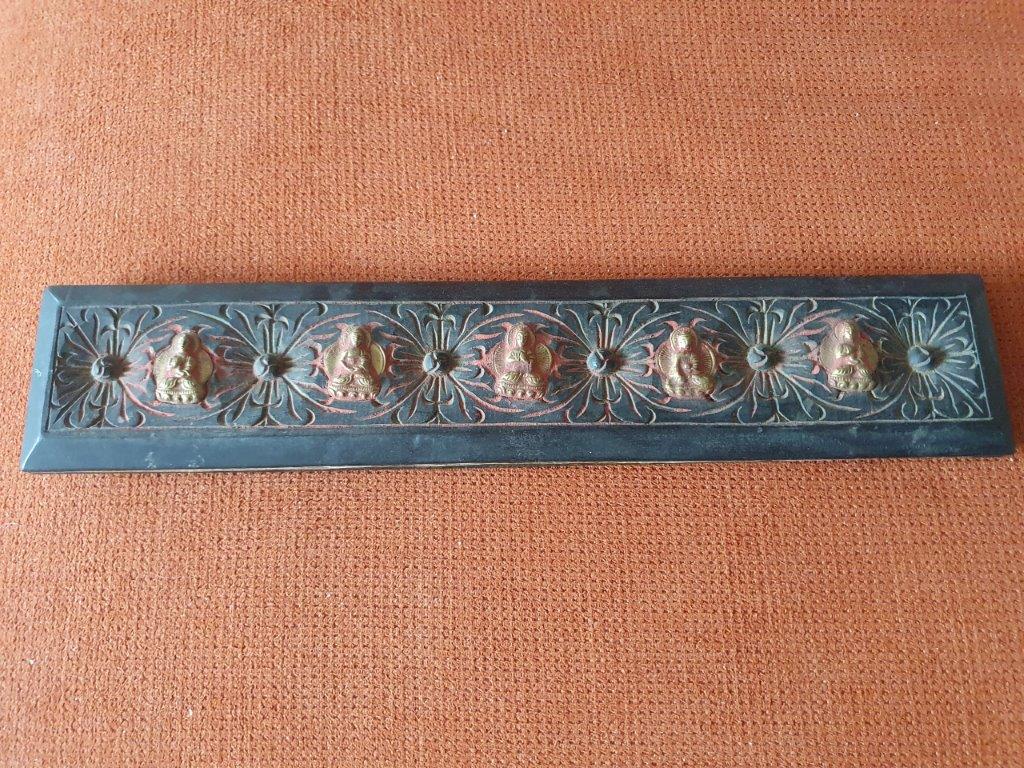 My brother has visited Nepal many times and established the DIPA Foundation to help young disabled local children with the basics of a happy life, now and in future. Education in a clean and save environment helps them towards such a life. (See and read more by clicking the link above).
From one of his many travels to Nepal, where he slowly but goal focussed, worked on the realisation of his ideals, he brought me a gift. A smaller version of a Buddhist book: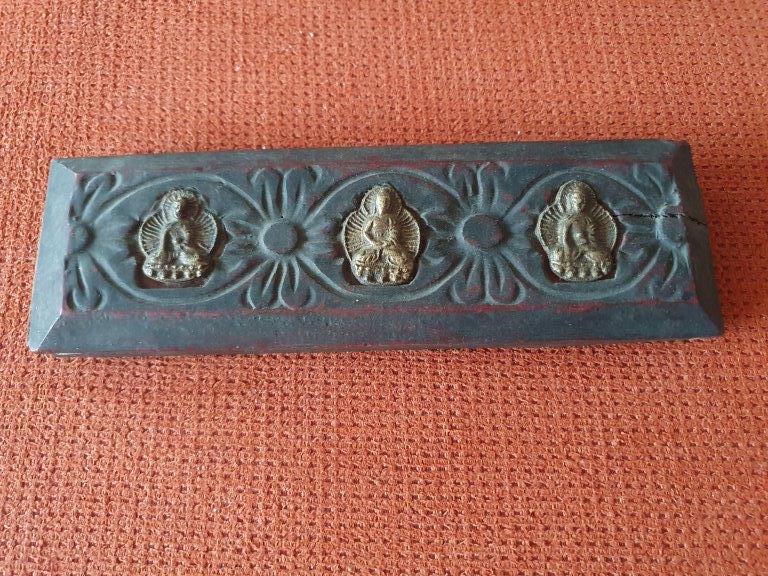 In Mongolia, The Wandelgek finally succeeded in buying a Buddhist book which was created by monks and sold in a buddhist monastery instead of a Nepalese market: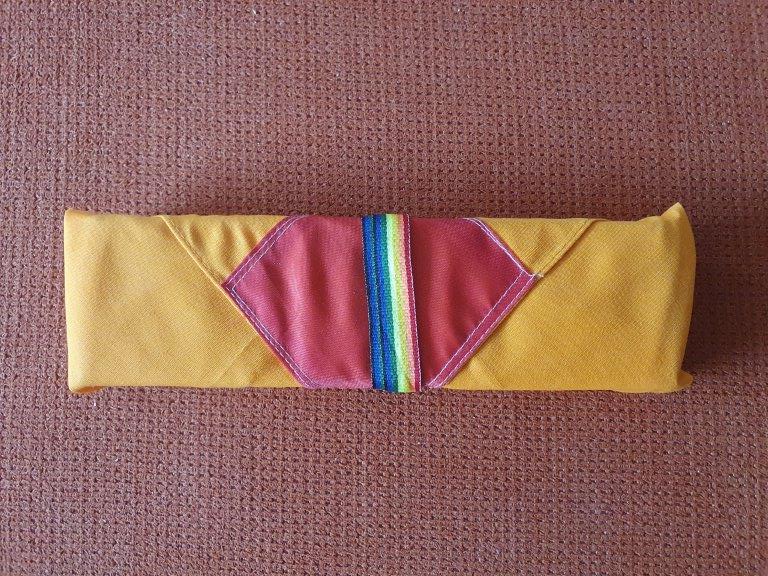 Quite a collection: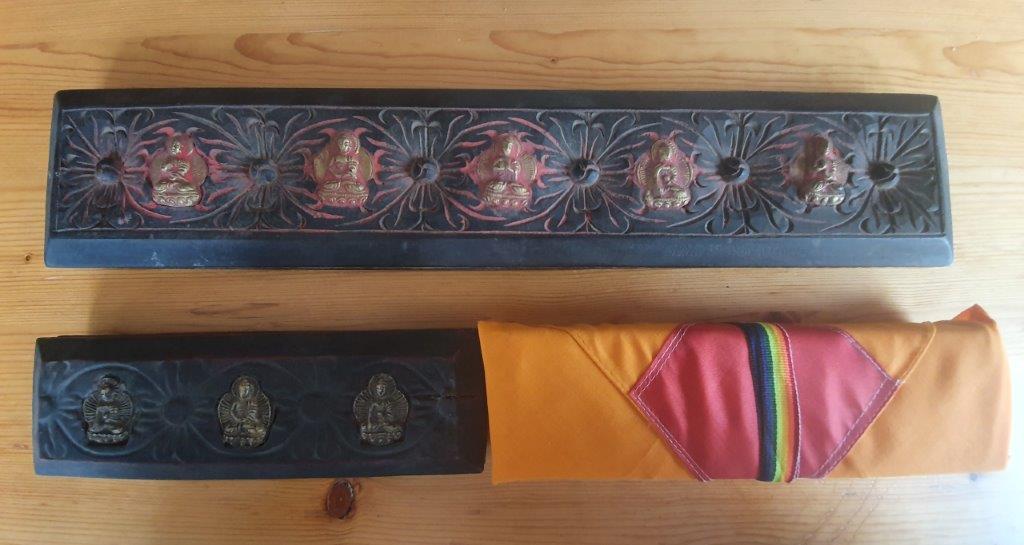 Buddhism spread over a large part of Asia, aided by these written and printed texts. I'm taking you on a journey to several Buddhist monasteries from Tibet to Mongolia and show you how Buddhist books are printed, and how they are preserved in this blogpost: Buddhist Monastery Books.
A very large Tibetan yak buttermilk lamp …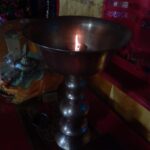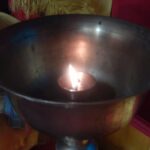 After a thorough look at the interior, The Wandelgek set forth towards a much older monastery building which was set against a steep mountain slope. After a sturdy climb he reached the monastery level and from there he had this view over the remains of the very 1st monastery that was built here by Zanabazar…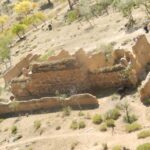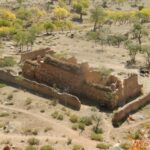 Legend bound to Khamba Monastery
In 1688, the king Galdan Boshigt (Western Mongolia) went into discord with Zanabazar (Central Mongolia) because he didn't want to submit to Manchus. The argument turns into a war during which the king tries to kill Zanabazar. When he arrives at Khögnö Tarinii Khiid, he can't find him. His rage leads him to chop the lamas' head off. In the Mongolian language, this putting to death is called "Khögnö", which inspired the name of the place: Khögno Khan.
Then he entered the monastery that he had just climbed to. It was quite small and contained only one room…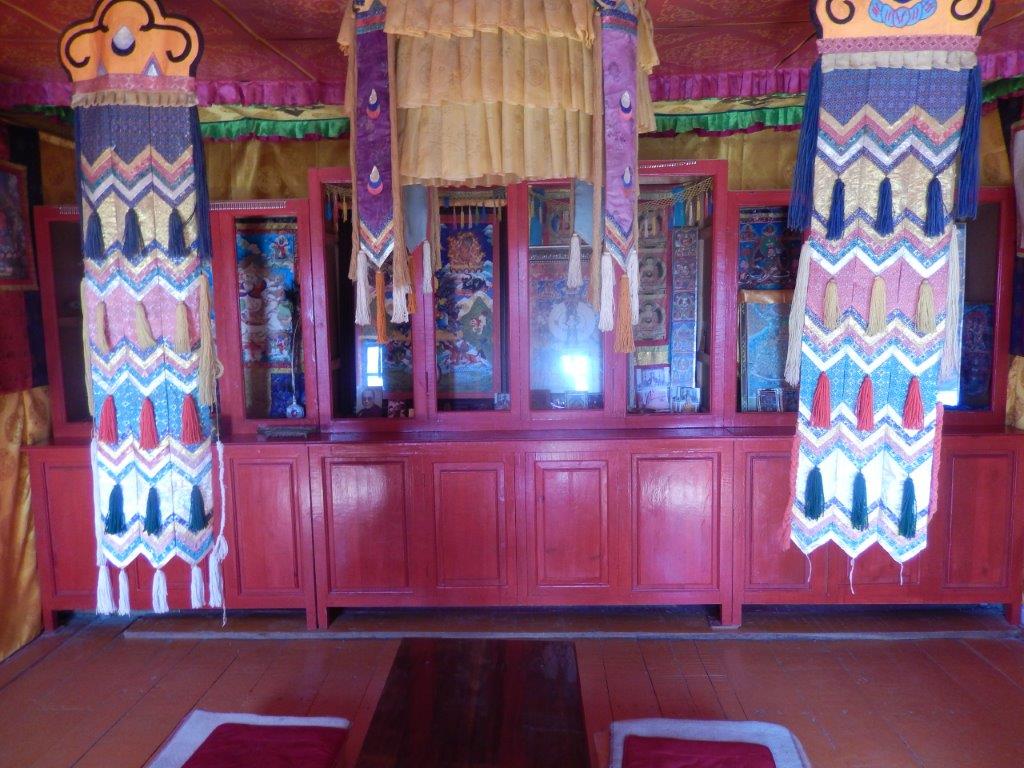 Here's a bit of the ceiling decoration…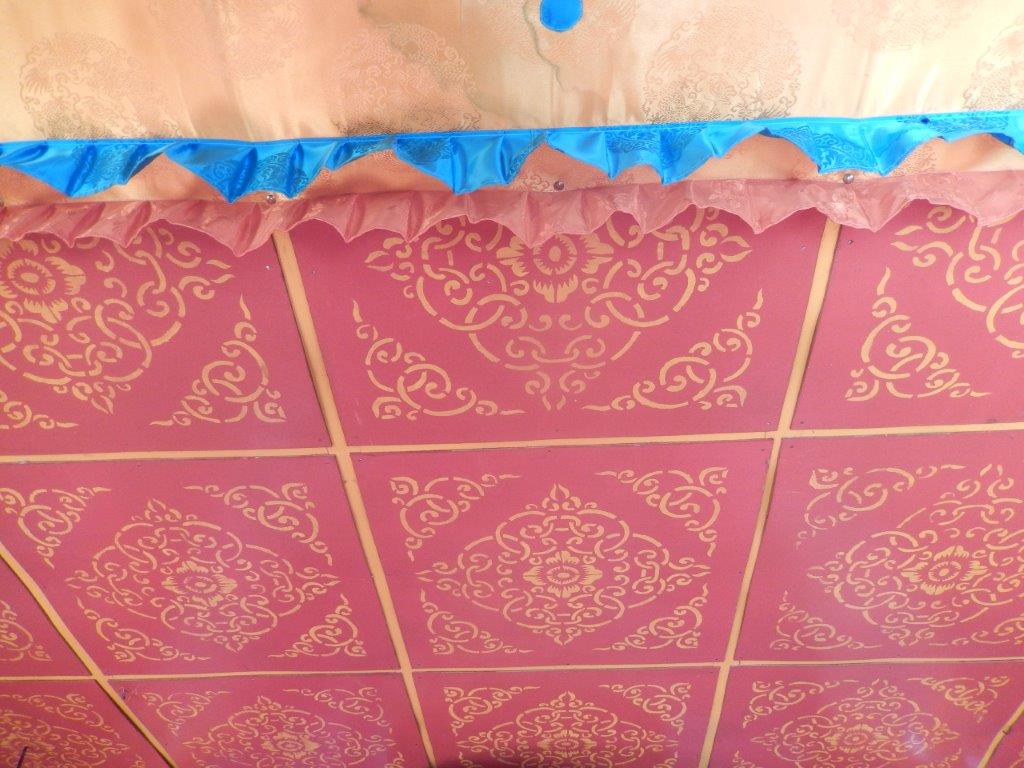 After having visited the monastery it was time for some walks in the Nature Reserve about which I'll write in my next blogpost.