2. Kenya: The northeast – Isiolo, Buffalo Springs National Reserve & Samburu National Reserve – 2002
From Nanyuki the Wandelgek went to the northeast, from the central highlands to the semi-arid regions (semi-desert) of northeastern Kenya. Isiolo was the last town where he could refuel and gather supplies, before getting out there into the wild..
Isiolo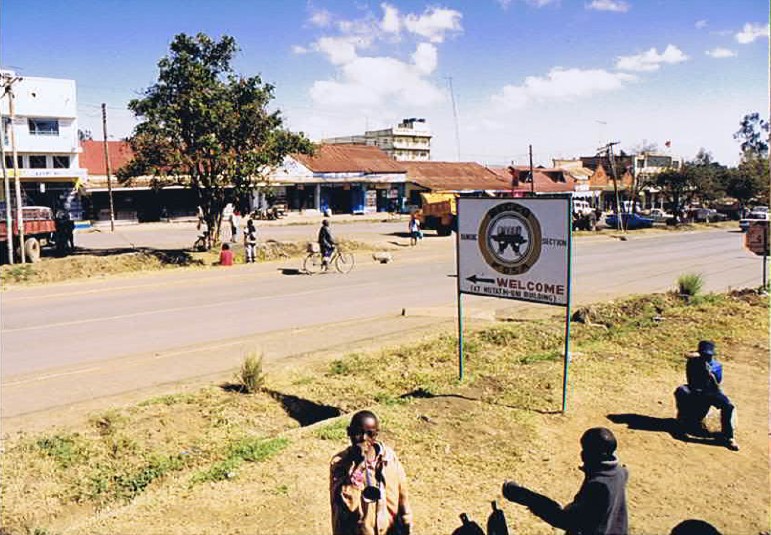 Isiolo is a town in the former Eastern Province, Kenya. It is situated in the Upper Eastern sub-region, and lies 285 kilometres north of Nairobi, the capital city of Kenya. The town grew around the local military camps, much of the population being descended from former Somali soldiers who had fought in World War I as well as other Cushitic-speaking pastoral communities and the Ameru community. The town has an estimated population of 80,000 people, most of them living in the rural outbacks of the District.
There is an increasing urban population in the recent years, especially from as far as Moyale, Marsabit and Mandera. The Isiolo town is also becoming a centre of interest because of its newly acquired status as a resort city cashing in on the popular Samburu and Shaba Game reserves, which have become preferred destinations after the famed Maasai Mara. Isiolo lies along the long A2 Road, leading towards Marsabit and Moyale much farther north. The town is served by Isiolo Airport, which is set to be upgraded to serve tourism and local exports.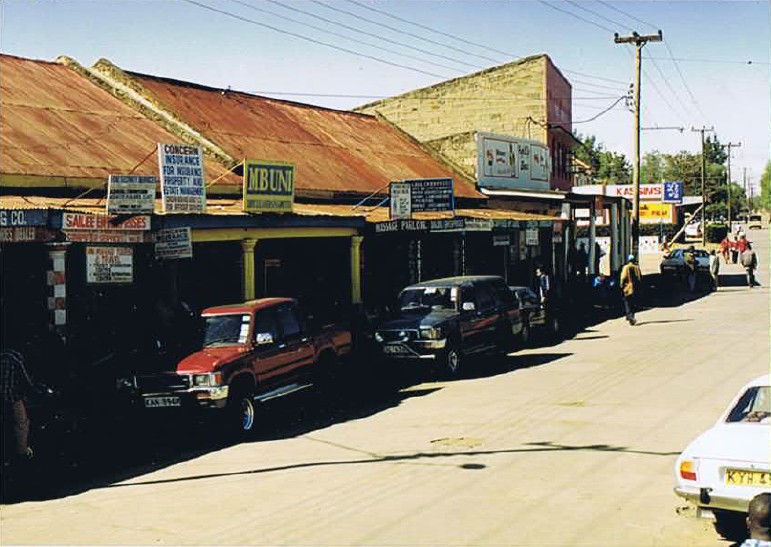 Isiolo is set to become a major part of Kenya's economic development plan Vision 2030. The plan calls for Isiolo to become a tourist center that will include casinos, hotels, upscale retail outlets, a modern airport and transport facilities. Isiolo will also be a transport hub as the location of the fork of the LAPSSET.
Isiolo District was designated as the Headquarters of the Northern frontier Districts by The British East Africa Protectorate in 1922, until the North Eastern was curved out as a separate province in 1963 following the Lancaster House Constitutional conference.
Isiolo is also known for its large market, while brass, copper and aluminum jewelry making is a local industry. Isiolo town is also transport hub to the northern border town of moyale. Trucks to and from Moyale make stop overs boosting the hotel business in the town center. Isiolo town itself was a part of the Nyambene county council and was transferred to isiolo district (this info. is not correct, Isiolo has been the headquarters of N.F.D. far before idepedence ref. District ordinance act 1937 & NFD commission 1962. Isiolo had been an urban centre all along and had never been part of Meru. During colonial days people from Meru District had to have special pass to visit Isiolo, as isiolo was headquarter of NFD, which was a closed district)a closed dsince there was no urban centre to serve as district headquarters. The Samburu, Buffalo Springs and Shaba National Reserves lie north of the town, while Lewa Downs reserve is located south of Isiolo. The Meru National Park lies in the North East of the town.
Since 1995, the town has been the seat of the Vicariate Apostolic of Isiolo. On July 14, 2005, Bishop Luigi Locati, who represented the Roman Catholic Church in Isiolo, was murdered.
The town of Isiolo is small but cosmopolitan. With a scenic beauty of hills surrounding the down and including an eclectic mix of peoples and cultures, Isiolo is home to the Niger–Congo and Nilo-Saharan-speaking Ameru, Samburu and Turkana, as well as the Cushitic-speaking Rendille and Boran. There are also a few Somali residents, who first settled in the area as soldiers after World War I. Additionally, there are some Indian shopkeepers.
The town is majorly Muslim populated and has a several mosques. The Jamia mosque is the largest of all and also a remarkable landmark. The Catholic church's twin bell towers are also among the remarkable landmarks of Isiolo town. Generally the town has warm climate and has several trees within the town to provide shades. During June-August period the town experiences strong dry winds and generally very dusty.
Samburu county
Then The Wandelgek went north to the Buffalo Springs National Reserve, and through this beautiful park to the Samburu National Reserve, where several game drives were made and a visit was made to a Samburu village.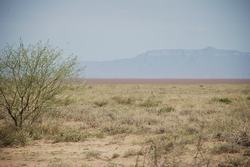 Samburu County is a county in the former Rift Valley Province, Kenya. It covers an area of roughly 21,000 km² (8,000 mi²) in northern Kenya where the Samburu,Turkana and many other tribes live. It stretches north from the Wuaso Ng'iro River to the south of Lake Turkana and also includes Mount Kulal which lies just east of Lake Turkana.
Within Samburu County are the towns of Maralal (capital and largest town), Baragoi, Archers Post, South Horr, Wamba and Lodosoit.
It also includes the Samburu National Reserve and Buffalo Springs National Reserve, Mount Ng'iro, Ndoro Mountains, Mathews Range (Ol Doinyo Lenkiyo), Kirisia Hills, and Loroki Forest.
There is a town named Samburu in Kwale County also in Kenya, but is not related to Samburu County or Samburu people.
Samburu National Reserve
The Samburu National Reserve is located on the banks of the Ewaso Ng'iro river in Kenya. On the other side of the river is the Buffalo Springs National Reserve. The park is 165 km² in size and is situated 350 kilometers from Nairobi. It ranges in altitude from 800 to 1230m above sea level. Geographically, it is located in Samburu County.
In the middle of the reserve, the Ewaso Ng'iro flows through doum palm groves and thick riverine forests. It provides water, without which the game in this arid region could not survive.
The Samburu National Reserve was one of the two areas in which conservationists George Adamson and Joy Adamson raised Elsa the Lioness made famous in the best selling book and award winning movie Born Free.
The Samburu National Reserve is also the home of Kamunyak, a lioness famous for adopting oryx calves.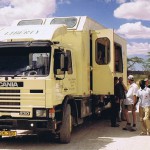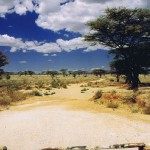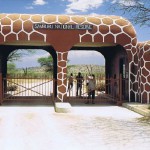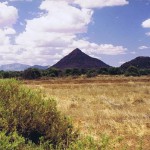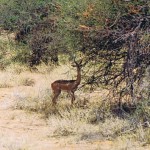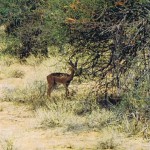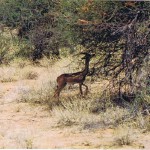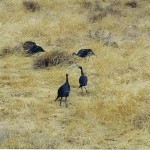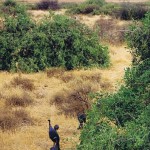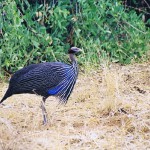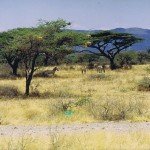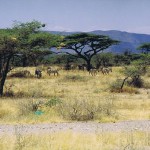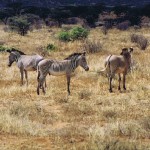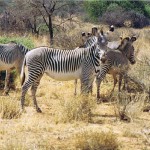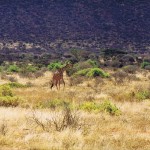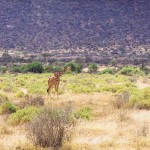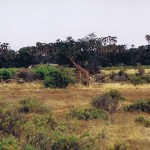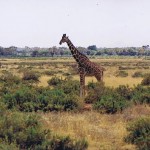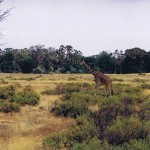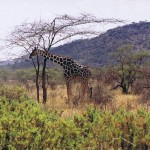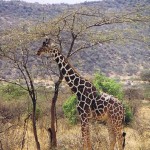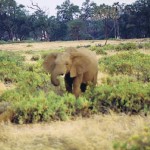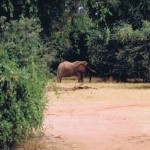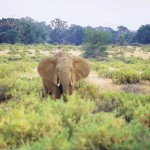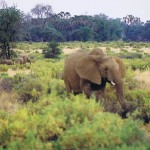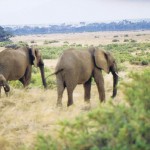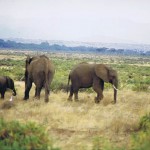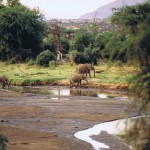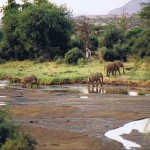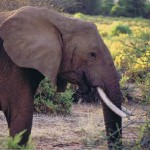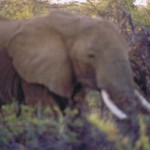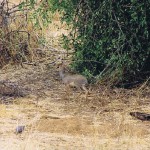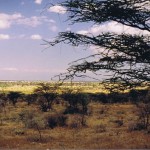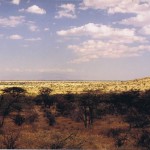 Habitat
Samburu National Reserve can be entered via the Ngare Mare and Buffalo Springs gates. Once inside the reserve, there are two mountains visible: Koitogor and Ololokwe. Samburu National Reserve is very peaceful and attracts animals because of the Ewaso Ng'iro river (meaning "brown water" and pronounced U-aa-so-Nyee-ro) that runs through it and the mixture of acacia, riverine forest, thorn trees and grassland vegetation. The Ewaso Ng'iro flows from the Kenyan highlands and empties into the famous Lorian Swamp. The natural serenity that is evident here is due to its distance from industry and the inaccessibility of the reserve for many years.
Wildlife
There is a wide variety of animal and bird life seen at Samburu National Reserve. Several large game species common to Kenya's northern plains can be found in abundance here, including the following dry-country fauna: gerenuk, Grevy's zebra, oryx and reticulated giraffe. All three big cats, lion, cheetah and leopard, can also be found here, as well as elephants, buffalo and hippos.
Other mammals frequently seen in the park include olive baboon, warthogs, Grant's gazelle, Kirk's dik-dik, impala, and waterbuck. Rhinos are no longer present in the park due to heavy poaching.
There are over 350 species of bird. These include grey-headed kingfisher, sunbirds, bee-eaters, Marabou stork, tawny eagle, Verreaux's eagle, bateleur, vulturine guineafowl, yellow-necked spurfowl, lilac-breasted roller, secretary bird, superb starling, red-billed hornbill, yellow-billed hornbill, and various vultures including the palm-nut vulture.
The Ewaso Ng'iro river contains large numbers of Nile crocodile.
Grevy Zebra versus Plain Zebra/Steppe Zebra:
Reticulated Giraffe pattern (right) versus Massaï Giraffe pattern (left)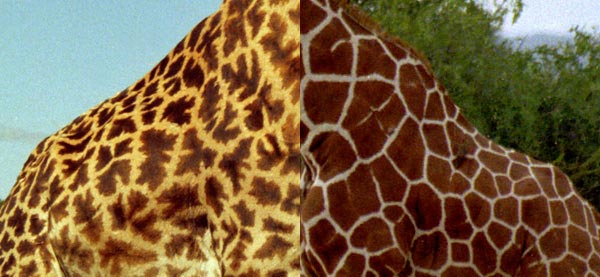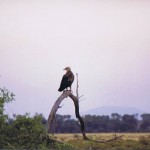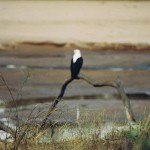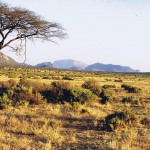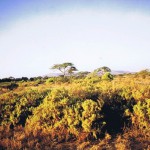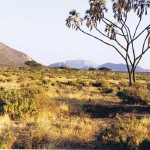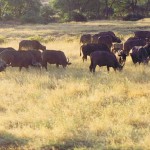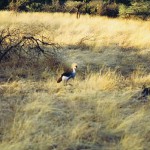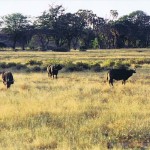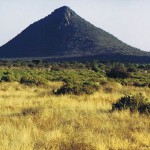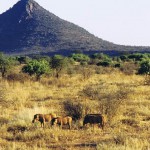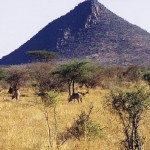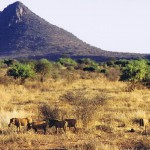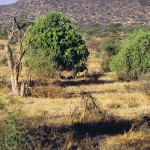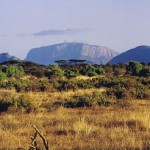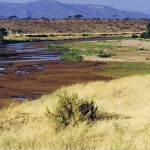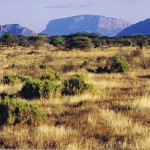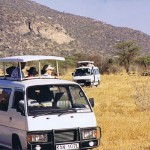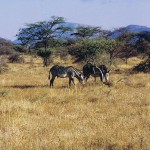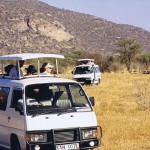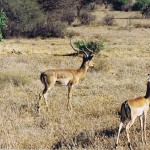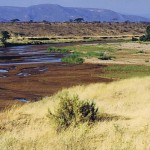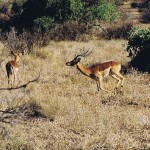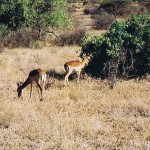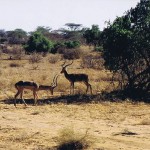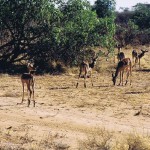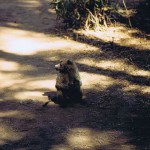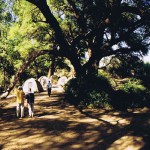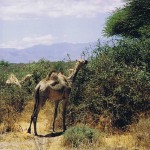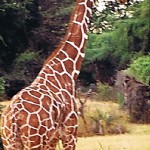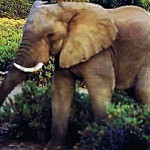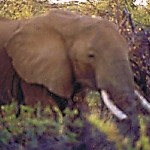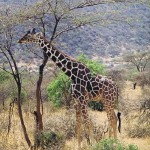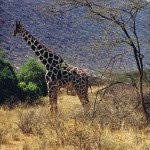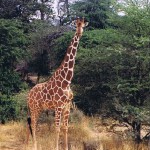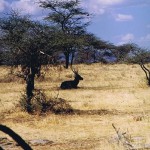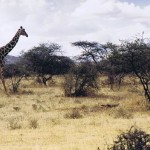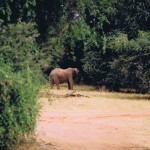 Samburu people
The Samburu are a Nilotic people of north-central Kenya that are related to but distinct from the Maasai. The Samburu are semi-nomadic pastoralists who herd mainly cattle but also keep sheep, goats and camels. The name they use for themselves is Lokop or Loikop, a term which may have a variety of meanings which Samburu themselves do not agree on. Many assert that it refers to them as "owners of the land" ("lo" refers to ownership, "nkop" is land) though others present a very different interpretation of the term. The Samburu speak Samburu, which is a Nilo-Saharan language. There are many game parks in the area, one of the most well known is Samburu National Reserve.
Houses
Samburu practice polygynous marriage, and a man may have multiple wives. A Samburu settlement is known as a nkang (Maa) or manyatta (Kiswahili). It may consist of only one family, composed of a man and his wife/wives. Each woman has her own house, which she builds with the help of other women out of local materials, such as sticks, mud and cow dung. Large ritual settlements, known as lorora may consist of 20 or more families. However, settlements tend towards housing two or three families, with perhaps 5-6 houses built in a rough circle with an open space in the centre. The circle of houses is surrounded by an acacia thorn bush fence and the center of the village has the animal pens away from predators.
Clothing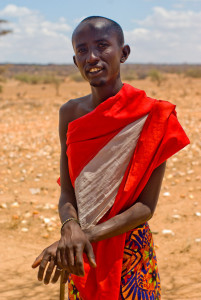 Men wear a cloth which is often pink or black and is wrapped around their waist in a manner similar to a Scottish Kilt. They adorn themselves with necklaces, bracelets and anklets, like the Maasai. Members of the moran age grade (i.e. "warriors") typically wear their hair in long braids, which they shave off when they become elders. It may be colored using red ochre. Their bodies are sometimes decorated with ochre, as well. Women wear two pieces of blue or purple cloth, one piece wrapped around the waist, the second wrapped over the chest. Women keep their hair shaved and wear numerous necklaces and bracelets. In the past decade, traditional clothing styles have changed. Some men may wear the 1980s-90s style of red tartan cloth or they may wear a dark green/blue plaid cloth around their waists called 'kikoi', often with shorts underneath. Marani (Lmuran) (warriors) wear a cloth that may be floral or pastel. Some women still wear two pieces of blue or red cloth, but it has become fashionable to wear cloths with animal or floral patterns in deep colors. Women may also often wear small tank tops with their cloths, and plaid skirts have also become common.
As Europeans introduced Western style clothing it was initially shunned by Samburu. As recently as the 1990s, wearing pants was considered by most to be a rather unmanly abandonment of cultural traditions, which would be done only when travel outside of home areas or some official business (e.g. with government offices) made it appropriate. However, as Western style education has increased, and interaction with non-Samburu has become increasingly common, it no longer bears the same stigma, although clothing deemed "traditional" by Samburu is still the norm, and would be expected to be worn in many everyday and ceremonial contexts.
Food and Society
Traditionally Samburu relied almost solely on their herds, although trade with their neighbors and use of wild foods were also important. Before the colonial period, cow, goat, and sheep milk was the daily staple. Oral and documentary evidence suggests that small stock were significant to the diet and economy at least from the eighteenth century forward. In the twenty-first century, cattle and small stock continue to be essential to the Samburu economy and social system. Milk is still a valued part of Samburu contemporary diet when available, and may be drunk either fresh, or fermented; "ripened" milk is often considered superior. Meat from cattle is eaten mainly on ceremonial occasions, or when a cow happens to die. Meat from small stock is eaten more commonly, though still not on a regular basis. Today Samburu rely increasingly on purchased agricultural products—with money acquired mainly from livestock sales—and most commonly maize meal is made into a porridge. Tea is also very common, taken with large quantities of sugar and (when possible) much milk, and is actually a staple of contemporary Samburu diet. Blood is both taken from living animals, and collected from slaughtered ones. There are at least 13 ways that blood can be prepared, and may form a whole meal. Some Samburu these days have turned to agriculture, with varying results.