Cultural Citytrip in Ulaanbaatar 1: Visit to the Naran Tuul Market and the slums
Finally got to continuing my travelblogging about Mongolia again. Covid got me a bit disinterested but I've started working on this again.
Today was a day without travel, meaning: A full day to spend in Ulaanbaatar. The Wandelgek decided to use the morning to visit the largest of the local bazars to make some photo's…
Street views of down town UB (Ulaanbaatar)
Locals refer to Ulaanbaatar as UB. Heard many people talk about UB traffic, the UB streets, UB nightlife and as you can  see beneath: UB Kebab & Burgers ?Lol.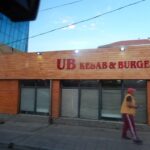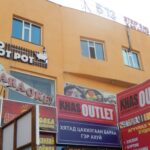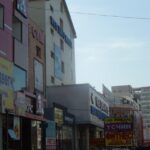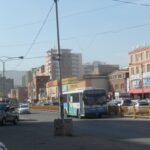 Naran Tuul Market
East of central Sükhbaatar Square are two markets. The smaller one is Dunjingarav Market, which is south of the railway track. Just north of that railway track is the much larger Naran Tuul Market (also known as the Black Market (Khar Zakh)). This however is a remnant of the past because the market has been  an official public market for many years now.
The market offers carpets, traditional mongolian clothing, horseriding gear, stoves and souvenirs. The market is notorious for the many pickpockets and bag slashers though so keep your money, travel papers and other valuables save in a money belt. If you wear a backpack then wear it on your front.
The market is one of the cheapest places for buying Mongolian garments, but there are also the obligatory fake western style brand clothes. There is an antique coin section too, but no papers are provided with these coins, necessary to export those coins legally. For that you need to visit antique shops in the city center.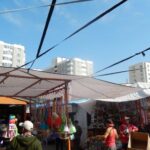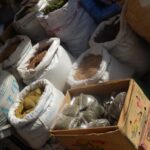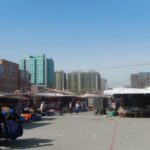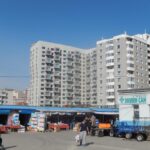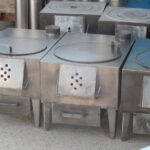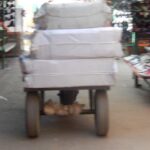 Towards the back of the market is an area where you'll find saddles (Russian and Mongolian).
It was fun to walk around between the market stalls and see suppliers delivering goods on small handcarts which enabled them to move in the narrow alleys between the stalls.
There is near the entrance a building with shops and small restaurants and coffee shops.
Impressions of a small slum area
After his visit to the Naran Tuul market, The Wandelgek just wandered around a bit, without a goal or a destination, but just to see something more of this town, which was a bit unexpected or surprising. Until now he had been on the main roads andin this market area, but he suddenly found himself in small streets still quite near to the market. There were piles of containers and houses that felt a bit like this was more or less a slum area of Ulaanbaatar. There were no other travellers or tourists here. The weather was bright and sunny, so it didn't feel too creepy, but still looking at the containers that were halfway parked before buildings, the wooden staircases winding up next to a bit shabby brick buildings and almost no one in the streets. Almost at the ens of the slum area The Wandelgek even saw this guy, lying on the street, sleeping, maybe he had had a rough night, or he was a truckdriver far from home or maybe just a homeless bum lying around…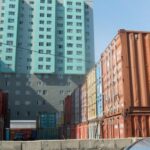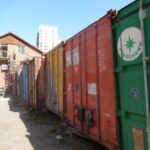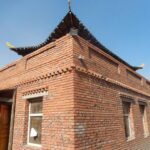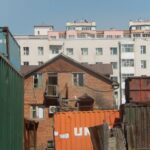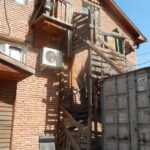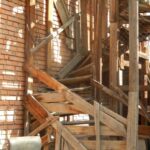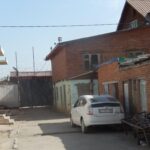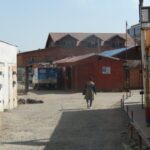 More street views of UB (Ulaanbaatar)
Then a main street was reached and suddenly The Wandelgek was again amidst full noon traffic, where a police officer was directing the traffic…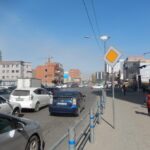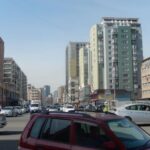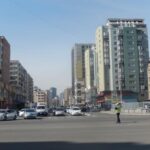 Lunch
Noon and quite hot on the streets, so The Wandelgek searched for a cool, dark place to get some lunch and a cold German beer…