Money/Valuta/Currency
The renminbi (abbreviation: RMB; is the official currency of the People's Republic of China and one of the world's reserve currencies, ranking as the eighth most traded currency in the world as of April 2019.
There are different denominations for the Renminbi of which thevmost famous one is 1 Renminbi, which is called the Yuan.
The yuan is the basic unit of the renminbi, but the word is also used to refer to the Chinese currency generally, especially in international contexts. One yuan divides into 10 jiao, and a jiao in turn divides into 10 fen. The renminbi is issued by the People's Bank of China, the monetary authority of China.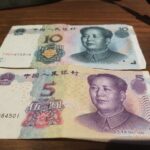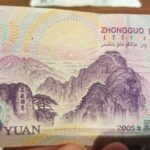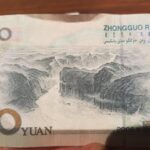 On the backside of a 5 yuan note, Mount Tai in Tai'an is depicted and on the back of a 10 yuan note is a view of the three gorges and the Yangtse river. Chairman Mao Zedong is found on the frontside of all notes.
I visited Beijing at the end of Septembre 2019  and 1 euro equaled then around 7.8 yuan. So 780 yuan equaled 100 Euro.
Hotel and hotelroom
The Wandelgek had booked a room in a hotel a bit outside of central Beijing.  The name of the hotel was … and itbwas about a half an hour walk from the nearest metro tube station named Taoranting.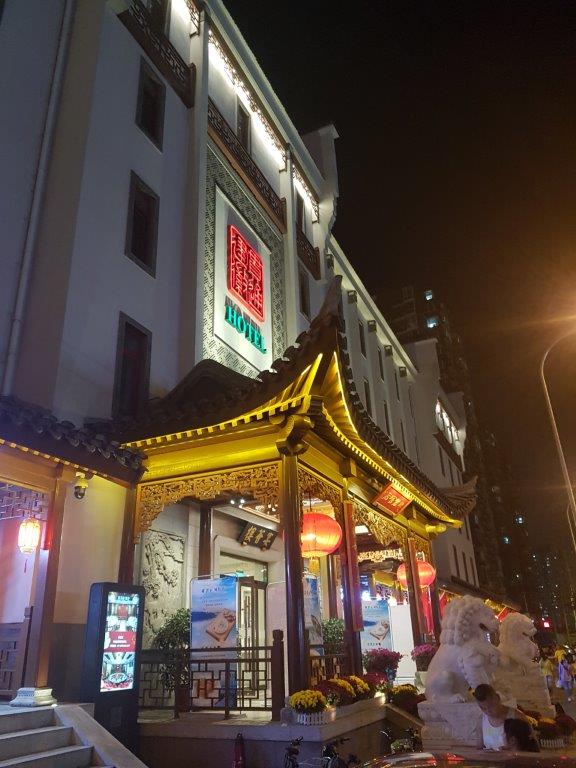 The hotel room was quite nice with television, a large bed and some cupboards for clothes.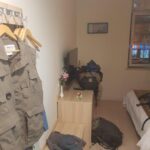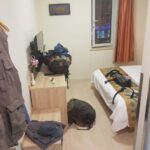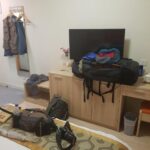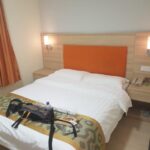 The shower and toilet room was clean and spacy.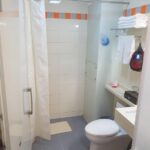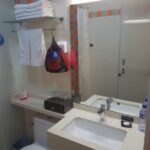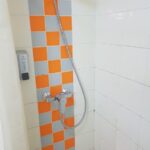 In the mornings there was a healthy breakfast available to start the day,…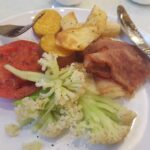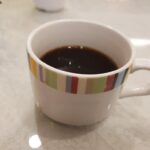 … but best was the great entrance hall which went deep into the hotel and in the back were a foyer where The Wandelgek spend the evenings after returning from his adventures in Beijing and there was a separate room with tables tok. At a bar it was possible to order drinks and that also meant beers.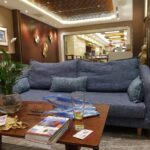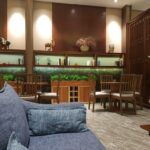 VPN software on your mobile
The Wandelgek did prepare his mobile phone for the visit to China (and when needed to Russia and Mongolia). When he noticed how many details the government of specificly China was asking in exchange for a visum, he decided quickly that he wo uld not use an unprotected internet connection in China. He installed vpn software before the journey and was able to use the internet this way without having to give access to his mobile. At the hotel he noticed that those people who did use the free wifi connection of the hotel were only allowed to do so after giving the hotel access to their social media (password access)! Same for border controls. Already when filling in your papers to apply for a visa, you grant border security personal access to your mobile and social media. My advise would be to use a separate, cleaned up mobile when travelling to China, specificly when there are connections via e.g. apps on your moblie to your employers company sites or mailboxes, etcetera. Conclusion: Either use a safe vpn connection or do not use your mobile for internet connection.
Great Beijing
Although Beijing is not the largest city of China (that is Shanghai), it is the 2nd largest and it has a lot of multi storied buildings.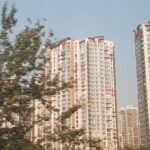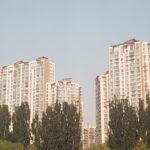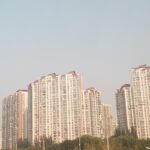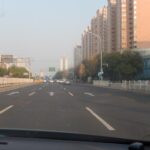 Beijing, is the capital of the People's Republic of China. It is the world's most populous national capital city, with over 21 million residents within an administrative area of 16,410.5 km2 (6336 sq. mi.). It is located in Northern China, and is governed as a municipality under the direct administration of the State Council with 16 urban, suburban, and rural districts. Beijing is mostly surrounded by Hebei Province with the exception of neighboring Tianjin to the southeast; together, the three divisions form the Jingjinji megalopolis and the national capital region of China.
There are many broad multi lane streets leading to and out of Beijing…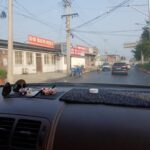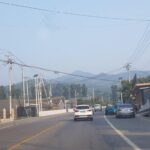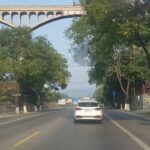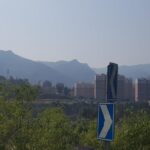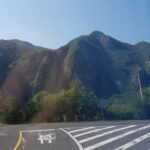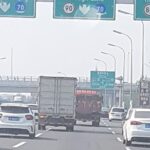 With mountains surrounding the inland city on three sides, in addition to the old inner and outer city walls, Beijing was strategically poised and developed to be the residence of the emperor and thus was the perfect location for the imperial capital. The city is renowned for its opulent palaces, temples, parks, gardens, tombs, walls and gates. It has seven UNESCO World Heritage Sites—the Forbidden City, Temple of Heaven, Summer Palace, Ming Tombs, Zhoukoudian, and parts of the Great Wall and the Grand Canal—all of which are popular tourist locations. Siheyuans, the city's traditional housing style, and hutongs, the narrow alleys between siheyuans, are major tourist attractions and are common in urban Beijing.
Electricity
Although Beijing is a very modern city, there are still sections in old Beijing where the electricity cables are overhead attached to poles, resembling the situation I saw on earlier travels in Vietnamese towns like Hanoi and Ho Chi Minh City (Saigon)…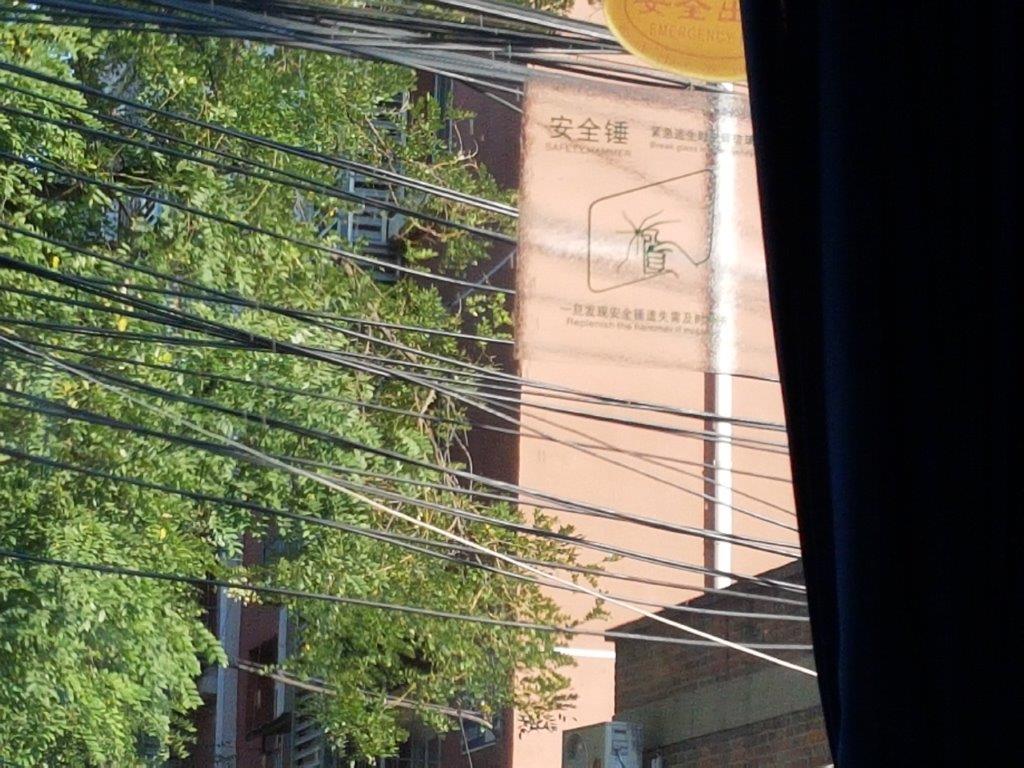 It always puzzles me how electricians are able to repair cables in this mess…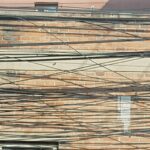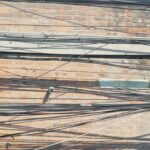 But outside of Beijing's old town there is an underground electricity network and that is in the larger part of the city.
70th birth year of the  People's Republic of China
The Wandelgek visited China for the very 1st time back in 1999, when the People's Republic of China (which is the name for the Communist country instated by Mao Zedong in 1949, after he defeated the Nationalist's army of the Kuomintang & Generalissimo Chiang Kai-shek, which fled to the island of Taiwan) was celebrating its 50th birthday. He had been visiting Tibet and saw the country's celebratory red flag on top of almost all the houses in Lhasa and in Shigatse, including those of the Tibetans, which was not entirely a voluntary act.
During this 3rd visit to China, The Wandelgek was in Beijing when festivities for the 70th birthday of the People's Republic of China were in full preparation.
This had some major consequences for The Wandelgek's travel plans. 1st of all he had been planning to travel a few weeks through China as well, but because of a vacation for all Chinese citizens because of the celebrations, costs for hotel rooms and train reservations and tickets had gone up. Also trains and hotels were almost fully booked and some locations, where The Wandelgek had planned to visit, were going to be very crowded during these weeks.
That is why The Wandelgek skipped this section of his plans except for a few days of solo travel in Greater Beijing, He had planned to leave the country just before the major festivities would start.
2nd he also needed to change his plans for visiting Beijing, because 2 top locations in the city center, the Tien an Min Square and the Forbidden City were both closed for public. The square was being prepared for the large military parades that were planned for the celebrations.
But luckily there were other great locations to visit like e.g. the Temple of Heaven.
Transport in Great Beijing
Beijing has many means of transport available, cheapest is of course renting a bike, but also public transport is not expensive at all as I will show you.
Metro
The price of a metro ticket is ridiculously cheap. It is comparable with prices of the Moscow network and the system is identical too. You buy a ticket and are allowed to travel as long as you do not leave the metro. You can change trains as much as needed and the ticket is valid on all lines, until a line passes the border of Great Beijing into another province. There are metro network charts available near the entrances, on the platforms and in the carriages and station names are in chinese characters but also transcripted in arabic letters. The system works quite punctual. Had no delays at all.
TIP: What makes it a bit easier to find a destination is when you own a travel guide ( paper or digital) which not only describes a destination, but shows the name of stations in arabic and chinese too.
Most Chinese people I saw in the carriages are busy doing stuff on their mobiles…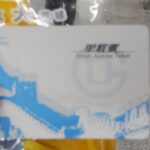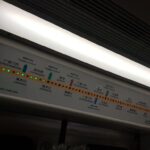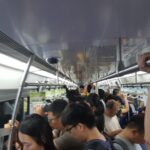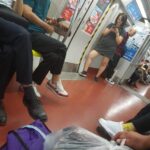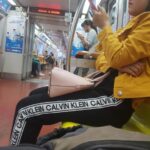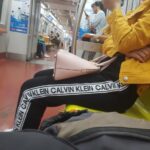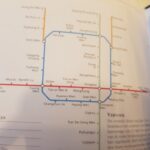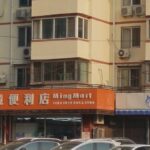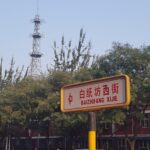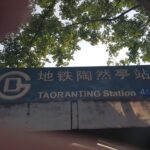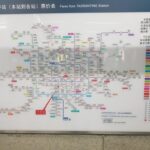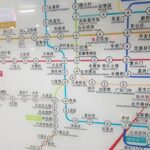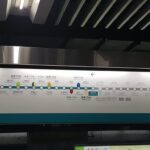 Bus
Although personally The Wandelgek prefers metro over busses, there are some advantages of a bus above metro to take into account. Although the metro network in central Beijing is quite extensive, it gets much less extensive when you're travelling to the outer rim of Great Beijing and busses are a good alternative there. The outer rim of Beijing is almost in all directions a mountainous area which is beautiful to visit by bus. A bus is much less expensive than a cab/taxi but a bit more expensive than travelling by metro.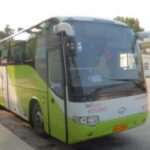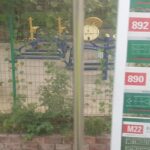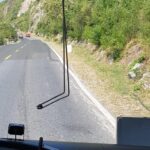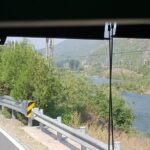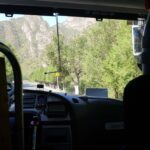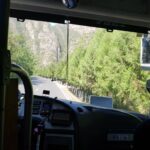 Cab/Taxi
Most expensive way to travel is by cab/taxi. So why use it? Advantages are that a taxidriver can wait for you until you finished visiting a location or can agree with you when to be available. It is also much easier to visit multiple locations in a short timespan by using a cab/taxi instead of a bus or metro, specially those locations that are not in central Beijing.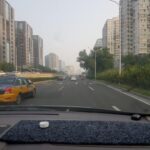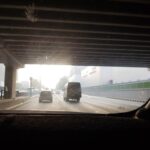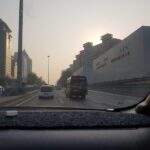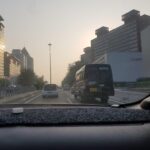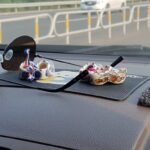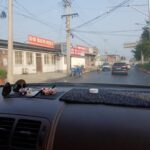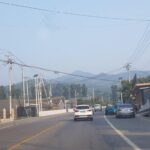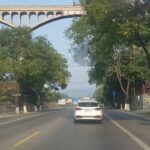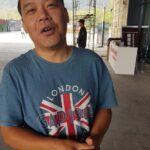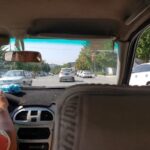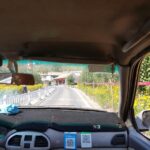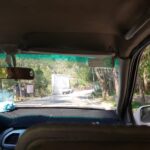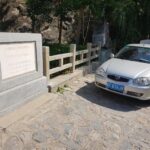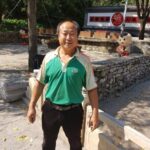 Airplane
Not a means to travel within Beijing, but a means for arriving and departing. Beijing has a large, modern and pleasant airport. Although the arrivals and departures boards at 1st can seem a bit overwhelming and may leave a less experienced air traveller lost in translation, they do have English language translations of the Chinese characters and of the destinations…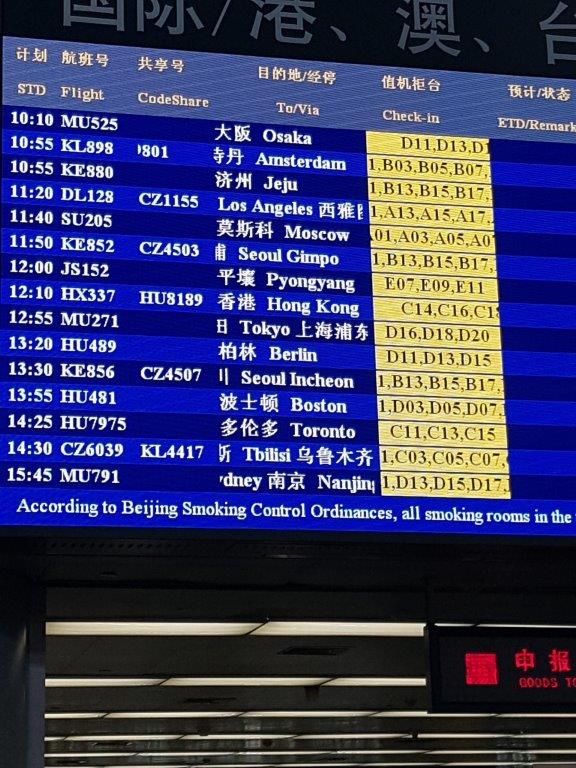 Beijing at night
Although Beijing is really a very large city, The Wandelgek never felt not safe walking down its large streets full of traffic, not even after dark. Streets are well lit and are lively , crowded with loads of people either in cars or walking up and down the pavement. At the end of summer temperatures are still well above 30 degrees Celsius and thus lots of the inhabitants as well as tourists and travellers are going outdoors to enjoy the evenings.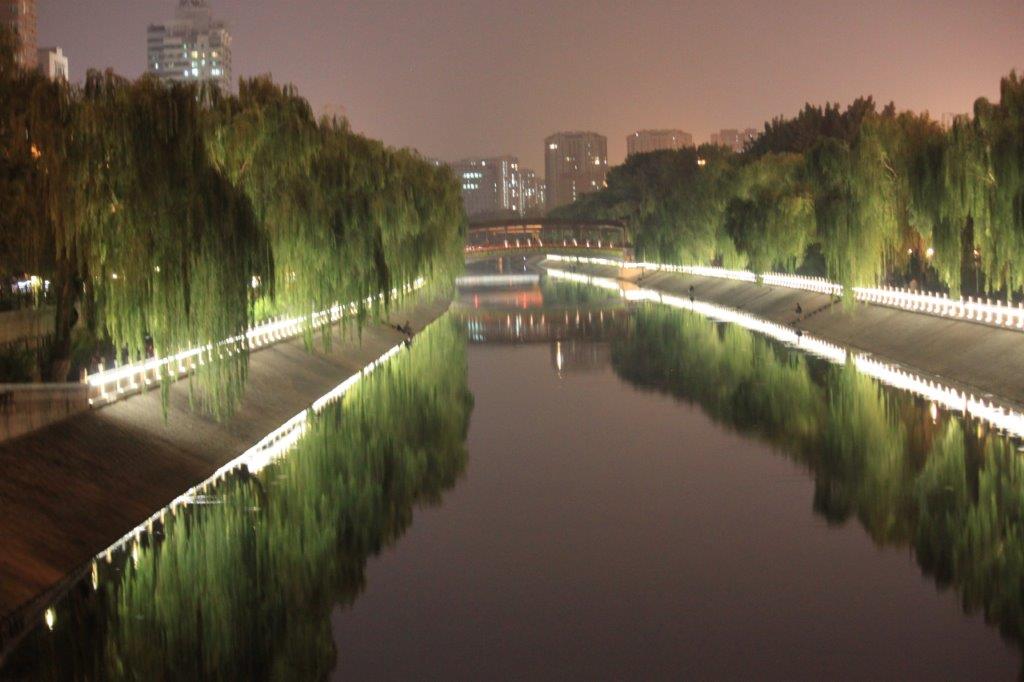 The Wandelgek noticed this canal running through Beijing, somewhere between his hotel and the nearest metro station…
There are still a lot of activities for Chinese locals in the evenings, on the streets. E.g.: The Wandelgek one evening walked towards his hotel, when he saw a large group of elderly people who took part in what looked like a dance lesson or dance class, on a street corner where the pavement was a bit wider than usual. People had great fun, dancing in couples and there was music coming from a speaker.
Street Food
Another thing that local Chinese love to do in the evenings is eating streetfood available from small shops that sell directly from counters bordering the pavement…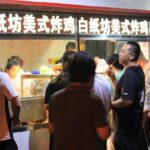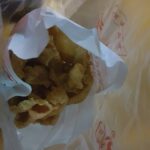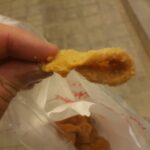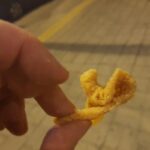 The Wandelgek noticed this little shop and the crowd of people waiting in line for streetfood. "Must be good", he thought and he stepped into the line and bought a bag of wahat looked a bit like crispy pigs ears, but tasted like crispy chicken skin.
Tasted very well😋
Peking Duck
Before my travel companions from The Netherlands and Belgium left to go home, we had one last evening together at a Chinese restaurant, where we ordered a Peking Duck menu. Chinese dinner is quite different from what we in The Netherlands are used to in Chinese Indian (takeaway) restaurants.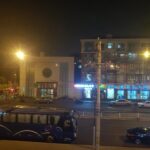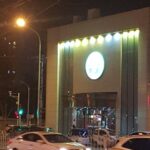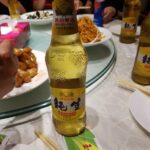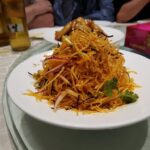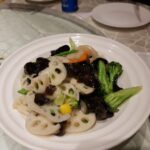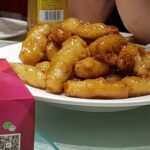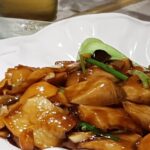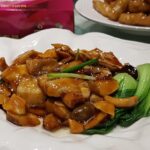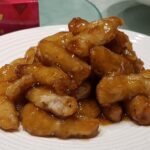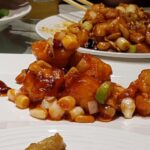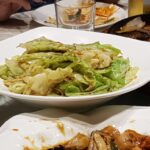 Guests sit at a large round table and on top is a large round glass plate that can be turned around. Waiters will serve all sorts of small, but almost always delicious dishes in small bowls on top of this glass plate and guests can turn the plate until a dish they like to probe is in front of them and they can take some food from the bowl and then try some other bowls as well.
Beer
Of course The Wandelgek also ordered a local beer to accompany the food.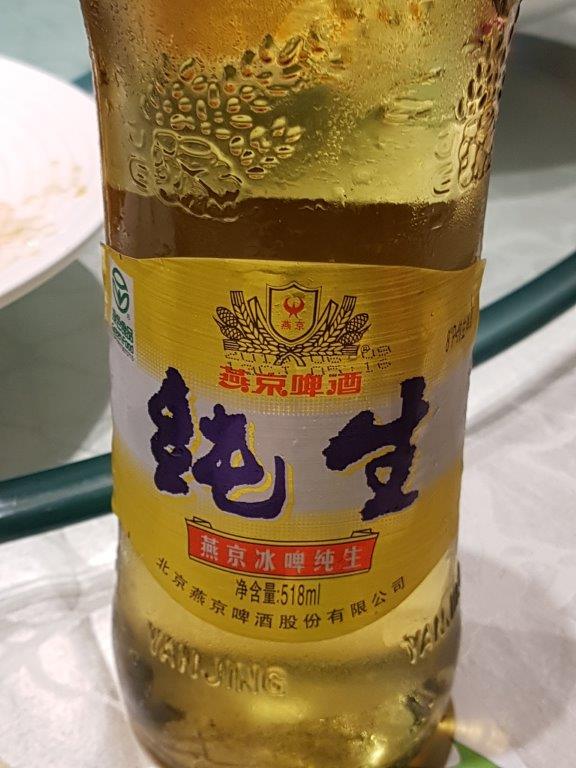 Most Chinese beers are lager beers and they are quite good at brewing those. Lagers are definitely great to quench your thirst at hot days like this one.
My upcoming blogposts will be about some cool locations in Great Beijing that The Wandelgek visited, before leaving on a jetplane towards Amsterdam…