A brief visit to beautiful Copenhagen: Graffiti at Christiania and a bit more Greenlandic history at Christianshavn
The Wandelgek arrived really early at Karlstrup Airport and it did not make sense to make use of his reservation of a bunkbed in the hostel where he slept for one night at the start of this journey. Instead he dropped his gear in a safe at the airport and than took the metro into the town center.
After leaving the tube station it was a short walk through cold and a bit wet Christianshavn.
But as time proceeded, it got a bit drier and even a very weak sun pierced through the thick grey mass of clouds. Right now I was even happier about my involuntary prolonged stay in Greenland than I had been before, now knowing that I would not have to miss my international flight to Amsterdam this afternoon at 15.00.
I was glad to be back in Copenhagen which I last visited in 1999 on some bitter cold days early in the year. I had not much time then either. It seems I'm always visiting Copenhagen as a perpetual Visitor-in-a-hurry.
Back than I had been visiting the harbour area, the New Amsterdam area and the city center between the harbour and the central railway station.
I was keen on visiting other parts of the town now and top on my list was a visit to Freetown Christiania, which was an enclave somewhere in Christianshavn.
But 1st …
Christianshavn
Christianshavn, an area of small islands, is known for its hip cafe culture and canals lined with colorful houseboats. Hotspots include Copenhagen Street Food, for international dining, and Freetown Christiania, an alternative community of ramshackle houses, galleries and music venues. The Copenhagen Opera House offers music, dance and theater performances, plus tours of its unique glass, metal and wood building. 
The Wandelgek decided to specificly look for statues and architecture and found some interesting stuff.
A small piece of Greenlandic history in Copenhagen
I stumbled upon this collection of statues right outside of the tube station at Christianshavn Torv square and it immediately fascinated me, without exactly knowing why.
Can you imagine coming from Greenland, subsequently landing in Copenhagen, taking a metro and then the 1st thing your attention is drawn too is:
The Greenland Monument
The Greenland Monument was created by Svend Rathsack in bluish granite from Bornholm and installed in the square in 1938. It consists of a Greenlandic hunter with his kayak, placed high on a plinth above two groups of working women.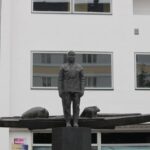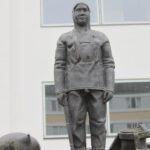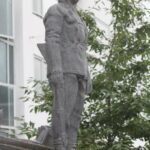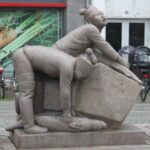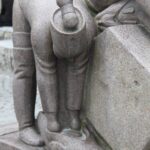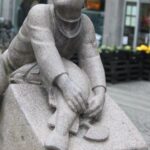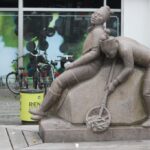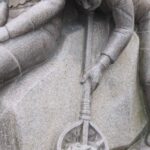 I honestly didn't even know there was such a monument and still I immediately stumbled upon it. Must have been destiny intervening.

I immediately loved these buildings…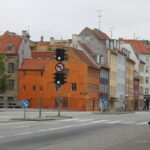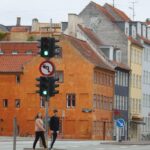 Really beautiful was this church with a very distinctive architectural style…
The Church of our saviour
The Church of Our Saviour is a Dutch baroque style church in Copenhagen, Denmark, most famous for the external spiral winding staircase that can be climbed to the top, offering extensive views over central Copenhagen. It is also noted for its carillon, which is the largest in northern Europe and plays melodies every hour from 8 am to midnight. Its basic layout is that of a Greek cross.
The tower is raised three stories above the western cross arm. The levels are marked by sandstone cornices that become larger with height, and there are round-arched openings on all four sides at each level. The top level is decorated with flat pilasters and from the uppermost cornice has a gilded penetrated clock face centrally on each side. The hands are connected to a clockwork inside the tower.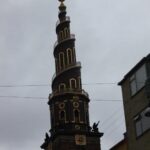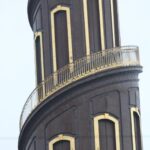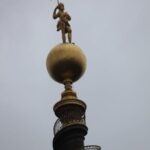 The black and golden spire reaches a height of 90 metres and the external staircase turns four times counterclockwise around it. Inspiration for the design came from the spiral lantern of Sant'Ivo alla Sapienza, which turns the same way around.
It is built as a timber-framed structure, octagonal at its base, with round-arched openings and round windows with gilded frames. The windows are flanked by gilded pilasters in the composite order. Around the octagonal base of the spire on the four corners of the square tower, stand four statues of the four evangelists. The octagonal structure is topped by a small platform with a gilded railing and it is from this point that the staircase become external. There is a total number of 400 steps to the top of the spire, the last 150 being outside.
The spire is topped by a vase-like structure, carrying a gilded globe with a 4-meter-tall figure of Christ Triumphant carrying a banner. It has an infamous reputation for being the ugliest sculpture in Copenhagen but is intentionally made with exaggerated proportions because it is only meant to be seen from long distances.
I thought it was one of the most beautifully crafted tower spires ever.
Then I moved on towards my real goal for visiting this area of Copenhagen:
Freetown Christiania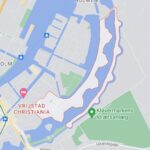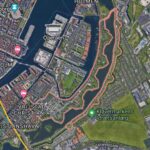 It is a bit like all those old classic children's books, like where Harry Potter walks through a wall behind the Leaky Cauldron into Diagon Alley or where Mary Poppins jumps through a chalk painting and it becomes real or where the children walk into a cupboard and end up in Narnia. That was how it felt, walking from a rather normal average Copenhagen street through a little, easily overseen gate into Freetown Christiania…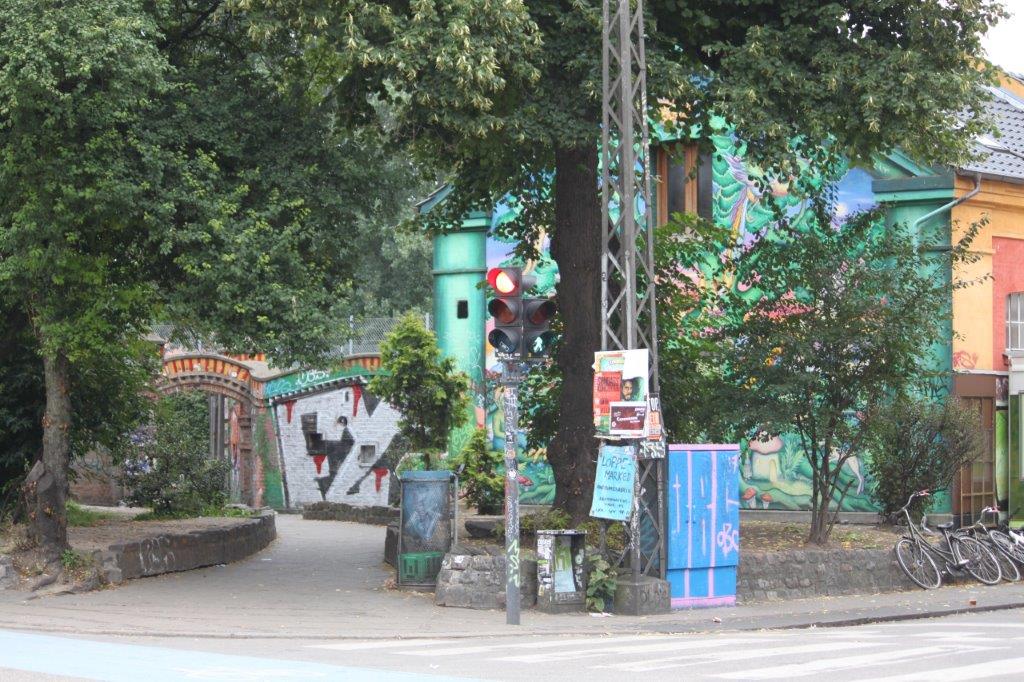 Freetown Christiania, also known as Christiania, is an intentional community and commune in the Danish capital city of Copenhagen. It began in 1971 as a squatted military base. Its Pusher Street is famous for its open trade of cannabis, which is illegal in Denmark. But Christiania is like a state within the state, with its own rules and laws.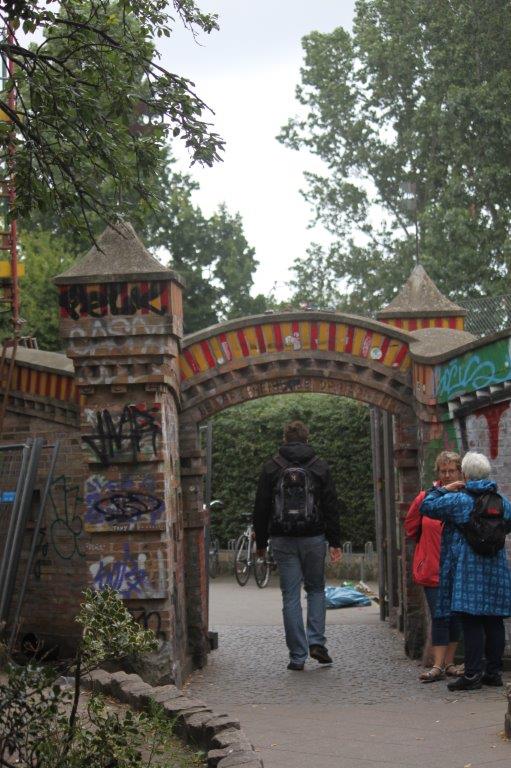 Nothing prepared me for the visual spectacle that was behind that gate. I stepped through and POOFFFFF…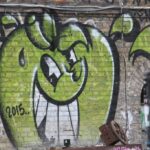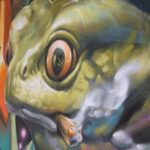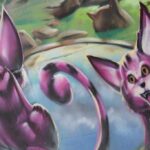 Color explosions everywhere…
The idea behind Christiania seems to be that of a group of people living the bohemian or hippie life style and trying to obtain a much larger sense of freedom than they would have had in normal Danish society.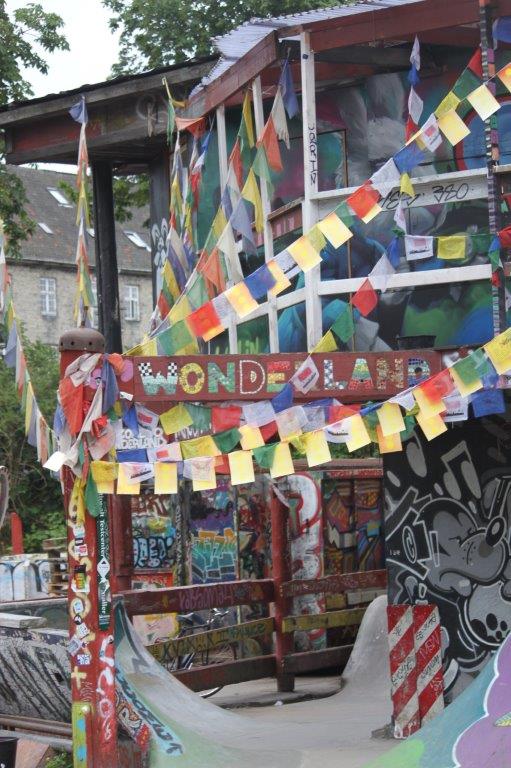 This was a true street graffiti artists wonderland…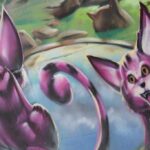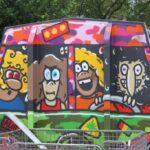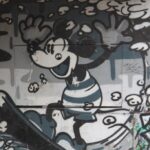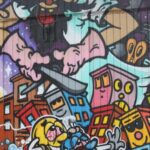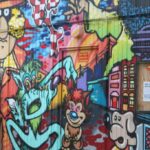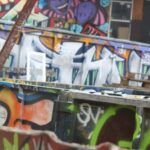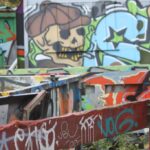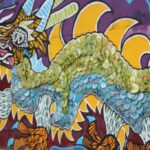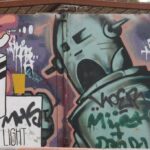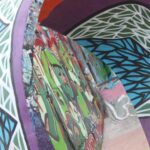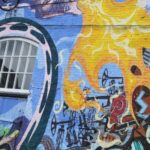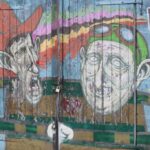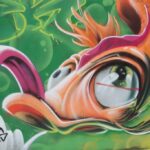 There was much more to see than just graffiti street art though…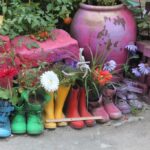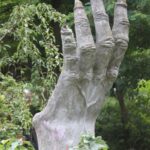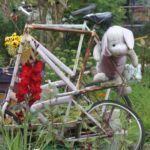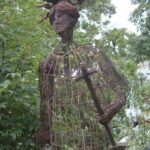 Somewhere was a stand where you could purchase all sorts of stuff in exchange for… a smile😃
At Pusher Street where cannabis was sold freely for many years, there's still the Photography prohibited sign as a memory, but there are photography supporting signs too, e.g. at some beautiful architecture.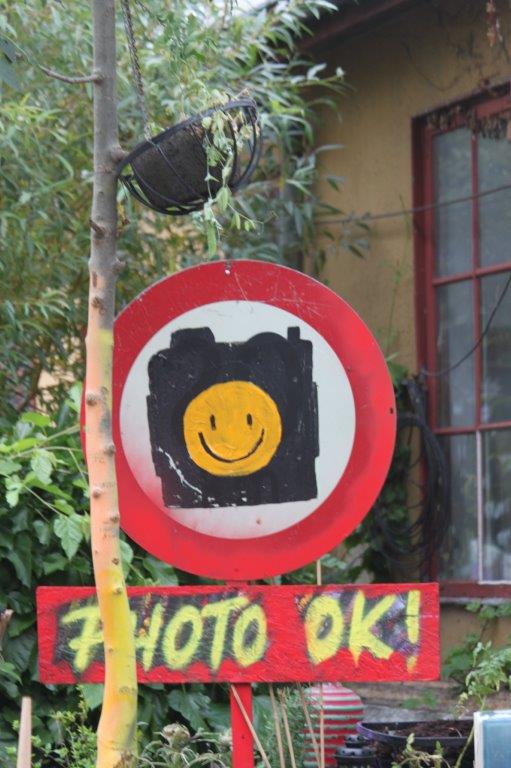 There are a few spots where you can eat and drink a bit, like e.g. at Nemoland: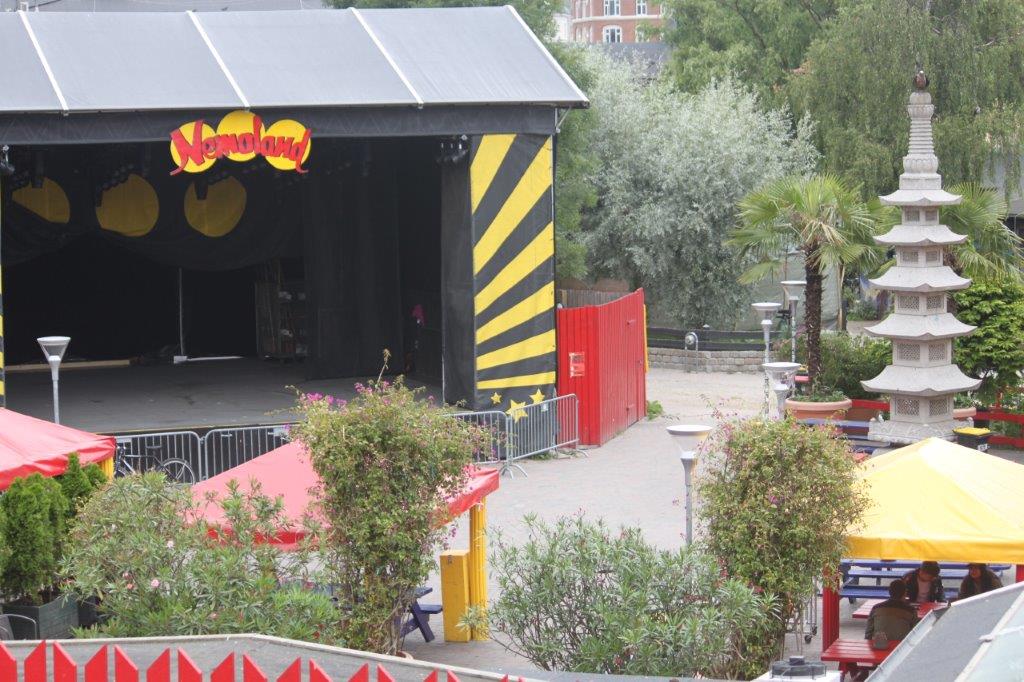 Some more awesome graffiti…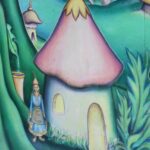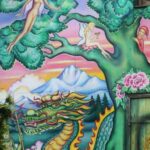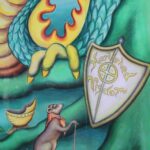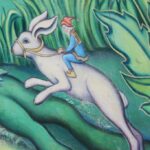 It constantly felt like walking through a 1960's hippie village, like e.g. the Californian hill top settlement of Laurel Canyon, inhabited and created by Flower Power inspired people who did inhale some long puffs from a large J… or worse.😵‍💫
Nevertheless the results were beautiful, dreamy and surreal.
After roaming around for several hours, also along the defense works at the waterfront, The Wandelgek left Wonderland…ehm Christiania through its gate and stepped back into reality. It had begun drizzling again and soon this changed into rain. Near the metro tube station of Christianshavn at Christianshavn's Torv square, was a bakery named Bodenhoffs Bageri where apart from delicious cakes they also offered coffee and cappuccino.  Here The Wandelgek spend his last moments in Copenhagen before returning to the airport and flying back to The Netherlands…
The End