5. Argentina: Bike ride and sea lions at Patagonia's Atlantic Coast (Reserva Lobería de Punta Loma)
The Wandelgek had not come to South America to stay in a city, even when it was as interesting as Buenos Aires. His real goal was to travel and walk through Patagonia's wilderness and specificly its Andes mountain range. But before travelling towards the Andes, he had decided to travel to the Atlantic Coast 1st.
Patagonia
So what exactly is Patagonia? It is not a country, but a geographic region (in The Netherlands it would be comparable to regions like Waterland, Twente, Achterhoek, Salland or better De Kempen, because that last region is in The Netherlands as well as in Belgium). Patagonia is in Argentina and in Chile.
Wikipedia says this about Patagonia:
Patagonia refers to a geographical region that encompasses the southern end of South America, governed by Argentina and Chile. The region comprises the southern section of the Andes Mountains with lakes, fjords, temperate rainforests, and glaciers in the west and deserts, tablelands and steppes to the east. Patagonia is bounded by the Pacific Ocean on the west, the Atlantic Ocean to the east, and many bodies of water that connect them, such as the Strait of Magellan, the Beagle Channel, and the Drake Passage to the south.

The Colorado and Barrancas rivers, which run from the Andes to the Atlantic, are commonly considered the northern limit of Argentine Patagonia. The archipelago of Tierra del Fuego is sometimes included as part of Patagonia. Most geographers and historians locate the northern limit of Chilean Patagonia at Huincul Fault, in Araucanía Region.
But if you Google for "Patagonia" you'll find as many definitions as there are opinions, meaning that there is no real definitive definition of what Patagonia's borders are. There are historic definitions, politicly influenced definitions, geographically influenced and tourism influenced definitions. So which one is it? Well the one given above is quite okay and the map to the right is approximately correct ;-).
The northern Atlantic coast has warm summers (28 to 32 °C, but with relatively cool nights at 15 °C) and mild winters, with highs around 12 °C and lows about 2–3 °C. Occasionally, temperatures reach −10 or 40 °C, and rainfall is very scarce. The weather only gets a bit colder further south in Chubut, and the city of Comodoro Rivadavia has summer temperatures of 24 to 28 °C, nights of 12 to 16 °C, and winters with days around 10 °C and nights around 3 °C, and less than 250 mm of rain. However, a drastic drop occurs as one moves south to Santa Cruz; Rio Gallegos, in the south of the province, has summer temps of 17 to 21 °C, (nights between 6 and 10 °C) and winter temperatures of 2 to 6 °C, with nights between −5 and 0 °C, despite being right on the coast. Snowfall is common despite the dryness, and temperatures are known to fall to under −18 °C and to remain below freezing for several days in a row. Rio Gallegos is also among the windiest places on Earth, with winds reaching 100 km/h occasionally.
Signature marine fauna include the southern right whale, the Magellanic penguin (Spheniscus magellanicus), the killer whale, and elephant seals. The Valdés Peninsula is a UNESCO World Heritage Site, designated for its global significance as a site for the conservation of marine mammals.
Later more about Patagonia…
Arrival at Puerto Madryn
The flight went south from Buenos Aires but at first eastward along the coast line of the Rio de la Plata.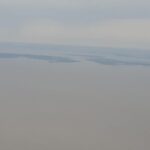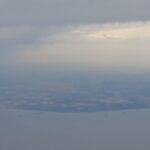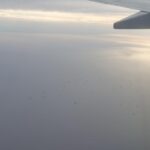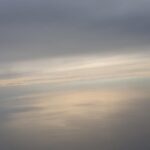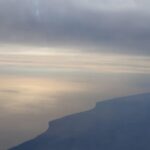 Then it bend south along the Atlantic coast line…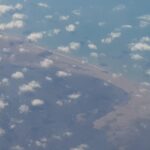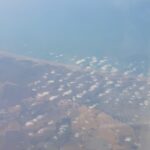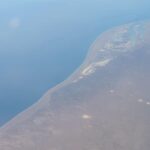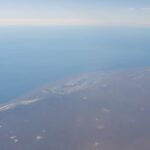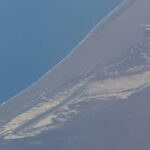 …eventually crossing the Peninsula Valdes and its lakes of which some are pink, colored by minerals.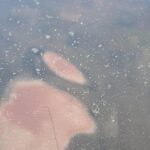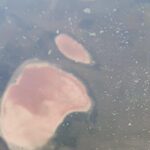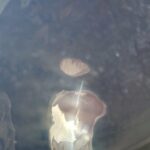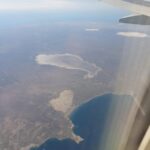 The coasts of the Peninsula Valdes and the Atlantic Coast of the mainland show some high cliffs with beaches which are ideal places for marine mammals and birds to stay.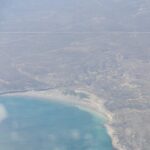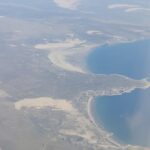 At the end the plane landed at the small airport of Trelew.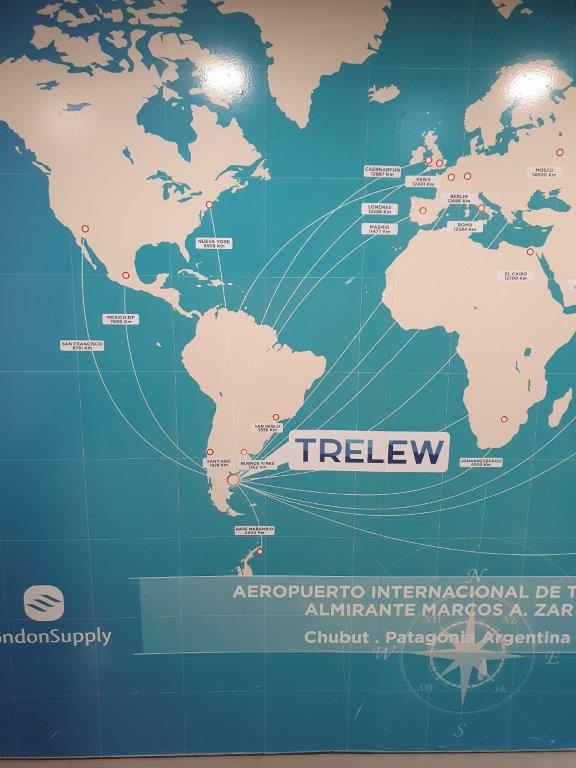 A bus ride to Puerto Madryn followed.
Puerto Madryn also known as Madryn, is a city in the province of Chubut in Argentine Patagonia. It is the capital of the Viedma Department, and has about 93,995 inhabitants according to the last census in 2010.
The town was founded on 28 July 1865, when 150 Welsh immigrants arriving aboard the clipper Mimosa named the natural port Porth Madryn in honour of Sir Love Jones-Parry, whose estate in Wales was called Madryn after the Welsh name for Saint Materiana. Conditions were difficult and the settlers had to dig irrigation ditches for their first crops.
The settlement grew as a result of the building of the Central Chubut Railway by Welsh, Spanish, and Italian immigrants. This line, opened in 1889, linked the town to Trelew via the lower Chubut River valley.
Puerto Madryn was the port to which Argentine prisoners of war captured in the Falklands Islands during the 1982 war were repatriated on the vessels SS Canberra and MV Norland, which sailed from Port Stanley on 18 June 1982.
Hotel La Costanera
Then The Wandelgek arrived at his  hotel which was located right at the coast line. There was free wifi (which almost every hotel in Argentina offers). Quality of the wifi connection however varies quite a lot per hotel. Some hotels offer wifi in their common rooms, others on every floor.
Hotel room
The hotel room was quite good, although there was no view over the ocean, but instead the view was that of a blind wall. My room was large, there was a television so I could still follow the Football World Championship and there were electricity sockets to reload my electronic gear, like batteries, cameras, etcetera.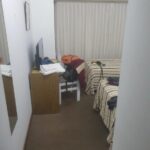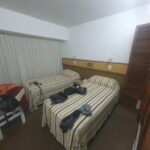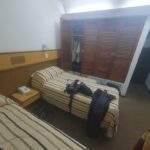 Bath room
The bath room was clean and comfortably large. There was no bath, but a large shower.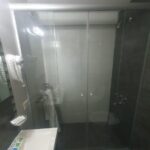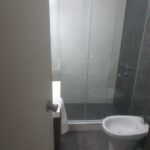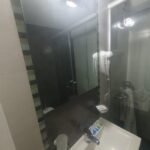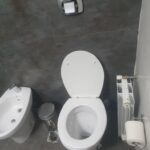 Rented MTB bike ride to the Reserva Lobería de Punta Loma (approximately 12 to 15 kilometers – one direction)
After being settled at his hotel, The Wandelgek quickly decided to go and buy some bottles of water and try to rent a bike. It was still quite early in the day and there was plenty of time to reach the sea lion reserve of Punta Loma.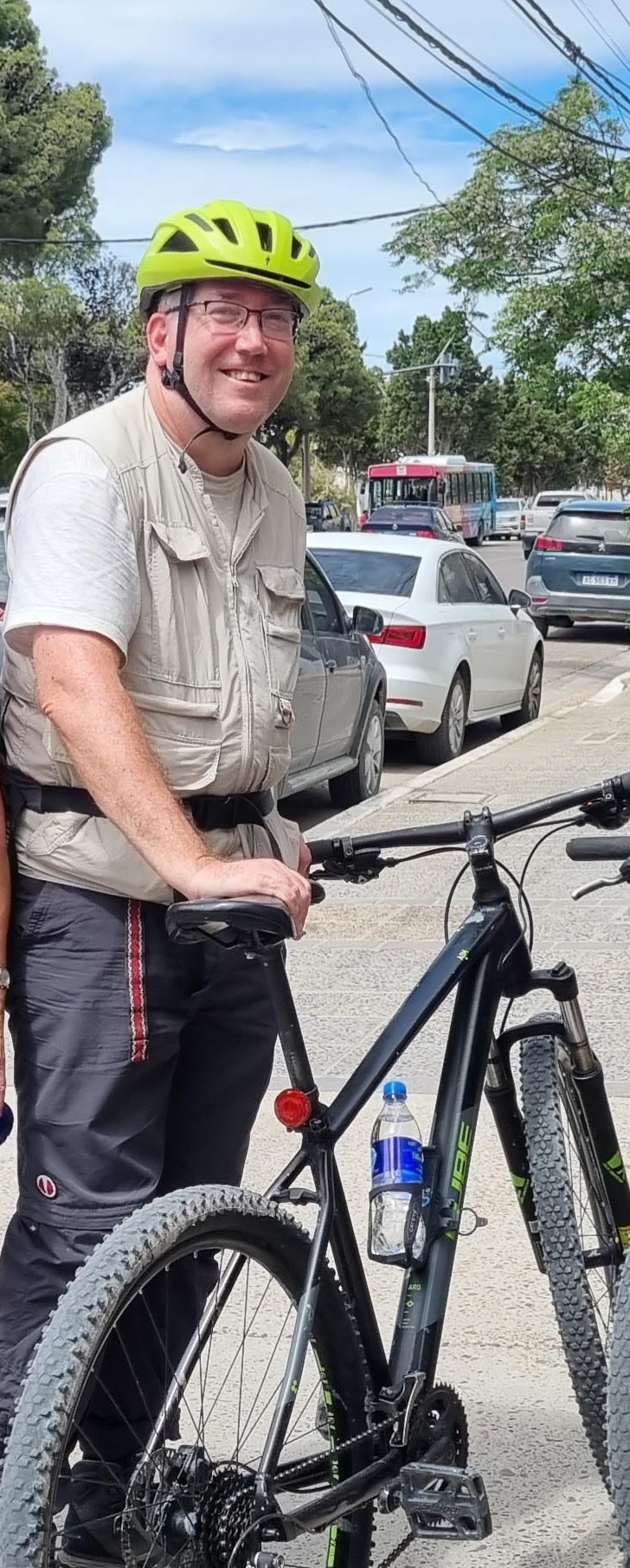 A bit further down the road was a bike rental shop and after the administration and financials were taken care of, he stepped on his bike and drove 1st south and after a small detour further south instead of west, caused by the not entirely correct or entirely clear directions given by the shop owner, he continued west…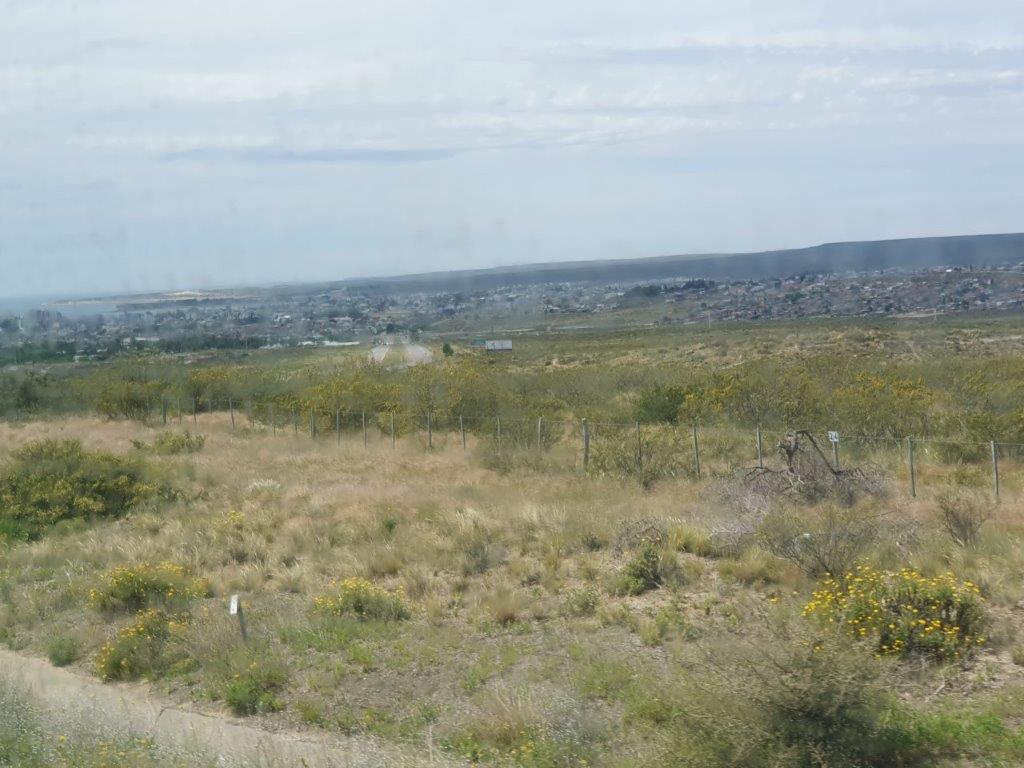 As an untrained biker I grosely underestimated this bike ride. I do everything walking and almost nothing by car or even by bike so my bike muscles had grown weak and I had a hard time biking those 15 kilometers on gravel/sand road to the Punta Loma Natural Reserve.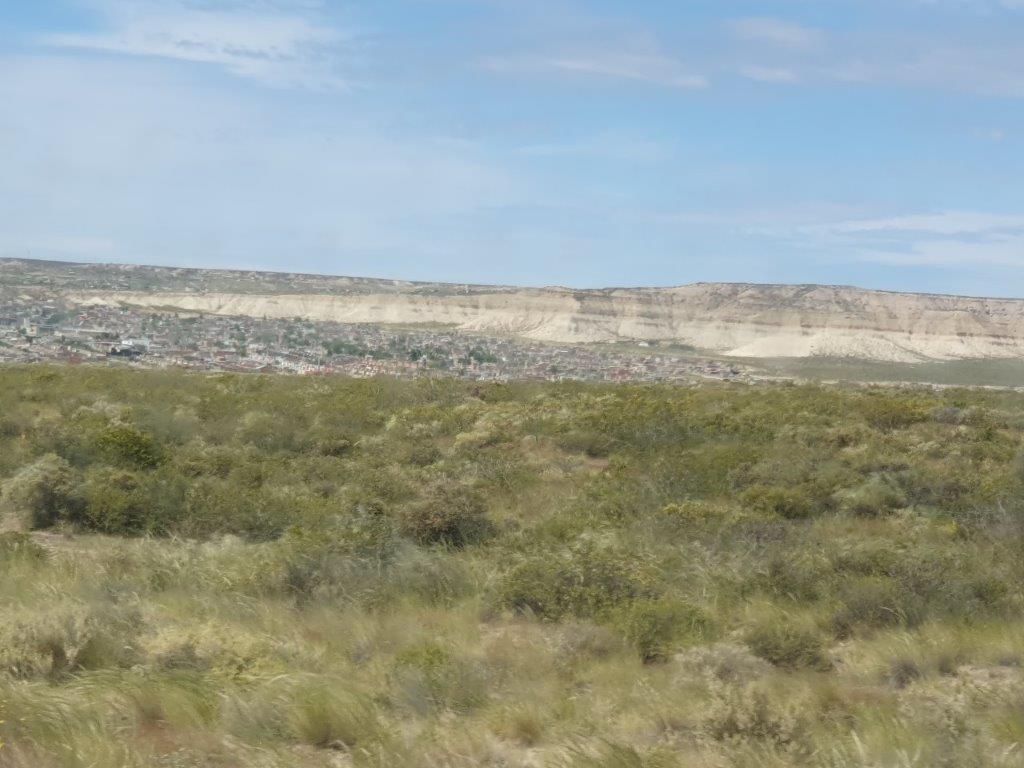 Reserva Lobería de Punta Loma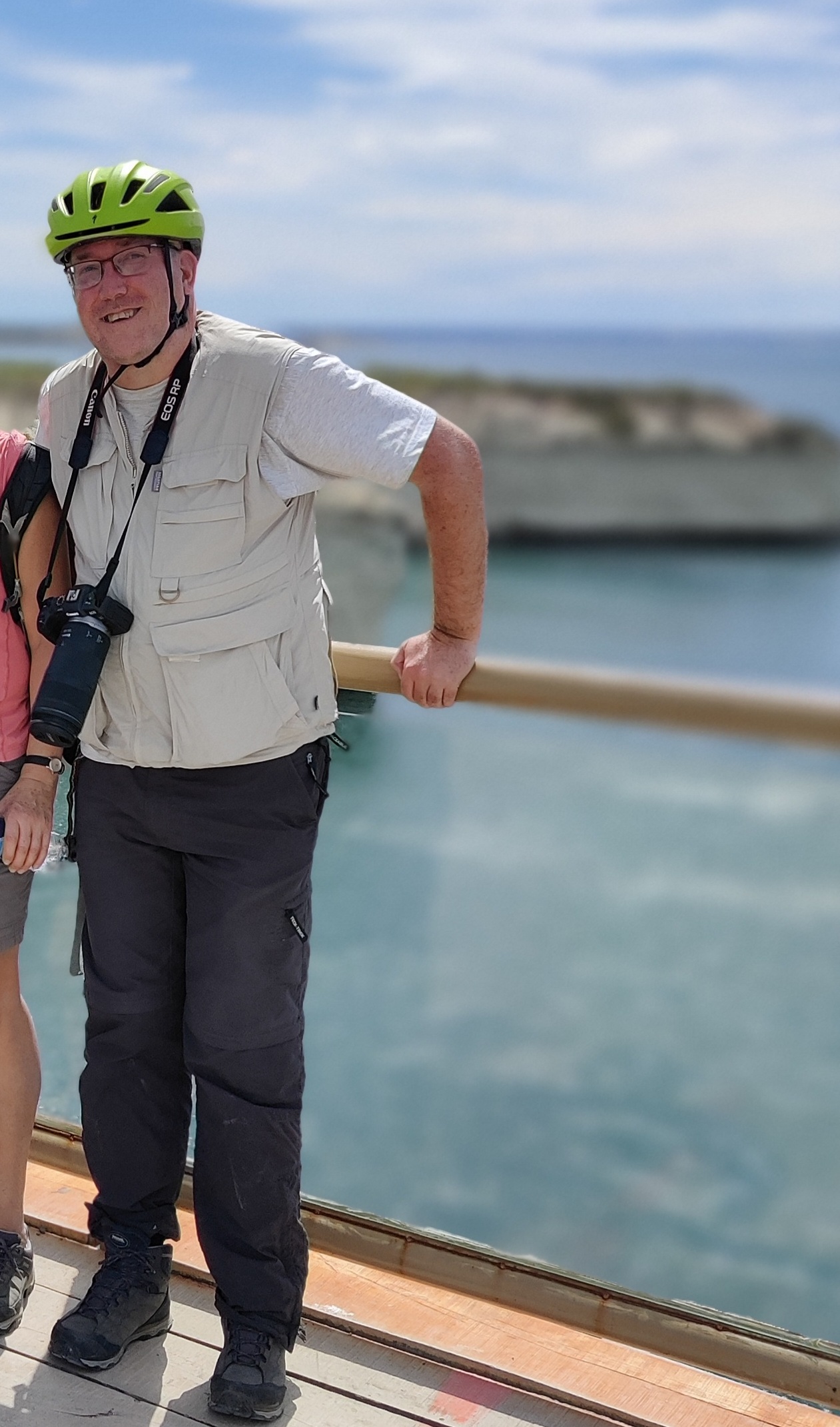 It's a small cliff-edged nature reserve known for its sea lion colony & cormorants with signposted viewpoints.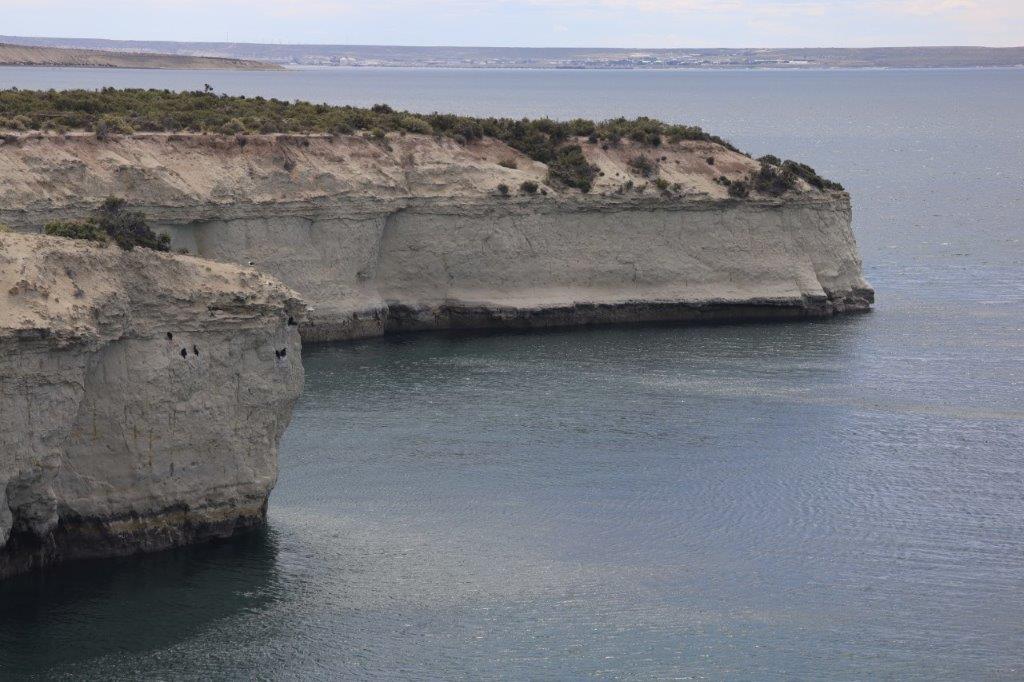 Punta Loma(is on the punta ninfas peninsula, but much closer to Puerto Madryn then Punta Ninfas) was created in 1967 and it was the first natural reserve in the Province of Chubut. The purpose of its creation was clear: to preserve and protect the only permanent colony of South American sea lions, a mammal species spread all along the Atlantic and Pacific shores in Argentinian and Chilean Patagonia.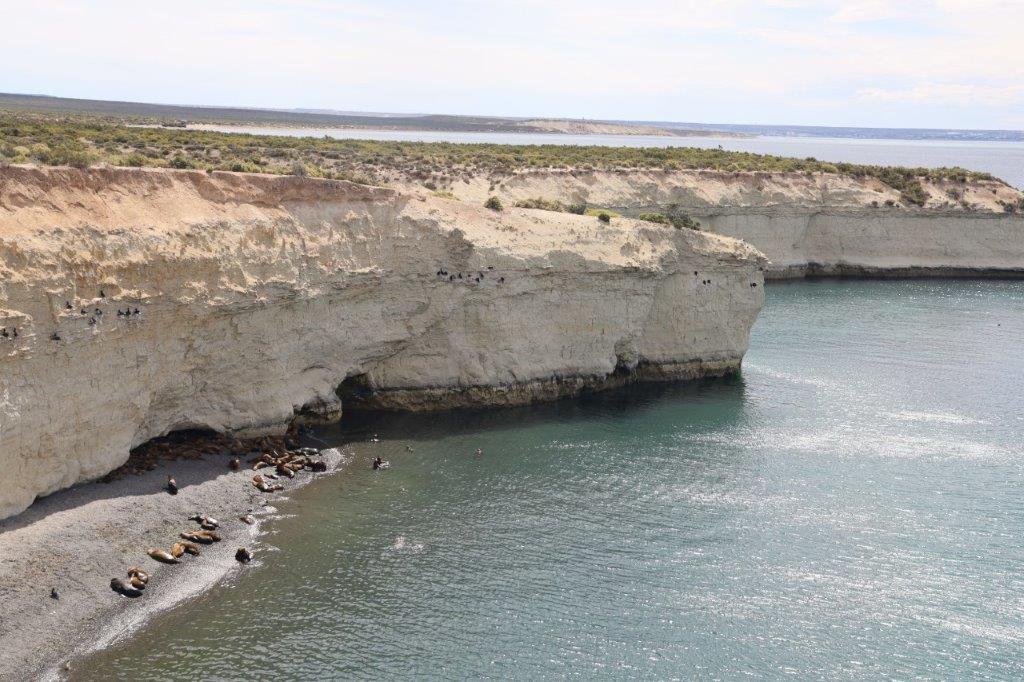 Punta Loma presents mid-sized cliffs that fall onto the sea and large gravel beaches. On top of a precipice overlooking the gulf, a viewpoint features a sight of the sea lions colony, including approximately 600 specimens.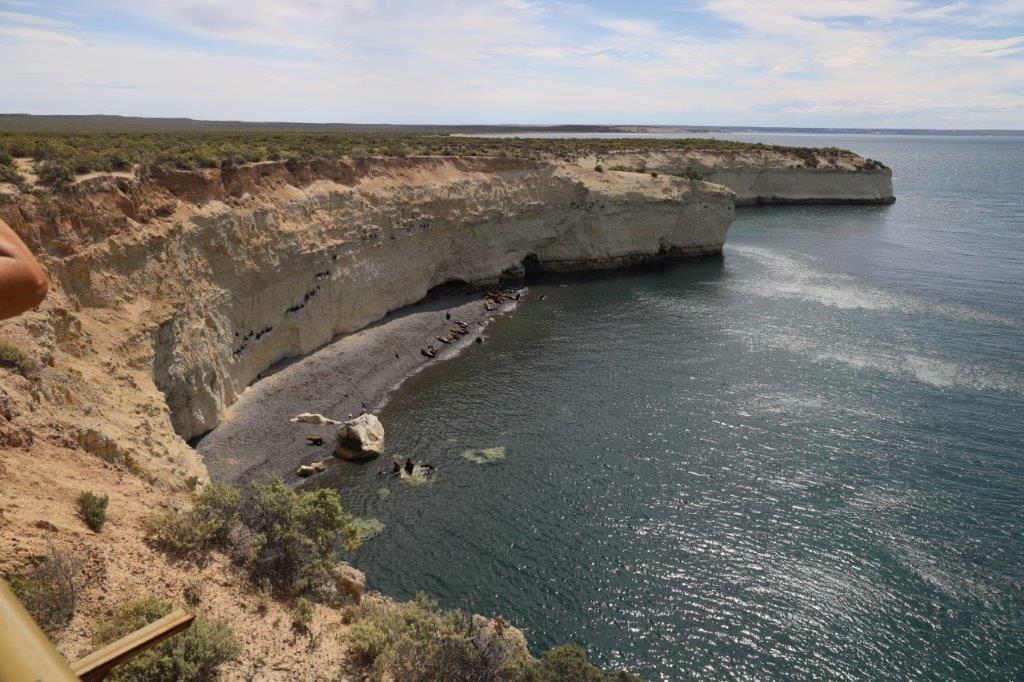 The entire strip also contains shrubs, typical of the Patagonian steppe and the woodlands, of which some are more susceptible of bearing the high salinity levels and those can survive closer to the seashore.
Sea lions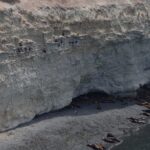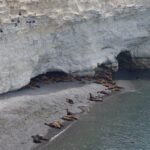 The South American sea lion (Otaria flavescens, formerly Otaria byronia), also called the southern sea lion and the Patagonian sea lion, is a sea lion found on the western and southeastern coasts of South America. It is the only member of the genus Otaria. The species is highly sexually dimorphic.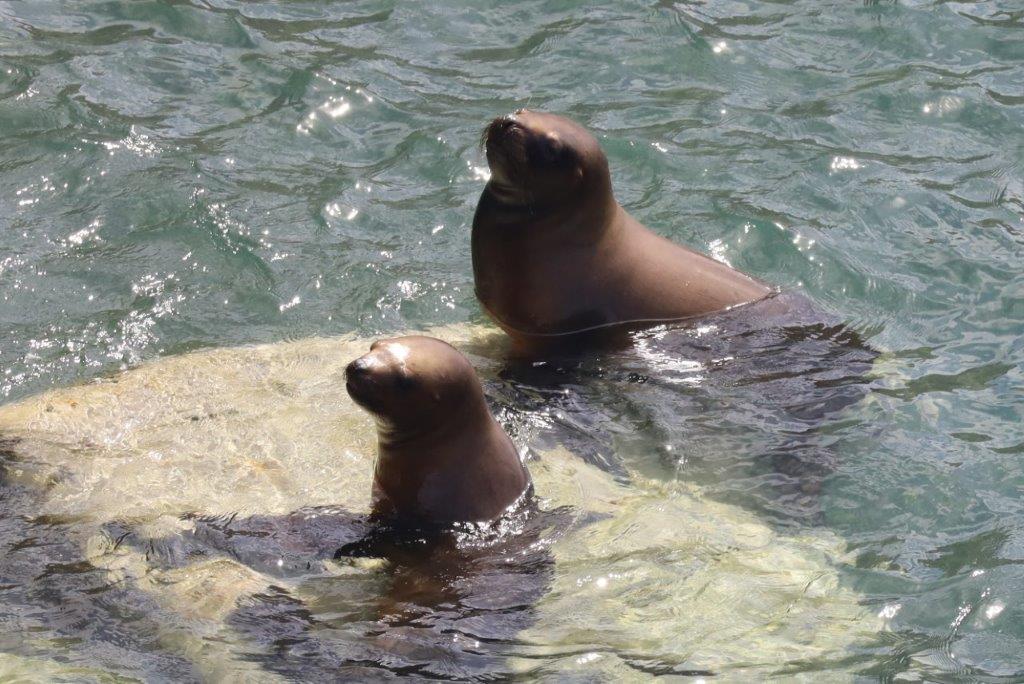 Males have a large head and prominent mane. They mainly feed on fish and cephalopods and haul out on sand, gravel, rocky, or pebble beaches. In most populations, breeding males are both territorial and harem holding; they establish territories first and then try to herd females into them. The overall population of the species is considered stable, estimated at 265,000 animals.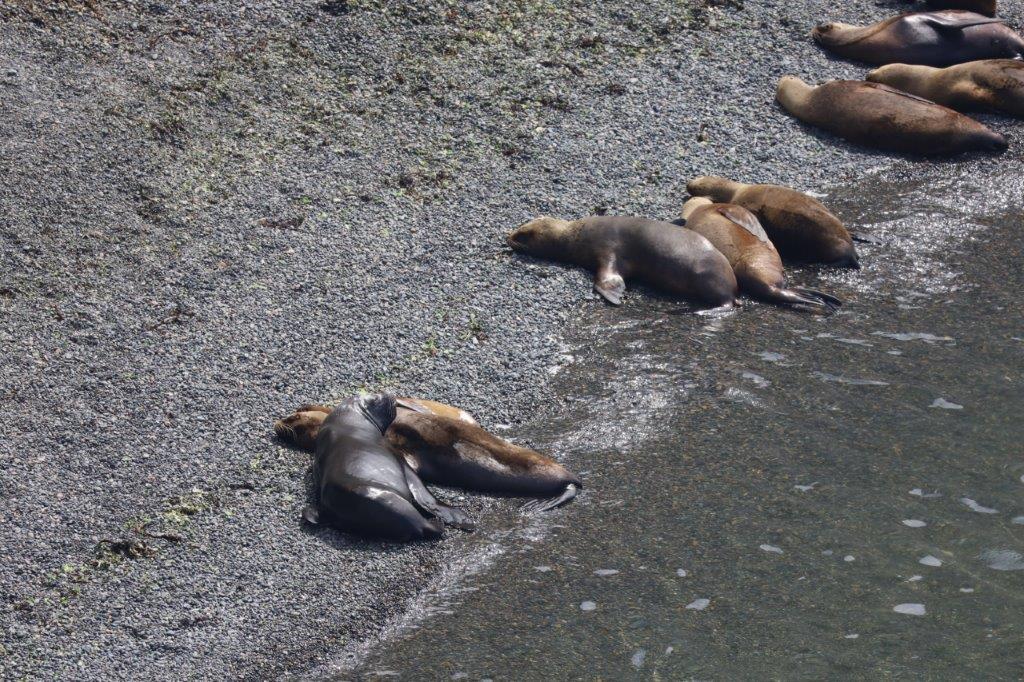 There was this water filled cave in the cliffs that sheltered loads of sea lions and in the shallow water in front of that cave was a large male sea lion with full grown manes (thus the name sea lion), which was controlling his harem, checking out younger male competitors and making himself audible and visible for the many females and youngsters.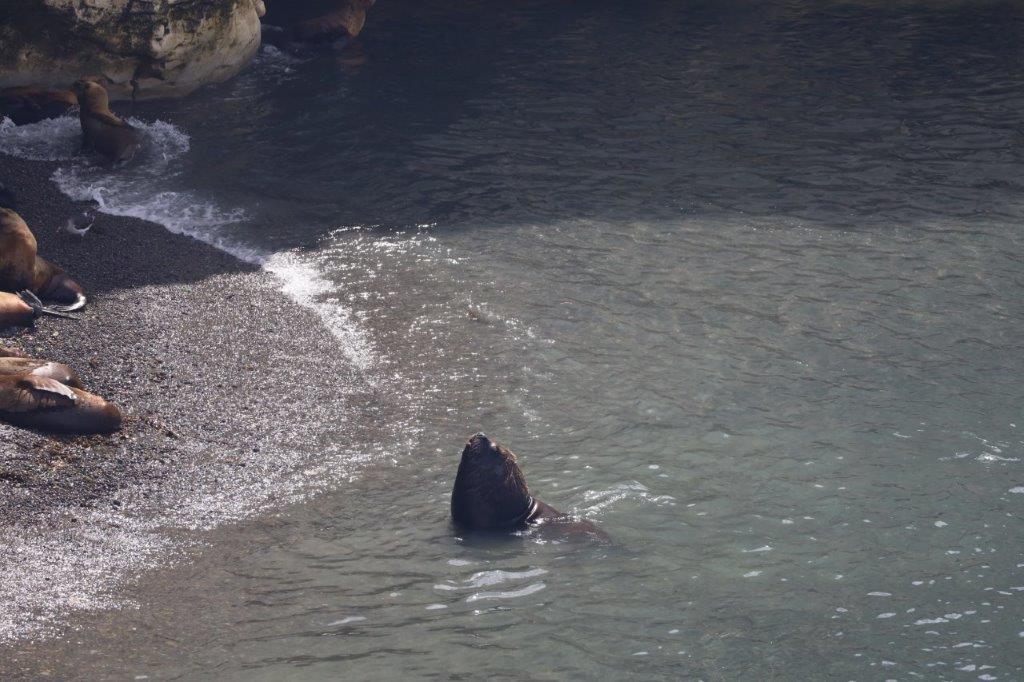 Clearly the Alpha male, the Sultan of his harem: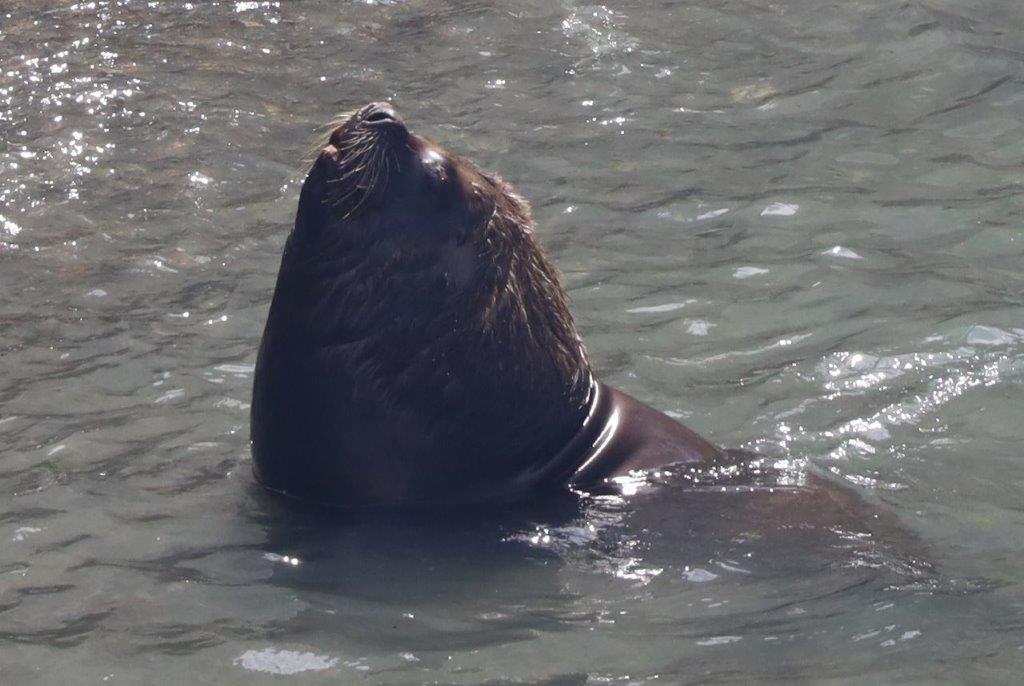 Another lesser male was also in the cave but other than that…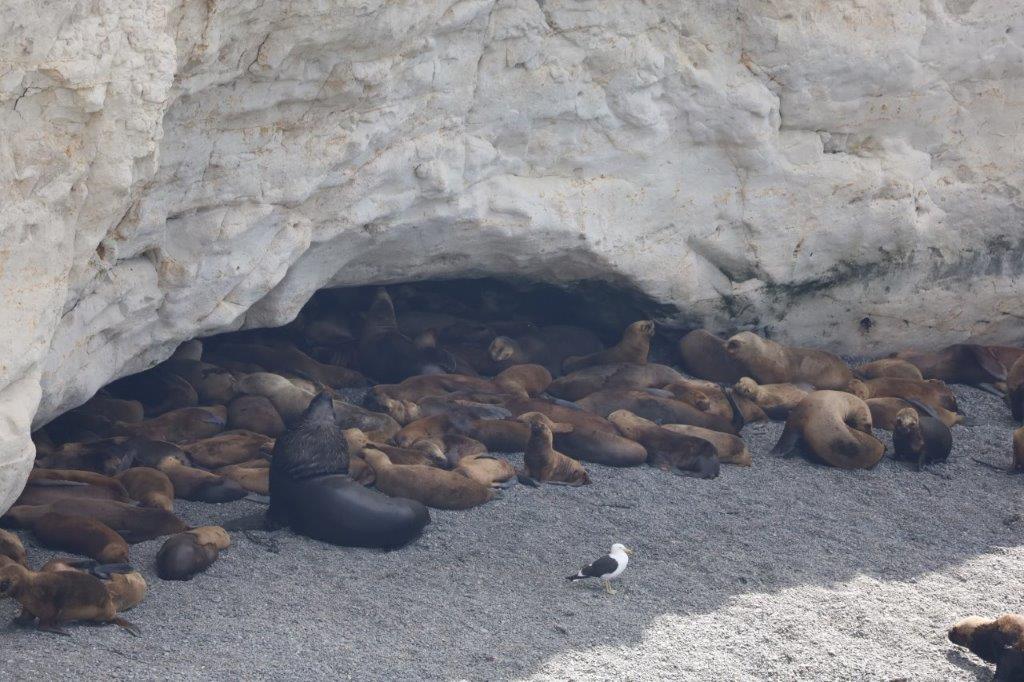 …it was filled with females and a few young pups.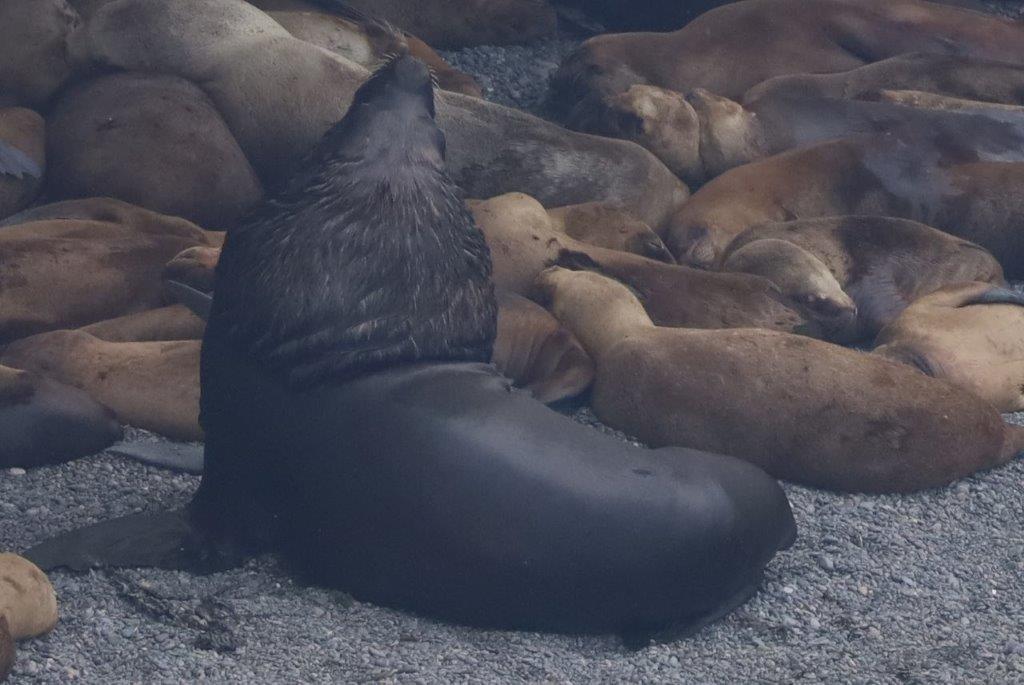 Some females were frolicking around in the water…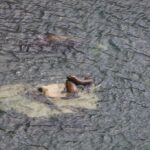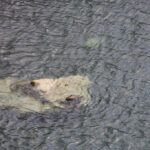 … they were sunbathing on this flat stone which caught the sunlight and heated up quickly…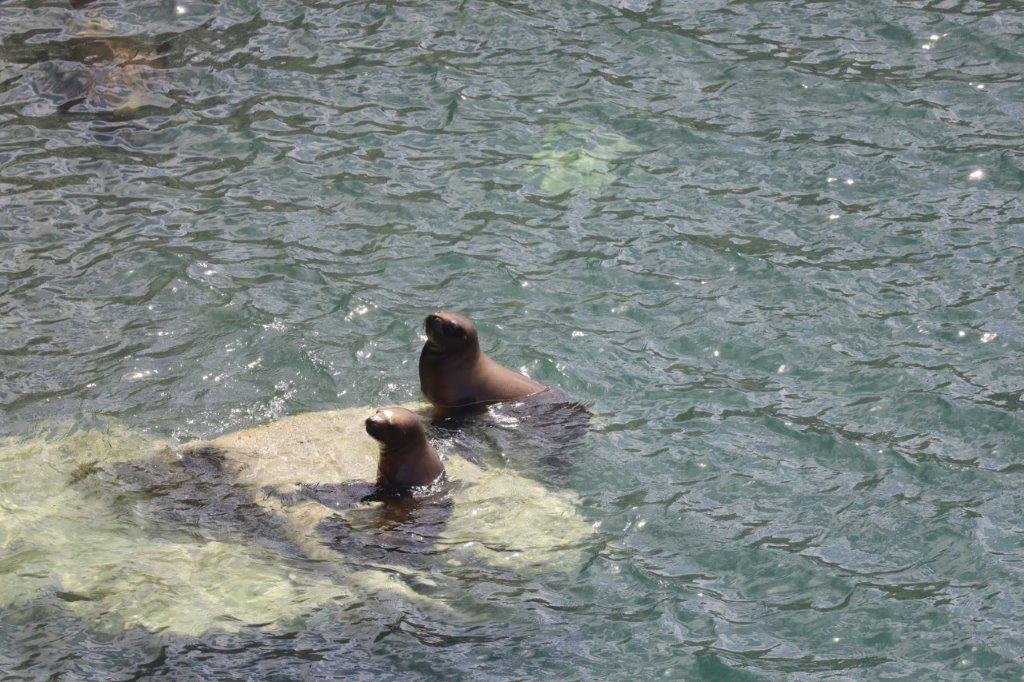 The sea lions were very loud making loads of noise which sounded like a constant flow of people who ate to much and had started burping the gasses out of their systems😂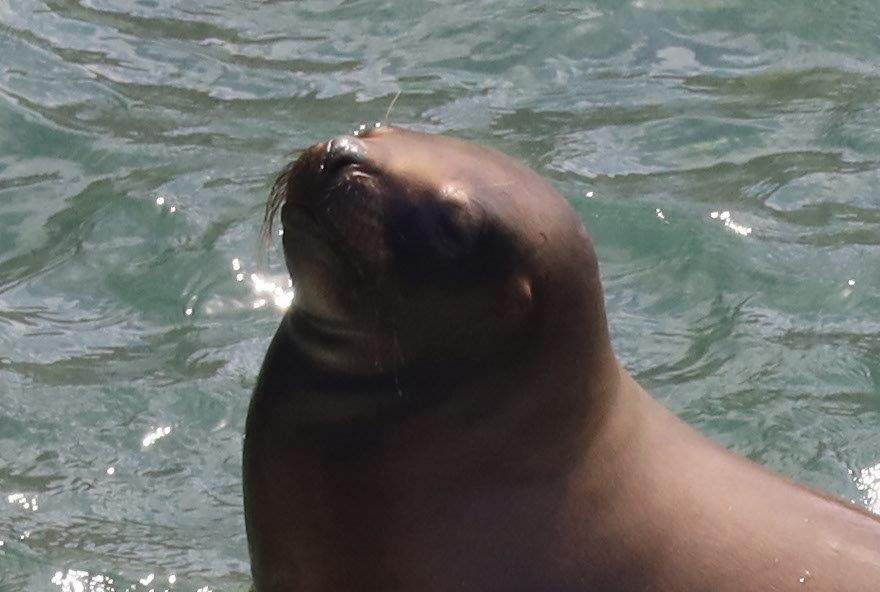 Female sea lions have also moustaches…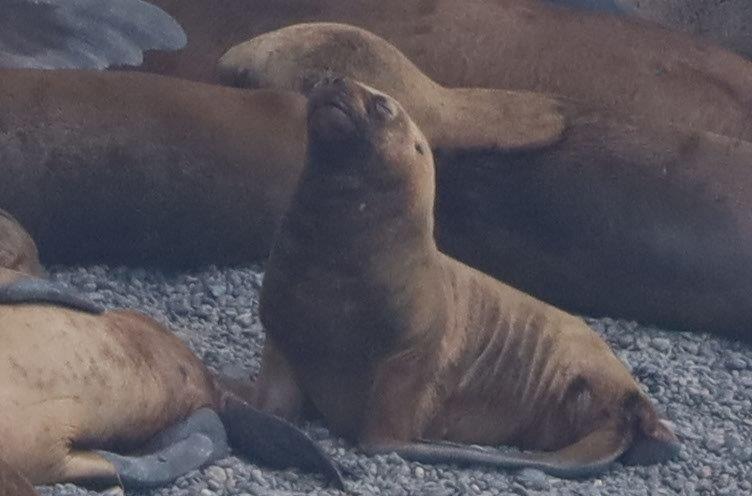 There were some young pups in the crowd too. It was spring time so these sea liins had been mating and were waiting for the youngsters to arrive soon or were already nursing the newborn seals…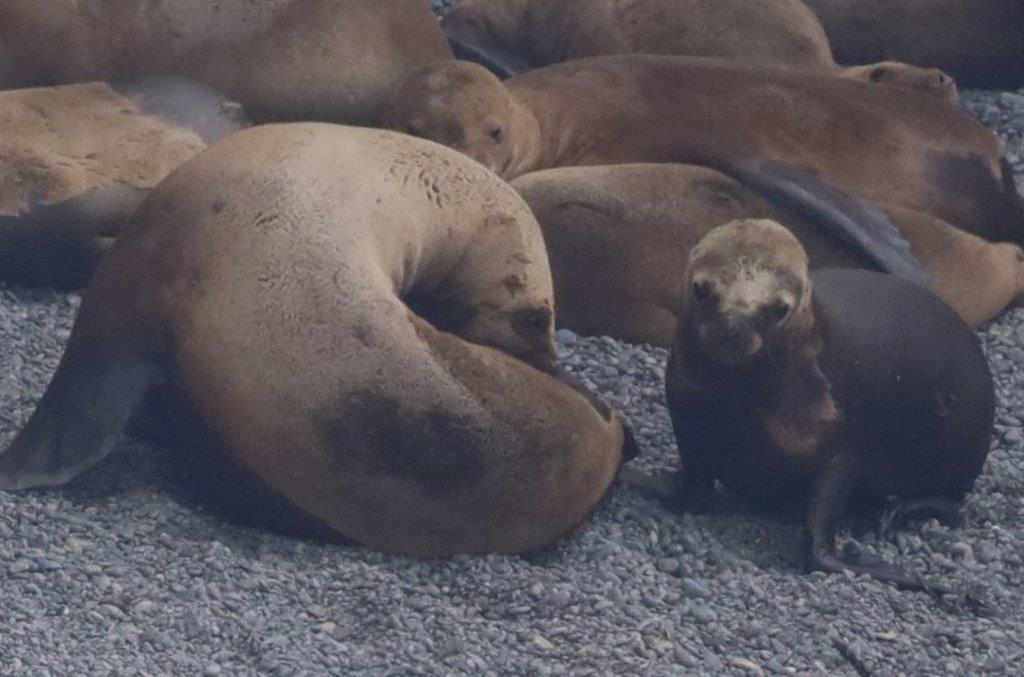 Another bunch of lazy sunbathers on the pebble stone beach…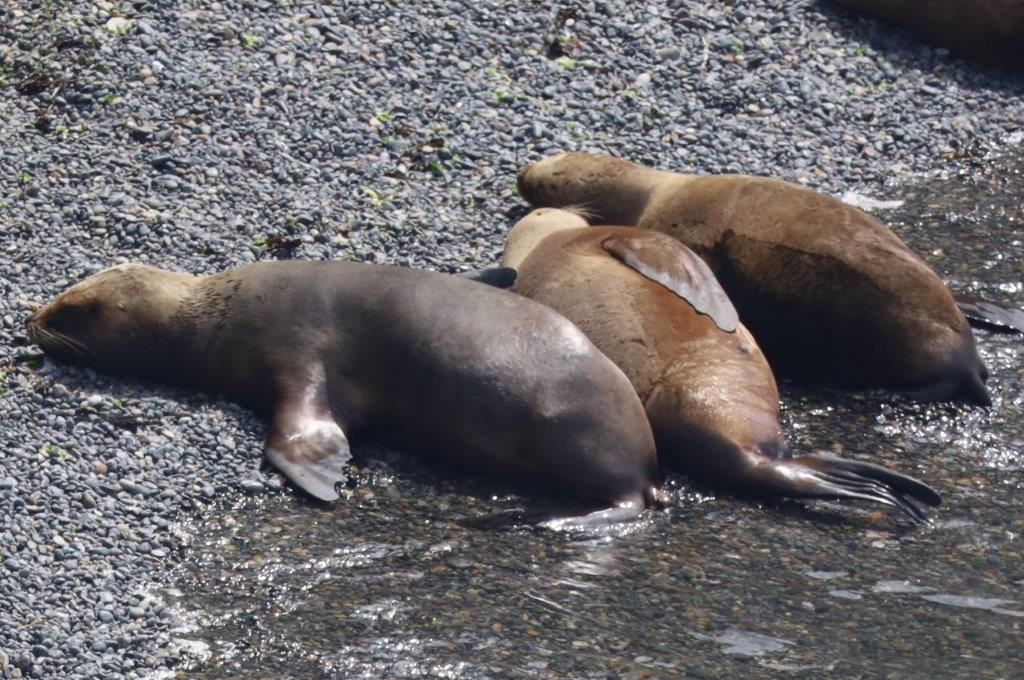 Cormorants
On the steep cliffs The Wandelgek noticed some birds that almost seemed glued to its surface. Looking through his binoculars he noticed they were Cormorants.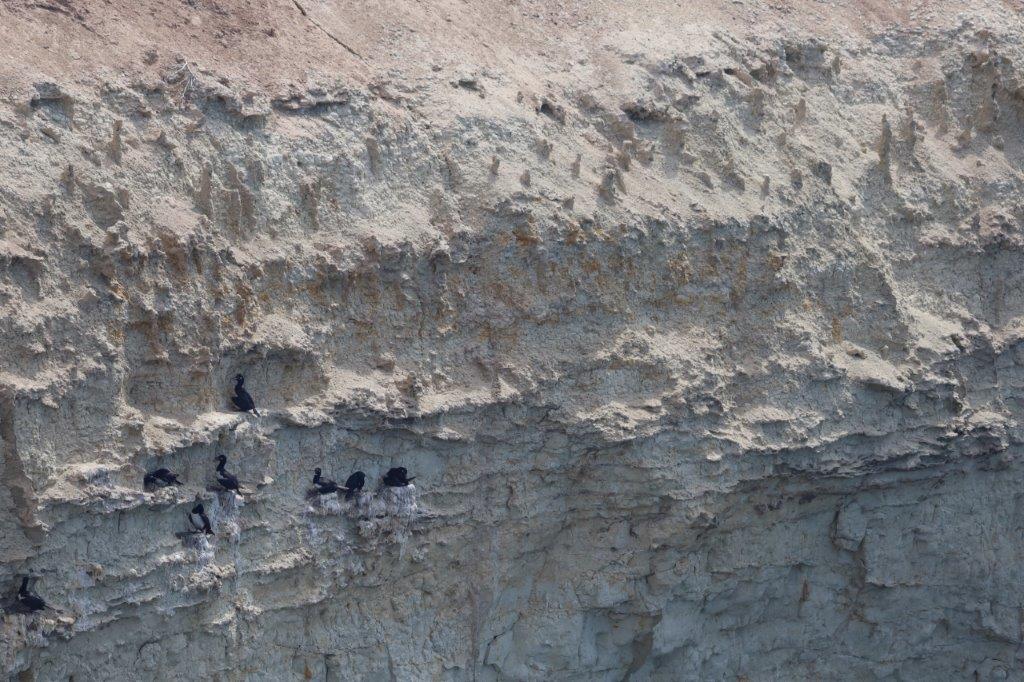 Cormorants and shags are medium-to-large birds, with body weight in the range of 0.35–5 kilograms (0.77–11.02 lb) and wing span of 60–100 centimetres (24–39 in). The majority of species have dark feathers. The bill is long, thin and hooked. Their feet have webbing between all four toes. All species are fish-eaters, catching the prey by diving from the surface. They are excellent divers, and under water they propel themselves with their feet with help from their wings; some cormorant species have been found to dive as deep as 45 metres (150 ft). They have relatively short wings due to their need for economical movement underwater, and consequently have the highest flight costs of any flying bird.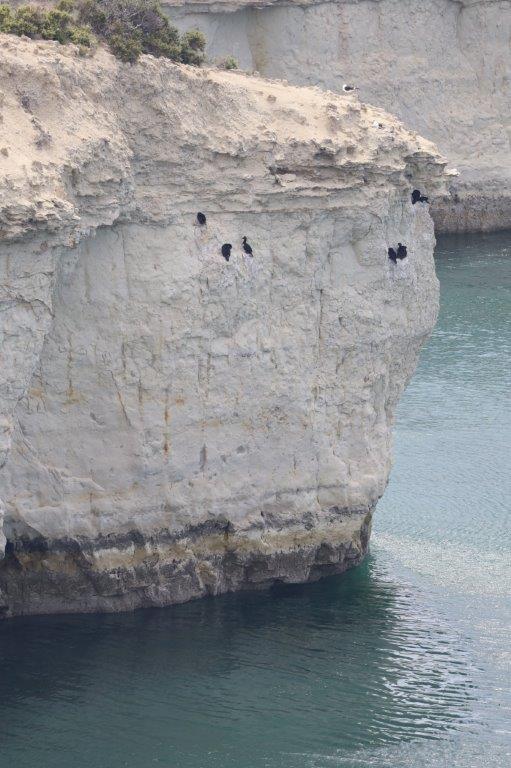 Cormorants nest in colonies around the shore, on trees, islets or cliffs and here at the Patagonian Atlanticcoast they found cliffs to nest upon. An abundance of Cormorants was nesting on these cliffs adding to the noise of the sea lions below.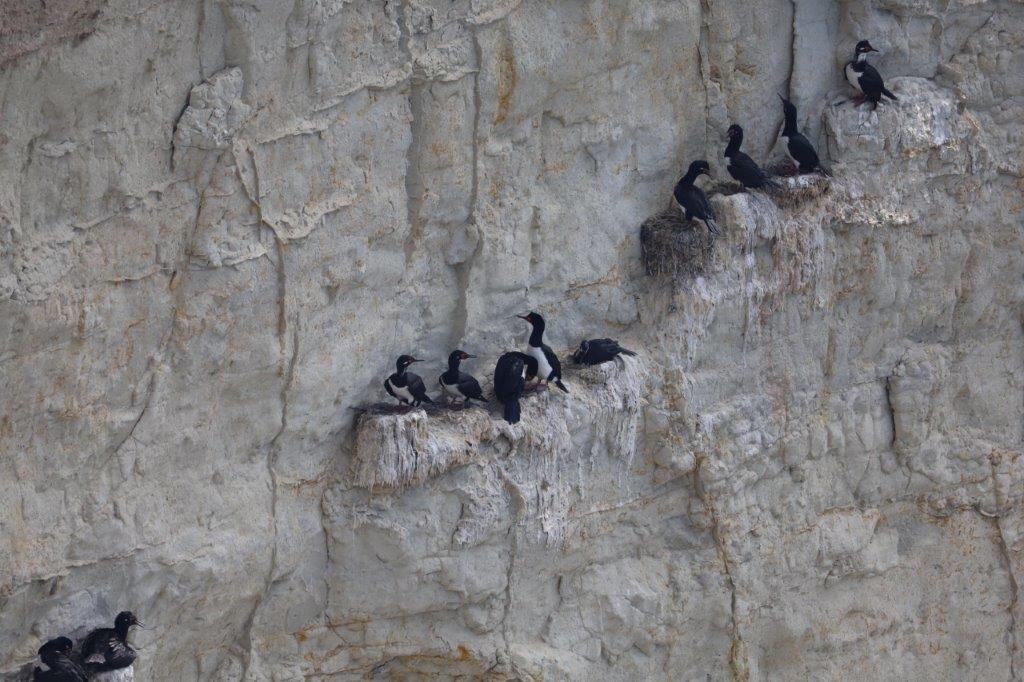 They are coastal rather than oceanic birds, and some have colonised inland waters. The original ancestor of cormorants seems to have been a fresh-water bird. They range around the world, except for the central Pacific islands.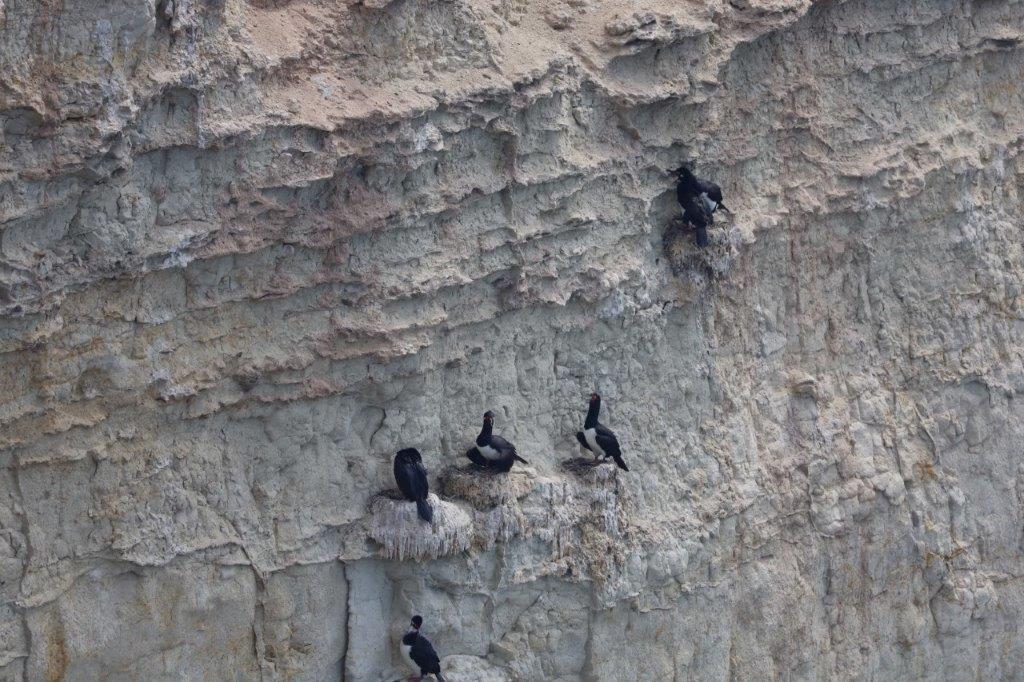 The Wandelgek thought it was really impressive to see how these birds managed to build a nest on these tiny ridges and managed to raise a family up there…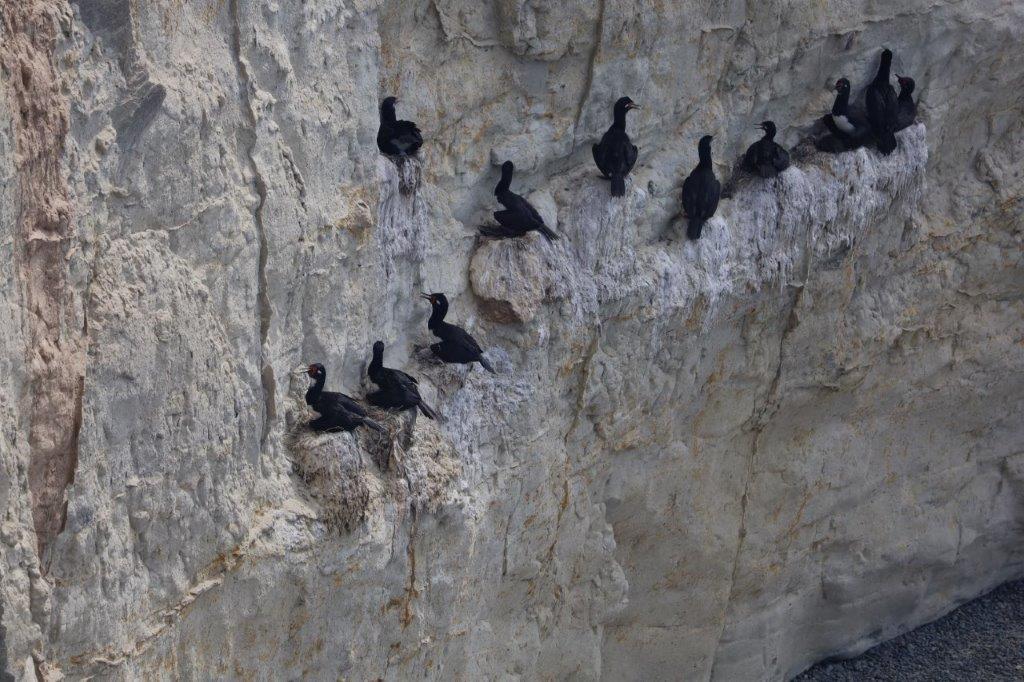 He could not see if there were eggs or even young hatched birds though.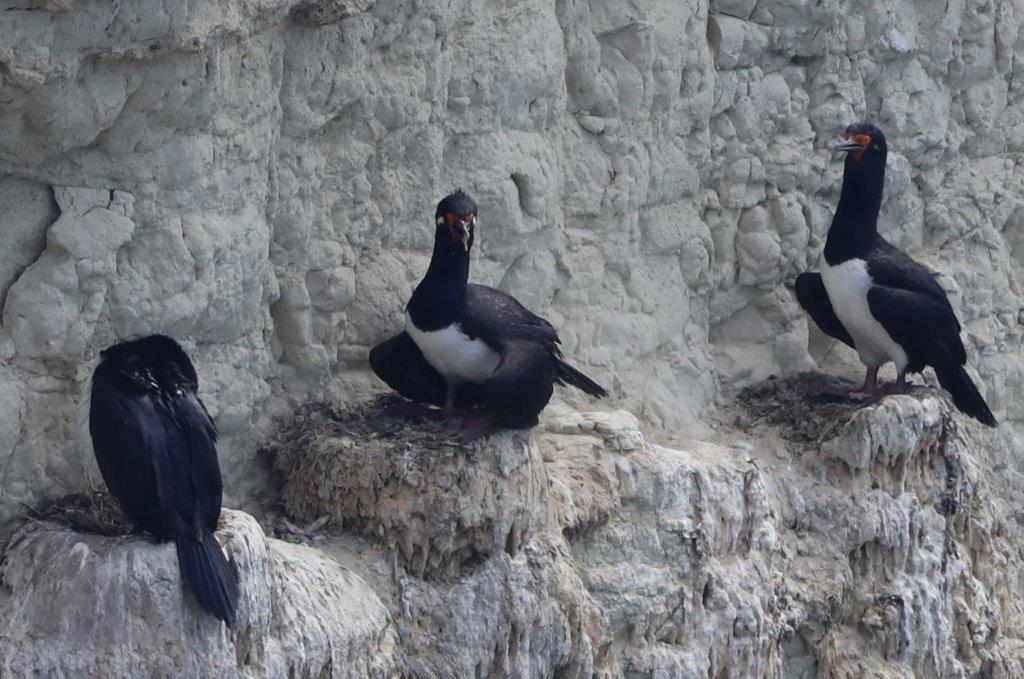 It was probably too early for that.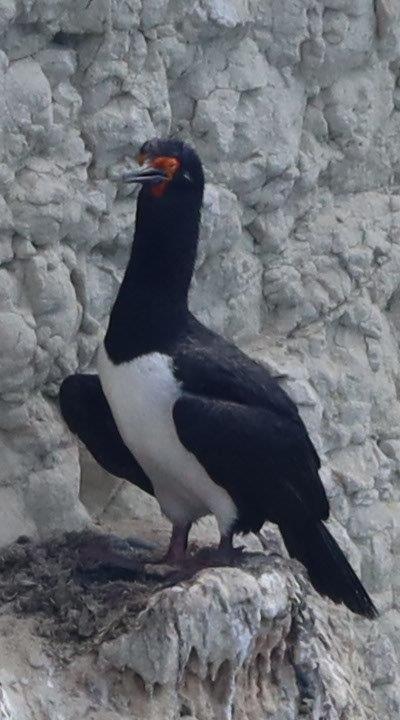 The return bike ride
After having watched over thses sea lions for a while, it was time for the return journey to Puerto Madryn.
After arriving at Puerto Madryn, the last stretch of the bike ride was along the beach, before ending at the bike rental place.
Drinks at the beach aaahhh
Then The Wandelgek went for a drink to one of the beach restaurants, where yhey had a sunny terrace to sit and enjoy the 16.00 hrs sun.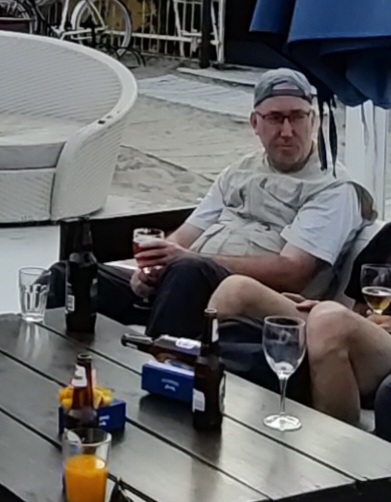 The Wandelgek ordered a large pint of fresh orange juice and ice cubes which is the very best thirst lesser  and a Patagonia red ale beer. Beer is of course the very best reward after any effort..Aaaaah.
Dinner in town
After a shower at his hotelroom, The Wandelgek searched for a nice place to have dinner and ended up eating and drinking at the Carry Resto Bar Cerveceria.
I was very ready to eat something different than just another medium rare steak (not that they don't taste good, but they also come with potatoes and veggies and sauce etcetera and my poor stomach just craved for something less voluminous to digest 😉
So I ordered a lasagna instead, which is my all time favorite food. Nothing tops a lasagna!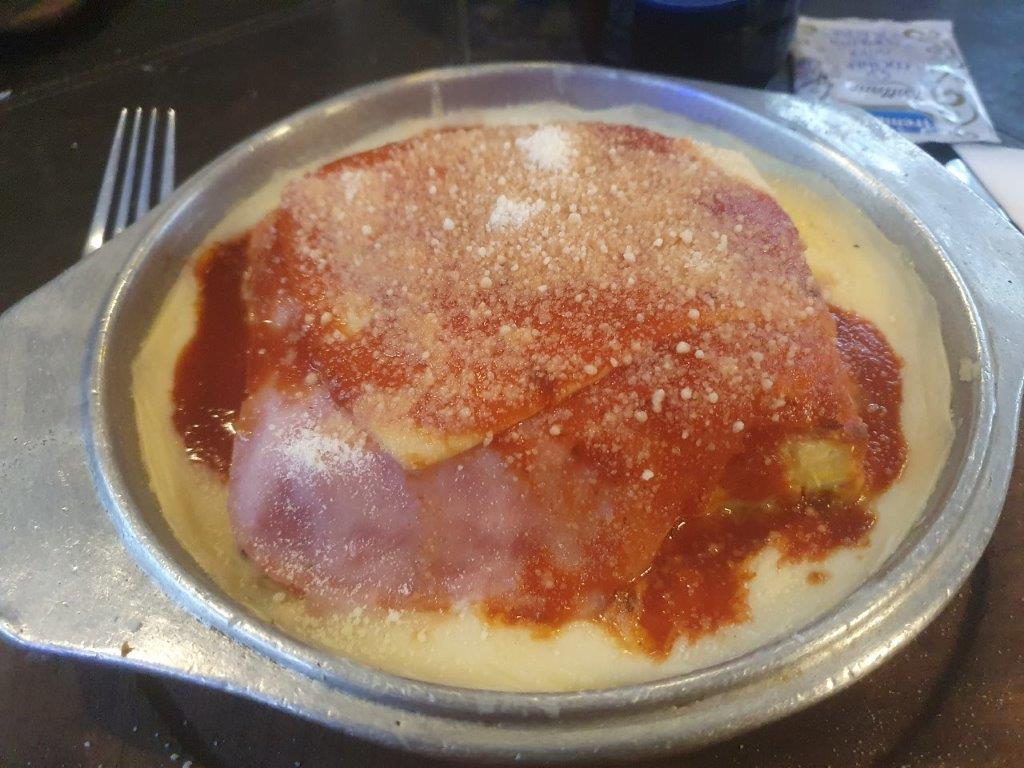 It was still quite voluminous though 😂
After dinner, The Wandelgek returned to his hotel room and watched some of the football games of that day.