Tussen het wandelen op en in de omgeving van de Seiser Alm door bracht De Wandelgek een bezoek aan de stad Bozen (Italiaans Bolzano).
Bozen (Italiaans: Bolzano; Ladinisch: Bulsan) is de hoofdstad en grootste stad van de Italiaanse autonome provincie Bozen-Zuid-Tirol. Bozen vormt ook een Zuid-Tiroolse districtsgemeenschap (Duits: Bezirksgemeinschaft; Italiaans: comunità comprensoriale; Ladinisch: cumunità raion of comunitè comprensoriala).
Het inwonertal bedroeg in 2006 99.764 personen. De stadsregio telt 140.000 personen. Hoewel de totale bevolking van Zuid-Tirol in grote meerderheid Duitstalig is, is de verhouding in de stad Bozen ten gevolge van bewuste italianiseringspolitiek tijdens zowel het interbellum als de jaren 60 thans precies omgekeerd: volgens de laatste volkstelling in 2001 spreekt 73% er Italiaans, 26% Duits en 1% Ladinisch. In Bozen is 8% van de bevolking buitenlander.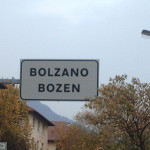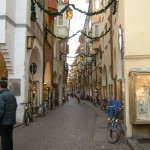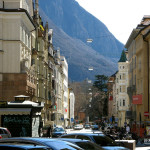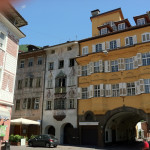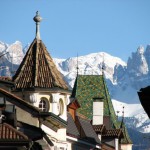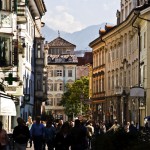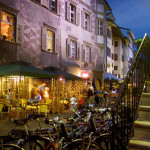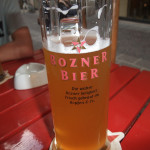 Geografie
In de stad mondt de Talfer (Talvera) uit in de Eisack (Isarco), die op zijn beurt ten zuiden van Bozen uitmondt in de rivier de Etsch (Adige).
De stad bevindt zich in een breed dal. De belangrijkste bergen van Bozen zijn de Stadlegg (Monte Pozza, 1616 meter) en de Kohlern (Colle). Bozen heeft een continentaal klimaat: winters zijn er koud en zomers heet.
Toerisme
Toeristen komen naar (de omgeving van) Bolzano om te fietsen, te wandelen, voor het bergbeklimmen, of het skiën, en voor de wijnen, het eten, de Dom van Bozen, en de drie kastelen. In Bozen bevindt zich voorts het Zuid-Tiroler Archeologiemuseum, waar de ijsmummie Ötzi te bezichtigen is.
Share this blog on:or even better Follow Wandelgek on: