My personal TOP 10 of Deventer restaurants
After my:
Dutch Mountain Trail – Finishing touches 3: My personal TOP 10: Maastricht: city for foodies
I couldn't leave my hometown Deventer without a Top 10 of my favorite restaurants. So (as an addition to my:
Deventer (the ultimate historic walk for history lovers in 4 parts)
), I'll now add my culinary Top 10 to make your visit to my hometown completely unforgetable.
Deventer nowadays is a meltingpot of people from different cultures. A large group of our cities inhabitants originally came from Turkey, hence the Turkish Consolate in the Keizerstraat. Because of all these different cultures, the city has a large number of foreign cuisine restaurants. Most of these can be found inside the historic hanseatic city center which acts as a stunning backdrop for the many outdoor café terraces and lots of the restaurants are themselves located in monuments.
The city has lots of areas with café/ restaurant terraces of which the foremost are:
The Brink
The Grote Kerkhof
The Grote Poot
The Vleeshouwerstraat
The Nieuwe Markt
The Stromarkt
The IJsselkade
The Stationsplein
However, there are many other locations too like the Overstraten, the Vogeleiland and a bit outside of the city center is the Havenkwartier. Last but not least are some hidden gems hidden in secret city gardens of the center and of the Noordenbergkwartier.
This Top 10 only has top notch restaurants in it, so even number 9 and 10 are really a favorite of mine and recommended.
So let's start on this aromatic journey for the taste senses!
10. Parkcafé Mees
I have to admit that the location of this one is a great asset. It is located on a hill on the Vogeleiland (a small island bird zoo park built upon the remnants of the medieval city's defenses) overlooking the city's outer moat and a wonderful green public park that runs paralel to that moat. There is a terrace on top of the hill and a larger one at its base.
The restaurant is succesful in a rather difficult location where many failed. It opened two additional locations in town of which I use the juice bar regularly.
You can have breakfast and lunch here. Dinner however is a bit more problematic because the restaurant and the island are closed down after 18.00 hours.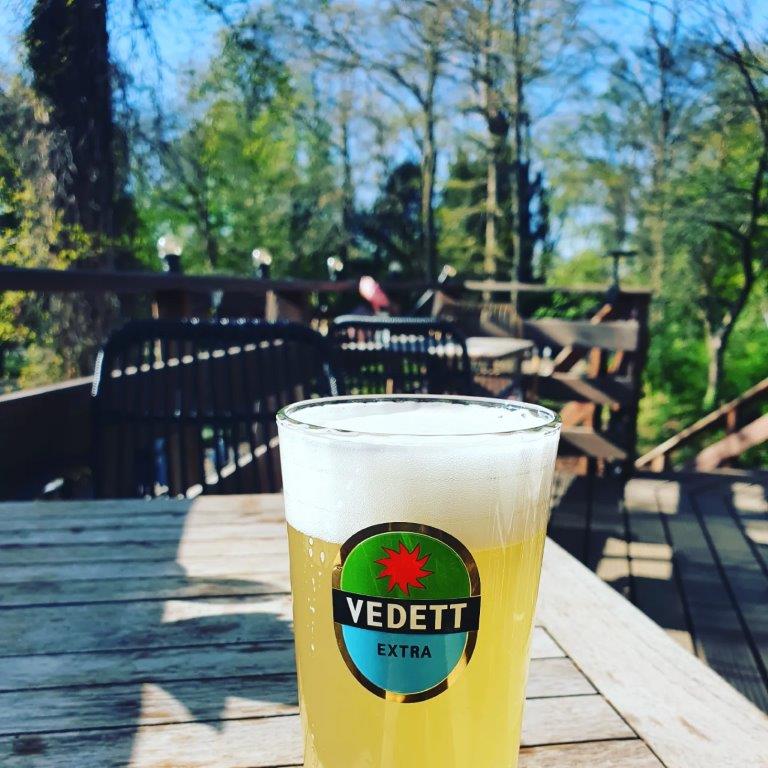 I regretfully did not try the third location in town yet.
My favorite food at Mees are the excellent homemade apple pie and the meat and cheese platter.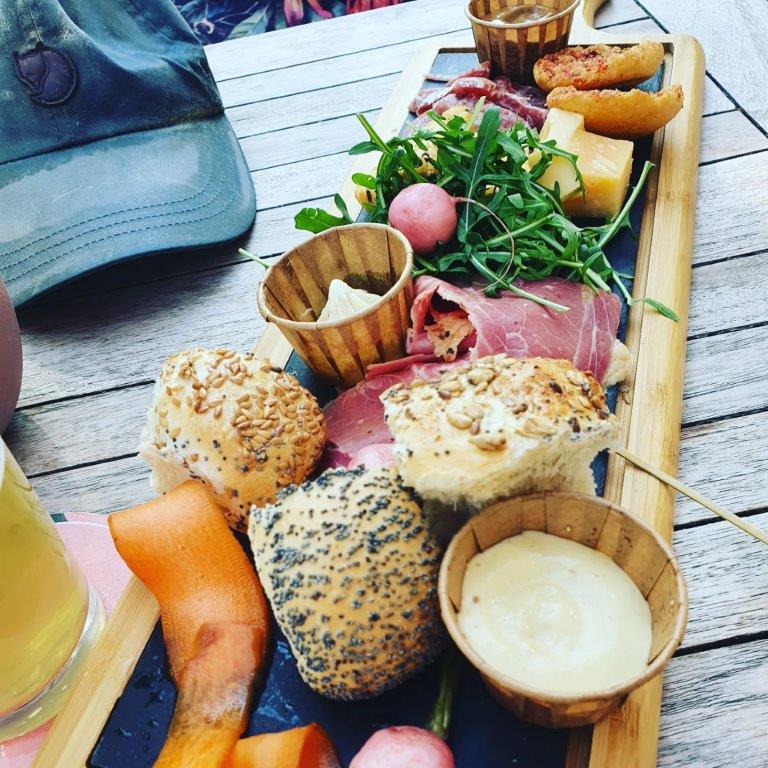 Website: Parkcafé Mees
Stationstraat 2
9. Chez Antoinette
Located in a beautiful historic building in the monumental Bergkwartier (Hill/Mountain Quarter). They are a Portugese style high end restaurant with a bodega to start the evening and a sommelier available and serving fantastic game dishes. I also like that they have really good beers available.
Website: Chez Antoinette
Roggestraat 12.
8. De 7e Hemel
A beautiful and cozy brown café with a large outdoor terrace underneath shady trees. They have a nice selection of draught beers and a wider selection of bottled beers.
The food is sturdy café food, like stew, schnitzel, schweinehaxe and fish.
The menu is small but everything I tried was very tasty. No exceptions. There are also some snacks available to accompany the beer.
The icecream is very good too and does have a bit of alcohol added!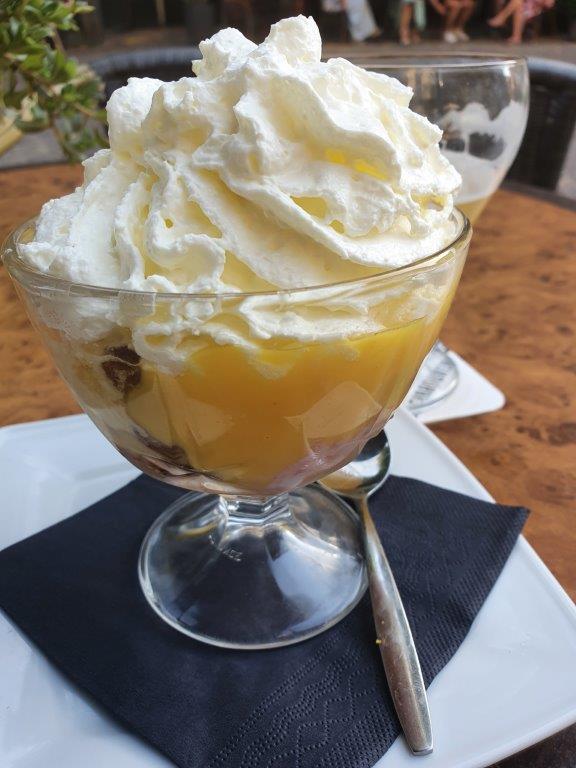 Website: Eetcafé De 7e Hemel
Grote Kerkhof 28
7. Beryl's Fish Chips and Veggies
They are practically neighbours of De 7e Hemel and that's also why I disvovered them. It is a really Vegetarian and Vegan friendly restaurant, having a great choice of dishes for vegetarians and vegans, but luckily they also serve fish like e.g. cod. I'm no vegan or vegetarian so for me the cod is essential, but I have friends that are vegetarian/vegan and than a restaurant like this is a good middle ground solution. Well that is what I thought but when I tasted the vegan dishes coming from this kitchen I was quite blown away by their taste explosions.
Their dishes are really inventive and taste delicious. I personally like the Lebuinus Cod (named after the Lebuinus church opposite of the restaurant) and the No cheese cake, which is a wonderfull veggie cheese cake like dish (including speculoos as a secret ingredient).
A nice terrace for hot summer days between the beautiful monuments of hanseatic Deventer completes the picture…
They also have a very good and surprising selection of bottled specialty beers!!!
Website: Beryl's Fish, Chips & Veggies
Grote Kerkhof 32
6. Central Kitchen
There are a lot of sushi reataurants and take aways in town, but there is only one Central kitchen. It is located in the Proosdijpassage (just moved there from the Nieuwstraat) and in both locations it had an open kitchen so you can see how the wonderfully tasty sushi, pokebowls, sashimi's and tataki's are prepared. I've not eaten yet in their restaurant but I often order dishes that are delivered at my home. They never ever disappoint and are by far the best sushi place in town. The delivery is like receiving a goody bag full of little presents to open and to taste…
It is always a feast for the taste buds and for the eye…
Website: Central Kitchen
Proosdijpassage 11
5. Het Zusje
A burgundy style tapas restaurant located in a monumental former military barrack. A large outdoor terrace. Everything I tried tasted wonderfull and the waiters and waitresses are excellent.
Evening filler!
Website: Het Zusje – Deventer
Boreelplein 55 (But entrance is at the Houtmarkt/Boreeltuin!)
4. Tearose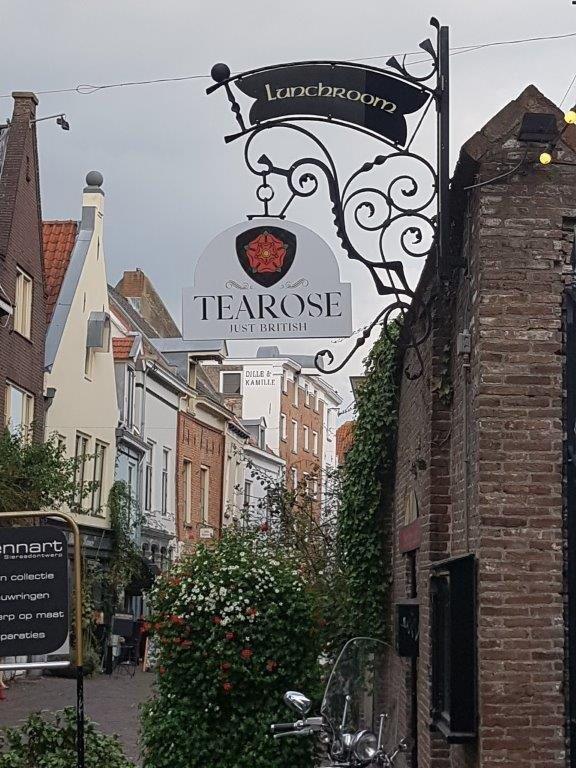 An English/Scottish style tearoom. But appart from the immense choice of tea there are loads of english and some scottish style dishes. The interior is awesome. I simply love everything British that is shown in this interior.
The dishes are really tasty, lots of them sweet, but there are some exceptions. I love the Guiness pie, the English breakfast, the savoury platter and the Wimbledon waffles.
They also have a very good selection of bottled British beers!
There is a wonderfull little shop area where they sell marmelades and even Paddington bear books.
The outdoor terrace is in a beautiful area surrounded by monuments and when you feel you are not enough drenched in English style, then you can visit the neighbouring Dickens Museum.
I love this place even to just look around without eating or drinking. But then I remember they have hot white chocolate drink on the menu.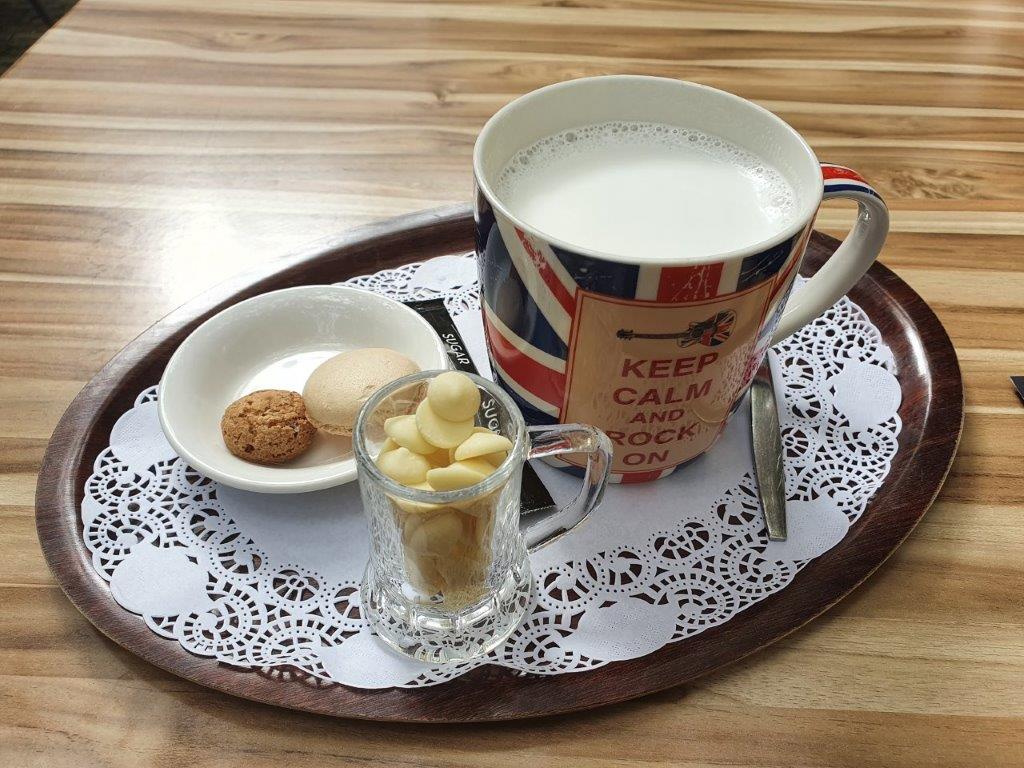 Website: Tearose
Walstraat 20.
3. Jackies NYC
Another one of my absolute favorites. Hurts to put it in 3rd place instead of 1st or 2nd, but we are now really getting to the top 3. Everything I tried from their menu tastes really, really well. I used to visit the predecessor De 3 nissen which had a famous Jazz basement, but after it closed and Jackies NYC cuisine opened its doors I quickly discovered them. In 2002 I returned from an African journey to Zanzibar and to linger a bit on that feeling of sitting on a beach eating fresh seafood!, I searched for a restaurant serving crab and or lobster. That instigated my 1st visit of Jackies.
Through the years I visited them occasionally but recently that got a boost when I discovered that apart from the delicious food, they also have a really customer centered approach.
Jackies opened three more locations in Deventer: No. 11 for lunch. The Lemon tree for high end dishes and recently beachclub like Valencia. I never visited any of those yet.
The menu is substantial and is divided in sub menus fir meat, fish and vegetarians. They have a large selection of excellent wines (and even a shop) but they have a rather small choice in beers which is a pity.
And yes…everything tastes as good as it looks.
Their outdoor terrace is wonderfully located between monumental buildings and is large.
Website:  Jackies NYC
Grote Poot 19.
2. Ristorante Da Mario
Another restaurant which I heve been visiting once or twice a year but over a period of over 30 years (right from the start when I moved 1st to Deventer). It was and still is simply the best Italian restaurant in town and almost the best restaurant in town. They have a perfect selection of Italian dishes and not just the obvious ones. They e.g. have Ossobuco on the menu. I love the limoncello and they have a very good selection of wines. My favorite fish however is the lasagna which is fingerlicking good. The outdoor terrace is okay but not very large. Inside they expanded a few years ago which was a very good idea to do. Runner up for the number 1 position!
Website: Da Mario
Vleeshouwerstraat 4
1. Cava Andalusië
My absolute favorite when it comes to food, atmosphere and interior decoration. This Moorish/Andalusian style tapas restaurant is the most beautiful decorated restaurant in town, yes even better than the Wallstreet tearose, which is not an easy thing to achieve. The walls in this almost cave like restaurant are decorated with moorish tiles and the Andalusian style chandeliers hang from the ceiling.
In the cellar is a fire place and there are separate private places with large tables for larger groups of guests.
30 years ago this was known as "Het Zout der Aarde" which wasn't a restaurant at all, but a music "cave" for students to party on evenings, weekends and during holidays. I frequently visited such datk cellars where most of the time 80's alternative Indie records were played.
And…I never left. Nowadays I still love visiting this place.
The menu offers a large selection of without exception really delicous tasty spanish tapas dishes and a few Italian antipasta as well, with a section vegetarian and sections for fish and meat.
The offered wines are wonderfull.
Website: Cava Andalusië
Polstraat 78
That ends my Top 10. Hope you'll decide to visit my hometown Deventer and enjoy one of the many excellent restaurants in town maybe in combination with a city walk through its ancient history as well.
None of the above mentioned restaurants sponsor me in any way. This is a hobby travel blog and I like to keep it that way. Every mentioned restaurant was mentioned because personally I think they're really good. The author lives now for over 30 years in Deventer.