From the Leaky Cauldron Harry enters the magical wizzard shopping street of Diagon Alley, to which he returns in several of the later movie installments and books. This is where Harry gathers his study materials…
The Leaky Cauldron
The Leaky Cauldron is a dark, shabby pub and inn for wizards, located on the Muggle street of Charing Cross Road in London, offering food, drinks and rooms to rent. It was founded by Daisy Dodderidge (1467–1555) in 1500 "to serve as a gateway between the non-wizarding world and Diagon Alley." The current barman and innkeeper is a wizard named Tom.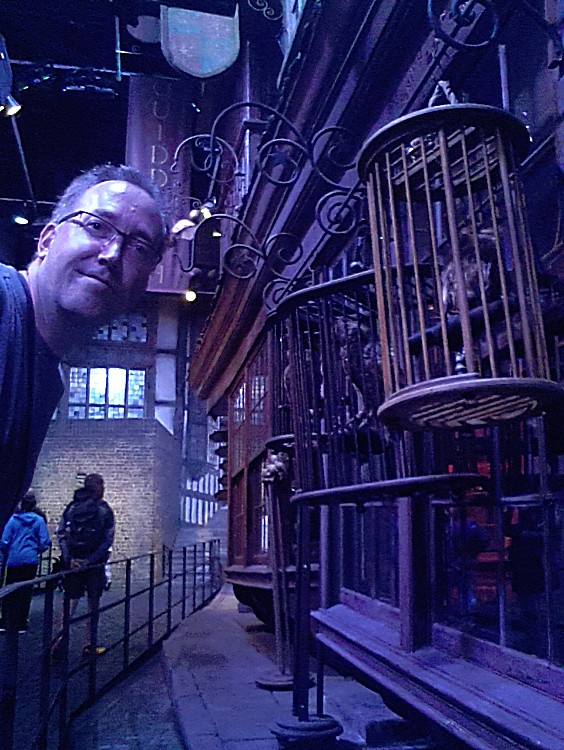 On the main floor, the inn has a bar, several private parlour rooms, and a large dining room. On the upper floors, there are a number of rooms available for rent; Harry has stayed in Room 11, which has a talking mirror and windows that allow him to look out onto Charing Cross Road. People often stay at The Leaky Cauldron when they come to London on shopping trips.
The pub serves as a way of entering into Diagon Alley from the Muggle world for Muggle-borns and their parents (both of whom, until the first letter from Hogwarts, have no magical knowledge or means of entering).
The rear of The Leaky Cauldron opens onto a little courtyard, in which a particular brick must be tapped three times to open a path to Diagon Alley:
Diagon Alley is a high street located in London. It is accessible to the wizarding world, to which it is something of an economic hub, but hidden from Muggles (non-magical people). However, Muggles are allowed access to it if they need to accompany their Muggle-born magical children. If a wizard or witch needs something, chances are that it can be found in Diagon Alley.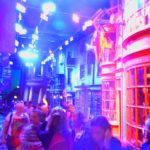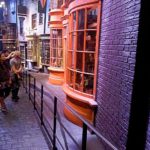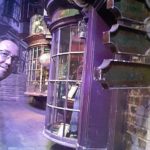 One entrance to Diagon Alley can be reached on foot by passing through the Leaky Cauldron (a wizarding pub/inn). The inn, which is invisible to Muggles, lies in between a bookshop and a music shop. To enter Diagon Alley, one must go through the Leaky Cauldron to a rear courtyard and tap a brick in the wall, found by counting three up and two across, three times. In the film, the tapping of five bricks around a hole in the wall opens the doorway to Diagon Alley. Given the busy nature of the area, travelling to and from Diagon Alley is likely typically done by more magical means such as Apparition or by using the Floo Network, which are both ways of wizarding transport. It contains shops that offer a wide range of magical supplies, as well as the goblin-run Gringotts Bank.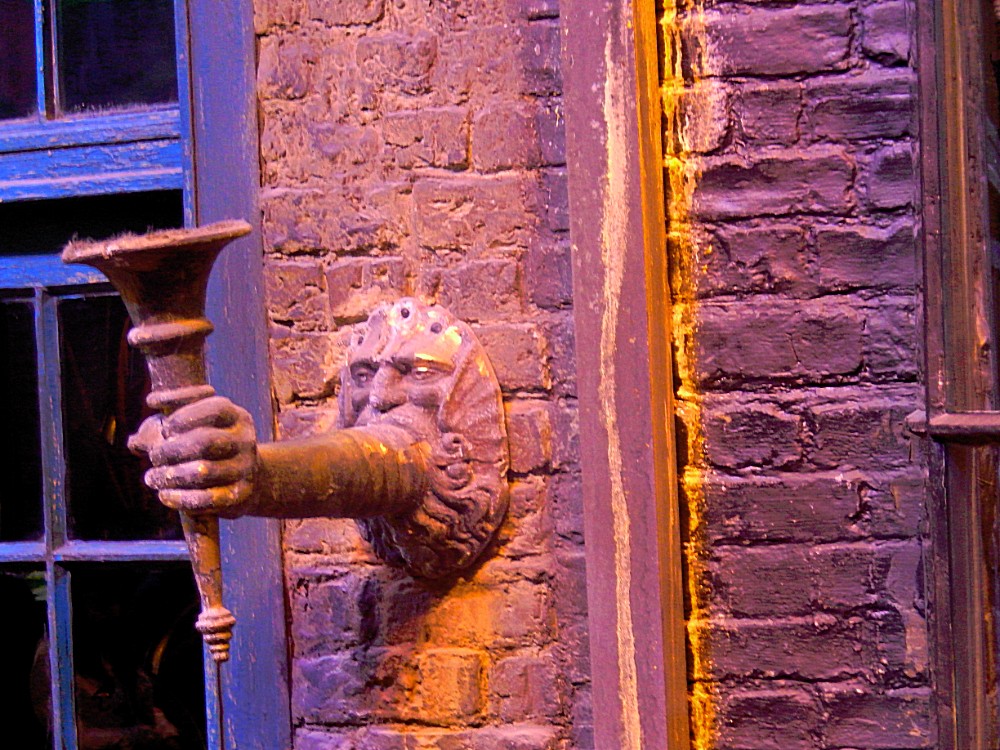 The DVD of Harry Potter and the Chamber of Secrets includes a video "guided tour" of Diagon Alley, apparently shot on the original film sets. In the first film, the Leaky Cauldron's entrance was filmed in Bull's Head Passage, near Leadenhall Market. In the sixth film, it was inserted into the actual Charing Cross Road, between a book store and a surveyors' storefront.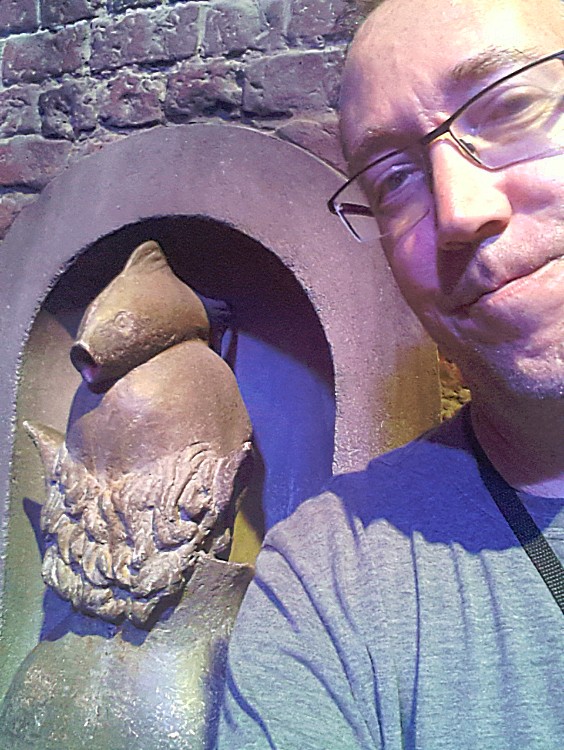 The name Diagon Alley is a near homophone of the word "diagonally", which is used as a plot device when Harry mispronounces the phrase near the beginning of the second book.
"The sun shone brightly on a stack of cauldrons outside the nearest shop. Cauldrons- All Sizes- Copper, Brass, Pewter, Silver- Self-Stirring- Collapsible, said a sign hanging over them.
"Yeah, you'll be needin' one," said Hagrid, "but we gotta get yer money first."
Harry wished he had about eight more eyes. He turned his head in every direction as they walked up the street, trying to look at everything at once: the shops, the things outside them, the people doing their shopping. A plump woman outside an Apothecary was shaking her head as they passed, saying, "Dragon liver, seventeen Sickles an ounce, they're mad…."
A low, soft hooting came from a dark shop with a sign saying Eeylops Owl Emporium- Tawny, Screech, Barn, Brown, and Snowy. Several boys about Harry's age had their noses pressed against a window with broomsticks in it. "Look," Harry heard one of them say, "the new Nimbus Two Thousand- fastest ever-" There were shops selling robes, shops selling telescopes and strange silver instruments Harry had never seen before, windows stacked with barrels of bat spleens and eels' eyes, tottering piles of spell books, quills, and rolls of parchment, potion bottles, globes of the moon…."
The lights of the studio simulated day light and night…
The shops:
Eeylops Owl Emporium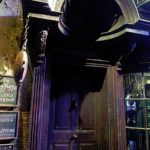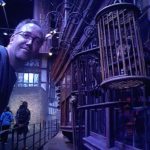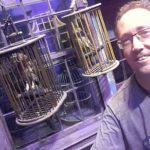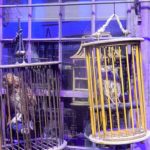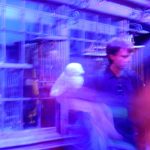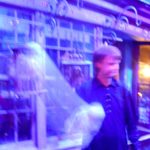 Eeylops Owl Emporium sells owls and supplies such as owl treats and cages. Inside, it is dark and full of soft hooting, rustling, and the flickering of "jewel-bright eyes.". It is here that Rubeus Hagrid purchased Harry's snowy owl, Hedwig, as a birthday gift in The Philosopher's Stone.
Florean Fortescue's Ice Cream Parlour
Florean Fortescue's Ice Cream Parlour, under the management of the owner Florean Fortescue (founder and shopkeeper), sold ice cream and other treats, which could be enjoyed at outdoor tables. Harry spent pleasant hours there working on homework assignments before his third year at Hogwarts in Prisoner of Azkaban. Mr Fortescue himself helped him with his school essays and supplied him with free sundaes every half-hour. Nearing the end of the summer holidays, Harry meets Ron and Hermione there. In the Half-Blood Prince the parlour is boarded up and Fortescue has gone missing. Rowling confirmed that Florean was murdered.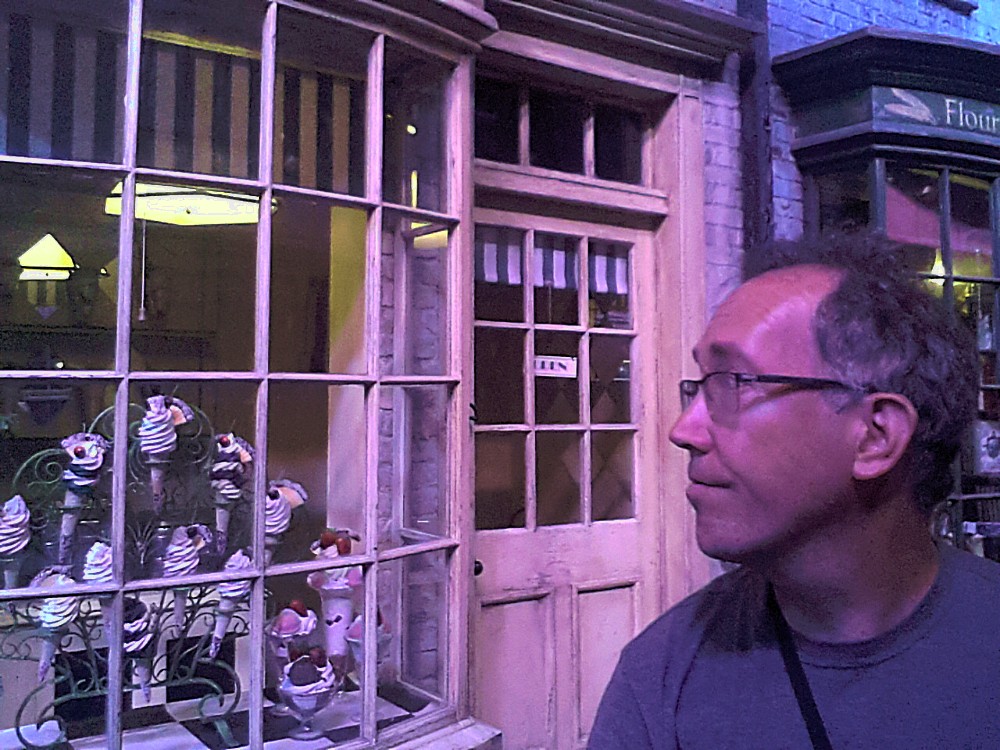 Flourish & Blotts
Flourish & Blotts sells a great variety of magic books, including textbooks for Hogwarts courses and other books of general magical interest. In the back there is a corner devoted solely to divination, which includes a small table stacked with titles like Predicting the Unpredictable: Insulate Yourself against Shocks and Broken Balls: When Fortunes Turn Foul. Another small display contains the book Death Omens: What to Do When You Know the Worst is Coming.
Usually, there is a display of gold-embossed spell books the size of paving slabs in the window, but in Prisoner of Azkaban, the front window holds an iron cage filled with hundreds of copies of The Monster Book of Monsters. To deal with the vicious books, set for the third year Care of Magical Creatures class by Hagrid, the harassed manager had to gear up with thick gloves and jab at them with a knobbly walking stick, as the books tended to rip each other apart. The manager says that he had thought he had seen the worst when they bought 200 copies of The Invisible Book of Invisibility, which were promptly misplaced.
In Chamber of Secrets, celebrity author Gilderoy Lockhart signs copies of his autobiography, Magical Me, at the shop the day Harry buys his second year school books. The signing drew a huge crowd of fans (mostly middle-aged women). This is also where Lucius Malfoy slips Tom Riddle's diary into Ginny's battered old Transfiguration book, thus causing the start of the events in Chamber of Secrets.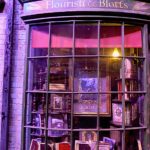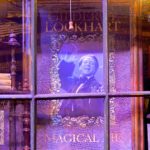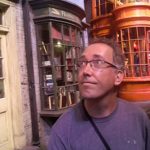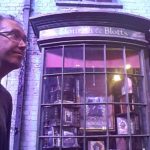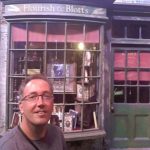 Gambol and Japes
Gambol and Japes is a wizarding joke shop. It is briefly mentioned in Chamber of Secrets, where Fred, George and Lee Jordan stock up on "Dr Filibuster's Fabulous Wet-Start, No-Heat Fireworks."
Gringotts Wizarding Bank
Gringotts Wizarding Bank is the only known bank of the wizarding world and it is operated primarily by goblins. A snowy white building, near the intersection of Knockturn Alley and Diagon Alley, Gringotts towers over all neighbouring shops. Customers pass through a set of bronze doors and then silver ones before entering the lobby. The main floor is paved with marble and has a long counter stretching along its length, behind which goblin clerks work at tasks such as counting coins and updating account ledgers. Within, wizards and witches keep their money and other valuables in vaults that are protected by very complex and very strong security measures. The vaults extend for miles under London and are accessible through rough stone passageways navigated by magic carts that travel speedily along their tracks. Gringotts also offers Muggle-Wizarding currency exchange.
When Harry first visits Gringotts, he is told by Hagrid that one would have to be mad to try to rob Gringotts. Goblins are extremely possessive and will protect their money and valuables at any cost, making them ideal guardians for the valuables of the wizarding world. In addition, according to Hagrid, apart from Hogwarts, Gringotts is considered "the safest place in the world for anything you want to keep safe".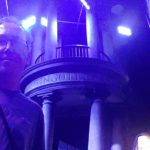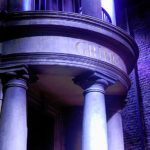 There are a number of methods of opening the vaults. Most vaults, such as Harry's, use small golden keys. Higher-security vaults may have various enchantments or other measures upon the doors. For example, the door to Vault 713, which briefly contained the Philosopher's Stone, must be stroked by a certified Gringotts goblin, whereupon it melts away to allow access to the contents. If anyone other than a certified Gringotts goblin touches the door, that person will be sucked into the vault, which is only checked for trapped thieves about once every 10 years. Dragons guard the maximum-security vaults found in the lowest reaches of the bank, and a subterranean waterfall called the "Thief's Downfall" acts to overturn carts that pass through it and negate spells used by would-be robbers.
In the Philosopher's Stone Gringotts Vault 713 held a small parcel wrapped in paper, inside of which was the Philosopher's Stone. Dumbledore sent Hagrid to retrieve it while he escorted Harry. Later that same day, Professor Quirrell broke into the vault under orders from Voldemort. Although he was unsuccessful in obtaining the Philosopher's Stone, the break-in shocked the wizarding world because it was unheard of for Gringotts to be robbed. Griphook claims that the protection had been lessened due to the Vault being emptied. In Deathly Hallows, Harry, Ron, and Hermione, aided by a reluctant Griphook, break into the vault of Bellatrix Lestrange where a Horcrux of Voldemort (Hufflepuff's Cup) is hidden. However, when they enter Bellatrix's vault, which is stocked with all manner of treasures, they discover that the treasure has had Gemino and Flagrante charms placed on it, which, respectively, cause any item to multiply rapidly and go red-hot whenever it is touched. The trio escape with the Horcrux by freeing a half-blind dragon that was part of the security for the vault, and clambering onto its back.
While Gringotts is largely staffed by goblins, including Griphook and Ragnok, it is known that the bank has human employees, though not apparently for banking and accounting services. Bill worked as a curse-breaker for Gringotts in Egypt, retrieving artefacts from ancient Egyptian tombs and pyramids. Fleur took a part-time job with Gringotts after participating in the Triwizard Tournament, apparently to improve her English skills, and Wizard guards are mentioned in Deathly Hallows during the break in.
Knockturn Alley
Knockturn Alley (a play on the word "nocturnally") is a dark and seedy alleyway leading off from Diagon Alley. It is frequently populated by Dark Wizards. Many of the shops in Knockturn Alley are devoted to the Dark Arts; the best known of which is Borgin & Burkes, which sells sinister and dangerous objects. Harry lands in Knockturn Alley in the Chamber of Secrets, when accidentally saying (in the film version) "Diagonally" instead of Diagon Alley (the book does not indicate what he pronounced) while using Floo Powder to get to Diagon Alley. Here Hagrid finds him (and narrowly rescues him from a witch with mossy teeth who was holding a tray with fingernails in it), while looking for Flesh-eating Slug repellent, for the school's cabbage patch. From there he takes him back to Diagon Alley, where they find Hermione Granger who takes them to the Weasleys.
Borgin & Burkes
Borgin and Burkes is an antique shop, which specializes in the Dark Arts, located in Knockturn Alley. The shop sells many dangerous and Dark artefacts such as a cursed opal necklace, a Hand of Glory, and half of a vanishing cabinet set which was used by Draco Malfoy to infiltrate Hogwarts in the Half-Blood Prince. Lord Voldemort worked at Borgin and Burkes briefly after he left Hogwarts during the mid-1940s. It is owned by Caractacus Burke and Mr. Borgin, though Mr. Borgin is the only owner to appear in the series.
Madam Malkin's Robes for All Occasions
Madam Malkin's is a clothing shop next to Flourish & Blotts. It sells robes and other clothing, including the standard Hogwarts-required plain black work robes, and dress robes. Inside the shop, Madam Malkin and her assistants will tailor the robes to fit. Malkin is an archaic term for a crotchety old woman.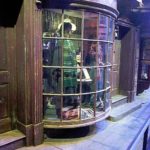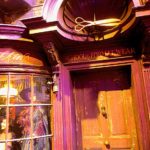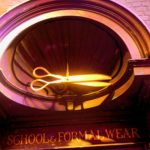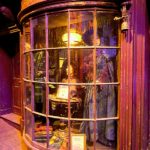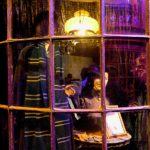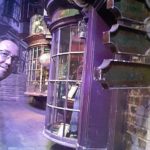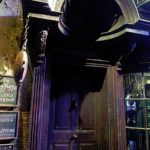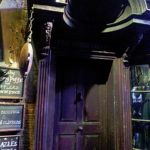 Harry has two meetings with Draco Malfoy in Madam Malkin's shop. This is where Harry meets the first wizard of his own age, Malfoy, for the first time, in Philosopher's Stone. Harry is rather bewildered by the questions Malfoy asks, because Harry is still unfamiliar with many aspects of the wizarding world. A second meeting occurs just before the beginning of Harry's sixth year, in Half-Blood Prince. This meeting is far more unpleasant, and escalates quickly into a near-duel before Malfoy and his mother leave in disgust.
Magical Menagerie
The Magical Menagerie is a magical creature shop that in addition to selling magical creatures offers advice on animal care and health. The shop is very cramped, noisy and smelly, due to every inch being covered with cages. Among the creatures in the Magical Menagerie are enormous purple toads, a firecrab, poisonous orange snails, a fat white rabbit that can turn into a silk top hat, cats of every colour, ravens, puffskeins, and a cage of sleek black rats that play skipping games with their tails.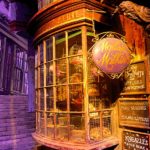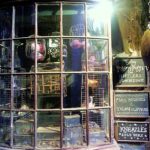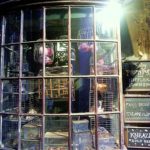 When Harry, Ron, and Hermione visit the shop in Prisoner of Azkaban, a witch wearing heavy black spectacles helps them. Ron buys Rat Tonic for his pet rat, Scabbers, while Hermione buys a cat, Crookshanks.
Ollivanders
Ollivanders is a wand shop described as "narrow and shabby, with a sign that reads Ollivanders: Makers of Fine Wands since 382 BC in peeling gold letters over the door. The only display in the window overlooking Diagon Alley is a single wand lying on a faded purple cushion in the dusty window. Within, there are countless narrow boxes piled neatly right up to the ceiling and a spindly-legged chair" (which Hagrid breaks when he sits upon it).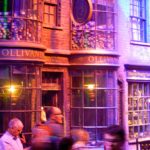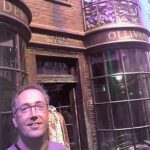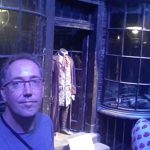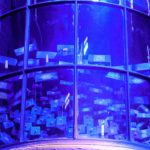 Ollivander, the pale-eyed, white-haired shopkeeper, (Played in the film by John Hurt) makes and sells magic wands to witches and wizards as they enter school or break their old wands. He remembers every wand he has ever sold. To determine the best wand for a witch or wizard, Ollivander measures various body parts (including, in Harry's case, between his nostrils) and then checks the reactions of various wands to the buyer, a process to which he refers as "the wand choosing the wizard".
The shop closed when Ollivander went missing in Half-Blood Prince, Voldemort having ordered his Death Eaters to kidnap him to attempt to discover more about the link between his own and Harry's wand. Harry rescues Ollivander in Deathly Hallows.
Potage's Cauldron Shop
Potage's Cauldron Shop sells different varieties and sizes of cauldrons, including copper, brass, pewter, silver, self-stirring, collapsible, and solid gold, according to a sign outside the shop. Hogwarts requires its students to have a size 2 pewter cauldron (as listed in the Philosopher's Stone book list). The Cauldron Shop is very near to the entrance from The Leaky Cauldron.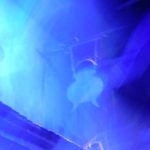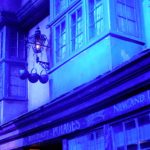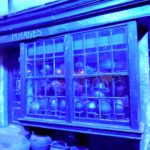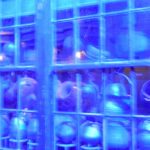 Quality Quidditch Supplies
Quality Quidditch Supplies sells broomsticks and Quidditch-related items. The store windows often draw young customers to gaze longingly at the merchandise. Its most famous items on display are the Nimbus 2000 and the Firebolt broomsticks, both of which Harry would eventually own. The Firebolt is a national racing broom that professional leagues use. Harry spent the summer before his third year gazing at the brand new Firebolt racing broom in the display window, the price of which was only available upon request. Ron had previously longed for a full set of Chudley Cannons robes offered at the shop.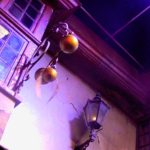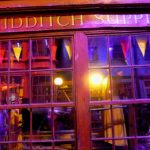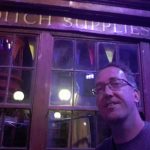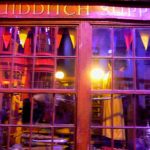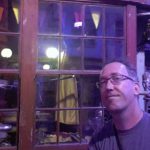 Slug and Jiggers Apothecary & Mr Mulpeppers Apothecary

Both Apothecaries sell scales, potions and potion ingredients. The shop is quite fascinating despite its very bad smell (a mixture of bad eggs and rotten cabbage). The inside includes barrels of slimy stuff on the floor, jars of herbs, dried roots and bright powders on the shelves, and bundles of feathers, strings of fangs and snarled claws hanging from the ceiling. Harry regularly buys ingredients, as well as his scales, from the Apothecary.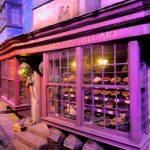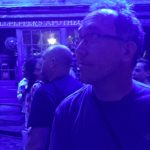 Some of the ingredients available are silver unicorn horns (for twenty-one Galleons each), glittery-black beetle eyes (five Knuts a scoop), and Dragon liver (seventeen Sickles an ounce).
Stalls
As well as many shops, Diagon Alley also contains small stalls, which sell a wide variety of magical objects, sweets, and trinkets. In Half-Blood Prince, many witches and wizards try to take advantage of the fear created by Voldemort's return. They set up stalls selling amulets and other objects, which supposedly protect you against werewolves, Dementors and Inferi. These "dark magic protection" stalls, however, are illegal, and likely scams. Arthur Weasley is the one in charge of arresting their owners.
Twilfitt and Tatting's
Twilfitt and Tatting's is a wizarding clothing shop located in Diagon Alley, mentioned in Half-Blood Prince by Narcissa Malfoy, who claims she would shop there rather than shopping in Madam Malkin's due to the presence of Harry, Ron, and Hermione (mostly Hermione, whom the Malfoys look down upon due to her blood status). By the tone in Narcissa's voice, it is implied to be slightly more upscale than Malkin's.
Weasleys' Wizard Wheezes
Weasleys' Wizard Wheezes is a popular joke shop that started as a small school business created by Fred and George Weasley in the fourth book. It opened its doors at Number 93 Diagon Alley in the summer of the sixth book, using Harry Potter's Triwizard Tournament Winnings as starting capital. Weasleys' Wizard Wheezes sells joke and trick items, useful novelties, sweets, and Defence Against the Dark Arts items. The front of the shop is described as a fireworks display against the muffled backdrop of dull shops. Some of their products are U-No-Poo, Skiving Snackboxes, trick wands, spell-checking and Smart Answer Quills, reusable Hangmans, Daydream Charms, muggle magic tricks, Edible Dark Marks, Shield Products, Peruvian Instant Darkness Powder, Decoy Detonators, joke cauldrons, Wonderwitch beauty products and 10-second pimple vanishers, Pygmy Puffs, love potions, and more.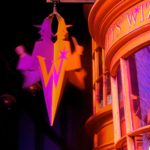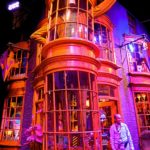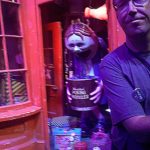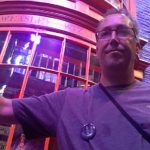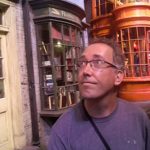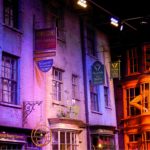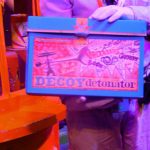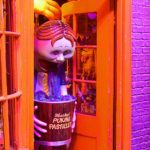 Fred and George started using the name "Weasleys' Wizard Wheezes" in Goblet of Fire for a mail order business selling merchandise, including sweets to help students fake illness in order to skip classes. After an early departure from Hogwarts in Order of the Phoenix, the two Weasleys set up their shop in Diagon Alley, which quickly became a huge success.
Weasleys' Wizard Wheezes had to be temporarily shut down in Deathly Hallows, because the Death Eaters were keeping an eye on all the Weasleys, but Fred and George continued to run an Owl-Order service. In interviews post-publication of Deathly Hallows, Rowling has said that George (after Fred died) reopened the Diagon Alley store, that "it became a tremendous money-spinner," and that Ron worked for him there after taking Auror training and going to work for the Ministry of Magic. In the play Harry Potter and the Cursed Child, Ron runs the store nineteen years after the events of the Deathly Hallows.
Wiseacre's Wizarding Equipment
Sells all sorts of equipment used in the wizard world and is where Harry buys his first telescope.