1. Travelling from Prague through Poprad to Bratislava
On June 23, 1996 The Wandelgek departed by train to Prague, the magnificent capital of the Czech Republic which was an independent state since 1993. Before that it was a union state with Slovakia, named: Czechoslovakia. The next morning, very early, The Wandelgek arrived at the Prague Central Railway Station. A few minutes later the connecting train left for Poprad in Slovakia. He missed that train … due to miserably poor trip preparation. The next connection to Poprad was the night bus that departed at 20:00 in the evening .
Hence the Wandelgek started with a short visit to Prague. The Wandelgek first visited Stare Mesto, meaning: "the old town". The Stare Mesto is divided into an eastern and western part and the Wandelgek visited the western part.
Then the Starometske Namesti was visited. A very impressive, monumental square, where a large astronomical clock is the main attraction. Then a visit to the Vltava River, which flows through the middle of Prague and from which shore, the Prague Castle was visible. More info and pictures in my blogpost about Prague.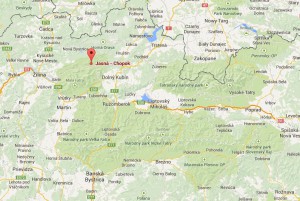 At 20:00 hrs. in the evening, the night bus left for Poprad, a city in Slovakia between the mountain ranges of the High and Low Tatras. The Wandelgek wanted to hike through these mountains.During the bus ride there was some movie entertainment and this evening's movie was The House of the Spirits based on the Isabelle Allende novel.
Very early in the morning of the 25 June, The Wandelgek reached Poprad, which was a very unattractive industrial town and the relentless rain made the picture even bleaker.
Poprad
Poprad (Hungarian: Poprád, German: Deutschendorf) is a city in northern Slovakia at the foot of the High Tatra Mountains famous for its picturesque historic centre and as a holiday resort. It is the biggest town of the Spiš region and the tenth largest city in Slovakia with a population of approximately 55,000.
Would this really be the start of a trekking through the Tatras?
NO WAY!
So The Wandelgek decided, based on weather forecasts for the next few days (which were extremely bad for the Tatras), to migrate south to the Slovak capital of Bratislava.