The Wandelgek on an adventure in Southern Africa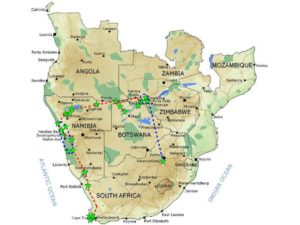 The Wandelgek wandered for the first time over the ancient African continent in 2002. This was in East Africa. He then visited Kenya, Tanzania and Zanzibar. This adventurous safari trip made a big impression and therefore the Wandelgek decided to visit Africa again in 2004, but now Southern Africa. However, the financial cost of this trip proved to be too high then, especially because the alternative; a journey over the Central Asian Silk Road was much cheaper, making The Wandelgek chose that wonderful alternative.
However, Southern Africa was always the itinerary that haunted his dreams and after many European and Asian wanderings, this year (2015) finally provided the opportunity to undertake this adventurous journey.
For this is an adventure for sure. Southern Africa, as well as East Africa, has been etched in The Wandelgek's memory as the real, black, adventurous Africa, where in the 16th and 17th century the colonial powers of Portugal, England, France and Germany competed for control of land and harbours and where explorers like Stanley and Livingstone have discovered virgin lands.
That sort of Africa, The Wandelgek already traveled in East Africa with Mount Kenya, the Great Rift Valley, Lake Victoria and the rolling grasslands of the Serengeti to the mighty Ngorongoro crater. And of course the Kilimanjaro and the German fortifications in the old colonial town of Bagamoyo. And finally the exotic spice island of Zanzibar, where the sultans of Oman once ruled and where Dr. Livingstone began his famous expedition to the source of the Nile. A source that he would never found. But who cares, now that we know what roaring spectacle he found deep in the heart of Southern Africa. There it was that Stanley eventually found the lost Dr. and when they finally met spoke the famous words: "Dr. Livingstone, I presume?".
But that's for later. Now I'm at the very beginning of this adventure through Southern Africa which starts for The Wandelgek on the southern tip of Africa (there is actually a more southern point to the east) in Cape Town, at midwinter.
The adventurous trekking that will ultimately lead The Wandelgek deep into the dark heart of Southern Africa can be followed by all my followers. There's a hyperlink to a map of Southern Africa which is full of hyperlinks to travelblogs, includedin the blog post list on the far right at the top of this page. The map is (like most mapson this these hiking and travel blog site) clickable, meaning that all green stars have a blog linked (or linked in the near future depending on the progress of this adventurous journey).
Starting from Cape Town, The Wandelgek will be traveling north along the west coast through South Africa, past the Cederberg mountains and through Namaqualand towards Namibia. He will travel through Namibia to Botswana, Zimbabwe and Zambia and eventually fly back from Livingstone to Johannesburg in South Africa and then home to the Netherlands.
Share this blog on:or even better Follow Wandelgek on: