Hiking in the Aberdares in Kenya (26-02-2002)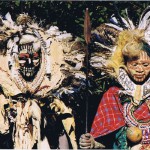 After the trip through the very hot and dry north of Kenya, The Wandelgek turned south to the Central Highlands. There it is pleasantly cool compared to the north. In addition to the area around Mount Kenya is the mountain range of the Aberdares, which separates Mount Kenya from the Rift Valley. The Wandelgek travelled through these mountains via the village of Nyahururu at Thomson's Falls. Besides a visit to the town and a night on cool altitude (over 2,000 meters), a hike down a very steep forest path to the falls, hidden within a deep ravine was a highlight. Some Kikuyu Shamans consecrated the hike …
And the lower you go, the hotter it gets …
Among the Kikuyu, the Aberdare mountains are known as Nyandarua ("drying skin") because of their resemblance to a skin on a drying rack. The first European who got to see the mountains, Joseph Thompson, she renamed in 1884 after Lord Aberdare, president of the Royal Geographical Society. A national park was established in 1950. Distinctive vegetation adorns the slopes, ranging from dense jungle to dense bamboo forests with unusual alpine plants abound in the moors. A variety of animal life is found in the lower areas, although often difficult to see because of the dense vegetation.
Nyahururu
Nyahururu is a town in Kenya, lying east of Nakuru. It is located in Laikipia County. Despite this, Nyahururu formerly functioned as the administrative capital of Nyandarua County, before it became a county, until the headquarters was shifted to Ol Kalou. There have been calls for a reversal. The town has an urban population of 36,450.
History
Nyahururu was founded as Thomson Falls after the 243ft(74m) high Thomson's Falls on Ewaso Narok river, a tributary of the Ewaso Nyiro River, which drains from the Aberdare mountain ranges. It is on the Junction of Nyeri-Rumuruti road and the Nyeri-Nakuru road. The town grew around a railway from Gilgil opened in 1929 (now effectively abandoned). The town was once an important player in the timber milling industry, and the now defunct National Pencil Company had a factory there. It is also an important milk processing hub.