1. Friendship Highway (Nepal)
De oversteek van de Nepalese grens van Tibet was een heel interessante ervaring. De Friendship "Highway" is een bochtige, meestal een-baans grindweg aan de rand van een steile rotswand, gevaarlijk zijn weg naar beneden volgend door een smal rivierdal aan de rand van de Himalaya. De weg is vol met schapen, geiten en yaks en wordt vaak overspoeld of doorkruist door watervallen, en daalt ruim 2000 meter in de loop van 30km. Het is steil. Het is gevaarlijk. En het is de beste weg naar Nepal.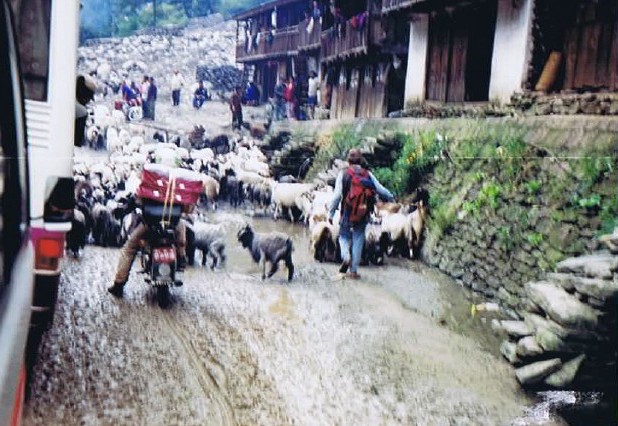 Geiten op de weg…
Maar ondanks de algehele abominabele toestand van de weg, staat deze bol van de handel. China, 's werelds grootste exporteur, heeft veel goedkope spullen te sturen naar Nepal. En Nepal, in orde van grootte een dwerg vergeleken met China, heeft nog goedkopere spullen om terug te sturen naar China. Het is geen verrassing dat de weg vol zit met grote vrachtwagens die snuivend en puffend hun weg naar boven vinden. (Dat wil zeggen, totdat je ze ziet … Ik was altijd verbaasd over hoe die  chauffeurs er in slaagden om hun weg te navigeren door haarspeldbochten, die ik niet eens zou willen proberen te slechten op mijn eigen voeten, laat staan ​​met een 3-tons stalen doos gevuld met nep North Face jassen en andere troep.)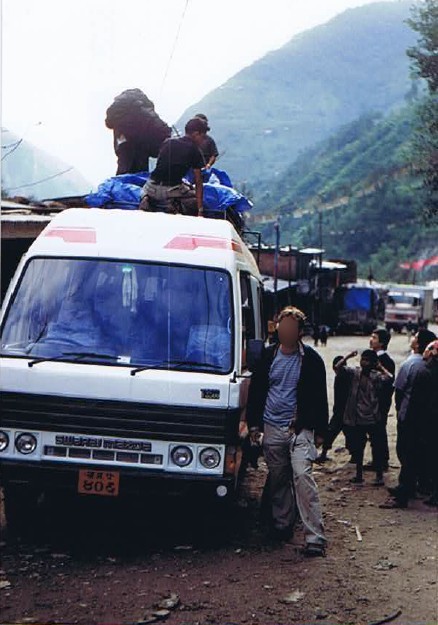 Na de grensovergang beland in Kodari…
De twee steden aan weerszijden van de grens – Zhangmu in China en Kodari in Nepal – zijn niets meer dan een reeks van hutten en versleten gebouwen langs de randen van de weg. De hele weg naar beneden is een constante file. Omdat er geen plek is om vrachtwagens te parkeren in de stad, parkeert iedereen aan de rand van de weg. Dit laat minder dan een rijstrook open voor beide richtingen van het constant aanrijdend verkeer. De weg is de enige open ruimte in de stad, dus deze is ook het toneel voor het laden en lossen van alle goederen. De lokale bevolking doet ook z'n werk aan deze weg, of het nu gaat om het aan elkaar lassen van pijpen, het verkopen van fruit, het zeulen met toeristenkoffers of het hoeden van 300 geiten. Alles gebeurt op de weg, want er is simpelweg geen andere plaats.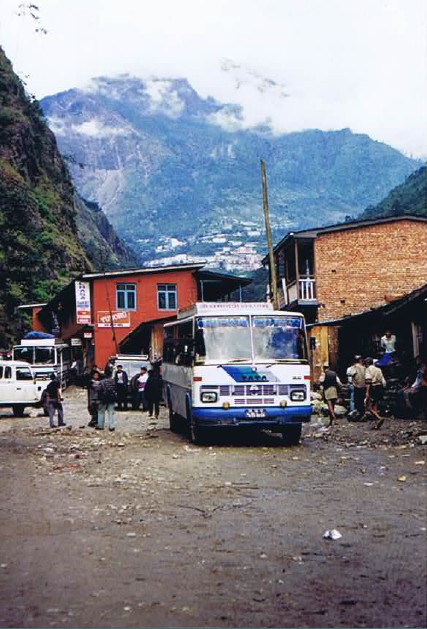 Vertrek uit Kodari. Op de hellingen in de verte ligt het Tibetaanse Zhangmu…