25. Evening Kayaking in Greenland Part 3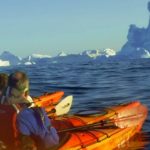 It had become evening and satisfied after a good dinner, I was ready for yet another adventure, actually one that had been on my mind for years. So I grabbed my stuff and returned into Ilulissat to the office of Albatros Arctic Circle Ilulissat (formerly known as PGI-Greenland) to participate in a kayak adventure in Disko Bay. At PGI they handle things very professionally. Their kayak tours are even open to those who never kayakked before. For me it was the very 1st time kayaking and also the 1st time doing this in arctic waters. It appeared that everyone in my kayak group was as inexperienced as I was. I did have canoeing experience in Europe, Asia and Africa but that was all in relatively warm waters and a canoe is quite different from a kayak as I would soon experience myself.
At PGI-Greenland, all kayakers receive a dry suit which totally isolates the body from the cold water. Then we received our paddles and we started walking towards the beach…
On the beach we received a training in how to hold and use our paddles. The main difference between using a paddle when canoeing or kayaking is that the paddle is put less deep into the water with kayaking because a kayak is less stable in the water then a canoe. Paddling too deep can cause the kayak to turnover. We also learned how to close the kayak entrance holes with a rubber piece and how to open the entrance hole in case the kayak turns over, after which you can leave the kayak and resurface.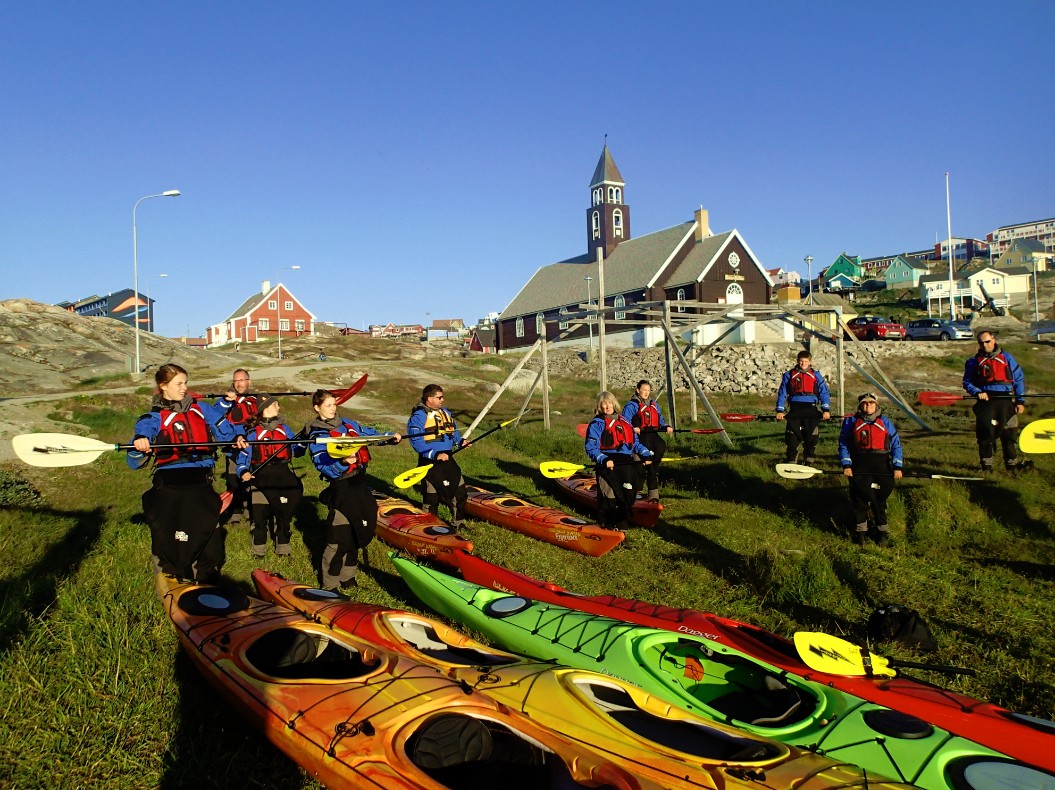 Last but not least, we learned another difference between kayaking and canoeing. A kayak can be steered using thy waist. A canoe is heavier and you need the paddles to steer a canoe.
Then it was time to start the adventure and after we boarded our kayaks, we kayaked off towards the distant icebergs…
We left the colorfull houses of Ilulissat behind us …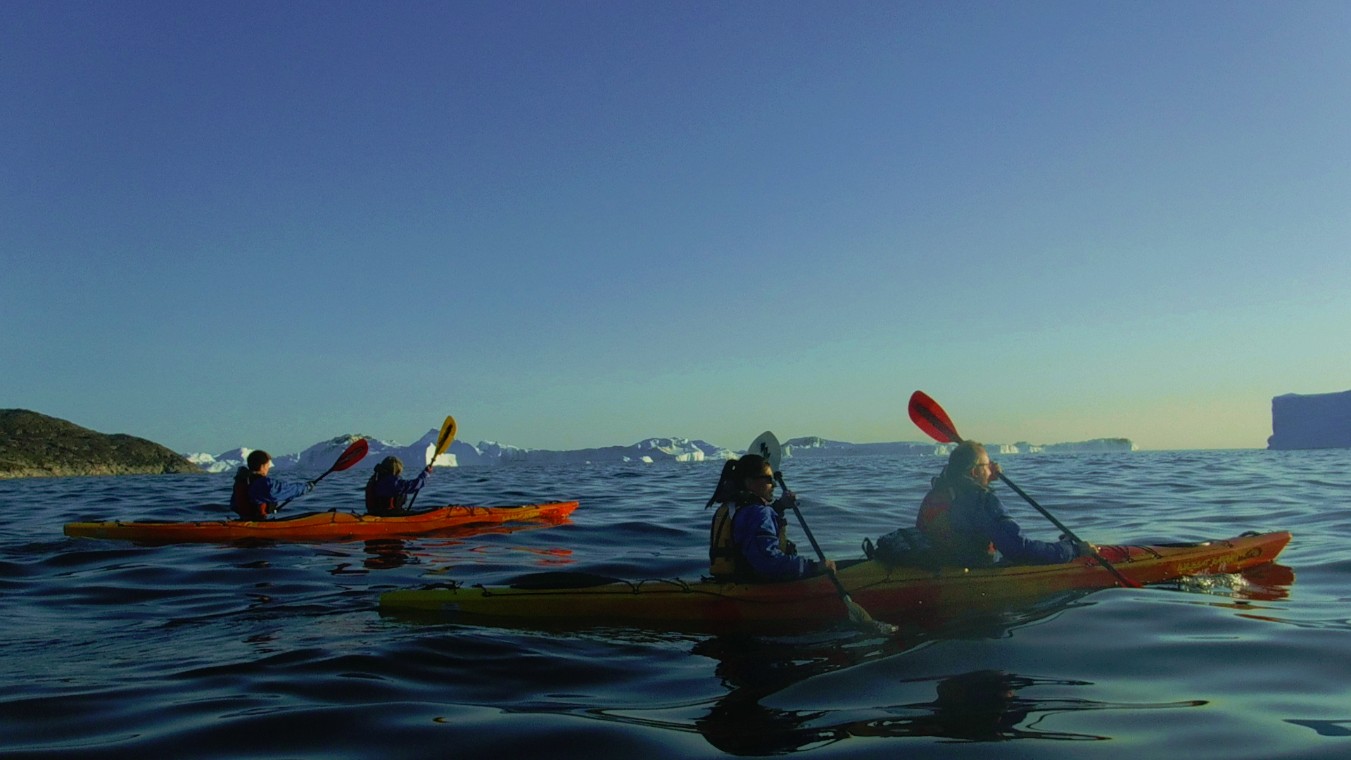 Far away to the left we could see the icebergs at the entrance of the Kangia Icefjord…
We got closer to a group of icebergs in front of us…
I think it never stops to amaze me how beautiful the silhouettes of icebergs can be…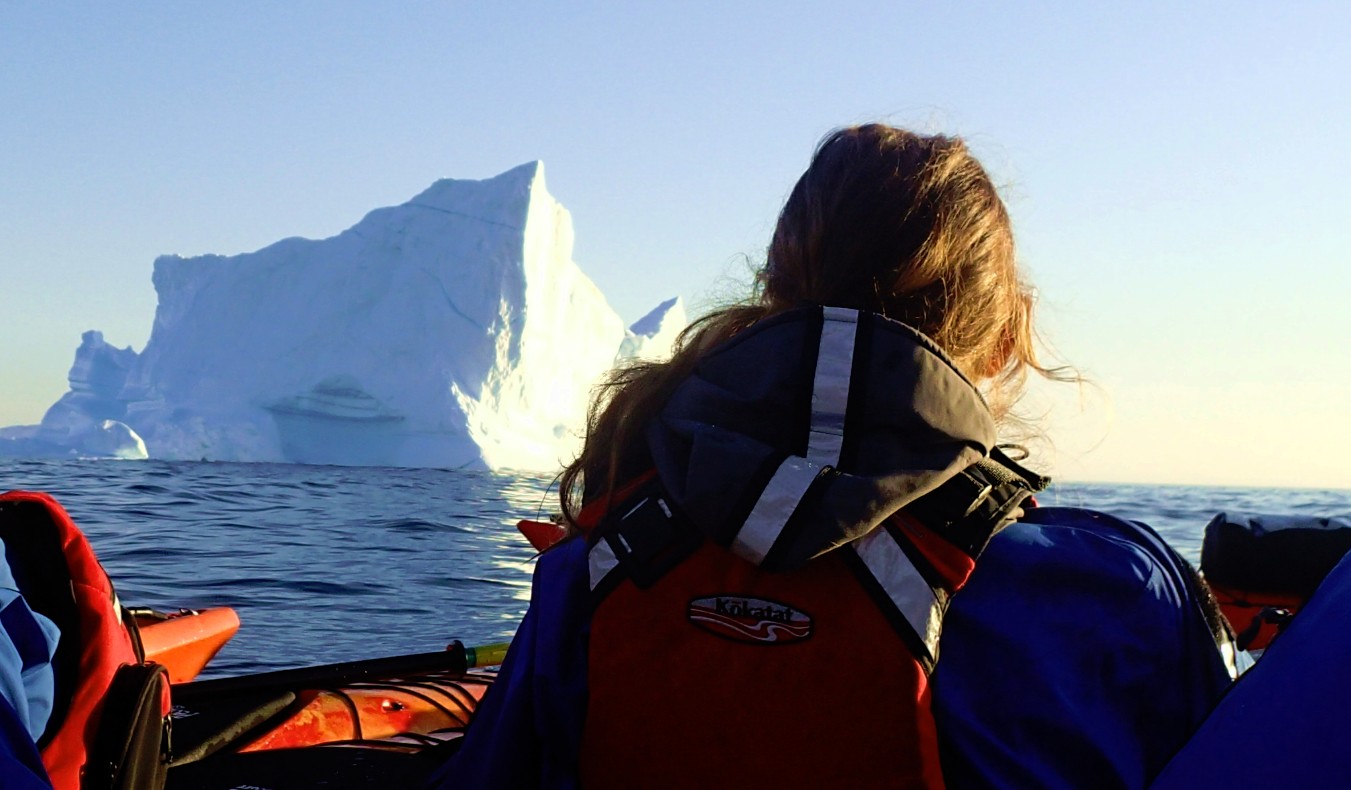 Before we arrived at the group of drifting icebergs, our kayak guides instructed us to get together. Then we were instructed, on which distance we would be able to safely pass the icebergs, because it is possible that pieces of ice break from an iceberg falling into the water causing waves….
Our kayak guides also explained about the noise of the ice. Captured in the glacier ice are lots of tiny air bells and pockets. The melting process releases this air but the air is captured in the ice under pressure and the release of air creates the noise of carbonic acid and the larger air pockets sound like explosions when air is released…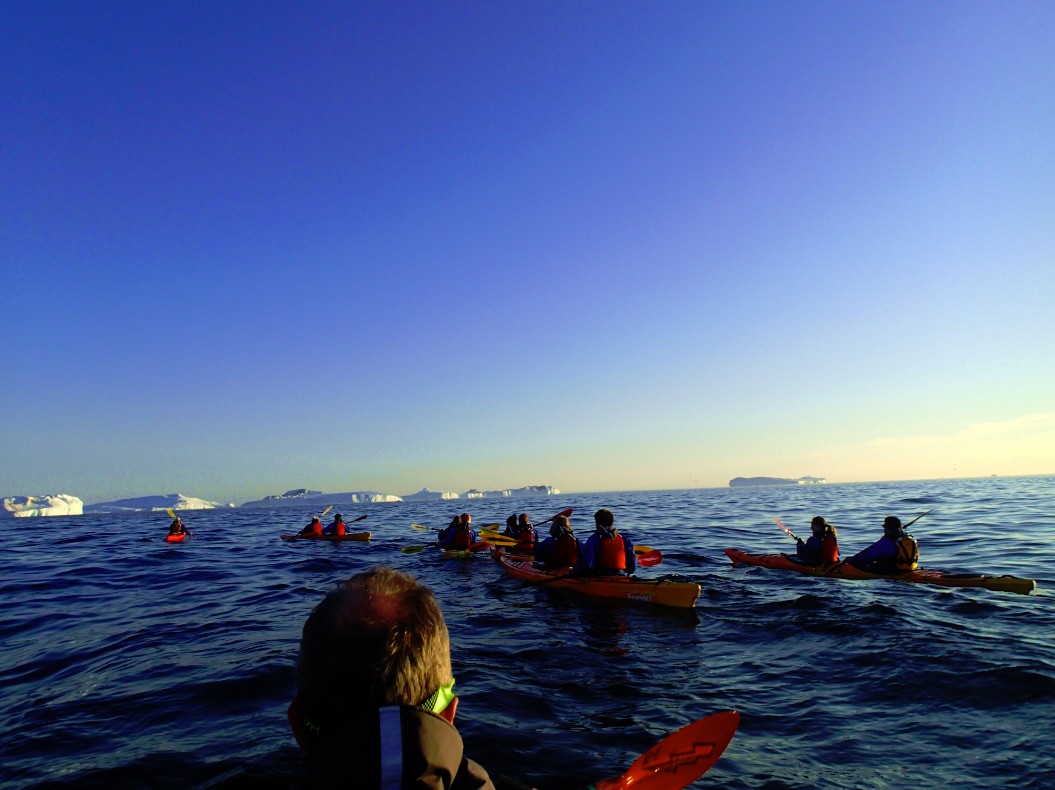 Then we let go of eachothers kayaks and started paddling towards and around some incredibly beautiful and varied icebergs…
The large hole in this awesome iceberg was once a lake of icy turqoise water, which froze and gor covered by snow and more snow, freezing and changing into ice. After this piece of ice broke free from the Sermeq Kujalleq glacier it drifted towards Dislo Bay and started to melt. This iceberg turned over after the melting caused to change the weight balance. The frozen lake empties after it is opened, leaving this hole….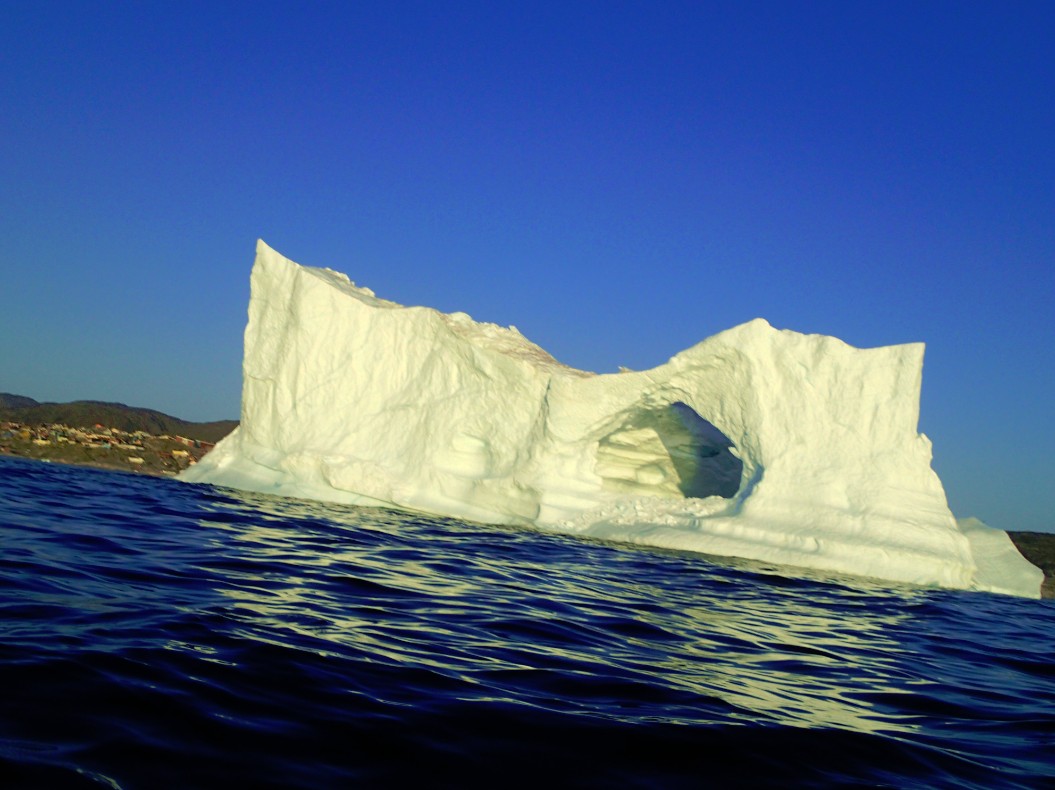 Now be amazed as I was for a while, when kayaking beneath this beautiful, white giant…
Our kayak guides had cameras to make movies and pictures of us kayaking in front of these awesome white giants…
It is one of the most impressive things I ever did. A kayak lies very low in the water, which allows you to look up at these massif white giants from the lowest vantage point…
I've seen lots of awesome places on this planet which makes it less easy to really get impressed, but this view was something different. This iceworld was something I had not seen before and apart from the icebergs being grand and beautifully sculptured, I was even more attracted by the beautiful white and blue colors in broad daylight…
Shallow water caught between two leftovers of an iceberg…
The water caught between the ice caused considerable waves…
In summer icebergs melt and due to this they collapse, creating the strangest shapes. This small one e.g. has to wave-like edges still above water, because the center melted. Between the two edges, real waves are caught playing with colors ranging from dark blue, almost black to light blue, green and turquoise …
If you don't want to miss this experience when visiting Ilulissat in West Greenland, contact PGI-Greenland for tour details.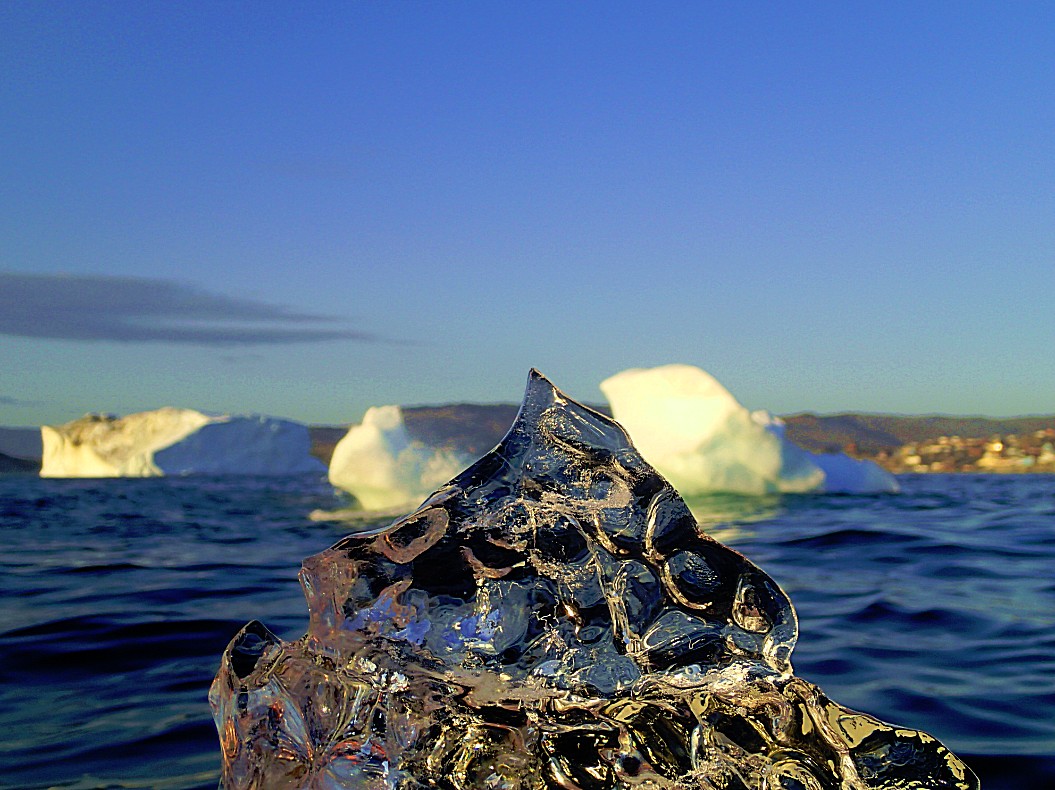 Inland ice (originating from compressed layers of snow) contains lots of air bubbles, whereas sea ice or ice originated from frozen water doesn't. Icebergs or smaller pieces of ice broken from the Sermeq Kujalleq glacier, which produces them are actually inland ice. The air bubbles prevent sunlight from passing through the ice. They reflect it and we see (in day time) a white light. That's why it is called white ice. Sea ice however doesn't contain compressed air bubbles and does let sunlight pass through. You can see through sea ice. But it is not named see through ice. Whenever sea ice lies on the water surface it seems as dark as the depth of the sea. It still is see through ice, but you're looking through the ice into the dark depths. That's why sea ice is named black ice. Sometimes sea ice can be white, but that is only the case when it has formed a larger surface of frozen water and is subsequently covered by snow. It is the snow that seems white to us.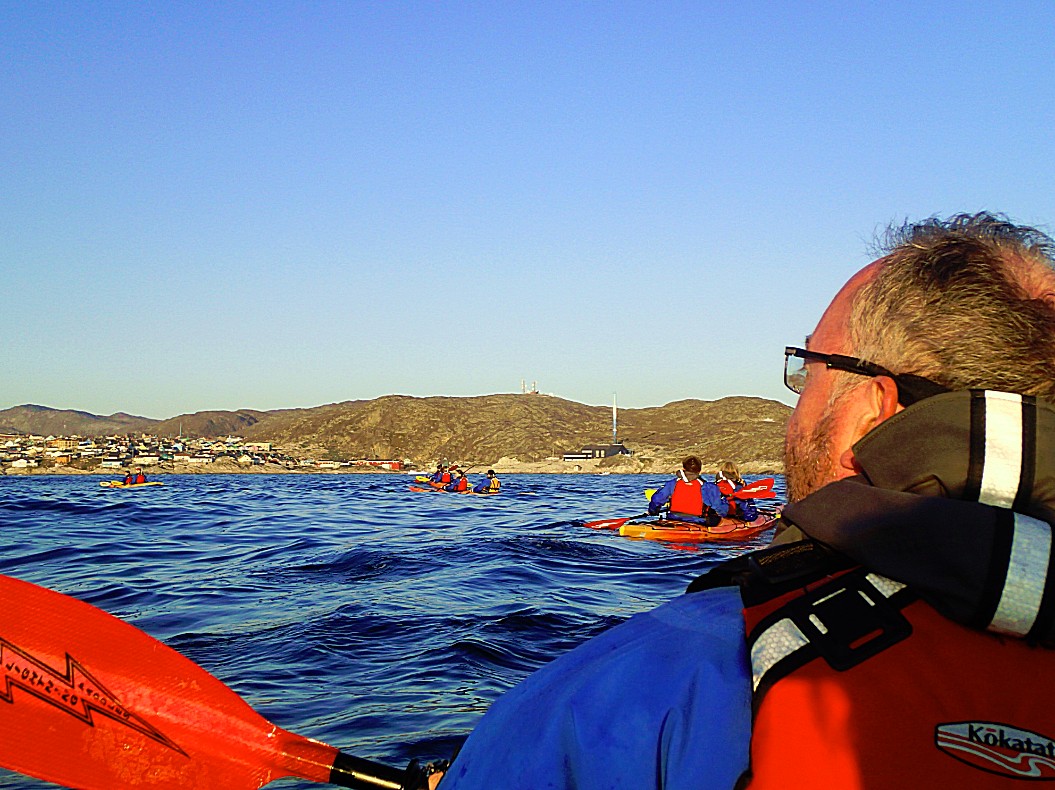 Kayaking between icebergs is a completely different experience from hiking or a helicopterflight. It is more physical and it is the best way to experience the enormous volume of the icebergs that tower high above you. Hard not to be impressed by that. When the sun starts to set in the arctic seas, the white and blue colors of the icebergs dissappear and make room for a much richer color pallette..
A lonely seagul had posted itself on top of the highest iceberg in the vicinity…
Our guides explained a bit more about the waters around Ilulissat, which freeze in late autumn, winter and early spring preventing boats that deliver supplies for stores and medical supplies to reach the town for a couple of months. If necessary, supplies in witer are delivered by helicopter, but a helicopter can't carry as much as a boat, meaning supermarkets can get quite low on groceries in winter…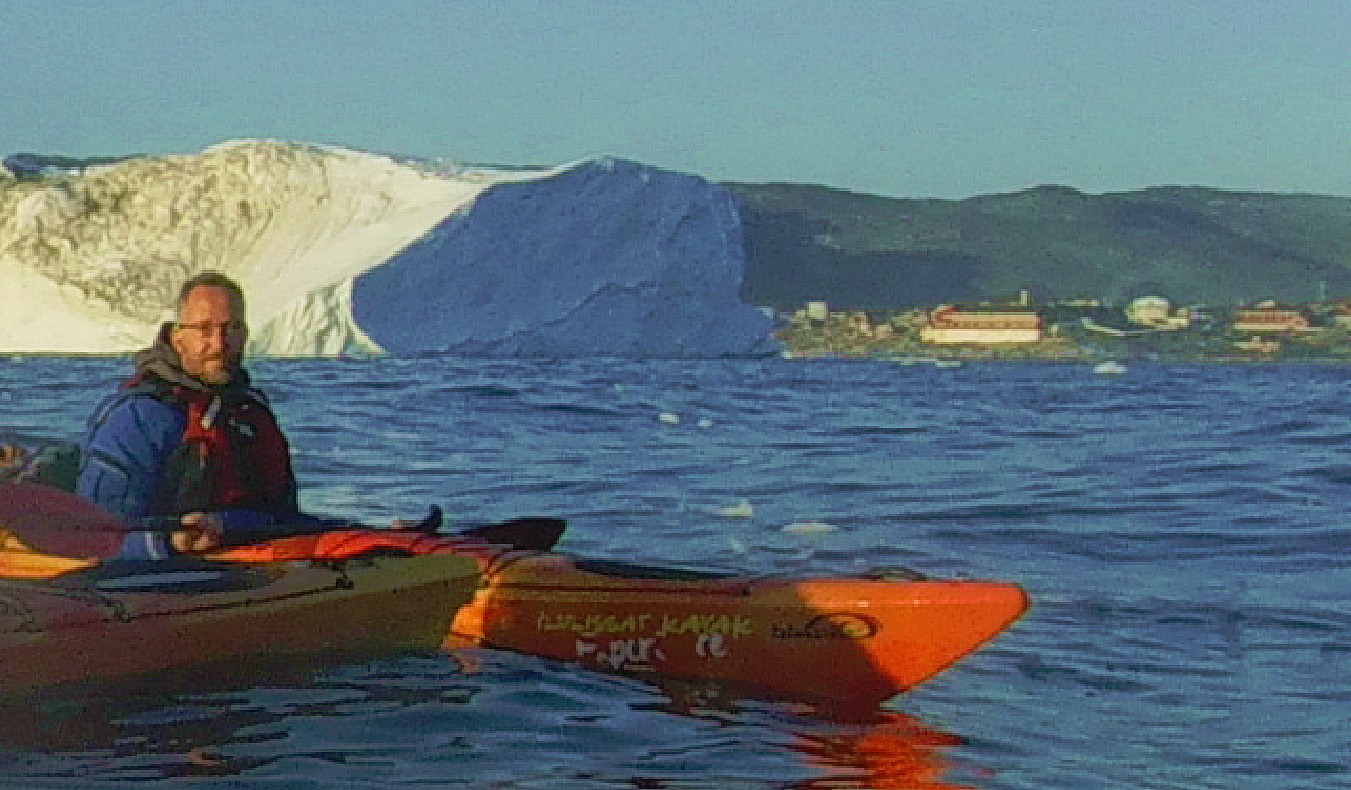 In summer the waters around Ilulissat have a temperature of about 5º Celsius, which is warm enough to melt the icebergs…
Sea ice and land ice in one picture…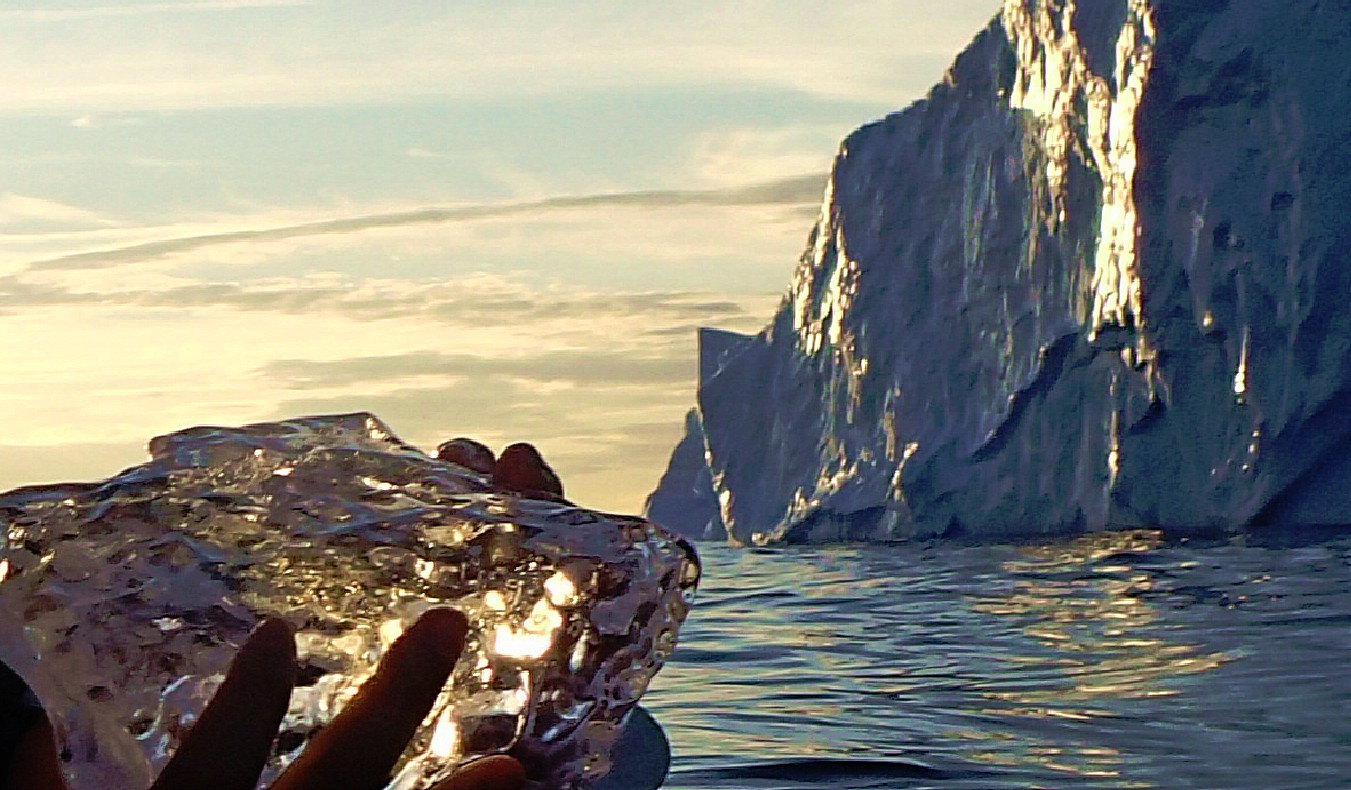 Far away we saw the awesome icebergs that were still trying to get passed the heap of moraine rubble at the entrance of the Kangia icefjord…
The scenery was quite dramatic…
We finally kayaked back towards the beach of Ilulissat, but before we landed the guides had a little, pleasant surprise for us…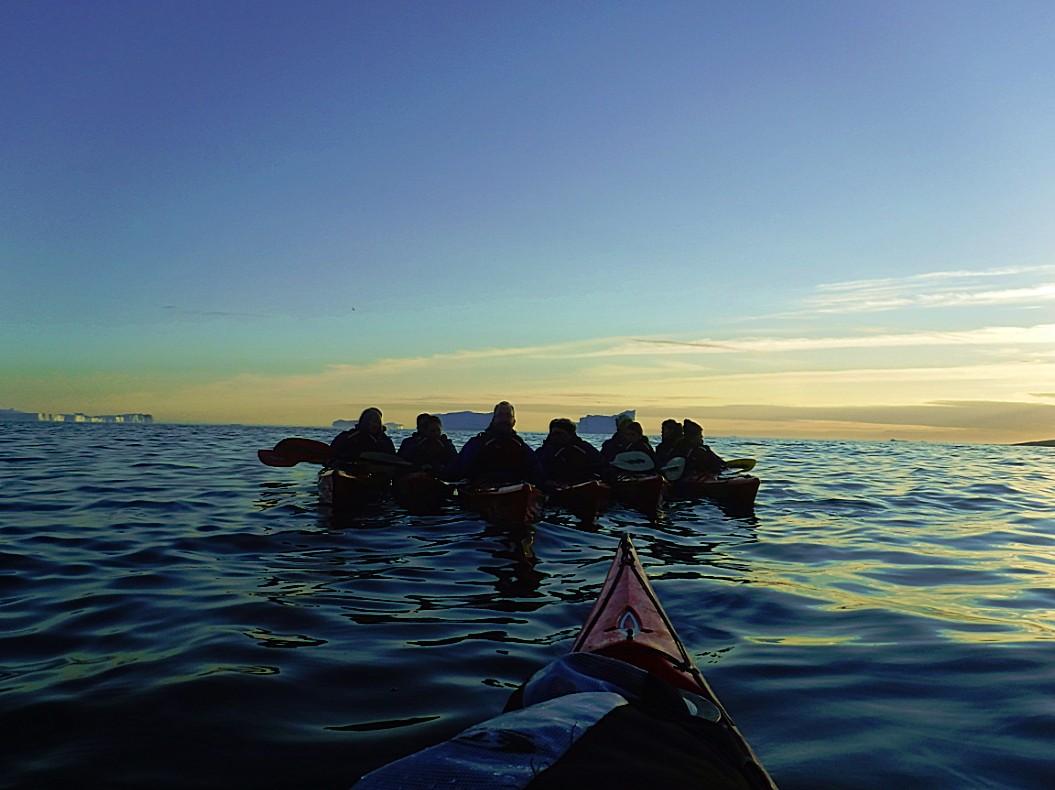 We gathered together and bundled our kayaks again…
The sun was now setting and it grew colder on the open water…
…and then we all received a glass of Baileys coffee liquor…on-the-rocks, meaning, filled with ice cubes from the piece of black ice which we found while kayaking. It was not sea ice, but black ice derived from a lake on an iceberg (It was summer and way to warm for sea ice). These icecubes were probably ten thousands of years old :-).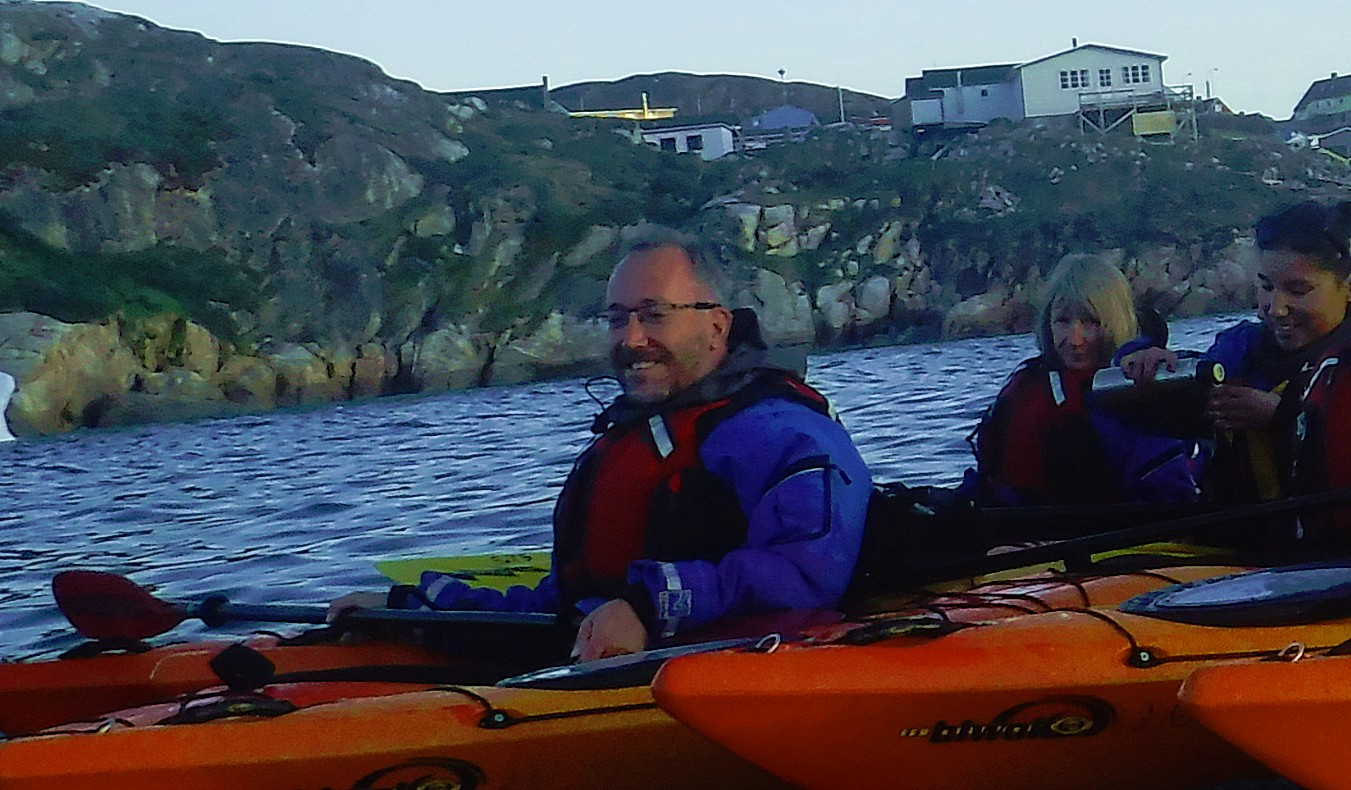 Pouring Baileys…
A toast  (Kasuta!) on the safe finishing of my 1st kayak adventure… and… an effective method to get a bit warm again 😉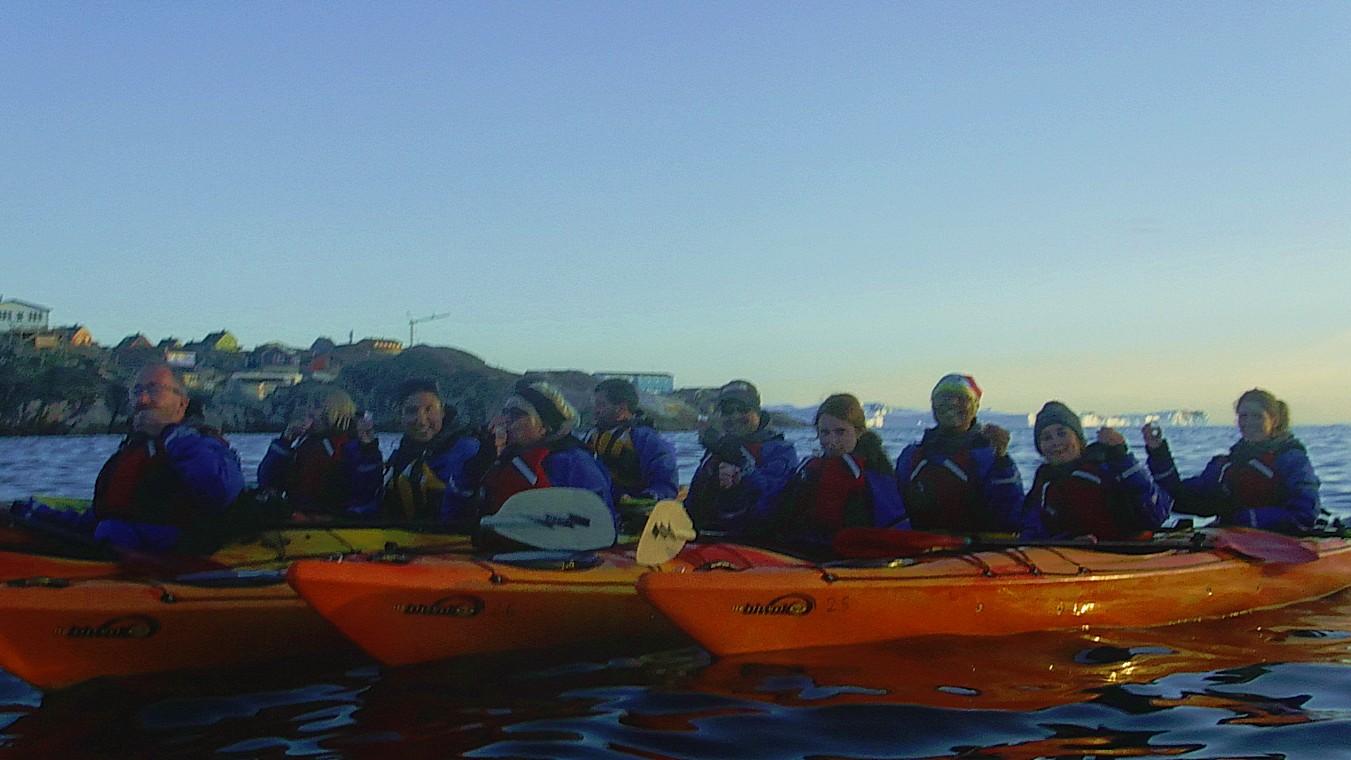 After we landed and had pulled the kayaks on dry land, it was time for the some group pics…
Then we returned to PGI-Greenland office and shed the dry suits and dressed. At the office we got a usb-stick loaded with beautiful pics and movies.
Then I left and was picked up by a pendle bus that brought me to Hotel Arctic, where I visited the restaurant bar for a cold beer and to rewind my memories of this fantastc evening kayak tour.
Then I went to my room to pack my small backpack for what was to happen tomorrow. Before going to sleep I took a shower and looked some more out of my hotelroom window towards Ilulissat, the Disko Bay and the Kangia icefjord… Sigh… What a view! 🙂