Souvenir 003: Traditionally dressed dolls of the Herero tribe, cloth – Damaraland, Khorixas, Namibia 2015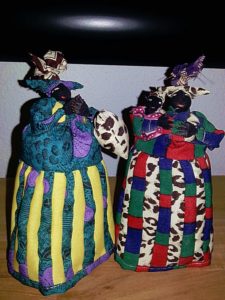 When I travelled through southern Africa in the summer of 2015, I drove through an area in northern Namibia named Damaraland, where the Herero tribe lived. On the road I met some Herero men, and saw that the donkey cart was their favorite transport vehicle…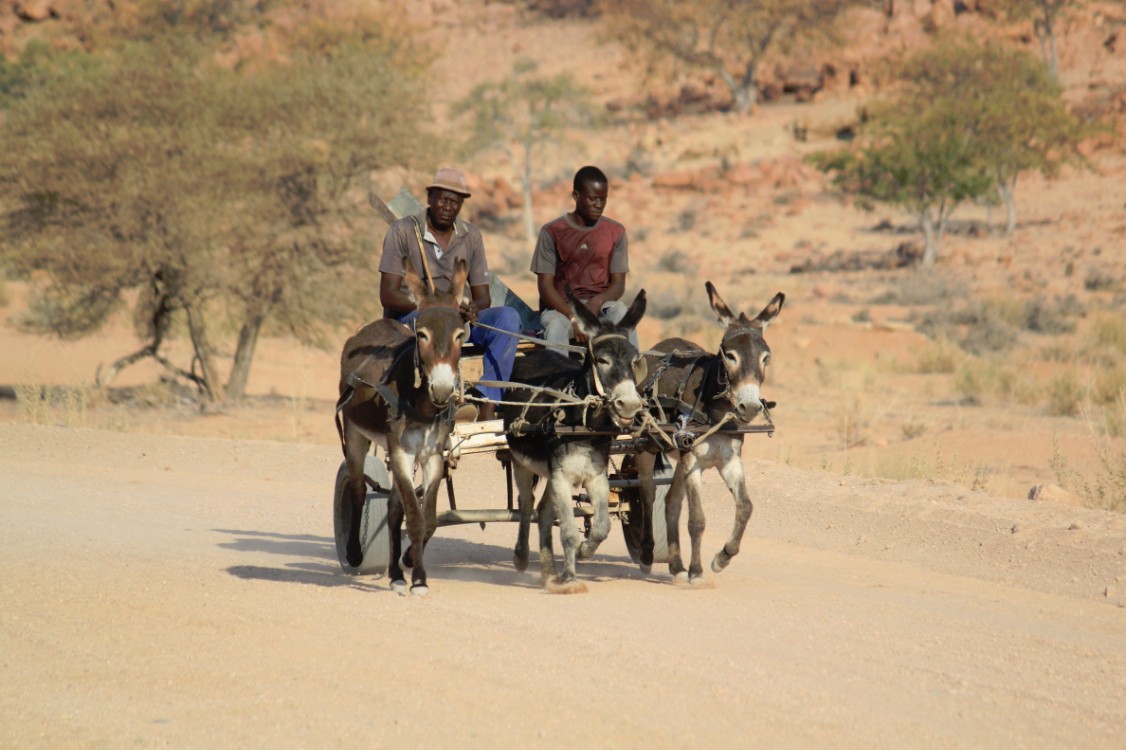 The Herero are an ethnic group inhabiting parts of Southern Africa. The majority reside in Namibia, with the remainder found in Botswana and Angola. There were an estimated 250,000 Herero people in Namibia in 2013. They speak Herero (Otjiherero), a Bantu language.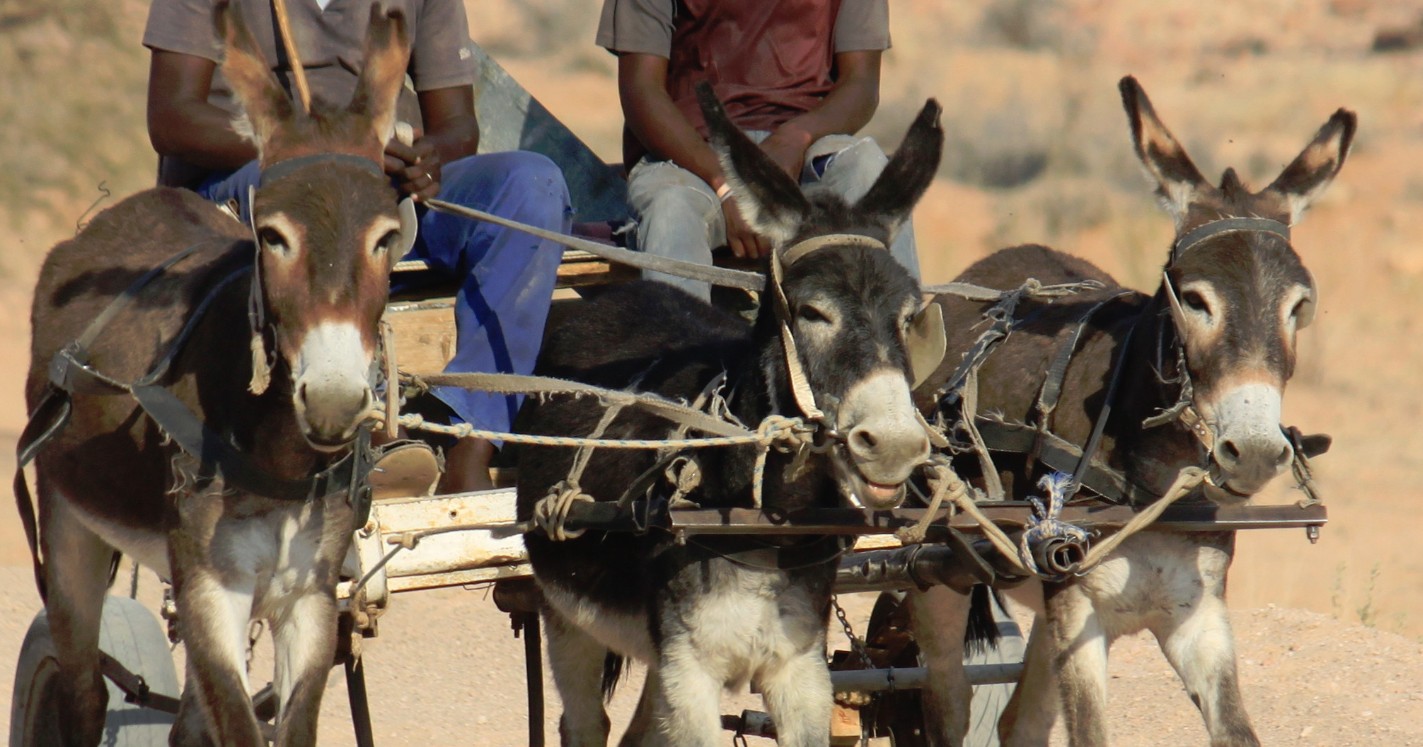 Unlike most Bantu, who are primarily subsistence farmers, the Herero are traditionally pastoralists. They make a living tending livestock. Cattle terminology in use among many Bantu pastoralist groups testifies that Bantu herders originally acquired cattle from Cushitic pastoralists inhabiting Eastern Africa. After the Bantu settled in Eastern Africa, some Bantu nations spread south. Linguistic evidence also suggests that the Bantu borrowed the custom of milking cattle from Cushitic peoples; either through direct contact with them or indirectly via Khoisan intermediaries who had acquired both domesticated animals and pastoral techniques from Cushitic migrants.
The Herero claim to comprise several sub-divisions, including the Himba, Tjimba (Cimba), Mbanderu, and Kwandu. Groups in Angola include the Mucubal Kuvale, Zemba, Hakawona, Tjavikwa, Tjimba and Himba, who regularly cross the Namibia/Angola border when migrating with their herds. However, the Tjimba, though they speak Herero, are physically distinct indigenous hunter-gatherers. It may be in the Hereros' interest to portray indigenous peoples as impoverished Herero who do not own livestock.
The leadership of the Ovaherero is distributed over eight royal houses, among them:
Maharero Royal Traditional Authority, chief Tjinaani Maharero
Zeraeua Royal Traditional Authority at Otjimbingwe
Ovambanderu Royal Traditional Authority, chief Kilus Karaerua Nguvauva
Onguatjindu Royal Traditional Authority at Okakarara, chief Sam Kambazembi
Since conflicts with the Nama people in the 1860s necessitated Ovaherero unity, they also have a paramount chief ruling over all eight royal houses, although there is currently an interpretation that such paramount chieftaincy violates the Traditional Authorities Act, Act 25 of 2000.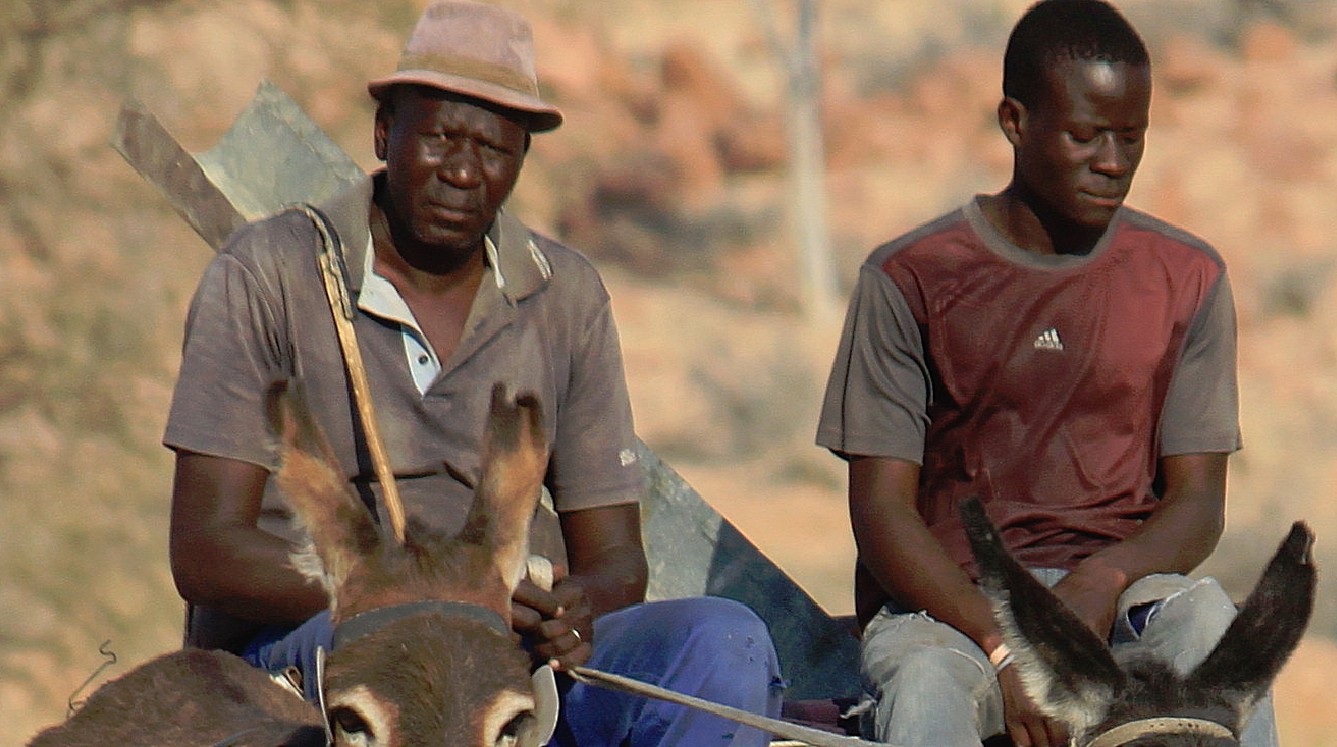 Horses and donkeys
Horse and Donkeys are normally used for transportation. In cases of herding or searching for lost domestic animals the Herero people engage horses to carry out these activities. Herero people consume donkey meat too but rarely consume horse meat.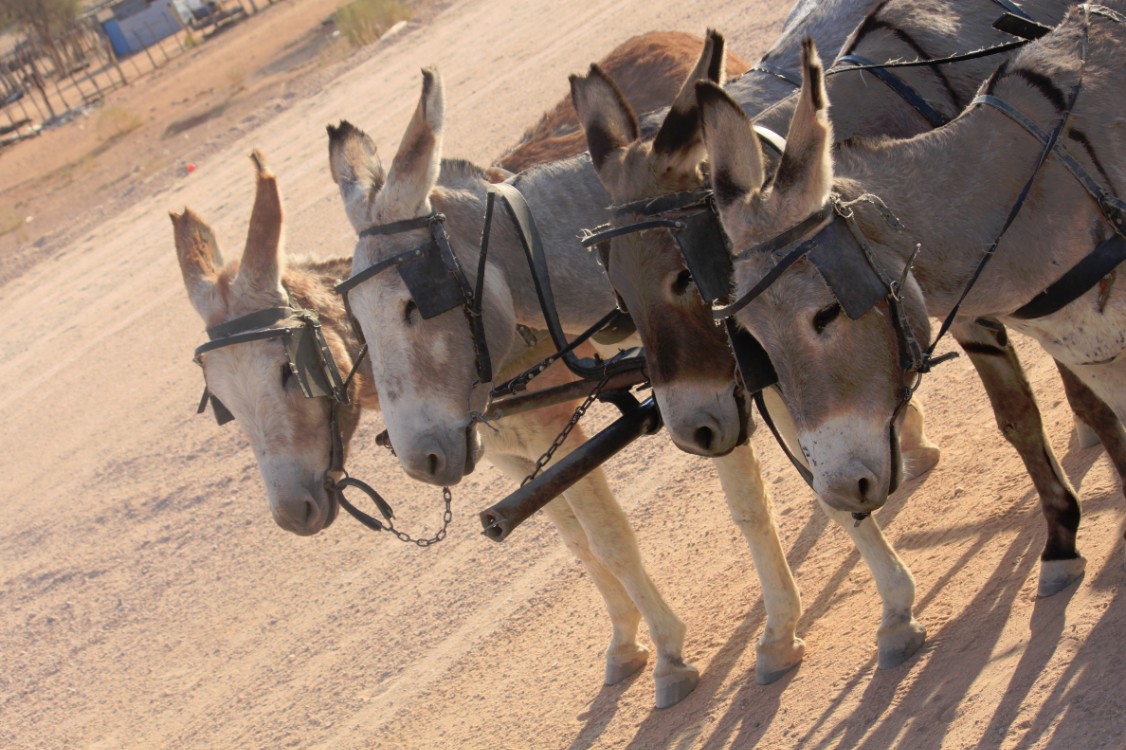 Culture
The Hereros are traditionally cattle-herding pastoralists who rate status on the number of cattle owned. Cattle raids occurred between Herero groups, but Herero land (Ehi Rovaherero) belongs to the community and has no fixed boundaries.
The Herero have a bilateral descent system. A person traces their heritage through both their father's lineage, or oruzo (plural: otuzo), and their mother's lineage, or eanda (plural: omaanda). In the 1920s, Kurt Falk recorded in the Archiv für Menschenkunde that the Ovahimba retained a "medicine-man" or "wizard" status for homosexual men. He wrote, "When I asked him if he was married, he winked at me slyly and the other natives laughed heartily and declared to me subsequently that he does not love women, but only men. He nonetheless enjoyed no low status in his tribe." The Holy Fire okuruuo (OtjikaTjamuaha) of the Herero is located at Okahandja. During immigration the fire was doused and quickly relit. From 1923 to 2011, it was situated at the Red Flag Commando. On Herero Day 2011, a group around Paramount Chief Kuaima Riruakoclaimed that this fire was facing eastwards for the past 88 years, while it should be facing towards the sunset. They removed it and placed it at an undisclosed location, a move that has stirred controversy among the ovaherero community.
Where the Herero men were dressed quite commonly, the Herero women are brightly, colored dressed and they wear suiting bags and broad hats. These are actually 19th century colonial dresses and they are still worn with pride, because it is a silent but very visible sign of protest against the butchery of the tribe by German colonists. Anthropologists nowadays believe that the dress is a fascinating subversion of their old colonial masters dress, showing how the tribe survived their efforts to make them dissapear completely…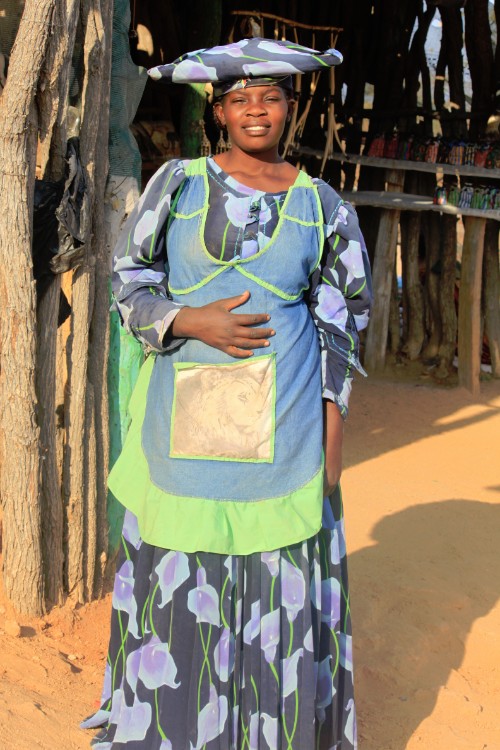 At the road side near Khorixas, were lots of little shops run by Herero women…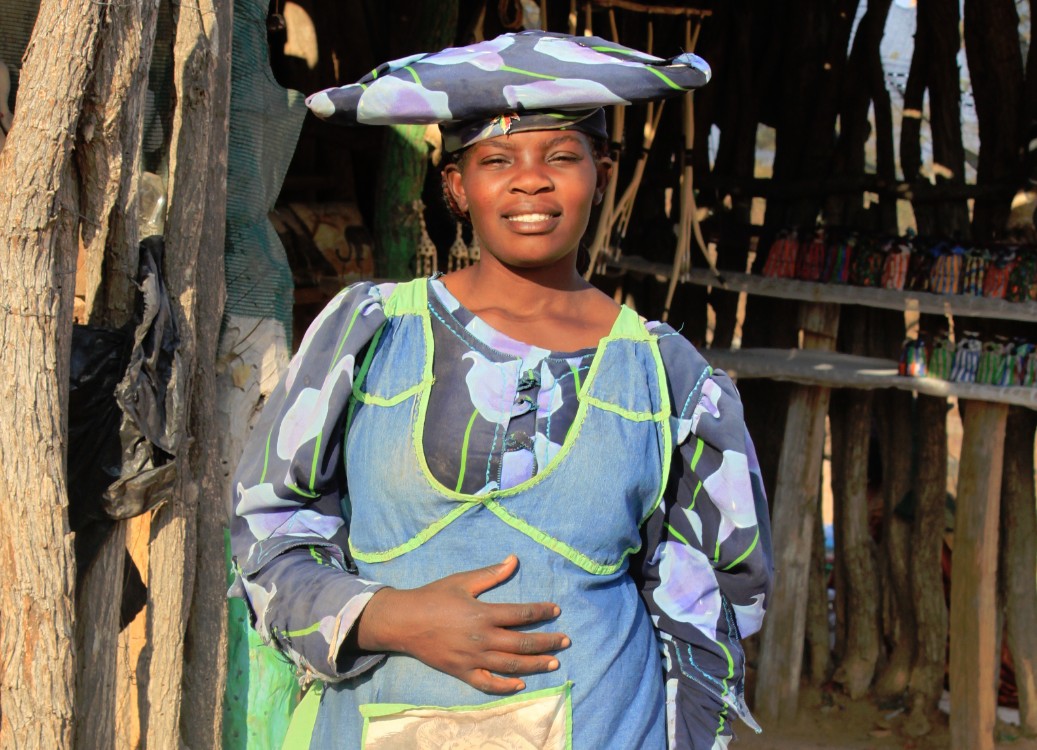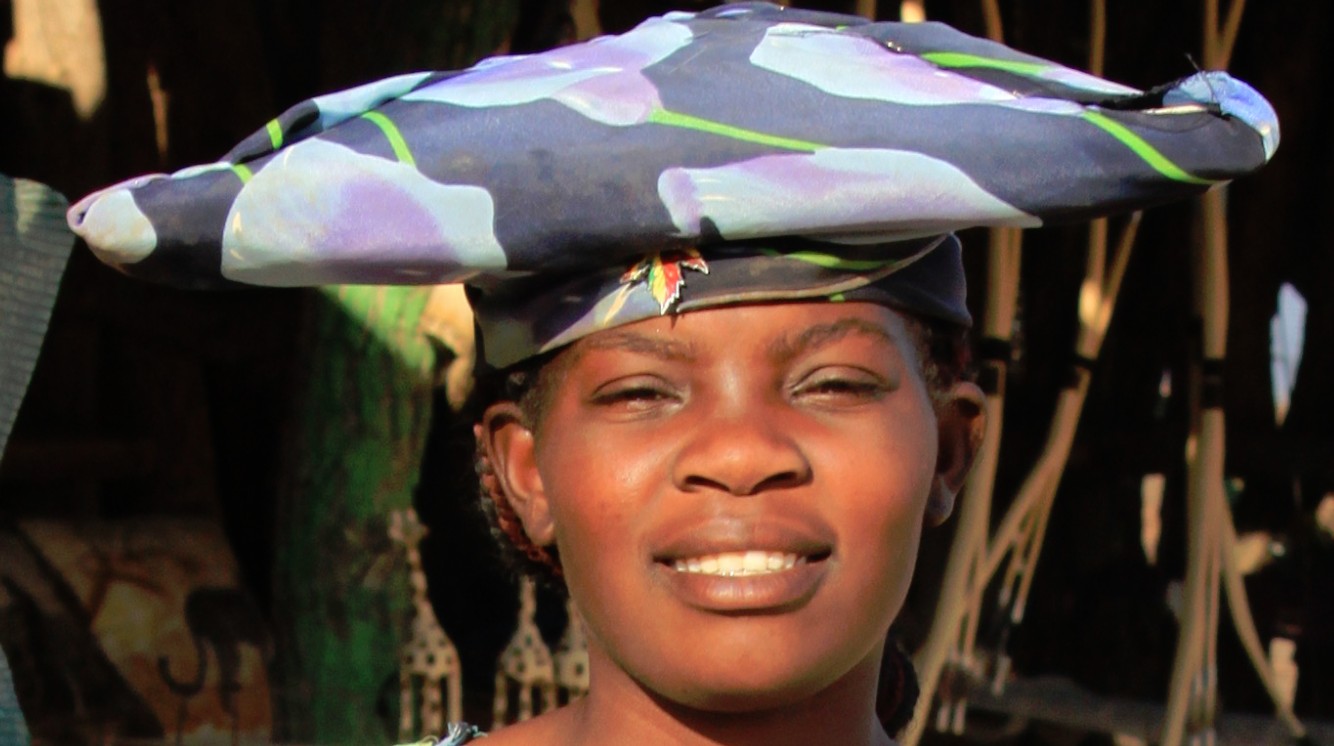 In these little shops they sold all sorts of souvenirs, but most popular were the little cloth dolls; clones of their own image…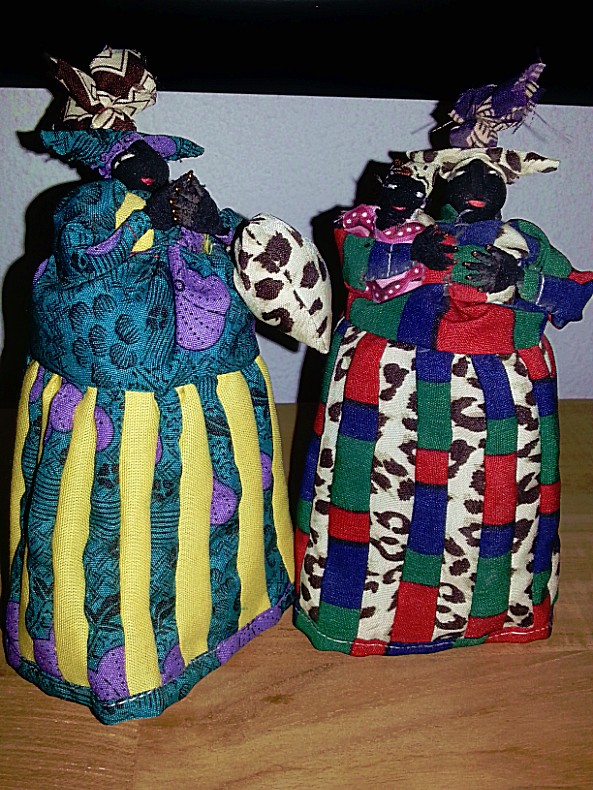 I bought two of those to bring back home. one of them is a woman with a young baby in her arms…
The other one wore a huge black and white bag…