11b. Namibia: Etosha National Park (Day 2 of 3 Dawn) – 2015
Halali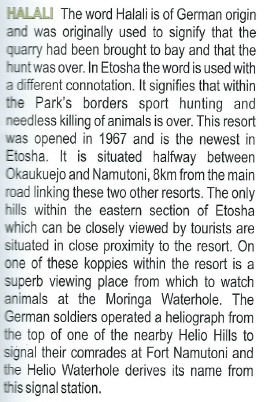 Etosha Waterholes
Greater Kudu
The greater kudu (Tragelaphus strepsiceros) is a woodland antelope found throughout eastern and southern Africa. Despite occupying such widespread territory, they are sparsely populated in most areas, due to a declining habitat, deforestation and poaching. The greater kudu is one of two species commonly known as kudu, the other being the lesser kudu, T. imberbis.
Etymology of the name
Kudu, or koodoo, is the Khoikhoi name for this antelope. Tragos (Greek) denotes a he-goat and elaphos (Greek) a deer. Strepho (Greek) means "twist", and strephis is "twisting". Keras (Greek) refers to the horn of the animal.
Physical characteristics
Greater kudus have a narrow body with long legs, and their coats can range from brown/bluish-grey to reddish-brown. They possess between 4–12 vertical white stripes along their torso. The head tends to be darker in colour than the rest of the body, and exhibits a small white chevron which runs between the eyes.
Greater kudu bulls tend to be much larger than the cows, and vocalize much more, utilizing low grunts, clucks, humming, and gasping. The bulls also have large manes running along their throats, and large horns with two and a half twists, which, were they to be straightened, would reach an average length of 120 cm (47 in), with the record being 187.64 cm (73.87 in). They diverge slightly as they slant back from the head. The horns do not begin to grow until the bull is between the age of 6–12 months, twisting once at around 2 years of age, and not reaching the full two and a half twists until they are 6 years old; occasionally they may even have 3 full turns.
This is one of the largest species of antelope. Bulls weigh 190–270 kg (420–600 lb), with a maximum of 315 kg (694 lb), and stand up to 160 cm (63 in) tall at the shoulder. The ears of the greater kudu are large and round. Cows weigh 120–210 kg (260–460 lb) and stand as little as 100 cm (39 in) tall at the shoulder; they are hornless, without a beard or nose markings. The head-and-body length is 185–245 cm (6.07–8.04 ft), to which the tail may add a further 30–55 cm (12–22 in).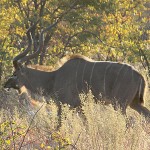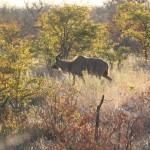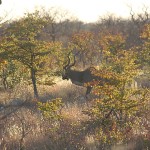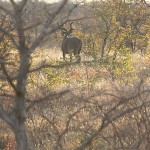 Burchell's Zebra
Burchell's zebra (Equus quagga burchellii) is a southern subspecies of the plains zebra. It is named after the British explorer and naturalist William John Burchell. Common names include bontequagga, Burchell's zebra, Damara zebra, and Zululand zebra (Gray, 1824). Burchell's zebra is the only subspecies of zebra which may be legally farmed for human consumption in the UK.
Physical characteristics
Like most plains zebras, females and males are relatively the same size. Year-round reproduction observed in this subspecies in Etosha National Park, Namibia, concludes synchronization of a time budget between males and females, possibly explaining the lack of sexual dimorphism.
Damara zebras are described as being striped on the head, the neck, and the flanks, and sparsely down the upper segments of the limbs then fading to white. One or two shadow stripes rest between the bold, broad stripes on the haunch. This main, distinguishing characteristic sets the Zuzuland Zebra apart from the other subspecies. Gray (1824), observed a distinct dorsal line, the tail only bristly at the end, and the body distinctly white. The dorsal line is narrow and becomes gradually broader in the hinder part, distinctly margined with white on each side.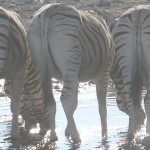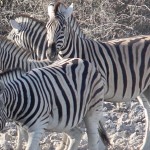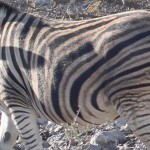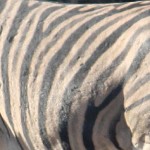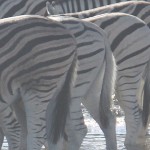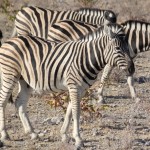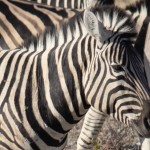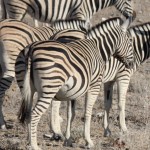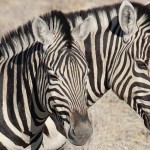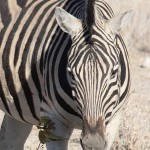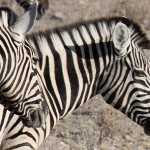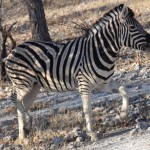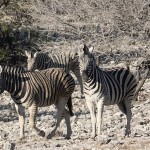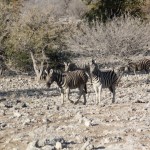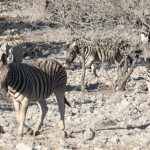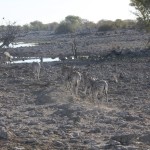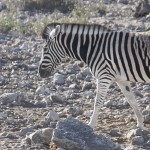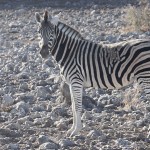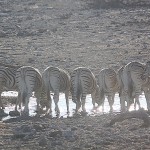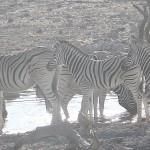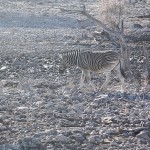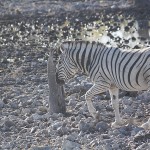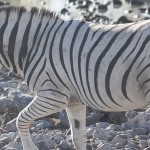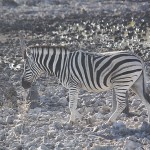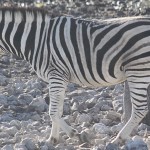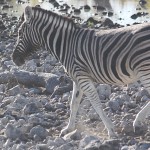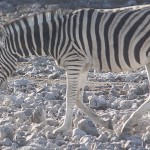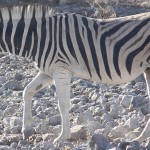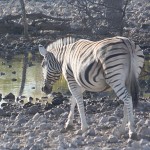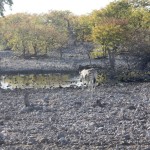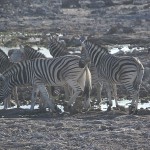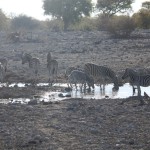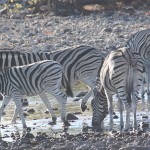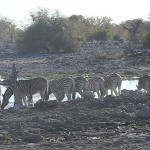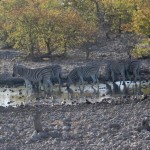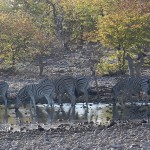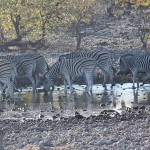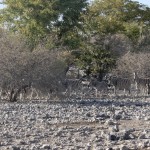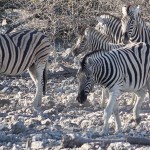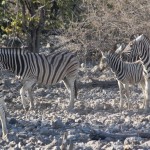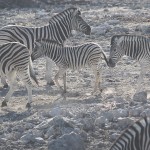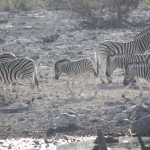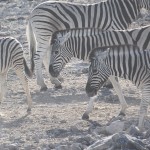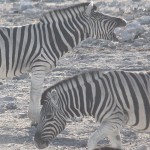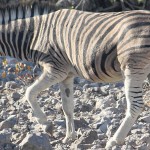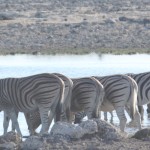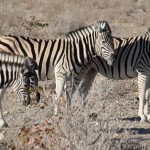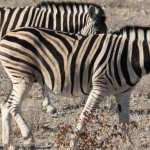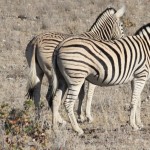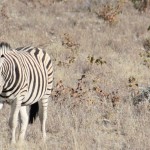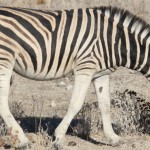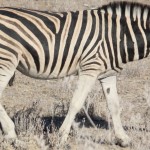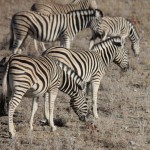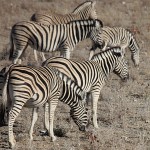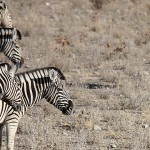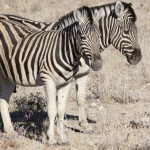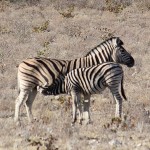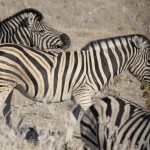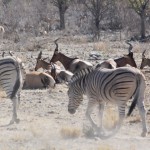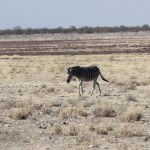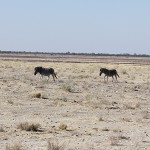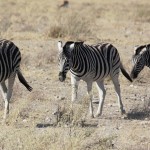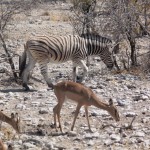 African Wild Cat
The African wildcat (Felis silvestris lybica), also called Near Eastern wildcat is a wildcat subspecies that lives in Africa and around the periphery of the Arabian Peninsula. The status Least Concern on the IUCN Red List is attributed to the species, including all subspecies of wildcats. The African wildcat appears to have diverged from the other subspecies about 131,000 years ago. Some individual African wildcats were first domesticated about 10,000 years ago in the Middle East, and are the ancestors of the domestic cat.[2] Remains of domesticated cats were found in human burials in Cyprus that are estimated to have been established by Neolithic farmers about 9,500 years ago. Crossings between domestic cats and African wildcats are still common today.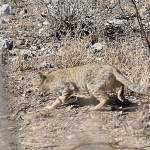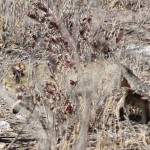 The fur colour of the African wildcat is light sandy grey, and sometimes with a pale yellow or reddish hue. The ears are reddish to grey, with long light yellow hairs around the pinna. Stripes around the face are dark ochre to black: two are running horizontally on the cheek, and four to six across the throat. A dark stripe is running along the back, the flanks are lighter, and the belly is whitish. Pale vertical stripes on the sides often dissolve into spots. Two dark rings are on the forelegs, and hind legs are striped. The feet are dark brown to black.
Pocock described the African wildcat as differing from the European wildcat by inconspicuous stripes on the nape and shoulders, a less sharply defined stripe on the spinal area and by the slender tail, which is cylindrical, less bushy and more tapering. Ears are normally tipped with a small tuft.
Skins of male wildcats from Northern Africa measured 47–59.7 cm (18.5–23.5 in) in head-to-body length with a 26.7–36.8 cm (10.5–14.5 in) long tail. Skins of female wildcats measured 40.6–55.8 cm (16.0–22.0 in) with a 24.1–33.7 cm (9.5–13.3 in) long tail. Male wildcats from Yemen measured 46–57 cm (18–22 in) in head-to-body length with a 25–32 cm (9.8–12.6 in) long tail; females were slightly smaller measuring 50–51 cm (20–20 in) in head-to-body length with a 25–28 cm (9.8–11.0 in) long tail. Both females and males ranged in weight from 3.2 to 4.5 kg (7.1 to 9.9 lb).
The fur is shorter than of the European wildcat, and it is considerably smaller.
Springbok
The springbok (Antidorcas marsupialis) is a medium-sized brown and white antelope of southwestern Africa. It was first described by the German zoologist, Eberhard August Wilhelm von Zimmermann in 1780. Three subspecies have been identified. The springbok is a slender antelope with long legs and neck, and with horns present in both sexes. Males are about 75 cm (30 in) tall at the shoulder, and females nearly 72 cm (28 in). They weigh between 33 and 48 kg (73 and 106 lb) for the males and 30 and 44 kg (66 and 97 lb) for the females. The springbok has a white head and face with dark stripes extending from a corner of the eyes to the corners of the mouth.
Springbok are active mainly around dawn and dusk. Bachelor males and females form separate herds. During the rut, males establish territories. Trekbokken refers to the large-scale migration of herds of springbok seen roaming the country when large numbers of springbok inhabited the Kalahari and Karoo. Springbok often go into bouts of repeated high leaps of up to 2 m (6 ft 7 in) into the air in a practice known as pronking or stotting. Springbok are primarily browsers, switching to grazing seasonally. Springbok mate year-round, though it might peak in the rainy season. Gestation lasts 168 days, and results in the birth of a single calf. Springbok live for up to ten years.
Springbok inhabit the dry inland areas of south and southwestern Africa. The springbok has been classified under the Least Concern category by the International Union for Conservation of Nature and Natural Resources (IUCN). No major threats have been recognised to the long-term survival of the species. In fact, the springbok is one of the few antelope species considered to have an expanding population. Springbok are present in protected areas across their range.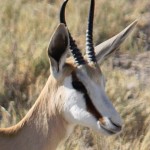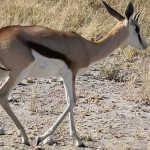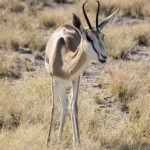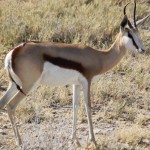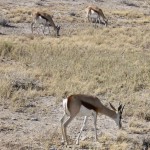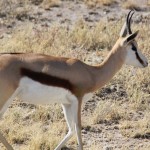 Red Hartebeest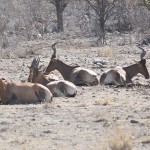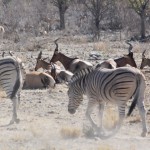 Blackfaced Impala
The impala (Aepyceros melampus) is a medium-sized African antelope. It is the type species of the genus Aepyceros and belongs to the family Bovidae. It was first described by German zoologist Martin Hinrich Carl Lichtenstein in 1812. Two subspecies of the impala have been recognised: the common impala (A. m. melampus) and the black-faced (A. m. petersi). They are typically between 120–160 cm (47–63 in) long. Males stand up to approximately 75–92 cm (30–36 in) at the shoulder and weigh 53–76 kg (117–168 lb), while females are 70–85 cm (28–33 in) and 40–53 kg (88–117 lb). Both are characterised by a glossy, reddish brown coat. Only the males have the characteristic slender, lyre-shaped horns, which can grow to be 45–92 cm (18–36 in) long.
The impala inhabits savanna grasslands and woodlands in close proximity to water sources. It is a mixed forager, whose diet consists of grasses, forbs, monocots, dicots and foliage. It switches between grazing and browsing depending on the season and habitat. Water is an essential requirement. Impala are fast runners and are known for their leaping ability, reaching heights up to 3 m (9.8 ft). They communicate using a variety of unique visual and vocal cues. There are three distinct social groups during the wet season: the female herds, the bachelor herds and the territorial males. The mating season is the three-week-long period toward the end of the wet season in May. A single fawn is born after a gestational period of about six to seven months. The fawn remains with its mother for four to six months, after which it joins juvenile groups.
The impala is native to Angola, Botswana, Kenya, Malawi, Mozambique, Namibia, Rwanda, South Africa, Swaziland, Tanzania, Uganda, Zambia and Zimbabwe. Regionally extinct in Burundi, it has been introduced in two protected areas of Gabon. The black-faced impala is confined to Kaokoland (Namibia) and southwestern Angola. The common impala has been widely introduced in southern Africa. Though there are no major threats to the survival of the species as a whole, poaching and natural calamities have significantly contributed to the decline of the black-faced subspecies. While the common impala has been listed as of Least Concern by the International Union for Conservation of Nature (IUCN), the black-faced has been rated as Vulnerable.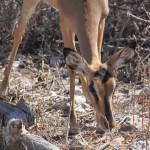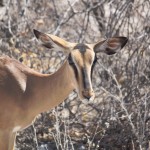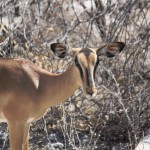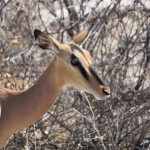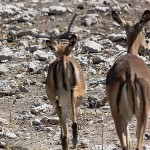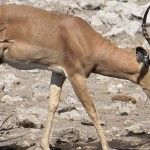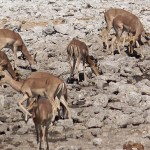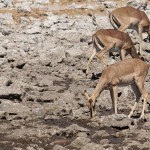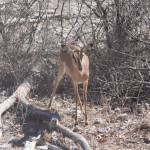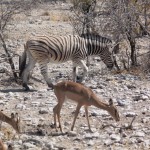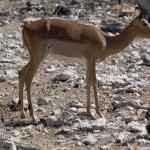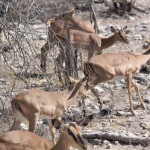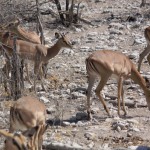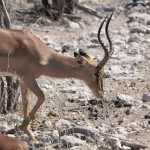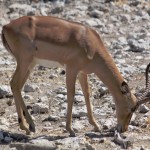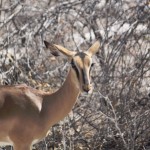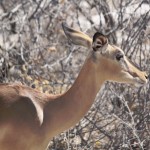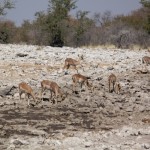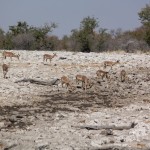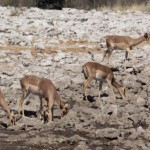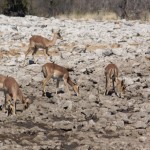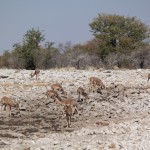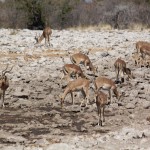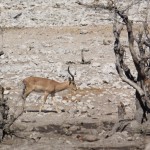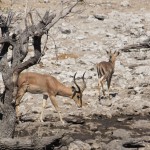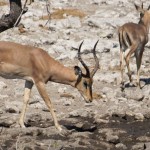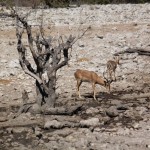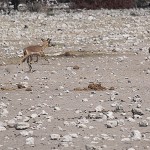 Etosha Pan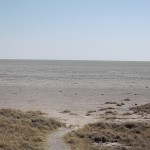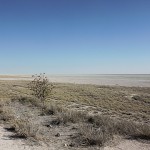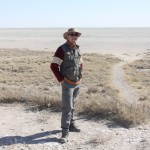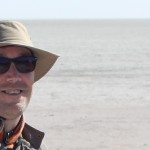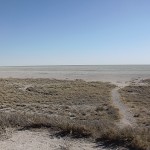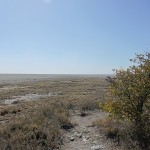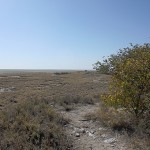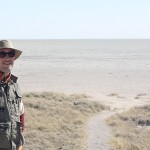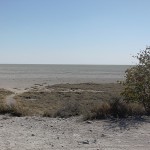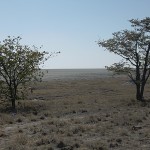 Purple Roller
The purple roller (Coracias naevius), or rufous-crowned roller, is a medium-sized bird widespread in sub-Saharan Africa (but apparently some can be found as far south as northern Namibia). Compared with other rollers its colours are rather dull and its voice rather harsh and grating.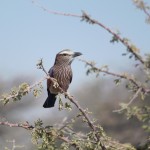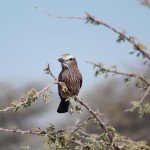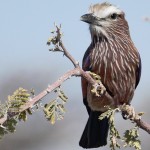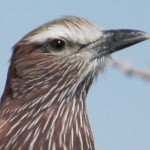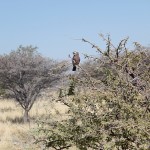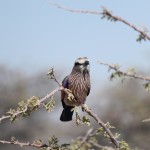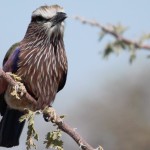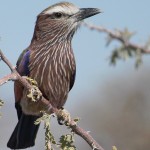 The purple roller is the largest of the rollers, growing to a length of 35 to 40 cm (14 to 16 in). From a distance it appears a dull brownish bird with a white stripe over the eye, a patch of white on the nape and a dark tail. Northern populations tend to have a rufus crown while southern populations have a more olive-green crown. The underparts are purplish-pink streaked with white. The wings are long and rounded while the tail is square-cut. The voice is a rather grating "ka" or "gaa", repeated rapidly and evenly.
Blue Wildebeast & Springbok's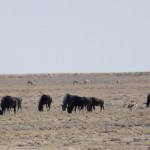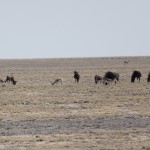 African Elephant
African elephants are elephants of the genus Loxodonta (from the Greek words loxo (oblique sided) and donta (tooth)). The genus consists of two extant species: the African bush elephant and the smaller African forest elephant. Loxodonta is one of two existing genera of the family, Elephantidae. Fossil remains of Loxodonta have been found only in Africa, in strata as old as the middle Pliocene.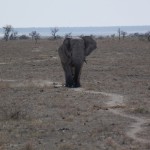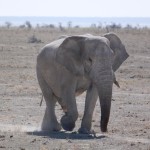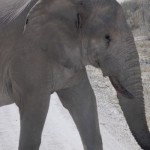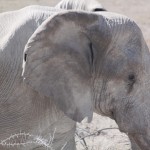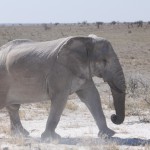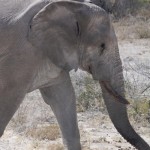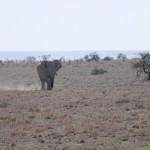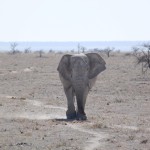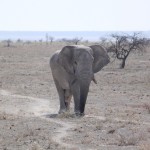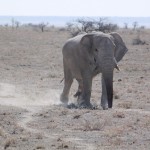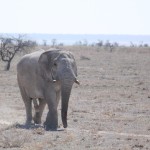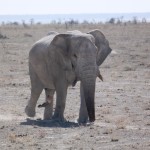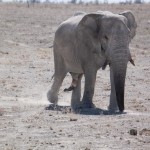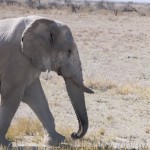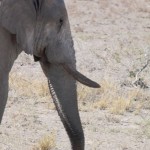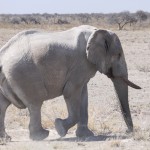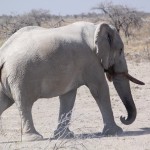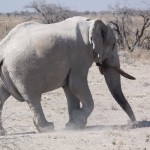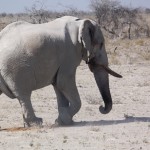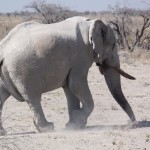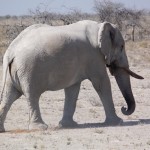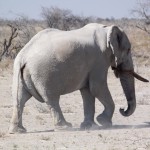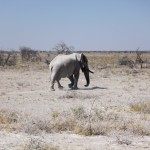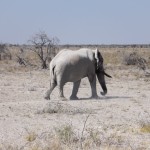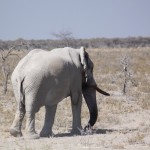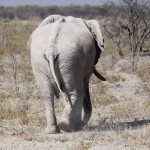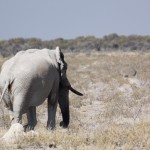 Description
One species of African elephant, the bush elephant, is the largest living terrestrial animal, while the forest elephant is the third largest. Their thickset bodies rest on stocky legs, and they have concave backs. Their large ears enable heat loss. The upper lip and nose form a trunk. The trunk acts as a fifth limb, a sound amplifier, and an important method of touch. African elephants' trunks end in two opposing lips, whereas the Asian elephant trunk ends in a single lip. In L. africana, males stand 3.2–4.0 m (10–13 ft) tall at the shoulder and weigh 4,700–6,048 kg (10,360–13,330 lb), while females stand 2.2–2.6 m (7–9 ft) tall and weigh 2,160–3,232 kg (4,762–7,125 lb); L. cyclotis is smaller with male shoulder heights of up to 2.5 m (8 ft). The largest recorded individual stood four metres (13.1 ft) at the shoulders and weighed 10 tonnes (10 long tons; 11 short tons).
Grey Go-Away-Bird
The grey go-away-bird (Corythaixoides concolor), also known as grey lourie, grey loerie, or kwêvoël, is a southern African bird of uniform grey with black beak and strikingly pink gape. It is widespread in savanna woodland, a clumsy flier though extremely agile in clambering through tree crowns. It has a distinctive loud alarm call "quare", fancifully sounding like "go away". The crest is raised when excited.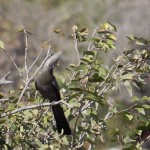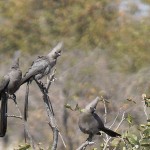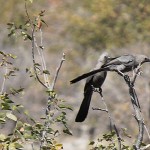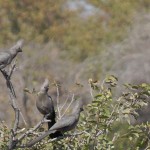 African Lion
Suddenly I saw a small pride of Lionesses that had found a bit of shade in the bushes…