12. Journey through the Kavango region
After having left Etosha, the truck drove east and then south east towards the mining town of Tsumeb to do some groceries and to tighten the spare wheel with a hydraulic screwdriver to the truck.
Tsumeb
Tsumeb (Otjiherero name: Okavisume) is a city of 15,000 inhabitants and the largest town in Oshikoto region in northern Namibia. Tsumeb is the "gateway to the north" of Namibia. It is the closest town to the Etosha National Park. Tsumeb used to be the regional capital of Oshikoto until 2008 when Omuthiya was proclaimed a town and the new capital. The area around Tsumeb forms its own electoral constituency and has a population of 44,113. The town is the site of a deep mine (the lower workings now closed), that in its heyday was known simply as "The Tsumeb Mine" but has since been renamed the Ongopolo mine.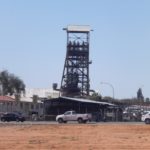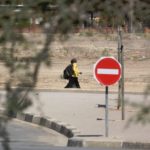 From Tsumeb the journey went further south east towards Groot Fontein and from there north west towards Rundu at the Namibian/Angolese border. Then the truck drove straight to the east and in to the Caprivi strip.
The Caprivi strip
Caprivi, sometimes called the Caprivi Strip (in German: Caprivizipfel), Caprivi Panhandle, Okavango Strip, or Okavango Panhandle and formerly known as Itenge, is a narrow protrusion of Namibia eastwards from the Kavango Region about 450 km (280 mi), between Botswana to the south, and Angola and Zambia to the north. Caprivi is bordered by the Okavango, Kwando, Chobe and Zambezi rivers. Its largest settlement is the town of Katima Mulilo. It went through a civil war from 1994–1999. The strip is administratively divided between the eastern Zambezi Region and the western Kavango East Region.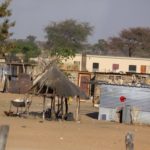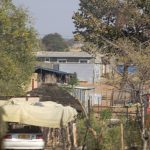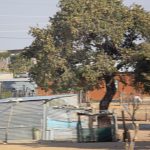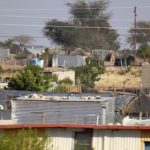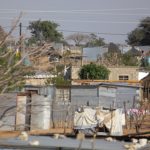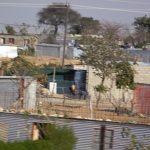 Because there was still a long way to go and because travelling in these areas was quite dangerous after dark (because of roaming cattle) and because it was getting dark, the truck drove on. We passed soe coral like villages too…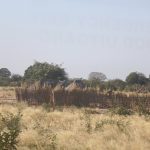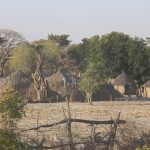 After dark we finally arrived at Divundu where we left the main road for Bagani. Bagani is a bit to the south.
Bagani
Bagani (1.093 m above sea level) is a town on the south-western banks of the Okavango River in the Kavango East Region, Namibia, 200 km east of Rundu and near the Popa Falls on the Okavango River. Bagani has a population of around 2.000 inhabitants and is homestead of the local Mbukushu kings.
On the opposite, north-eastern banks of the river lies Bufalo in Caprivi and the two towns are linked via a nearby border post.
In Bagani we spent the night.