Trailing Rupert Bear, Bilbo, Peter Pan, Harry Potter, Mary Poppins and Mr. Toad…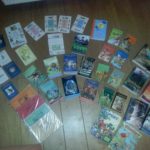 Who, in his youth, has not wandered the winding pathways bordered by green hedges and crossed the little bridges over tiny rivers of the Shire, roamed on the edges of London's Kensington gardens, jumping into chalk drawings and went punting on the Thames, or flew over Londons rooftops around Saint Paul's towards the second star to the right, and straight on till morning or on a broomstick straight through Londons busy traffic…
…and along the Houses of Parlement towards Diagon Alley? Who never crossed the wilds of the 100 Acre wood to find the North Pole or crossed paths of witches and Giants in the Nutwood and finally after meeting several delightful flowerfairies, found rest at the Osier bed at the river bank?
Well I did … and I loved it. And now I'm an adult I still love it because of the great illustrations and movies that accompanied those immortal stories. Illustrations by John Tenniel, E.H. Sheppard, Mary Tourtel, John Harrold, Pauline Baynes, J.R.R. Tolkien, Mary Shepard, Cicely M. Barker and Beatrix Potter…
The stories written by Mary Tourtel, A.A. Milne, J.R.R.Tolkien, Beatrix Potter, Lewis Caroll, J.K. Rowling, J.M.Barrie and P.L. Travers are simply timeless and the illustrations enriched them in so many ways.
I always wondered why these classics were timeless. Sure, they are witty, inventive and creatively written, but I think there's something else, something more elusive. Something they seem to have in common. They all draw back in to timeless worlds with boundaries that separate them from our world. They all feed the need of escapism in to a detailed, bright, nature filled world where the citizens care about their world and nurture it for future inhabitants. All these stories express a love for nature and for living within a natural environment. I don't mean a tropical rain forrest or the wild mountains of the Himalaya of course, but the country side of England or the green Parks of London.
Well I'm gonna retrace my walks of youth and I'm gonna follow as best as I can some of the many tracks I've trodden "When we were very young".
So let me tell you more of Rupert Bear, Mr. Toad and Mr. Badger, Piglet, Tigger and Christopher Robin, Bilbo and Frodo Baggins and of Peter Pan and the Darling Family offspring, Harry, Ron and Hermione, Mary Poppins and Bert the chimney sweep and follow me on this new adventure through the lands where they roamed and still dwell…
Ah yes, I'm naturally a librarian who likes to read books, but I'm also The Wandelgek, who loves to travel the roads less travelled and to do so I'm gonna dig and browse and follow the trails that lead to the environments in which the authors of these classics lived. I'm gonna hold on to that like Conan the Librarian and I'll find the 100 Acre forest where Owl lives or the Green Dragon where hobbits drink pints of yellowish ale and smoke pipeweed, or maybe Diagon Alley where Harry bought his first magic wand, I'll search for the Shire country and walk on the road that ever goes on and maybe I'll punt on the Thames towards Toad Hall and maybe, just maybe I'll find the Piper at the Gates of Dawn…
Enjoy … soon… 🙂